March, 3, 2013
3/03/13
10:57
AM CT
HOUSTON -- If the
Dallas Mavericks
manage to sweep the home-and-home series with the
Houston Rockets
over the next four days, we can continue entertaining their slim hopes of making the playoffs.
The reality, however, is that Dallas' 12-year postseason streak is on its deathbed.
Really, there shouldn't be any shame to that. It was a remarkable run that featured 11 50-win seasons, two Finals appearances and one title. All great things must come to an end.
Granted, the
San Antonio Spurs
might be an exception to that. They're about to win 50 games for the 14th consecutive season. The last time the Spurs failed to win at least 50, they celebrated the first of their four NBA titles, parading down the RiverWalk after Tim Duncan's lockout-shortened sophomore season.
It's been a hard fall for the Mavs over the past 21 months. They've gone from the NBA penthouse, popping a $90,000 champagne bottle in a Miami Beach club while celebrating the franchise's first title, to the Lone Star State cellar.
And the Mavs have their work cut out for them if they're going to catch the Rockets, much less the Spurs, anytime soon.
The Spurs' ability to sustain excellence is unparalleled in today's NBA. That will be tested when
Tim Duncan
and
Manu Ginobili
call it a career, but it'd be foolish to doubt a franchise with the league's best coach (Gregg Popovich) working with a brilliant front office.
The Rockets, who have won only one playoff series since two-time champion
Hakeem Olajuwon
left town, appear poised to soar again soon.
After three frustrating years of being better than .500 but not good enough to make the playoffs, Houston general manager Daryl Morey made a breakthrough move just before this season started. He acquired the bearded face of the franchise,
James Harden
, in a blockbuster deal with the
Oklahoma City Thunder
.
The 23-year-old Harden, who is averaging 26.3 points and 5.7 assists per game, has proved to be a legitimate superstar after getting out of the shadows of
Kevin Durant
and
Russell Westbrook
. He's surrounded by a good, young supporting cast that is locked into reasonable contracts (26-year-old center
Omer Asik
and 24-year-old point guard
Jeremy Lin
) or rookie deals (small forward
Chandler Parsons
, power forward
Donatas Motiejunas
, power forward
Thomas Robinson
, etc.).
And the Rockets will have the cap space to be major players in free agency again this summer, when they can potentially acquire a co-star for Harden.
Of course, there are no guarantees for Houston, which will have to fight to stay in the playoff picture with the
Los Angeles Lakers
making a charge. There have been many young teams that looked great on paper that fizzled out, but Houston has an excellent plan and has already executed several steps.
The Mavs, on the other hand, have a plan that has been publicly questioned by its superstar, the lone player on the roster who is a sure bet to still be a Dallas resident in two years. As
Dirk Nowitzki
has said several times, this is a big summer for the Mavs.
Much work must be done for the Mavs to approach the high standard they established over the past dozen years.
This isn't a franchise that will be satisfied to fight for eighth place in the West or settle for third place in the state of Texas.
February, 16, 2013
2/16/13
9:03
PM ET
By ESPN Stats & Information
ESPN.com
Archive
NBAE/Getty Images
Kevin Durant (left) and LeBron James have the two highest scoring averages in All-Star Game history.
We preview the NBA All-Star Game with 10 facts you need to know.
•
Kevin Durant
won his first All-Star Game MVP award last year after scoring 36 points. He's scored 30 or more points in two straight All-Star Games, the only player in NBA history to accomplish that feat. His career scoring average (28.3 points) is an All-Star record (minimum 60 career points).
•
LeBron James
, making his ninth All-Star appearance, ranks second in career scoring average (25.9 points) in the game. According to the Elias Sports Bureau, James has scored at least 20 points in each of his past seven All-Star Games, the longest such streak for any player in NBA history.
•
Kobe Bryant
and
Kevin Garnett
were selected to the All-Star Game for the 15th time. Only
Kareem Abdul-Jabbar
has more career selections (19). Bryant's 15 selections have come consecutively, the longest active streak. His 271 career points are the most in NBA history and his four MVPs are tied with Bob Pettit for most all time.
• Bryant and
Dwight Howard
are slated to start for the Western Conference, but the
Los Angeles Lakers
enter the All-Star break in 10th place in the West. According to Elias, the Lakers could be the fourth team since the merger (1976-77 season) to miss the playoffs in a season with two All-Star starters on the roster. The last team to do so was the 2005-06 Rockets (
Tracy McGrady
and
Yao Ming
).
The Lakers will also become the first team in All-Star Game history to start two different centers in back-to-back years (
Andrew Bynum
in 2012).
• The
Miami Heat
lead the way with three All-Star selections -- all three of whom will start -- becoming one of eight teams with multiple selections. According to Elias, they'll be the sixth trio of teammates to start the All-Star Game following a championship season, and the first since Kareem Abdul-Jabbar, Magic Johnson and James Worthy in 1986.
•
Kyrie Irving
is the sixth-youngest player ever selected to an All-Star team (he'll be 20 years, 331 days old on Sunday).
•
David Lee
earned the
Golden State Warriors
' first All-Star selection since 1997 (
Latrell Sprewell
). That leaves the
Milwaukee Bucks
and the
Sacramento Kings
as the teams with the longest active streaks without an All-Star (nine seasons).
•
Stephen Curry
is averaging 21.0 points per game this season, the highest average for a player not selected to an All-Star team.
Monta Ellis
is fourth on that list (18.4), but he's got the highest career points per game without ever being selected to the All-Star Game (minimum 400 games played).
Lin
•
Jeremy Lin
of the
Houston Rockets
was the only player among the top 10 vote-getters who was not selected to the All-Star Game. He finished ninth, between Howard and
Blake Griffin
. Bryant led the way with more than 1.5 million votes, just ahead of James.
• The Eastern Conference leads the series 36-25, but the West has won two straight and three of the past four games. A third straight victory by the West would be tied for its longest win streak (three straight from 2002 to '04).
January, 8, 2013
1/08/13
11:51
AM PT

By Dave McMenamin
ESPNLosAngeles.com
Archive
HOUSTON -- It seems like nothing short of a miracle delivered straight from the basketball gods could get the Lakers winning again, with Dwight Howard (torn labrum in his right shoulder), Pau Gasol (concussion) and Jordan Hill (torn labrum in his left hip) out of the lineup indefinitely.
Lakers coach Mike D'Antoni experienced some seemingly divine intervention last season with the Knicks when Amare Stoudemire and Carmelo Anthony went out and the then unknown Jeremy Lin saved the Knicks' season with a hot streak that will be forever referred to as "Linsanity."
Could it happen again for D'Antoni and the Lakers with Robert Sacre?
"I said yesterday Darius (Morris), but it's probably more maybe 'Sacresanity' or 'Sacsanity' has to happen," D'Antoni said following Tuesday's shootaround in preparation for the Lakers game against the Rockets. The coach said Monday that "Morrisanity" could be coming around the corner but hedged a bit Tuesday because Sacre is definitely starting while D'Antoni has not decided, at least publicly, whether Morris or Antawn Jamison will be with the first five.
"We'll see," D'Antoni said. "You know what? Couldn't be a better guy that deserves it because he's over there, he's the most energetic, best guy on the bench that you can have. So, it couldn't happen to a better person as it did to Lin, it couldn't happen to a better person. We'll see. He's got an opportunity. We'll see if it strikes twice."
Sacre, selected with the final pick of the second round of the NBA Draft out of Gonzaga, is averaging 0.5 points and 0.8 rebounds in 4.2 minutes per game in 13 spot appearances this season.
The 7-foot, 260-pound center fared better in the preseason when he filled in for Howard while the All-Star was still recovering from offseason back surgery. Sacre has also produced with the L.A. D-Fenders, the Lakers' D-League affiliate. In five games with the D-Fenders, Sacre averaged 12.0 points, 8.6 rebounds and 1.0 blocks per game.
While his statistics with the Lakers have been negligible, he has managed to contribute to the culture of the team nonetheless. Sacre is already a fan favorite for his "Sacrebrations" on the bench in support his teammates. The 22-year old says his celebratory moves are in part inspired by Yosemite Sam of the Looney Tunes.
"You can't help but notice his spirit," D'Antoni said of Sacre's antics. "If good things happen to good people, we got a good opportunity to have that adage go forward."
Sacre was at the D-League Showcase in Reno, Nevada on Monday when the news broke about the Lakers' big men being injured. With the Lakers' chartered flight already en route to Houston, Sacre had to fly commercial from Reno to Los Angeles and then from L.A. to Houston on Monday night to join the team.
D'Antoni said the Lakers had a longer walk-through than usual on Tuesday to benefit Sacre, but it wasn't necessary to get him up to speed.
"He knew it anyway," D'Antoni said. "That's why he's great. Because he's always practiced hard, kept himself in shape and he's ready to go."
Dave McMenamin covers the Lakers for ESPNLosAngeles.com. Follow him on Twitter.
December, 26, 2012
12/26/12
3:35
PM ET

By Kevin Arnovitz
ESPN.com
Archive
A few thank-you notes for gifts bestowed on Christmas Day:
To the
Boston Celtics' defense
: Poor Brooklyn, which looked like a passenger on a long-haul flight trapped in a middle seat between two offensive tackles. The Nets, who couldn't generate anything in the second quarter, came out of the tunnel after intermission and whiffed on possession after possession.
They tried running Deron Williams off screens or isolating Joe Johnson while spreading the floor, but more often than not the Celtics' defense plugged space, confined Gerald Wallace to the sideline, or trapped Brook Lopez against the baseline, or met a driving Williams with three defenders. After that, the Nets were left with nothing more than table scraps for a Christmas feast -- Williams, Wallace or Andray Blatche open in the far corner, with no feasible means of getting them the ball even if those were desirable options.
The most encouraging thing for Boston? Everyone got in on the act, including rookie Jared Sullinger and Jeff Green, who has never previously been regarded as a reliable cover.
To
Pau Gasol and Dwight Howard
: Seeing two bigs run a pick-and-roll in today's NBA is like spotting a dog walking on its hind legs, and watching Gasol and Howard team up was one of the cooler sights of Christmas 2012.
The Lakers ran it at the nail, smack-dab in the middle of the floor. Howard put a body on Tyson Chandler, who was guarding Gasol, then bounced off Chandler for a sharp dive to the hoop. Kurt Thomas, previously Howard's man, picked up Gasol as he dribbled right. Chandler and Thomas are some of the savviest defenders in the game, but the die was cast before they could sniff out that Howard was already at the rim. As a result, we got to witness Gasol pass out of the pick-and-roll, with Howard finishing underneath the Knicks' defense.
The NBA needs more 4-5 pick-and-rolls -- and not just those featuring newfangled 4s (e.g., James-Bosh, Anthony-Chandler, Smith-Horford). You need a power forward with a handle, but he doesn't have to be Chris Paul, either. Here's looking at you, Blake Griffin and DeAndre Jordan.
To
Russell Westbrook and Kevin Durant
: A couple of years ago when he was filling in as the interim head coach in Denver for a recovering George Karl, Adrian Dantley was asked why the Nuggets' pick-and-roll defense was struggling. He responded incredulously, saying there was no such thing as "good" pick-and-roll defense, that even the best protection against an NBA ball screen was nothing more than damage control because two professional basketball players in that action were virtually unstoppable.
That's certainly the case when those two guys are Russell Westbrook and Kevin Durant, who worked in tandem on a number of occasions on Christmas to positive effect. The Heat trapped Westbrook when Durant rolled (calling on a rotating defender to pick up Durant, a tactic that didn't work), while LeBron James fought through a perimeter screen when Durant popped to the perimeter. That strategy didn't pay dividends either, as even James couldn't recover quickly enough to corral Durant once Durant caught the pass, then zipped to the hole.
Durant might never embrace the idea of being the "4" on the greaseboard, but there are ways to tease a small forward into fulfilling the function of a big guy -- and this is one.
To
Mario Chalmers
: For attacking on the break; for identifying when the Thunder's interior defense is shading toward LeBron off the ball and, in effect, issuing an engraved invitation for Chalmers to drive to the hole; for rushing in transition to the corner spot where an advance pass can find him for an open 3-pointer; for learning that it's not enough to charge off a down screen to collect the ball -- you also have to rub your man off the screener to get the space you need to catch and shoot; for instantly recognizing when Westbrook falls asleep and Dwyane Wade is all alone underneath the basket.
To
Jeremy Lin and James Harden
: I still like the idea of staggering their minutes and ensuring at least one half of Beard-sanity is in the Houston backcourt at all times, but if Tuesday's performance against a sturdy Chicago defense is any indication,
this can work.
As long as transition remains priority No. 1 in Houston, Lin and Harden are born running mates. And in the half court, we also saw how placing counterweights on can stretch the floor and leverage even the most disciplined defense, which can't possibly apply pressure against a ball screen, zone up the backside
and
account for a crafty guard off the ball on the move.
To
Andre Miller
: Basketball Reference gives Miller
a 1.4 percent chance of making the Hall of Fame
, and that sounds about right, but long after the taciturn, unsociable point guard retires into obscurity, big men who played with him will marvel at Miller's ability to find shots for them at the rack.
It's impossible to watch Miller without a rewind button on the remote because a mortal being simply can't see what he did until after the ball falls through the net. In the first quarter on Tuesday, how did Miller find Kosta Koufas at the rim with three defenders in the ball's flight path? Fans like to toast Miller's "old man game," but even though he looks the part of the rec center geezer, he's got the vision of a young 'un.
Before the game, George Karl was asked how he handled his bench rotations. Karl smiled and replied that he basically left that to Miller. One glimpse at how Miller puppeteers the Nuggets' second unit, feeds the entire crew and controls pace, and you're ready to follow Karl's lead and let Dre draft your fantasy team.
To
Willie Green
: For
this
.
December, 24, 2012
12/24/12
12:22
PM ET

By Kevin Arnovitz
ESPN.com
Archive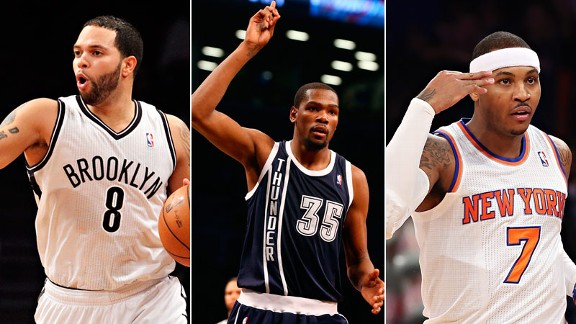 Getty ImagesWorking on Christmas: Deron Williams, Kevin Durant and Carmelo Anthony.
A third of the NBA will be in action on Christmas Day, as fans will be treated to 14 consecutive hours of basketball featuring the league's top four teams and seven leading scorers. For those who make the Christmas quintupleheader their first real look at the NBA season, here's a handy guide to some of the league's more compelling storylines:
Can Deron Williams lead Brooklyn where it wants to go?

Deron Williams isn't wrong when he says that the Brooklyn Nets run nothing as fluid as the flex offense he guided as the Jazz's point guard. But Brooklyn's roster isn't endowed with the collective skill set those Utah teams had, and the absence of an orderly system doesn't explain why Williams has taken
241
shots outside the paint, for a terrible 40.7 effective field goal percentage.
Williams might argue that a good number of those attempts are hand grenades he finds himself with at the end of wayward possessions, but if he truly wants the Nets to improve upon their 11th-ranked offense, Williams will have to create his own flow. With some prompting from Williams, Gerald Wallace could make some devastating flex cuts, and Joe Johnson can space, post and pass better than any wing Williams ever had in Salt Lake City.
Williams has real assets in Brooklyn, and a point guard with his talent shouldn't need an orthodox system to play systematic basketball.
Can the Boston Celtics re-establish their defensive bite?

Boston hasn't had a top-10 offense since 2008-09, but its elite defense has kept it in the conversation every spring. The Celtics are still loading up on the ball handler while zoning up the weak side. And they're still stymieing high ball screens at the point of attack while asking rotating defenders to take away everything but sketchy corner passes and long 2-pointers for guys who have no business shooting them.
This season, offenses are having an easier time generating open looks. When you watch the film, the incriminating evidence isn't glaring. This is still a comparatively efficient defense (11th overall) practicing those same principles, and the familiar cycle of movements is there, but point guards whom the Celtics used to send to remote outposts on the floor are finding their way to the middle. That old Celtics swarm doesn't cause the same disruption it once did, which means offenses have more available options on the floor.
Defensive systems take time to master, and it's possible everyone will achieve the level of fluency necessary. The Celtics should hope so, because the team's margin for improvement probably lies on that end of the floor.
Are the New York Knicks for real?

This is the single biggest conversation starter heading into Christmas Day for casual NBA fans, League Pass junkies, NBA players, coaches and execs alike -- and trying to solve the mystery will trigger a whole series of associated questions:
Has Anthony's game undergone a profound evolution at the power forward slot, or is the uptick in production largely attributable to eight weeks of hot, but unsustainable shooting? How do you integrate Amar'e Stoudemire back into the rotation after the team forged a strong identity without him? And if your plan is to confine him to a much smaller role, how exactly do you break that to him without the risk of killing the good vibe around the team? Is the defense (ranked 17th) strong enough around Tyson Chandler for the Knicks to have championship expectations?
When the Knicks were horrendous, there was a school of opinion that said the NBA would be much more interesting if New York had a relevant NBA team. Those in that camp were correct.
How close are the Los Angeles Lakers to a breakthrough?

The Lakers now have their four stars on the floor together for the first time since October. Let's say they hold their home court against the Knicks on Tuesday. And let's say Dwight Howard continues to build strength, as does the defense. And the offense, already ranked fifth in efficiency, starts operating as the lethal machine it was designed to be. And the wins start to pile up.
That's an entirely conceivable chain of events, but it's no lock, either. The Lakers still feature a core of players who like to work with the basketball operating in a system that prefers they pass or shoot instantly. Success will require some compromise, but any offensive philosophical differences will likely resolve themselves -- there's too much talent. The Lakers' prospects hinge primarily on a willingness to play defense. Howard didn't have any perimeter stoppers in front of him in Orlando, but anchored a top defensive unit. The Lakers can play that brand of defense if Howard is up to the task, the other starters and the coaching staff apply their wits, and the second unit makes guarding opponents its mission.
If those scenarios shake out and the Lakers are playing some of the best basketball in the league headed into the All-Star break, does the early-season turmoil get summarily dismissed as old news?
How many different ways can Kevin Durant score?

It's unlikely this Oklahoma City Thunder team will ever develop a brand-name offense, but when Kevin Durant is as dialed in as he has been this season, structure seems almost quaint.
High-usage wing players like Durant are
not
supposed to post true shooting percentages in the 65 range. Michael Jordan exceeded 60 percent four times and Larry Bird topped the 60 percent mark twice, but both maxed out around 61 percent. And LeBron James' career-high mark of 60.5 percent came last season.
Durant this season? 65.4 percent.
He quietly has become one of the most brutal post assignments in the game from either side of the floor. He's getting more separation than ever on curls and pin-downs, working in some sneaky misdirection like a wide receiver running a route. When he's off the ball, he's looking more than ever to slip beneath the defense for easy feeds at the rim. And he's drawing more contact than ever off the dribble.
Durant has never displayed anything but maximum effort on the floor, but did close proximity to a title this past June ignite something more visceral in his game?
Do the Miami Heat have anything serious to be concerned about?

Size up front? As NBA worries go, that's so retrograde. Nobody cares anymore if the heaviest guy in the rotation is 6-foot-8 and 250 pounds, least of all the Heat, who won a title in June flouting convention.
The defense was another story as recently as a few weeks ago, when narcolepsy was the Heat's preferred defensive strategy in the half court. Were the issues systemic or did Erik Spoelstra just need to shuffle the rotation?
Shane Battier returned from injury and Joel Anthony returned from exile just as the Heat were being embarrassed on their home floor by the Knicks. In the seven games since -- the only seven games both Battier and Anthony logged double-digit minutes -- the Heat have posted a defensive efficiency rating of 96.0. Only Indiana's top-ranked defense has been better over the course of the season (95.7).
There are other factors at work, of course. The Heat are a high-risk, high-reward defensive outfit with a license to gamble, but guys were abusing the privilege and calculating risk without care. Now, James and Dwyane Wade are locked in, and that string the Heat are so fond of referencing as the connective tissue of their defense is taut once again.
Are the Houston Rockets figuring things out?

So
this
is what it's like to have a pure playmaker at the top of the floor who can get a shot off against constant pressure anywhere between the rim and 26 feet?
How strong has James Harden been in this regard? Of the Rockets' top eight in minutes played, he's the only one whose player efficiency rating is above league average, yet the Rockets come into Christmas Day with the league's seventh-ranked offense.
There's little magic to the Rockets' offensive formula. The priorities, in descending order, are as follows: (1-2-3) transition; (4) quick-hitters for Harden if he can find a modicum of space off a drag screen, or for others if Harden can leverage the attention of the defense; (5) a more deliberate high pick-and-roll for Jeremy Lin, and by deliberate we mean with 15 seconds on the shot clock rather than 19; (6) fast, easy ways to free up shooters -- flare screens courtesy of Omer Asik, or pin-downs set by little guys for big guys who can shoot.
Next item on the agenda: Protecting the basket area and picking up shooters early -- two hazards of playing at a breakneck pace the Rockets haven't yet figured out.
Can the Chicago Bulls manufacture enough offense?

When discussing how the Bulls try to score without Derrick Rose,
manufacture
is more descriptive than metaphoric. It's a laborious process being managed by diligent guys with limited skills but strong work ethics. But as a viewer, it's like watching the factory floor at a cannery.
Try as Tom Thibodeau might to create open space in the half court with cuts and constant motion, he simply has nobody on the floor who can find an easy shot in isolation or pressure a defense by bursting off a screen (let alone, driving away from one the way Rose does more artfully than anyone). Defenses never have to make any tough decisions when the ball is in the hands of Kirk Hinrich, Nate Robinson, Marco Belinelli or Jimmy Butler, and that makes every possession a grind.
On the bright side, the Bulls make life similarly difficult for everyone else, which is how a team wins nine out of 13 with the parking break on. That's the beautiful thing about an air-tight defensive system: The principles work irrespective of personnel. So if the Bulls can hang on in the meantime, and Rose can return as Rose, Chicago is going to be a nightmarish spring matchup for an Eastern Conference foe.
Will the Denver Nuggets ever have a homestand?

The most consecutive games they've played at home this season is two -- and the Nuggets have done that only once through 28 games. Are their white jerseys on back order? Is the Pepsi Center in downtown Denver undergoing chemical fumigation? Are they finally installing reliable Internet in that building, a process that requires a complete rewiring of the place?
Whatever the case, the Nuggets find themselves on someone else's floor on Christmas night. Their 15-13 record might suggest the league made a programming error, but when you consider the home-road split, the Nuggets just might be the sleeping giants in the West. When the calendar turns on New Year's Day, the Nuggets will play 15 of their next 18 games at home, where they're 8-1.
With the defense showing signs of life, Andre Iguodala gradually adapting to his more open living space and the Nuggets gobbling up their own misses at unseemly rates, this team could quietly vault itself into the upper ranks of the West simply by playing quality basketball at home.
Is Vinny Del Negro smarter than everyone?

Junkies will continue to scratch their heads when Willie Green is announced as the Clippers' starting shooting guard, and the playbook might never be put behind a glass display in Springfield, Mass., but you think the 21-6 Los Angeles Clippers care?
Del Negro's approach has been simple: a few very basic offensive precepts, plenty of freedom for Chris Paul, trust in a second unit that could probably win 48 games as a starting five and a few tried-and-true sets that maximize Blake Griffin on the left block and Paul as a prober. Most of all: manage expectations and let Paul be the guy. If that means letting him sculpt the offense or playing Green to start the first and third because Paul wants it that way, so be it. Del Negro believes that leading is often a task in deference, and he isn't about to muck things up with a heavy hand when a light touch will do.
If the defense were mushy and the Clippers were still dropping games they shouldn't, the discussion might be different. But the Clippers have established some simple coverages the young bigs have mastered, and they're rarely finding themselves in the sort of end-of-game chess matches that challenge a team's tactical prowess. The day will come when a Gregg Popovich is strolling the opposing sideline, and that will be the true test. In the interim, keep things light.
December, 18, 2012
12/18/12
12:49
AM ET

By Mark Simon
ESPN.com
Archive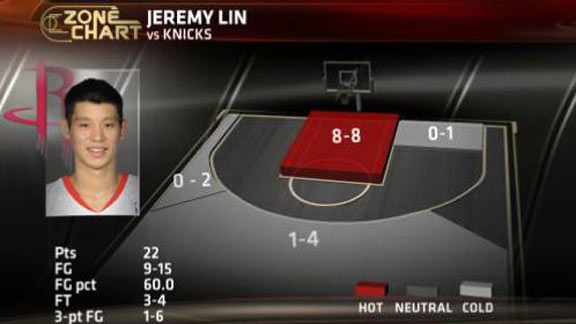 Lin gets into the lane
Jeremy Lin
made it a great return to Madison Square Garden, with 22 points and eight assists in the
Houston Rockets
easy win over the
New York Knicks
on Monday.
Lin's 22 points were his second-most this season and matched the total number of points he scored in the previous three games combined.
As you can see in the image above, Lin was a perfect 8-for-8 in the paint. He entered the day shooting 45 percent (59-for-130) on shots in the paint.
Lin had a good night in the pick-and-roll, making all four shots as the ballhandler on pick-and-roll plays.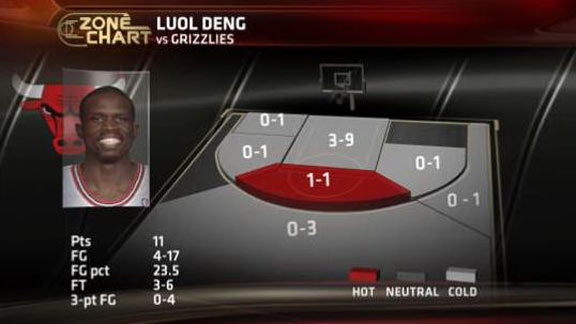 .
Deng has all sorts of trouble
Luol Deng
was 4-for-17 in the
Chicago Bulls
loss to the
Memphis Grizzlies
, continuing a run of struggles from the field.
In his last six games, Deng is shooting 36 percent from the field. In that span, he's 11-for-43 on shots taken from outside the paint.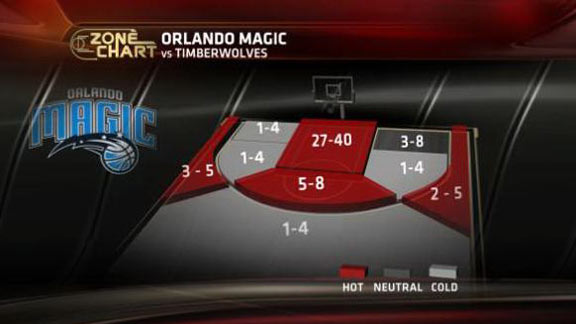 Nice night for the Magic
In the first 19 games of the season, the
Orlando Magic
did not have a game in which they shot
better
than 50 percent from the field.
They've now shot better than 50 percent in three of their last five games after their win over the
Minnesota Timberwolves
, in which they shot nearly 54 percent from the field.
The Magic won this game inside. They made 27 of their 40 shots in the lane. The Timberwolves made one fewer shot, but had 14 more shot attempts.
Glen Davis
led the way with 10 baskets in the paint. He's 20-for-28 from the field in his last two games, 13-of-19 in the paint.
December, 17, 2012
12/17/12
4:54
PM ET
By Lee Singer & Kenton Wong, ESPN Stats & Info
ESPN.com

Dan Lippitt/NBAE/Getty Images
Jeremy Lin returns to Madison Square Garden for the first time since leaving the Knicks.
One of the biggest sports stories last year was
Jeremy Lin's
run with the
New York Knicks
. On Monday, Lin returns to Madison Square Garden as a member of the
Houston Rockets
.
The two teams played earlier this season in Houston where the Rockets blew out the Knicks, 131-103. Lin scored 13 points in that game on 6-for-12 shooting with seven rebounds and three assists.
His numbers this season are a far cry from what he did as a starter with the Knicks, but a lot of that can be attributed to the Rockets' style of play and Lin's usage.
Last season, Lin flourished in the pick-and-roll. His role has changed with the Rockets --
James Harden
has the ball most of the time, leaving Lin in more spot-up situations.
No player has seen his role on offense diminish more than Lin has. His usage percentage (percentage of team plays used by the player while he's on the floor) has gone from more than 27 percent as a starter with the Knicks to less than 19 percent with the Rockets -- that's by far the largest drop in the NBA (among 121 players to start a third of their team's games the past two seasons).
Lin's role in the offense also shifts based on the personnel on the court. His usage percentage is 17.0 with James Harden on the court and 27.5 when Harden's on the bench. Lin is averaging 14.3 points per 48 minutes with Harden on the floor and 26.3 points per 48 minutes with Harden on the bench.
Houston's lineup turnover this season has resulted in a more up-tempo style of play. Last season the Rockets were 11th in pace (94.3 possessions per 48 minutes) -- this season they lead the league with 99.1.
It's worth noting that with Lin as a starter the Knicks averaged 97.4 possessions per 48 minutes, which was second in the NBA in that span.
Jeremy Lin's Top Moments
February 10, 2012
38 Points, 7 Assists in 92-85 win vs Lakers
In his third career start, Lin torched the Lakers for a career-high 38 points, making 13 of 23 shots from the field.
February 14, 2012
27 Points, 11 Assists, game-winning 3-pointer in 90-87 win vs Raptors
Probably his most memorable moment last season was a game-winning 3-pointer with less than a second left on Valentine's Day to give the Knicks a win over the Raptors, their sixth consecutive victory.
February 19, 2012
28 Points, 14 Assists in 104-97 win vs Mavericks
Lin had a career-high 14 assists to go with 28 points in one of his most complete games as a pro as the Knicks beat the Mavericks.
December 10, 2012
38 Points, 7 Assists in OT loss to Spurs
In easily his best game as a Rocket, Lin took more of a scoring role with Harden sidelined by a sprained ankle, tying his career-high with 38 points. Despite the effort, the Rockets fell to the Spurs in overtime.
December, 4, 2012
12/04/12
9:16
AM PT

By Andy Kamenetzky
ESPNLosAngeles.com
Archive
Under the best of circumstances, conventional wisdom dictated the Lakers would require some time to jell. With so many new faces (and at the time, a new offense, which eventually sparked the decision for a new coach), instant chemistry would be a tall order. However, the opening 17 games on the schedule were, in theory, a reprieve of sorts. Home-heavy with few games against contenders from either conference, this slate of contests was made to be exploited ... or frittered away through poor execution, inconsistent play, injuries and periodically middling energy, whichever makes the most sense.
The Lakers are now 8-9 and staring down nine December road games. The first comes against the Houston Rockets, a similarly rebuilt team tasked with coming together on the fly. After a slow start, they're seemingly in better sync these days, having won four of their past five games. Not that the Lakers have earned the right to take any team lightly -- just ask the Orlando Magic -- but Houston may offer a tougher contest than I certainly figured a month ago.
For more perspective on the Rockets, I sent some questions to Rahat Huq, who covers the team for the TrueHoop network's
Red94 blog
. Below are his responses.
Andy Kamenetzky: When these teams met at Staples Center on Nov. 17 for an eventual Rockets loss, Houston was 3-6 heading into the game. They're now 8-8. What's happened to explain this?
Rahat Huq:
Offensively, the Rockets have been playing out of their minds, averaging 113 ppg on 49 percent shooting overall (46 percent from deep) during their current five-game home winning streak. They've also gotten consistent contributions across the board, with all five starters in double figures in each of their past three home games. In the most recent outing against Utah,
seven Rockets finished with at least 13
.
Plus, third-year forward Patrick Patterson has been a revelation. The Kentucky product has put in
at least 20 points in four of Houston's past five games
, scoring from an assortment of spots, including the corner 3. In his past 10 games, Patterson has averaged 17 ppg on 55 percent shooting from the field and 43 percent from behind the arc.
October, 28, 2012
10/28/12
1:32
PM ET
So
Deron Williams
thinks the Knicks
are better off
with
Raymond Felton
than
Jeremy Lin
.
We happen to agree.
For what it's worth (and that may not be much), based on the preseason, Williams is dead right.
Lin has struggled through an up-and-down exhibition season. Felton, on the other hand, has thrived with the Knicks.
Lin ended his preseason on a high note, scoring 13 points on 5-of-10 shooting (including four 3-pointers) in a win over the Magic on Friday night.
Prior to that night, though, Lin wasn't exactly lighting it up in Houston. He'd made just 22.2 percent of his shots, having a tough time adjusting to teams being focused on stopping his attempts to get to the rim.
Was Lin feeling pressure to live up to expectations associated with his three-year, $25.1 million contract, the same contract the Knicks declined to match? It's hard to say.
According to reporting
by Jonathan Feigen of the Houston Chronicle, Lin seemed to be forcing the issue by driving to the rim instead of settling for mid-range jumps shots. Lin attributed it to getting used to life in a new system.
Overall, Lin averaged 6.3 points, 6.0 assists and 2.5 turnovers in the preseason. He shot 28.3 percent from the floor.
Felton, on the other hand, was solid in the Knicks' six preseason games. He scored 11.3 points per game on 42 percent shooting (38 percent from beyond the arc). He handed out 5.8 assists and grabbed 2.3 rebounds a night.
Williams said he thought Felton was the better point guard because he'd been playing at a high level for seven seasons, while Lin's only done it as a starting point guard for 25 games. He made no reference to the preseason. But if he had, it certainly would've supported his point.
Question: Do you agree with Deron Williams? Is Felton better than Lin? Are the Knicks better off with Felton running the show?
Please leave your thoughts in the comments section below.
October, 27, 2012
10/27/12
11:10
PM ET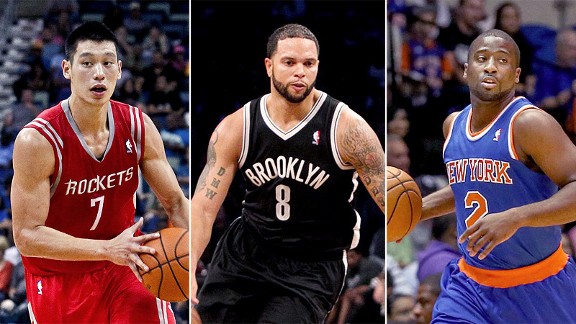 US PresswireJeremy Lin, Deron Williams and Raymond Felton
EAST RUTHERFORD, N.J. --
Brooklyn Nets
All-Star
Deron Williams
said Saturday that
Raymond Felton
is a better playmaker than the point guard he replaced in New York,
Jeremy Lin
.
Lin outplayed Williams last Feb. 4 in a stunning performance off the bench, starting a phenomenon that became known as Linsanity. But the Knicks opted not to match the $25.1 million deal Lin signed with Houston, having already completed a sign-and-trade deal with Portland to reacquire Felton.
Felton played well in a previous stint with the Knicks.
"I would say Raymond Felton is a better point guard than Jeremy Lin, in my opinion," Williams said at the Nets' practice facility.
The Nets host the Knicks on Thursday in their first game at the new Barclays Center.
It would've been hard to imagine Lin not being there after the 10 games that started when he scored 25 points in a 99-92 victory over the Nets at Madison Square Garden. Williams scored 21 points and shot just 7 of 19 that night, though he made amends later in the month when he scored 38 points as the Nets won in their return to New York.
For the full news story, click here.