July, 31, 2012
7/31/12
11:03
AM CT
The
Dallas Mavericks
are in superstar search mode, that's no secret. This summer's mission failed to reel in
Deron Williams
, and so the venture moves forward to 2013. The potential for three superstars --
Dwight Howard
,
Chris Paul
and
Andrew Bynum
-- to hit free agency in 11 months has been well-documented.
But, there's no guarantee any of the Big Three make it to free agency. That's the risk of the overhauled Mavs strategy under the new collective bargaining agreement. Or, take Paul as an example: He could opt to enter free agency solely to gain the extra fifth season and more money that he can't get by signing an extension and ultimately stay with Lob City partner
Blake Griffin
and the Clippers.
So what if next July rolls around and there's simply no superstars to chase?
Mark Cuban and Donnie Nelson will have difficult decisions to make. This summer, they chose not to eat up next summer's cap space by not chasing players such as
Goran Dragic
(signed four-year, $34 million deal with
Phoenix Suns
). Instead, they loaded up one-year contracts that will expire and leave behind cap space to make a superstar pursuit possible in '13.
But if there are no superstars to pursue, then do the Mavs chase the next level of player who would, theoretically, snap up cap space in the summer of '14?
For instance, a tier below the Big Three next summer are potential free agents
Josh Smith
,
Paul Millsap
,
David West
,
Al Jefferson
,
Monta Ellis
and
Andre Iguodala
(the latter two have early termination options).
It will also be an intriguing summer for restricted free agents. Those players can seek and sign offers from other teams and then their current teams have three days to match. The new CBA can throw a wrench into the negotiations as seen with
Jeremy Lin
and
Omer Asik
. Both players signed offer sheets from the
Houston Rockets
, who used the "poison pill" option to increase the players' salary three-fold in the third year of the deal, going from $5 million in the first two seasons for both players to $15 million in the third.
The offering team, the Rockets, is allowed to pay the average of the total contract ($25 million in the cases of Lin and Asek) over the three years, so just more than $8 million per season. Ultimately, the
New York Knicks
passed on Lin and the
Chicago Bulls
passed on Asek because of the third-year balloon payment that would wreak havoc with their payrolls and potentially carry unwanted luxury tax repercussions.
The
Portland Trail Blazers
offered
Indiana Pacers
free agent center
Roy Hibbert
a max offer sheet of four years at $58 million. The Pacers ultimately agreed to match to keep their big man, but those decisions can be difficult when looking at the bottom line.
The list of restricted free agents next summer is tantalizing:
James Harden
,
Serge Ibaka
,
John Wall
,
Stephen Curry
,
Brandon Jennings
, and
Tyreke Evans
are the headliners. The Mavs' own
Darren Collison
will also be restricted.
If the Mavs don't land a superstar in '13, they'll have to decide if they value any of the unrestricted or restricted free agents enough to make an offer, knowing that if they do they could jeopardize their ability to continue their superstar search in the summer of '14.
July, 26, 2012
7/26/12
10:37
AM CT
By
Jeff Caplan
| ESPNDallas.com
Five days into free agency, as the
Dallas Mavericks
quietly scanned the proceedings after being turned down by
Deron Williams
, the player movement and big money that flowed around the league certainly didn't suggest that a new collective bargaining agreement was sinking its sharpened teeth into management.
The
Brooklyn Nets
overpaid
Gerald Wallace
, signing him for four years and $40 million. They then spit in the eye of the harsher luxury tax to come by acquiring
Joe Johnson
, still owed $89 million, to play with Williams, who signed a five-year, $98 million deal.
The Lakers completed a sign-and-trade for
Steve Nash
, handing the 38-year-old a three-year, $27-million deal. Prior to that, the
Toronto Raptors
offered the beloved Canadian point guard a reported three years and $36 million.
The
Minnesota Timberwolves
gave
Brandon Roy
, who had retired because of chronic knee issues, two years and $10.4 million and then signed Portland forward
Nicolas Batum
to a four-year, $45 million offer sheet. The Suns signed guard
Goran Dragic
, a player they once traded, to four years and $34 million and also inked troubled Minnesota forward
Michael Beasley
to three years and $18 million.
Portland signed emerging Indiana center
Roy Hibbert
to a $58 million offer sheet. The Rockets signed Bulls backup center
Omer Asik
to a three-year, $25.1 million offer sheet and did the same with
New York Knicks
point guard
Jeremy Lin
.
Does it mean the new CBA isn't working as planned? Mavs owner Mark Cuban hasn't been shy about expressing his displeasure with the final product, comparing the new CBA to the old one by saying owners are now drowning in 2 feet of water instead of 10. We know the rules have radically altered his philosophy for building his team.
Since the opening flurry of moves, some made by teams with cap space to fill, the majority of teams, Cuban points out, have acted responsibly in preparation for the stiffer tax that starts in the 2013-14 season.
"This offseason we saw maybe six teams try to win the summer and make a big splash," Cuban said. "The vast majority did little or nothing beyond keeping their own players."
In 2009-10, 11 of the 30 teams spent into the luxury tax. That number dropped to seven in 2010-11 and six last season. Five to seven teams are headed for the luxury tax this season, a number that does not include the Mavs for the first time in Cuban's ownership. In a year or two, only the Lakers, Knicks, Nets and Heat could be luxury tax violators.
Cuban has vowed that he will spend into the luxury tax again, when the time is right
.
Cuban points out two examples of the new CBA in action.
"The best example of the new rules having an impact are the Knicks walking away from Jeremy Lin and the Bulls walking away from three of their rotation players," Cuban said.
The Knicks have supported the most bloated payroll in the league over the last decade. Yet, presented with the Lin offer sheet from the Rockets that included a "poison pill" third year that jacked Lin's salary from $5 million to $15 million, which has been estimated to swell to more than $40 million after tax penalties, it was too much for even the hand-over-fist, money-making Knicks.
The Bulls surrendered Asik because of a similar "poison pill" third year that would have killed their cap.
Ronnie Brewer
and
Kyle Korver
were also sacrificed -- and Chicago tried to trade Rip Hamilton -- all in the name of whittling down payroll.
July, 6, 2012
7/06/12
7:08
PM CT
By
Jeff Caplan
| ESPNDallas.com
Jason Kidd
took a look at the two rosters and decided only one gave him a legitimate chance to contend.
That's why Thursday the 39-year-old point guard walked away from the
Dallas Mavericks
' three-year, $9 million offer and agreed to a similar deal with the
New York Knicks
.
PODCAST
Jason Kidd talks about how close Deron Williams was to playing in Dallas, how he can help the Knicks next season and more.

Listen

"It was a tough decision," Kidd said Friday during an appearance on The Michael Kay Show on ESPN Radio in New York. "I looked at the roster and I felt I could go quietly and retire or I felt like I can compete and help a team win. So, I saw the pieces of the Knicks and I thought that I could help them out."
Kidd said he talked to
Dirk Nowitzki
, who is touring Europe, to seek his blessing.
"Dirk, I talked to him and he totally understood," Kidd said, "which helped me make my decision."
Kidd expects the Knicks match the
Houston Rockets
' offer for restricted free agent
Jeremy Lin
. Kidd said he told coach Mike Woodson that he is open to coming off the bench, just as he planned to do if he had joined forces with his first preference,
Deron Williams
.
"I talked to coach and I told him whatever he needs," Kidd said. "He doesn't have to worry about it. I'm not 25 years old and I don't need the fireworks when my name is called for the starting lineup. I just want to be in there at the end of the game to try to help the team win, understanding that the last six minutes in an NBA game is where you make your name. So hopefully I'm in there trying to help my guys win."
As for his buddy Williams, who spurned the Mavs' four-year, $75-million max offer to re-sign with the
Brooklyn Nets
for five years, $98 million,
Kidd reiterated his belief that Williams was torn
and at one point said he was leaning toward his hometown team. But, Kidd said, the Nets' roster moves, in particular the trade for
Joe Johnson
, convinced him to stay.
"If he had to make the decision after he had an eagle at Atlantic Country Club he would have signed with Dallas. That's how close it was," Kidd said. "He really wanted to go back home and that's when I asked him after he had an eagle. That was the best time to ask; he was in a great mood so it wasn't like he was upset or anything, so he said, 'Look, if I had to make this decision it would be Dallas today.' I think when he saw the roster, I think he felt if Dirk went down, it would be a long season."
July, 6, 2012
7/06/12
6:44
PM CT
By
Jeff Caplan
| ESPNDallas.com
The
Dallas Mavericks
and
Houston Rockets
, Southwest Division rivals in need of a starting point guard, are
both in discussions
with
Ramon Sessions
.
A source said the Mavs had a second round of talks with Sessions' agent and that the Rockets are now in play for the 6-foot-3 guard seeking a starting job and the security of a multiyear deal.
Dallas failed to bring
Deron Williams
into the fold in the first week of free agency and watched Plan B,
Steve Nash
, go to the
Los Angeles Lakers
in a trade. On Thursday,
Jason Kidd
decided not to re-sign with the Mavs after coming close to a three-year agreement and instead chose to head to the
New York Knicks
, leaving Dallas with the vacancy in their starting lineup.
The Rockets lost
Goran Dragic
in free agency to Phoenix and then traded
Kyle Lowry
to the
Toronto Raptors
. Houston made a lucrative offer to Knicks restricted free agent
Jeremy Lin
, but the Knicks are expected to match.
Sessions, 26, was traded from Cleveland to the Los Angeles Lakers in March. He opted out of the final year of his contract that would have paid him $4.55 million next season.
July, 4, 2012
7/04/12
10:49
PM CT
By
Jeff Caplan
| ESPNDallas.com
Deron Williams
was close to choosing
Dallas but is staying in Brooklyn
.
Steve Nash
is
on his way to L.A.
to play with
Kobe Bryant
. As the Mavericks scramble to make up ground well down the list of their offseason alphabet planner, will
Jason Kidd
add to a mounting nightmarish offseason by fleeing to the
New York Knicks
?
It is positively a legitimate question now that the Knicks' hopes of trading for Nash are dashed. Earlier Wednesday, Kidd said
his priority was to work out a deal
to stick with
Dirk Nowitzki
and the reshuffling Mavs. But that was when signs pointed heavily to Nash landing in New York.
But with Nash stunningly going Hollywood (and here's the real kicker: The Lakers slide Nash into the trade exception created when they traded
Lamar Odom
to the Mavs), the Knicks will absolutely match any offer made to restricted free agent and Mavs target
Jeremy Lin
(they were expected to, even with Nash in play) and push hard to bring in the 39-year-old Kidd.
Here's what Kidd must weigh: Re-sign with Dallas and a roster that now only includes Dirk,
Shawn Marion
,
Brendan Haywood
and spare parts
Rodrigue Beaubois
and
Dominique Jones
from the 2011 title team, or finish out his career at Madison Square Garden setting up
Tyson Chandler
,
Carmelo Anthony
and
Amare Stoudemire
, and mentoring Lin, a fellow Bay Area native.
It's not clear if the Mavs are offering Kidd more than one year, but the Knicks most certainly will.
Kidd's vision of teaming up with friend Deron Williams next season was dashed with Williams' five-year commitment Tuesday to the Nets. Meanwhile, Kidd is hoping to have a deal wrapped up with the Mavs in a day or two. He was not available Wednesday night to respond to the rapidly shifting landscape and the potential ripple effect.
While Western Conference teams around the Mavs get stronger, Dallas has yet to add a single player in free agency and declined to match the
Boston Celtics
' three-year, $15 million offer to
Jason Terry
.
Meanwhile, the next point guard of interest around the league,
Goran Dragic
, is being hotly pursued by the Suns, and reports have the
Charlotte Bobcats
ready to make an offer.
If Kidd opted to leave Dallas for New York, where he could set up shop at his recently purchased house in the Hamptons, the Mavs would be staring at a point guard position made up combo guards Beaubois, Jones and last week's draft pick,
Jared Cunningham
.
Delonte West
remains an option to re-sign.
As the Knicks are sure to ramp up their efforts to land Kidd, so too will Dallas, which simply can't afford to lose him now if simply from a morale factor that threatens to leave Nowitzki looking around and wondering what just happened.
If he isn't already.
July, 3, 2012
7/03/12
7:43
PM CT
By
Jeff Caplan
| ESPNDallas.com
The
Dallas Mavericks
' point guard priorities are now shifting to 39-year-old former Mav
Steve Nash
and one-time Mavs Summer League hand
Jeremy Lin
, according to ESPN.com's Marc Stein.
Sources, Stein reports, say the Mavs will pursue Nash and the
New York Knicks
' Lin, a restricted free agent, but that they are undecided regarding
Houston Rockets
free agent
Goran Dragic
, who visited the
Phoenix Suns
on Tuesday and could command a starting salary of $10 million. The Knicks can match any offer made to Lin.
It appears the Mavs are set to lose shooting guard
Jason Terry
to the
Boston Celtics
, who have
offered the veteran a three-year
deal for more than $15 million.
Terry's departure
and
Deron Williams
'
decision to re-sign
with the
Brooklyn Nets
on Tuesday could open the door for combo guard
Delonte West
to re-sign with the Mavs.
West, who played in
Dirk Nowitzki
's charity baseball game Saturday and held a basketball camp in Fort Worth on Tuesday despite not being under contract, said he does not know what other teams might have interest in signing him. West said he is seeking a multiyear deal after playing on one-year, minimum contracts the last two seasons.
"Looking for a team to pay me what I'm worth, not a cent more," West said.
April, 28, 2012
4/28/12
11:46
AM ET

By Tom Haberstroh
ESPN.com
Archive
How crazy was Linsanity during this regular season? Consider this:
Tickets for Game 1 in Miami are selling for
half as much
as the February 23rd matchup tickets, which occurred during the height of Linsanity.
A representative from TiqIQ.com, a ticket information company that tracks online ticket prices on the secondary market, sent over the following results as of 11:30 a.m. ET:
The average price for Game 1 Saturday is $226.13, which is the 12th highest average priced home game for Miami this year
Compare this to their game in Miami on 2/23....Average price was $523.55 with a get in of $93
The current get in price is $28
The average price for the series is $510.71
The average price for Heat home games is $339.15, which is 43.02% lower then the average at MSG ($595.21)
What's more stunning: that Game 1 tickets are selling about $200 less than Linsanity tickets, or more than 10 regular season games were more coveted than Game 1?
March, 13, 2012
3/13/12
10:36
AM CT
By ESPN Stats and Info
ESPNChicago.com
Archive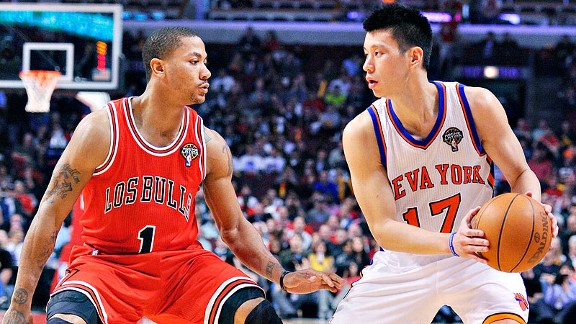 Mike DiNovo/US PresswireDerrick Rose outscored Jeremy Lin 32-15 in their first matchup on Monday.
Derrick Rose
admitted he was looking forward to playing against
New York Knicks
point guard
Jeremy Lin
before Monday night's game, and it showed.
Rose thrived when being guarded by Lin on his way to 32 points in the Bulls' 104-99 victory. It was the fourth straight game in which the Knicks have allowed an opposing point guard to score at least 25 points.
Rose was aggressive and attacked the rim, making seven shots within five feet of the basket, tied for his second most of the season. When Rose makes more than five field goals within that distance this season, the Bulls are undefeated.
March, 13, 2012
3/13/12
12:18
AM CT

By Melissa Isaacson
ESPNChicago.com
Archive
CHICAGO --
Derrick Rose
,
Taj Gibson
and a bunch of other players most self-respecting New York fans couldn't pick out of a lineup, defeated two superstars and a global sensation Monday night.
Except for the global sensation, it wasn't a whole lot different than most nights for the
Chicago Bulls
this last year and a half.
Read the entire column.
March, 12, 2012
3/12/12
7:24
PM CT
By ESPNChicago.com
ESPNChicago.com

ESPNChicago's Nick Friedell and ESPNNewYork's Jared Zwerling had a few questions for each other before Monday's Bulls-Knicks game.
Three questions about the Knicks
[+] Enlarge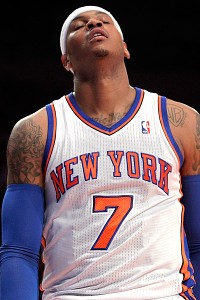 AP Photo/Seth WenigCarmelo Anthony and the Knicks have lost five straight games.
NF:
What is the biggest reason why the Knicks have lost five in a row?
JZ:
Offensive and defensive lapses, especially in the third quarter. In fact, in their past three games (all losses), they've had the worst average third-quarter scoring margin in the NBA (-10.3 points). Against the Sixers on Sunday afternoon, they got outscored 38-24 in the period. The Knicks start off strong with their patented pick-and-roll play featuring
Jeremy Lin
, but then the added pressure and defensive traps cause him to lose focus and commit turnovers. From there, the offense breaks apart. That's also because his teammates didn't come to his aid very well. On defense, they have effort breakdowns, especially guarding the pick-and-roll, and they react late to reads, not jumping out on shooters quickly enough. That definitely can't happen tonight with
Kyle Korver
on the court.
NF:
Will Mike D'Antoni be back next year?
JZ:
No. There is clearly a discrepancy between D'Antoni and
Carmelo Anthony
, no matter how much those two say they can work together. D'Antoni wants to run the pick-and-roll centered around his point guard, and the Knicks played extremely well doing that with Lin and
Tyson Chandler
before Anthony and
Amare Stoudemire
returned to the lineup. Now, the Knicks are back to more isolation basketball. That's not just on Anthony; that's on a revamped Knicks' roster trying to complete the puzzle quickly without much practice time during the shortened season. But in a league centered around individual superstars, Anthony will win out over D'Antoni, who's in the last year of his contract.
NF:
3. Can Carmelo and Amare produce together on the floor?
JZ:
Points-wise yes, but it remains to be seen how they can fit in the offense that D'Antoni is trying to build through Lin and the pick-and-roll. The Knicks are one of the deepest teams in the league, but Anthony and Stoudemire haven't made the sacrifices yet to play within the system. That means less shots, but more passing, screens and intangibles -- more of the little things. As I mentioned, isolation basketball is taking over the team right now and that can't happen. Stars making sacrifices in their prime is not easy to do, but they both have to make them for the Knicks to be successful this season and beyond.