February, 25, 2012
2/25/12
4:02
PM CT

By Nick Friedell
ESPNChicago.com
Archive
ORLANDO, Fla. --
Derrick Rose
likes what he's seen from
Jeremy Lin
and he's looking forward to facing the
New York Knicks
' phenom in the next few weeks.
"Lin's been good, man," Rose said on Friday afternoon. "Playing good ball. Playing with a lot of confidence. All you need is confidence in this league and that's what he's definitely playing with. I like him as a player, like him as a person, where he's very humble."
From a distance, Rose, the reigning MVP, also respects the way Lin has handled himself off the floor.
"I love the way that he plays," Rose said. "The fame or whatever, he's brushed it off. He's not paying too much attention to it. Turning things down. And that's the way that I think you're supposed to be."
Rose and the
Chicago Bulls
take on Lin and the Knicks on March 12 and then follow that up two more times in April. Rose, who has always talked about how much he loves playing in New York City at Madison Square Garden, is ready to see all the hype for himself. With the way the Knicks have improved, he knows the Bulls may see them later in the playoffs.
"It's going to be fun," Rose said. "[Carmelo Anthony's] back. Lin is playing great. You can tell they're playing with a little more juice when they're out there running the ball. That's a team that we definitely have to deal with."
Rose was asked if he felt he could slow Lin down. In typical fashion, the 23-year-old superstar downplayed the question.
"I really don't know," he said. "We'll have to see."
February, 25, 2012
2/25/12
12:28
PM PT
By
Shelley Smith
| ESPNLosAngeles.com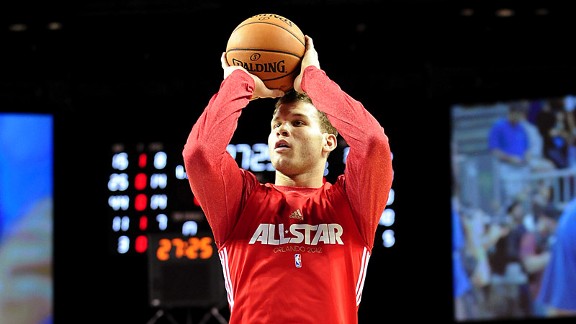 Garrett Ellwood/NBAE/Getty ImagesBlake Griffin knows the rigors of an All-Star Weekend can take on a player.
At last year's All-Star Game,
Blake Griffin
did it all. He played in what was then the Rookie-Sophomore Game, he competed in (and famously won) the dunk contest, and he played in the so-called varsity game Sunday night. And all in his town. And it took a toll on him.
"It affected me for a month," Griffin said, remembering how he got sick with the flu after the weekend.
So this year, with the Clippers in third place in the Western Conference, he said he had to scale it down. He played in what's now called the Rising Stars Challenge on Friday night, but asked for limited minutes and played nine. He is taking Saturday night off to be with friends and family, but will play Sunday night as one of four Los Angeles-based starters for the West.
Last season put Blake Griffin on the map. His career had been roller-coaster-like: a good career at Oklahoma, being drafted by the Clippers, sitting out a season with a knee injury, and then emerging in the lofty place he found himself at the end of All-Star Weekend.
He watched closely the past month as the Knicks' Jeremy Lin took an eerily similar lightning-fast rise to the top. What advice would he give Lin?
"Enjoy it. For sure, be able to say no to things," Blake told ESPN radio. "It's going to be extremely hectic for him, so he should pace himself. Everyone's going to be pulling at him different ways and as quickly as they build you up, they're going to try to tear you down, so don't get too caught up in all that."
February, 24, 2012
2/24/12
11:11
PM ET
By
Jared Zwerling
| ESPNNewYork.com
RECAP:
While Team Shaq's
Jeremy Lin
of the Knicks received the loudest ovation during pregame player introductions, his squad, which also featured his teammate
Landry Fields
, didn't have a roaring performance. They got blown out by Team Chuck, which included the Nets'
MarShon Brooks
,
146-133 in the Rising Stars Challenge on Friday night
as part of the NBA's All-Star Weekend.
Cavaliers rookie
Kyrie Irving
was named the game's MVP, after only missing one shot -- yes, one shot -- the entire game. He finished 12-for-13 from the field (8-for-8 from 3), en route to a game-high 34 points.
HIGHLIGHTS:
As Fields has become an alley-oop threat with the Knicks, thanks to Lin's playmaking off the pick-and-roll, he showed off those same skills tonight. In the second half alone, Fields (16 points) had three alley-oop dunks and clearly outshined Lin, who didn't even hit double digits in minutes. Someone needs to talk to his head coach,
Shaquille O'Neal
.
Whatever the case, Lin (two points) had his moments, while limited. He had a nice reverse layup in traffic and threw a picture-perfect pass to the Clippers'
Blake Griffin
for the alley-oop. While Lin to Fields and
Tyson Chandler
has been fun to watch, imagine Lin to Griffin, who many players call the best current in-game dunker.
As for Brooks (eight points), he delivered on something he's been excelling at lately: hitting 3-pointers. In his past two NBA games, he's gone 6-for-12 from downtown, and tonight he had two 3's, wearing the brightest orange sneakers you'll ever see in your life.
FUNNIEST MOMENT:
The arena showed Lin's parents,
Shirley
and
Gie-Ming
, on the jumbotron during a "Kiss Cam" segment, and they didn't even realize it. They were both separately texting on their cell phones, and Lin's older brother,
Josh
, was sitting behind them. Finally, after the arena DJ said something about it, Lin's parents looked up and smiled. Lin and Fields, who were both sitting on the bench at the time, laughed together.
SHUMPERT MISSING, BUT NOT FORGOTTEN:
While Lin and the Heat's
Norris Cole
were late additions to the Rising Stars, and deservedly so,
Iman Shumpert
was robbed of a roster spot. Shumpert let fans know how he felt about it on Twitter, saying "Seeing the personnel in this rookie challenge... #coldgame bro smfh."
J.R. Smith
gave him a shout-out right after, tweeting, "Watching the chuck an Shaq challenge an @I_Am_Iman isn't in it! #koldGame!"
WHAT'S NEXT:
Lin and Fields' Knicks host the Cavaliers on Wednesday night and Brooks' Nets travel to Dallas on Tuesday to take on the Mavericks.
You can follow Jared Zwerling on Twitter.
February, 24, 2012
2/24/12
3:47
PM ET
Nets guard
MarShon Brooks
will play in the Rising Stars Challenge at 9 p.m. in Orlando, Fla.
The event was formerly known as the Rookie Challenge and pitted the best second-year players against top rookies during All-Star weekend. The format is different this year: TNT analysts
Shaquille O'Neal
and
Charles Barkley
conducted a draft and built teams with a mixture of first- and second-year players.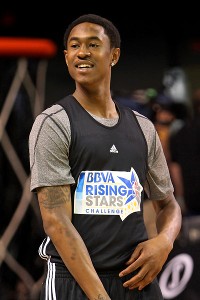 Joe Murphy/NBAE/Getty ImagesBrooks at Friday's practice.
Brooks will play for Team Chuck. Knicks guards
Jeremy Lin
and
Landry Fields
will play for Team Shaq.
Other players with ties to New Jersey and New York:
• Cavaliers guard
Kyrie Irving
of Team Chuck played for St. Patrick's High School in Elizabeth, N.J.
• Cavaliers forward
Tristan Thompson
of Team Shaq spent two years at Saint Benedict's Prep in Newark, N.J.
• Jazz forward
Derrick Favors
of Team Chuck was drafted by the Nets and traded to Utah in the
Deron Williams
blockbuster.
• Bobcats guard
Kemba Walker
of Team Shaq is a Bronx native who played for Rice High School in Harlem.
TEAM SHAQ
•
Norris Cole
, Heat
•
Landry Fields
,
Knicks
•
Blake Griffin
, Clippers
•
Brandon Knight
, Pistons
•
Jeremy Lin
,
Knicks
•
Greg Monroe
, Pistons
•
Markieff Morris
, Suns
•
Ricky Rubio
, Timberwolves
•
Tristan Thompson
, Cavaliers
•
Kemba Walker
, Bobcats
TEAM CHUCK
•
Kyrie Irving
, Cavaliers
•
DeMarcus Cousins
, Kings
•
Derrick Williams
, Timberwolves
•
Paul George
, Pacers
•
MarShon Brooks
,
Nets
•
John Wall
, Wizards
•
Evan Turner
, 76ers
•
Gordon Hayward
, Jazz
•
Kawhi Leonard
, Spurs
•
Derrick Favors
, Jazz
February, 23, 2012
2/23/12
10:31
AM ET

By Brian Windhorst
ESPN.com
Archive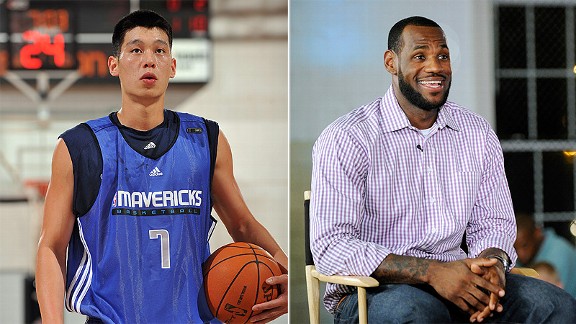 Getty Images, AP Photo
Shortly after declaring where he'd take his talents, LeBron James watched a kid named Jeremy Lin.
MIAMI – Five days after his "decision" in the summer of 2010, LeBron James was either spending his time:
A. Hiding in a bunker
B. Shopping for houses in South Florida
C. Watching Jeremy Lin play summer league games on NBA TV.
Actually, it was all of the above.
James often says he watches all levels of basketball and does so year-round. He's proved it over the years, occasionally making references to obscure moments that he's caught in NBA games. Of course James has been watching Lin regularly as he's starred for the New York Knicks, who his Miami Heat host tonight, but his database on him goes back further.
James said he remembers first hearing about Lin on SportsCenter after a game against UConn when Lin was at Harvard. Bu the first time he saw him play was in the 2010 Vegas Summer League. James had tuned in to watch No. 1 overall pick John Wall play, but Lin, who was playing for the Mavericks' summer league outfit against Wall at the time, got James' attention.
"Yeah, I watch summer league games," James said. "It was his first big game. It was a good game. I was like, he's a good player, no one predicted what he'd do now."
That game sort of put Lin on the NBA map as he had a huge fourth quarter with several impressive defensive plays and a series of aggressive drives to the basket that are now part of his trademark. His team lost but he won personally.
Now there is a much deeper catalog for James to study. He is expecting to be assigned to guard Lin for at least a few minutes. James has routinely defended top point guards from Rajon Rondo to Derrick Rose to even Chris Paul at times. Though it will probably be a countermeasure Heat coach Erik Spoelstra goes to only if other schemes are not working.
James said he'll be doing film work before tip-off to prepare for it.
"I know I'm probably going to end up on Lin at some point, I may end up on Amare and I'll probably start off on Carmelo," James said. "When we go small, I'll have to cover a big guy. If we go small, I'll probably have to cover the point guard."
The Heat, like many other teams in the league, have had a touch on Lin fever. He's been a regular topic in the locker room. When Lin made his 3-pointer to beat Toronto last week, several players rushed into a room with a television in the visitor's locker room in Indiana to see a replay.
With this game's buildup, though, there is a sense James and his teammates are looking forward to playing against the new star and the new-look Knicks, a potential playoff opponent, instead of just talking about it.
"I'm not tired of him but I've answered these questions more than once," James said. "He's a good player and he does good things for their team. They needed a point guard and they found one."
February, 23, 2012
2/23/12
9:42
AM ET

By Michael Wallace
ESPN.com
Archive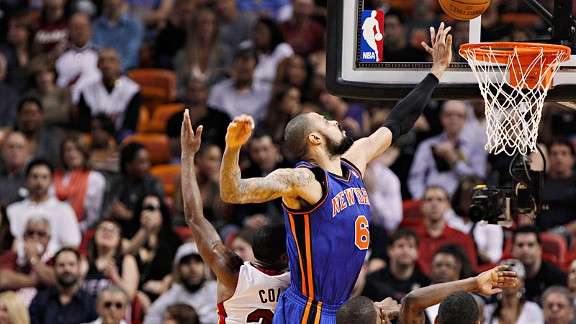 AP Photo/Lynne Sladky
All eyes are on Jeremy Lin, but Miami won't overlook Tyson Chandler and New York's formidable front.
MIAMI - Dwyane Wade insists the Miami Heat have paced -- and braced -- themselves for Linsanity.
"We're going to answer it today, we'll have to answer it tomorrow, and then we'll move on," Wade said Wednesday when asked if his team had already grown weary of facing relentless questions about the overnight sensation that is New York Knicks point guard Jeremy Lin. "Well, nah. All-Star weekend, we'll be asked about him, too. But after that, we'll move on."
Wade, whose Heat team is familiar with being a major topic throughout league circles, actually seemed to embrace the reversal of roles.
"The biggest thing is he's winning," Wade said of Lin. "They're winning. He's the leading catalyst of that. I'm sure guys have had to answer questions about us, and they were like, 'Oh Jesus, not this again.' But that's what this league is about. Once we get done with this game and All-Star Weekend, we can move on and answer other questions."
Considering the run the Knicks have been on recently since inserting the now-popular point guard into the lineup, there's no doubt that all eyes will be on Lin when New York visits Miami on Thursday for one of the most anticipated matchups in the league this season.
Despite all of the hype, the Heat's focus extends well beyond finding a way to contain Lin, who has led the Knicks to nine victories in the 11 games since he emerged as the starter. Miami, which enters the game with the league's best record at 26-7, has the star power to account for New York's potentially prolific scorers in Lin, Carmelo Anthony and J.R. Smith.
But a bigger problem for the Heat could be figuring out a way to match-up with the Knicks' inside tandem of Amare Stoudemire and Tyson Chandler. Miami has gotten away with playing smaller lineups, finishing games almost exclusively with Chris Bosh and Udonis Haslem rotating at center.
Not even the Orlando Magic, who have the league's most dominant center in Dwight Howard, could effectively exploit the matchup advantage they had inside during last Sunday's 90-78 loss to the Heat. But few teams have the kind of length and athleticism at the power forward and center spots as the Knicks, with both Stoudemire and Chandler becoming bigger factors since Lin took over control of the offense.
Chandler, who had essentially been a forgotten man in the offense, has regained his finishing touch around the rim and is averaging 13.3 points and 10 rebounds on 75.3 percent shooting in road games this season.
Stoudemire is trying to shake off a rusty start to the season and is again showing flashes of brilliance in the pick-and-roll game, specifically with Lin facilitating the initial set. Stoudemire has averaged 19.1 points and shot an improved 48.5 percent this month. The Knicks also have grabbed at least 14 offensive rebounds in three of their past four games.
When the Heat and Knicks met a month ago, Lin hadn't yet cracked the rotation and neither Stoudemire nor Chandler were significant factors in a game that saw New York attempt 43 shots from 3-point range in a 99-89 Miami victory at AmericanAirlines Arena.
But the Heat are preparing for a more balanced approach from the Knicks, who are equally capable of jacking up 43 shots from beyond the arc one game as well as scoring 54 points in the paint like they did in Wednesday's home blowout against the Atlanta Hawks.
"If you don't have (defensive) habits built up, it can be an absolute nightmare trying to defend them," Heat coach Erik Spoelstra said. "To defend a system like that, you have to do it team-wise. If one guy breaks down, it will invariably lead to a wide-open 3. You can't prepare for them in one day. This has to be weeks and months of (defensive) habits."
Those habits for the Heat, a top-five defensive team in the league, start with an all-hands-on-deck commitment to protect the paint and compensate for their lack of significant bulk in the middle.
"With the way they shoot the ball, we can't give them 3s and give them paint points," Haslem said of the Knicks. "So we've got to try to take care of the paint first. No easy baskets, then close out on the 3s. Our defensive principles don't change. Protect the paint. Make them spray the ball. It's not an easy style to play defensively, but it's been working for us. We understand our recipe for success."
For the Heat, that recipe involves keeping a close eye on Lin but also putting a body or three on Stoudemire and Chandler.
"That's huge for us," center Joel Anthony said. "Everyone talks about Jeremy Lin. But Stoudemire, on any given night, can explode and you don't want to be in a position where he's affecting a game like that. And we know Chandler can have a huge impact with those lobs and his activity around the basket. So we definitely have to find a way to neutralize that or it doesn't matter what happens on the perimeter. We've put ourselves in a tough situation if we can't handle what goes on inside."
The Heat have had success mixing defensive coverages, which, at times, has even included gimmicks such as LeBron James defending the center to combat size with quickness. During its seven-game winning streak, Miami has won the rebounding battle six times and has not allowed a team to score 50 points in the paint.
Maintaining those benchmarks remain a priority against the Knicks.
"We don't really care about size much here," Bosh said. "It's just really some numbers on paper. Our goal is to outrebound every team we play. It never really changes. We just look at what our job is, and we plan to do our job again (Thursday)."
February, 22, 2012
2/22/12
12:36
AM ET

By Michael Wallace
ESPN.com
Archive
MIAMI - Credit the Sacramento Kings for at least making the Miami Heat work hard into the fourth quarter on Tuesday. Still, the Heat got 30 points and 10 assists from Dwyane Wade and six 3-pointers from Mario Chalmers to pull away for a 120-108 victory that extended their winning streak to seven.

Next up: Jeremy Lin and the New York Knicks on Thursday night. Check out our latest Heat 'Temp Check' show for a recap of Tuesday's win and a look ahead to the most anticipated game of the season as Linsanity looms.


February, 21, 2012
2/21/12
12:28
PM ET


Nets. Magic. Deron Williams. Dwight Howard. Wednesday night. Prudential Center.

"It'll be interesting to see how the fans are gonna react. I'm sure it'll be pretty crazy," D-Will said after dropping 38 points on Jeremy Lin and the Knicks on Monday night at the Garden. "I kind of look forward to the game. I like playing against him, so it should be fun."

Both D-Will and D-12's futures are uncertain. And before "Linsanity," trade rumors and speculation surrounding both were all the rage in the NBA.

Where will they end up? Brooklyn? Dallas? Los Angeles with the Lakers? Together? Apart?

The possibilities seem endless, and no one except the players themselves knows for sure.

The Nets appear to be in the driver's seat. D-Will has reiterated his intent to stay -- assuming the Nets put the right pieces around him, and said Monday night he was comfortable with the direction of the organization. D-12 is the big piece. ESPN NewYork.com's Stephen A. Smith said on Mike and Mike Tuesday morning that if the Nets can't get D-12, then D-Will is headed to his hometown Mavericks.

Makes sense. D-Will wants to win now. He doesn't want to be part of a rebuilding project.

The Nets are obviously in transition mode at this point, but if they were to land a dominant center like D-12 to go along with D-Will, all of a sudden they would become an instant playoff contender.

As has been discussed on this blog before, the Nets can either try to acquire D-12 by the March 15 trade deadline, or take their chances that they'll be able to sign him to a max deal assuming he opts out and becomes a free agent -- which is basically all but a formality at this point.

The Nets obviously have a lot of assets right now, including Brook Lopez, MarShon Brooks and two first-round draft picks, among other things.

If the Magic were to come with them with an offer and assurances from D-12's camp that he'd sign, they'd have to sacrifice some of if not all of those assets. But in a perfect world, the Nets would be able to keep of all those assets, and add D-12 to the mix, becoming an instant contender in the East.

What do you think will happen to D-Will and D-12? Let us know in the comments section.
February, 21, 2012
2/21/12
10:18
AM ET
Knicks point guard Jeremy Lin sought out Nets power forward Kris Humphries after the Nets' 100-92 victory on Monday night to tell Humphries that he thought the boos directed at him by the crowd at the Garden were "unfair," according to ESPN.com's Rachel Nichols.

"Now that's a good dude," Humphries told Nichols.

The Nets spawned "Linsanity" on Feb. 4. The Garden crowd spawned the "Everybody Hates Kris" campaign on Dec. 21 during the preseason, when they booed Humphries vociferously every time he touched the ball.

The 27-year-old says the boos are motivation, and it certainly showed on Monday night, when he notched another double-double, scoring 14 points and grabbing 14 rebounds.

At this point, the boos have mostly died down -- but they've continued at the Garden.

The irony in this whole situation is, Humphries isn't being booed for anything he's doing on the court. He was married to Kim Kardashian for 72 days. It didn't work out. But it's in the past. Hump has moved on. Isn't it time for the fans to do the same?

PHEW: Those four teeth shooting guard Anthony Morrow lost? Don't worry. They're temporary.

Morrow lost them on Jan. 6 in Toronto. He was actually supposed to have a dentist appointment on Tuesday afternoon, but it got moved up to the morning, according to reports.

"Y'all, i just got reconstructive work done I didn't just lose 4 teeth," Morrow tweet at around 11 a.m. Tuesday

The greater concern is why a travel was called on that particular play, when Morrow got elbowed in the mouth by Carmelo Anthony.

Credit to Morrow for gutting it out, though. The Knicks got within eight in the fourth quarter, but Morrow ended a 3 minute, 1 second scoring drought with one of the biggest buckets of the game, a 14-footer from the baseline with 5:41 left that put the Nets ahead 87-77. And Hump's three-point play 40 seconds later made it a 13-point Nets' lead. They were able to survive from there.

BIG PICTURE: A couple big picture quotes from D-Will didn't make it in my column. Here they are anyway:

"We still need to get some guys in here if we're going to be a better team. There's no doubt about that. We're 10-24 right now. So we have to get some better players. But I think everything will work out. It takes some time to put it together," Williams said.

Williams added that he was "comfortable" with the direction of the franchise.

[After the season], I'm sure I'll have a conversation with GM Billy [King] and ownership, and go from there."

LIN-FERIOR: Lin still got his -- he finished with 21 points, nine assists and seven rebounds -- but give the Nets' defense credit for forcing him into a 7-for-18 shooting night. Their bigs packed the paint, and kept him out of it a bit. If Nets' fans haven't watched Lin before, they probably figured two things out: 1. He's definitely for real and 2. He's much less effective going left than right.

OF NOTE: Center Brook Lopez will go through a hard workout on Tuesday before returning to the lineup and playing on Wednesday night against the Magic. ... The Nets were outscored 40-20 in the paint and 20-11 on the fastbreak, but won the rebounding battle, 46-42, and went 21-for-29 from the free throw stripe. ... A Barclays Center spokesman said Tuesday that construction of $1 billion arena remains on schedule for its Sept. 28 opening.
February, 21, 2012
2/21/12
1:10
AM ET
By
Christopher Hunt
| ESPNNewYork.com
NEW YORK -- Clearly there's something about
Kris Humphries
that gets under people's skin.
The crowd booed
Kim Kardashian
's ex all night,
Carmelo Anthony
tripped him and
Tyson Chandler
followed him halfway into the Nets' huddle.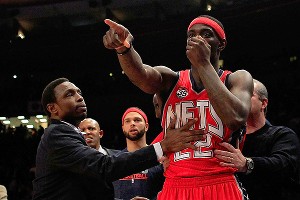 Chris Trotman/Getty ImagesAnthony Morrow lost four teeth after taking an elbow from Carmelo Anthony.
The Knicks downplayed the incidents after the Nets won 100-92 at the Garden on Monday night.
"[It was] just nerves and [being] tired and we just don't like getting beat," Knicks coach
Mike D'Antoni
said. "Nothing major."
It seemed that the Nets took the worst of the physicality. Humphries had scratches on his face after the game. Nets guard
Anthony Morrow
lost four teeth to a Melo elbow.
"It was physical from start to finish,"
Amare Stoudemire
said. "You have to expect that from those guys. They're going to try and play us very physical. That's the way they play; we have to expect that."
The Nets (10-24) certainly came across the river with an edge. It started with
Deron Williams
, who recorded 38 points, six assists and a career-high eight 3-pointers. He made a point to stick it to
Jeremy Lin
, who started his rise to international stardom by outplaying Williams at the Garden on Feb. 4, sparking a seven-game winning streak for the Knicks.
Both Lin and Williams fouled out in the fourth quarter on Monday. Lin finished with 21 points, nine assists and seven boards.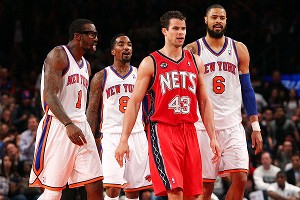 Debby Wong/US PresswireKris Humphries had the Knicks' attention Monday.
But the game increasingly became physical under the basket. On one play in the third quarter, Humphries (14 points, 14 rebounds) was tangled with Chandler in the paint, positioning for a rebound, and appeared to push him to the ground. Anthony took exception and poked out his leg to trip Humphries as he went downcourt, and was called for a technical.
"It happens in the course the game," said Anthony, who went 4-for-11 with 11 points, six assists and six turnovers in his first game back from a right groin strain. "It happens. I made a mistake and tripped him."
Chandler was bumping with Humphries much of the night. Humphries and Chandler collided twice on one play in the fourth before Humphries was called for an offensive foul. The two started jawing and, after the Nets called timeout, Chandler followed Humphries into the New Jersey huddle and grabbed him by the arm, which earned Chandler a technical.
"I didn't think I fouled him to start the play," Humphries said. "I just think he was a little overhyped and came over and slapped me on the arm or something. I don't know. It is what it is. We were just playing ball."
Asked if Humphries probably wouldn't meet with the 7-1 Chandler for dinner after the game, Humphries said: "I'll probably see him later. He's a nice guy. Some people might put it on out there, but off the court he's a gentle giant."
You can follow Christopher Hunt on Twitter.