The Yankees beat the Rangers in the 1996, 1998 and 1999 Division Series, winning nine of 10 games. The Core Four were in the dugout for each of those series.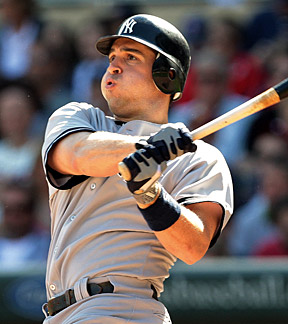 Jesse Johnson/US Presswire
25
FIRST BASE
WT: 220 lbs. HT: 6-3
BATS: Both THROWS: Right
BORN: April 11, 1980
BIRTH PLACE: Annapolis, MD


For the third straight season, Tex's average took a dip as he batted a career-low average this season. ... While his production was his normal 30-plus homers and 100-plus RBIs, he might no longer be a player who bats for average. ... Could be dropped down in the lineup for playoffs. ... Has struggled in the playoffs with the Yankees. ... Went 11-for-61 in 2009 before going 4-for-27 last season, including 0-for-14 in the ALCS., which puts Teixeira at .170 as a Yankee.
| SPLITS | G | AB | R | H | HR | RBI | AVG | SLG | OPS |
| --- | --- | --- | --- | --- | --- | --- | --- | --- | --- |
| Career | 1862 | 6936 | 1099 | 1862 | 409 | 1298 | .268 | .509 | .869 |