98.7 OUT AND ABOUT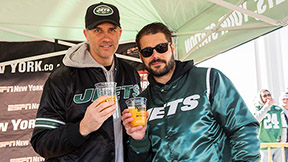 On October 23, 2016, before Jets vs. Ravens, Alan Hahn and Rick DiPietro hosted a tailgate at MetLife Stadium for lucky listeners who called in for tickets. On Facebook

Find out how you can partner with 98.7 ESPN and ESPNNewYork.com.



CONTESTS
Enter to win a chance to attend a New York-area hockey game. Presented by Brooklyn Brewery

Win a trip for two to the College Football Playoff. Listen to The Michael Show weekdays from 3 to 7 p.m. to find out how.

Contest Rules
WEEKENDS ON DEMAND
Anita Marks Show
Anita Marks talks Geno and the Jets with Manish Mehta. Jordan Raanan calls from London to discuss the latest on the Giants and Mike Clay joins to talk Fantasy Football.
New York Sports and Beyond
Featured this week: How students can get ready for the college admissions process; New youth sports guidelines?; One of the top wheelchair athletes in this year's New York Mar
Bill Daughtry
Bill Daughtry discusses Geno Smith being promoted to starting Quarterback. Mike Quick joins Bill to talk High School Football and we talk Fantasy Football with Ken Daube.
The Bottom Line with Howie C & Gerald Brown
Howie C & Gerald Brown Preview the NBA Season while focusing on the Knicks! They talked about their expectations for the Knicks, their all time Knicks emotional moment & more
Rod Strickland
Rod Strickland joins Howie C and Gerald Brown to previews the Knicks season and what to expect from Derrick Rose.
The Bottom Line with Howie C & Gerald Brown
Anthony Donahue previews the Knicks season with Howie C and Gerald Brown. Plus talks about how good is Carmelo Anthony and are the Knicks a playoff team?
SHOWS
Hosts » Podcasts