98.7 OUT AND ABOUT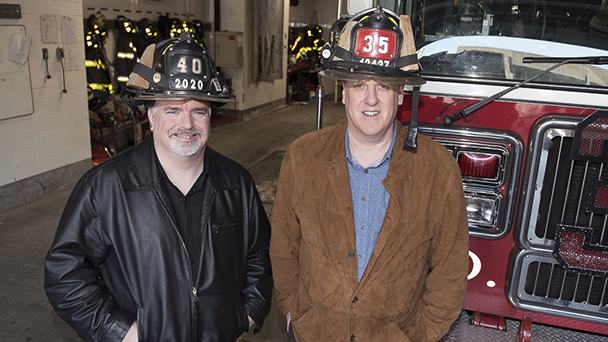 The Michael Kay Show dropped in on our local firehouse with sports talk and pizza. The guys from Engine 40 and Ladder 35 "The Home of The Cavemen" couldn't have been nicer.
On Facebook

WEEKENDS ON DEMAND
On the Tee with Anita Marks
Anita Marks and John Mascari talk to Club Car about the Shark experience and Mike Adams joins the show to talk about getting fitted for your wedges.
New York Sports and Beyond
Larry Hardesty discusses the plight of teens emerging from Foster care with Deiredra Oliver, founder of The Empowerment Zone.
The Anita Marks Show
Where should the Giants look in the NFL draft? Plus, Anita Marks discusses Dez Bryant being released by the Cowboys.
The Dave Rothenberg Show
Who should the Giants take in the upcoming draft? Plus, what direction should the Knicks go in with their new head coach? Dave Rothenberg discusses this on 98.7 ESPN.
The Gordon Damer Show
The Knicks want Mark Jackson, but is it for all the wrong reasons? Gordon Damer discusses on 98.7 ESPN.
CONTESTS
LISTEN TO THE MICHAEL KAY SHOW! All baseball season long, you can win $100 cash by predicting which Bronx Bomber will hit one out of the park on a given night. Presented by P.C. Richard & Son

Official Rules -- Think you know your Jets? Tune to Humpty & Canty and The Michael Kay Show for your chance to win Jets Season Tickets.
SHOWS
Hosts » Podcasts

Find out how you can partner with 98.7 ESPN and ESPNNewYork.com.