LIVE ON ESPNNEWYORK.COM
SportsCenter AllNight
12:00 AM-4:00 AM


98.7 OUT AND ABOUT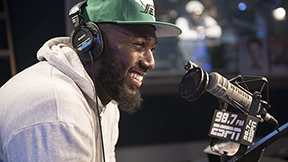 Jets DE Muhammad Wilkerson stopped by to discuss the team's upcoming season and help Hahn, Humpty & Canty sample some cuisine from 2017 Taste Of The Jets. On Facebook

CONTESTS
It's your chance to win a Stay & Play Weekend in Saratoga! Presented by Brooklyn Brewery
WEEKENDS ON DEMAND
More pressure on LeBron or Warriors?
Is there more pressure on LeBron James or the Golden State Warriors to win it all this year? It might not be as clear cut as you think says Gordon Damer.
Marchand: Concerns about Tanaka are real
ESPN's Andrew Marchand covers the Yankees and he joined Gordon Damer to discuss why there are legitimate concerns surrounding ace Masahiro Tanaka.
The Gordon Damer Show
Jared Diamond of the Wall Street Journal tells Gordon Damer why he isn't all that surprised by the Yankees' great start to the season.
Dave Rothenberg
Dave Rothenberg is done picking against LeBron to make the NBA Finals until he actually sees it not happen. Plus, is he underappreciated?
ESPN New York
Bill Daughtry explores the idea of the Knicks drafting Dennis Smith Jr.
ESPN New York Daughtry Begley
ESPN's NYK reporter Ian Begley looks ahead to the upcoming draft with the Knicks holding the No. 8 overall pick. Is Dennis Smith Jr. the best option?
SHOWS
Hosts » Podcasts