LIVE ON ESPNNEWYORK.COM
SportsCenter AllNight
12:00 AM-4:00 AM


98.7 OUT AND ABOUT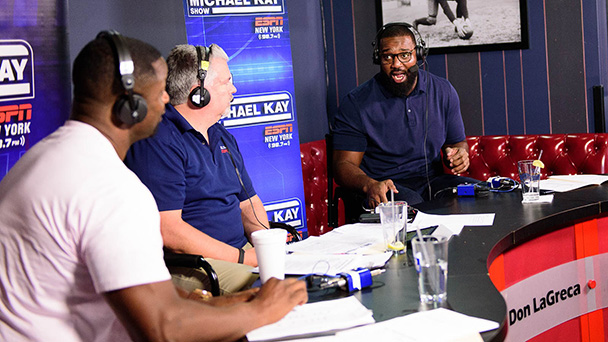 Held at The HUB in Hoboken, we kicked off the NFL season with The Michael Kay Show LIVE followed by a round table featuring Anita Marks, Bart Scott, Willie Colon and Chris Canty. On Facebook

Find out how you can partner with 98.7 ESPN and ESPNNewYork.com.



WEEKENDS ON DEMAND
Stephen A. Smith: 9/23/17
Stephen A. Smith joined 98.7 ESPN to discuss the Carmelo Anthony trade to OKC. Furthermore, he says Cleveland never returned the Knicks' calls on a potential trade.
Bill Daughtry Show: 9/23/17
Bill Daughtry says that Carmelo Anthony shouldn't show up to media day.
98.7 ESPN HS Football Report
Mike Quick joined Bill Daughtry to give the HS Football report and shed light on some controversy outside of the lines.
New York Sports and Beyond
Featured this week: Iron Matt/Bolt for Ben, 24 Hours of Peace in Newark, Manhattanville College Sports Business Management program's 10th anniversary; Rising New York Road Runners.
MUST LISTEN
Listen to our weekly convos with Todd Bowles, our weekly player spotlights and postgame highlights and interviews.
SHOWS
Hosts » Podcasts