98.7 OUT AND ABOUT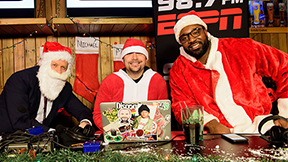 On December 15, The Michael Kay Show took over Miller's Ale House in Levittown for our annual LIVE broadcast and melee. On Facebook

WEEKENDS ON DEMAND
New York Sports and Beyond
The legacy of Dr. Martin Luther King continues to be felt in the world of sports to this day.
Alan Hahn: 1/13/18
Alan Hahn joined the Anita Marks show on 98.7 ESPN to discuss the Knicks' road woes and if the criticism of Kristaps Porzingis is warranted.
Anita Marks: 1/13/18
Anita Marks discusses what lies ahead for the Giants and previews the NFL Divisional Round on 98.7 ESPN.
MUST LISTEN
Listen to our weekly convos with Todd Bowles, our weekly player spotlights and postgame highlights and interviews.
98.7 FM's Mike Quick provides a weekly look at what's going on in New York-area high school sports. Presented by GMA Sales.
CONTESTS
Listen for your cue to call to win seats at a TMKS LIVE broadcast and passes to Celebrity Dinner hosted by Michael Kay and featuring Derek Jeter.
SHOWS
Hosts » Podcasts

Find out how you can partner with 98.7 ESPN and ESPNNewYork.com.