LIVE ON ESPNNEWYORK.COM
First and Last with Lundberg, Golic Jr.
4:00 AM-6:00 AM

98.7 OUT AND ABOUT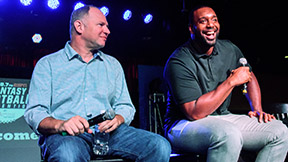 On Saturday, 98.7 FM hosted our second annual Fantasy Football Convention. Matthew Berry, ESPN's fantasy football expert, led the event with SB Champ Chris Canty and the whole 98.7 crew. On Facebook

Find out how you can partner with 98.7 ESPN and ESPNNewYork.com.



CONTESTS
Listen to Hahn & Humpty during the noon hour and The Michael Kay Show from 4:30 to 5:30p for your chance at daily prizes and a Ultimate Monday Night grand prize.
WE'RE NEW YORK'S FOOTBALL STATION
SHOWS
Hosts » Podcasts