98.7 OUT AND ABOUT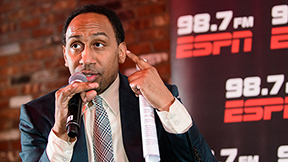 To celebrate Black History Month, 98.7 FM presented Changing The Game hosted by Stephen A. This year, at the Harlem Tavern, we discussed current NFL trends and developments.
On Facebook

SPECIAL PODCAST!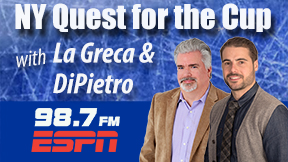 Throughout the Ranger's playoff run, listen as 98.7 host and Rangers broadcaster Don La Greca teams up with 98.7 host and former Islanders goalie Rick DiPietro to discuss and breakdown the Blueshirts' 2017 quest for the cup! Listen

WEEKENDS ON DEMAND
The Dan Graca Show
Dan Graca talks about the Jets 6th pick. Who would you get? And will Steve Kerr miss the rest of the postseason?
The Anita Marks & Willie Colon Show
Anita Marks & Willie Colon talk about a new Aaron Hernandez report.
Dave Rothenberg
Dave Rothenberg talks about the Rangers and previews Game 6. Plus he give his take on the Eli Manning memorabilia scheme
The Bill Daughtry Show
Bill Daughtry talks about the Rangers big win in Game 5. Can they seal the deal in Game 6?
SHOWS
Hosts » Podcasts