LIVE ON ESPNNEWYORK.COM
Hahn, Humpty & Canty
10:00 AM-1:00 PM


98.7 OUT AND ABOUT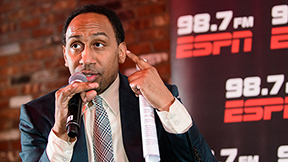 To celebrate Black History Month, 98.7 FM presented Changing The Game hosted by Stephen A. This year, at the Harlem Tavern, we discussed current NFL trends and developments.
On Facebook

SPECIAL PODCAST!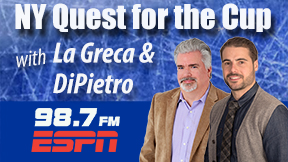 Throughout the Ranger's playoff run, listen as 98.7 host and Rangers broadcaster Don La Greca teams up with 98.7 host and former Islanders goalie Rick DiPietro to discuss and breakdown the Blueshirts' 2017 quest for the cup! Listen

WEEKENDS ON DEMAND
New York Sports and Beyond
Featured this week: the 70th anniversary of Jackie Robinson breaking barriers, a delicious ballpark tradition and one of our own takes the fight to lupus.
The Anita Marks Show
Anita Marks and Moke Hamilton talk about Phil Jackson's press conference. KP missed his exit interview? And, should the best player always take the final shot?
The Andrew Gundling Show
Andrew Gundling talks about Melo and his desire to stay in New York. Plus,what will happen in the NBA playoffs?
The Anita Marks & Willie Colon Show
Anita Marks and Willie Colon talk about Phil Jackson saying he wasn't brought to NY to win a championship.
Jessica Mendoza
Jessica Mendoza joins Andrew Gundling to discuss NY baseball. How good is Yoenis Cespedes? And what type of pitcher is Michael Pineda?
Ian Begley
Ian Begley joins Dave Rothenberg to talk about Phil Jackson's press conference. Who will be back next year?
SHOWS
Hosts » Podcasts