Top headlines
Dolphins stun Pats with miracle last-second TD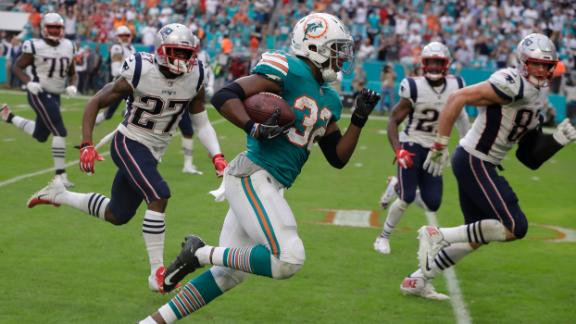 Dolphins and Pats both shocked by final play
Kenyan Drake's wild touchdown shocks Tom Brady and the Patriots but Ryan Tannehill and the Dolphins are equally as stunned.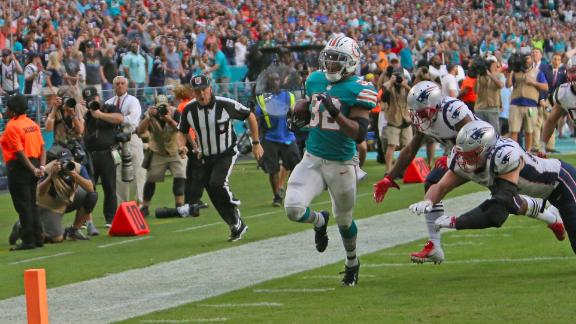 Miami Miracle ruins Brady's record-breaking day
Miami's unimaginable game-winning touchdown spoils Tom Brady dethroning Peyton Manning as the NFL all-time leader in passing touchdowns.
Drake on scoring miraculous TD: 'I still don't believe it'
Kenyan Drake says the game-winning touchdown is something the Dolphins practice all the time, but is still in awe that he made it to the end zone.
Saturday breaks down Miami's miracle TD
Jeff Saturday telestrates what the Dolphins did right and the Patriots did wrong on Miami's game-winning touchdown.
Gronk says stunning loss will test Pats' character
Rob Gronkowski says he's learned a lot after the Dolphins' double lateral, game-winning TD, adding that he's "never been a part of anything like that."
Brady: Shouldn't have let it come down to desperation play
Tom Brady says the Patriots left "a lot more points on the board offensively" but knows "that's football."
Gase says walk-off TD went exactly as planned
Adam Gase says situational plays, like the game-winning touchdown, have been rehearsed during practice and they "executed that one, for sure."
Tannehill on game-winning TD: 'I can't even believe it'
Ryan Tannehill says the Dolphins had a "1% chance of making that happen" but their fight "speaks to this team and how we never quit."
Belichick: 'Obviously that's a real disappointing ending'
Bill Belichick admits that even though the game came down to one play, the Patriots made multiple mistakes throughout.
Cooper's third TD catch gives Cowboys OT win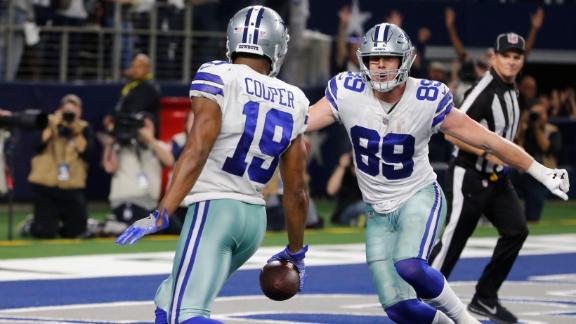 Cooper's 3 TDs lead Cowboys to OT win over Eagles
Amari Cooper catches 10 passes for 217 yards and three touchdowns, including the game-winner in overtime, as the Cowboys win 29-23 vs. the Eagles.
Eagles' 'look of disappointment' bothers Pederson
Doug Pederson says the biggest disappointment after the Eagles' overtime loss to the Cowboys is "the look in those players' eyes."
Wentz: 'We're gonna just keep competing, keep preparing'
Carson Wentz never envisioned that the Eagles would have a losing record at this point in the season and says it is "extremely frustrating."
Garrett compliments Prescott's toughness
Jason Garrett calls Dak Prescott a "tough son of a b----" and credits his efficiency vs. the Eagles.
Jones on Cooper: 'I can't tell you how pleased I am'
Jerry Jones praises Amari Cooper's impact in the Cowboys overtime win vs. the Eagles, calling him "such a complete player."
Cooper on OT TD: 'Stayed with the ball and there you have it'
Amari Cooper breaks down his game-winning touchdown in overtime and says playing with the Cowboys is a "dream come true."
Prescott on OT win: 'A lot of ups, a lot of downs'
Dak Prescott says the Cowboys' backs were against the ball, but they kept fighting to pull off an overtime win vs. the Eagles.
Zeke flagged for lowering head
Ezekiel Elliott is penalized for lowering his head, making him the first offensive player to be flagged under the new use-of-helmet rule.
Eagles tie Cowboys late with Sproles TD
Carson Wentz dumps it off to Darren Sproles and he fights into the end zone from 6 yards away to tie the Cowboys in the final minutes.
Mahomes throws miraculous pass to Hill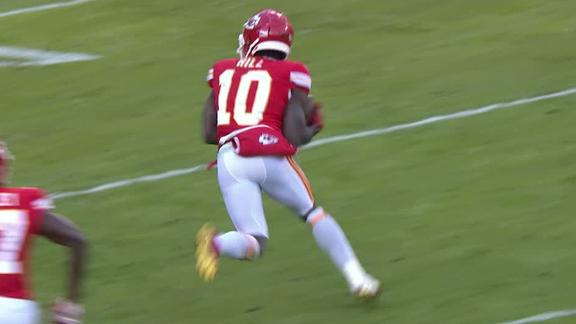 Chiefs rally to win in OT behind Mahomes' big day
The Kansas City Chiefs rally to beat the Baltimore Ravens 27-24 in overtime as Patrick Mahomes throws for 377 yards and two touchdowns on the day.
Chiefs win in OT on 35-yard go-ahead FG
Harrison Butker hits a 35-yard field goal in overtime for the Chiefs as they beat the Ravens 27-24.
Ricard apologizes for racist tweets
Patrick Ricard addresses the media postgame after racist tweets of his were discovered Saturday night.
Saturday praises Mahomes' ability to escape pocket
Jeff Saturday breaks down how Patrick Mahomes was able to find Tyreek Hill on a long 4th-and-9 in the fourth quarter of Sunday's game.
Harbaugh not happy after OT loss to Chiefs
John Harbaugh speaks to reporters after the Ravens lose to the Chiefs in overtime.
Mahomes on Ravens D: 'They're the real deal'
Patrick Mahomes has high praise for the Baltimore defense after the Chiefs' 27-24 overtime win over the Ravens.
Reid speaks highly of Chiefs after win over Ravens
Kansas City Chiefs head coach Andy Reid speaks to the media after his team defeats the Ravens in overtime 27-24.
Mahomes: Hill made 'a heck of a play'
Patrick Mahomes has high praise for Tyreek Hill after Hill caught a deep pass to keep a drive alive for the Chiefs.
Mahomes throws no-look pass to Robinson
Patrick Mahomes throws a crazy no-look 17-yard pass to Demarcus Robinson in the second quarter.
Cameraman takes tumble after Bolden's long TD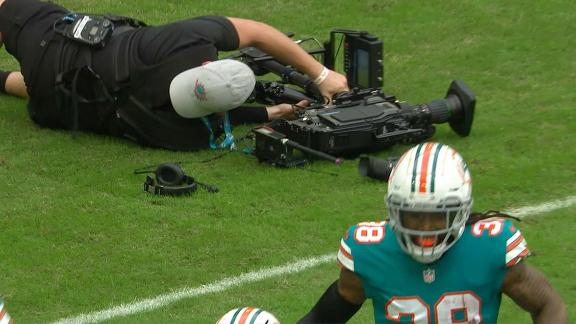 Scuffle breaks out after Rodgers takes late hit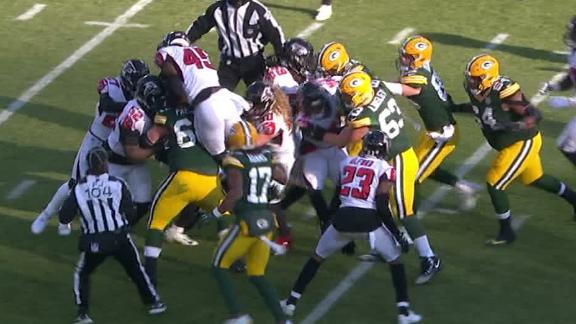 Landry hauls in 51-yd TD for 2nd TD of game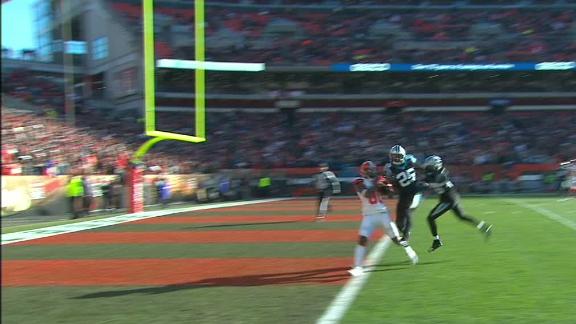 Get your head in the game
Customize ESPN
ESPN Fan Shop
Powered By