Browns' first-round draft picks throw out first pitch.
Myles Garrett, Jabrill Peppers and David Njoku take to the mound for the ceremonial first pitch in Cleveland.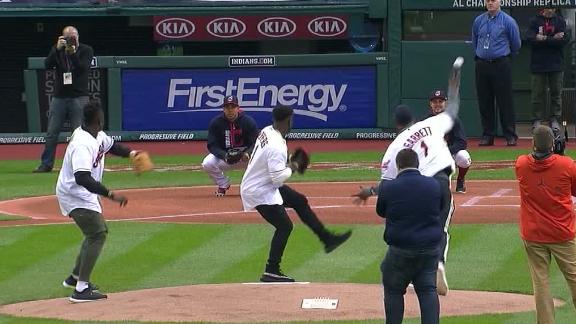 Draft analysis
Draft analysis
Draft analysis
Bengals
NFL
Bengals
NFL
Bengals
NFL
Mixon's talent, Bengals' evaluation leads to being selected.
Field Yates evaluates the Bengals' decision to draft Oklahoma running back Joe Mixon with the 48th overall pick years after being suspended for punching a woman.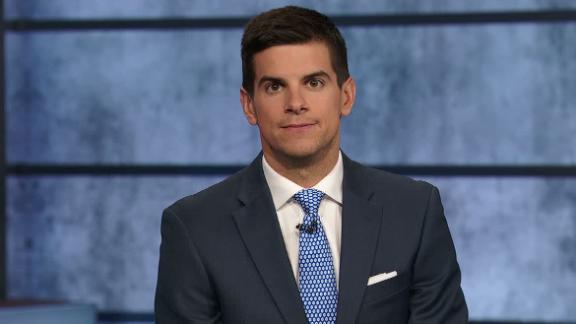 Top videos from day two
Vikings
NFL
Cook ready to fill some 'big shoes' in Minnesota.
Florida State's Dalvin Cook responds to being the highest-drafted Vikings RB since Adrian Peterson in 2007 and jokes that he's going to have to go buy a winter jacket.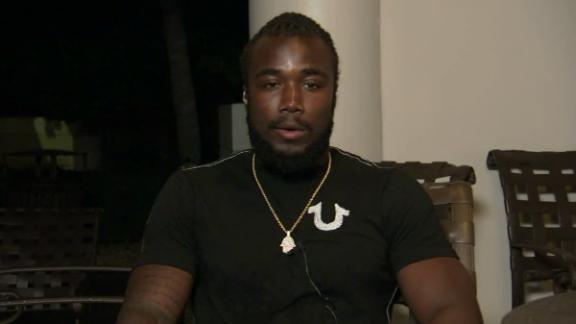 Bengals
NFL
Bengals select Mixon in second round.
The Cincinnati Bengals pick Joe Mixon with mixed reactions from the crowd in the 2017 NFL draft.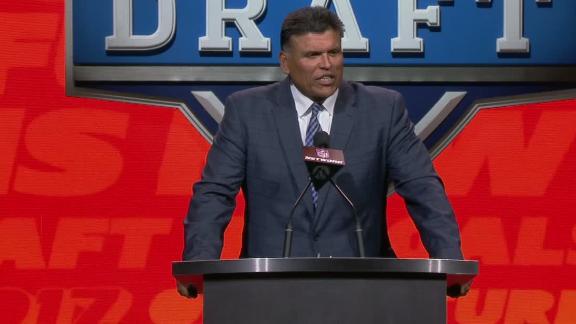 Browns
NFL
NFL
Do the Browns finally have their answer at QB?
Field Yates explains why former Notre Dame quarterback Deshone Kizer could be in line to start sooner rather than later.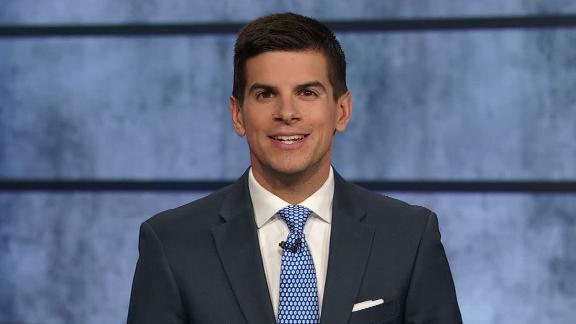 Final prospect rankings
NFL Draft
NFL Draft
NFL draft first-round rewind.
Catch up on a stunning opening round of the NFL draft, marked by a flurry of trades and surprise picks.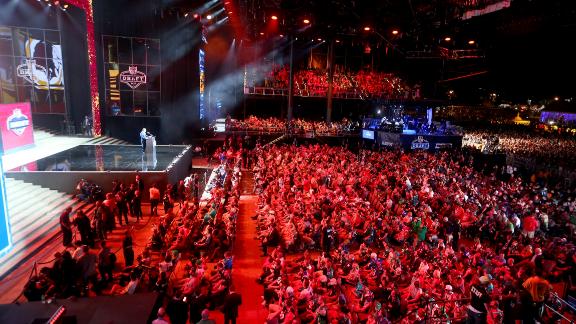 Trubisky, Thomas linked again by trade.
The Bears and 49ers swapped picks early in the first round and then selected Mitch Trubisky and Solomon Thomas, players who faced off in a bowl game last season.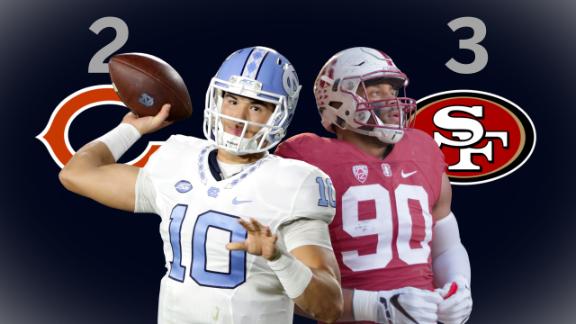 Bears
NFL
Texans
NFL
Texans
NFL
Texans
NFL
NFL
Jaguars
NFL
LSU
NCAAF
Fournette is complete package of size and skill.
Former LSU RB Leonard Fournette is a first-round talent with elite attributes to excel in the NFL.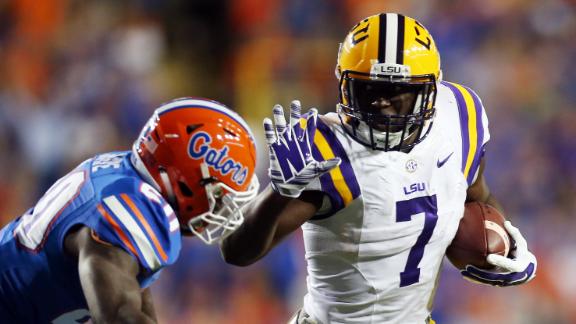 Browns
NFL
NFL draft
No. 1 pick Garrett's draft experience.
Take a behind-the-scenes look at Myles Garrett's day as he's taken No. 1 overall by Cleveland.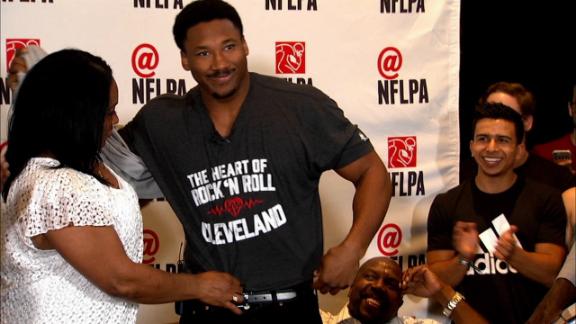 NFL
Browns
NFL
Peppers a dynamic choice for Browns.
With the 25th overall pick in the 2017 NFL Draft, Cleveland selects Michigan S/LB Jabrill Peppers, the Browns' second pick of the first round after Myles Garrett. Field Yates explains how the Heisman finalist can fill countless roles for the Browns.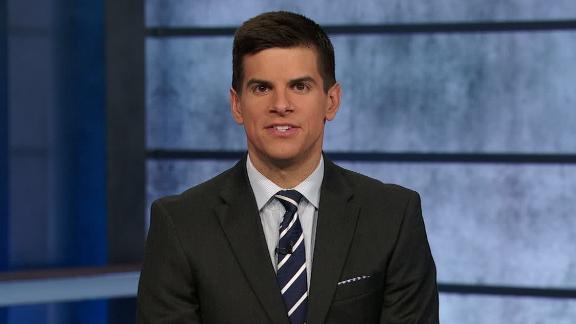 Panthers
NFL
NFL
Panthers
NFL
McCaffrey goes No. 8 to the Panthers.
Christian McCaffrey is drafted by the Carolina Panthers with the eighth pick in the 2017 NFL Draft and is the second running back to go in the top 10.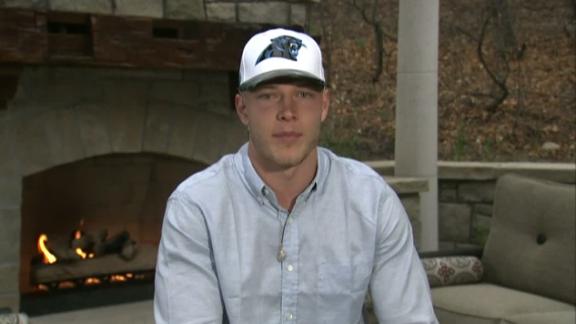 Raiders
NFL
Raiders
NFL
Raiders
NFL
He's back in Oakland.
Beast Mode is ready to lace 'em up for the Silver & Black.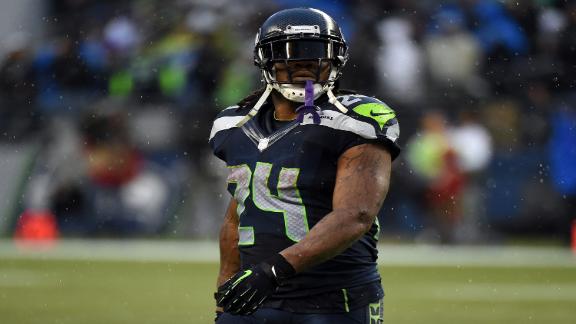 Raiders
NFL
Customize ESPN
AP Photo/Adam Rountree

Jon Gruden calls passing on Aaron Rodgers in 2005 "one of the greatest regrets in my lifetime." This is the oral history of Rodgers' draft-day fall and the awkward green-room scene that ensued.
Jon Lowenstein/NOOR for ESPN

Watch "We The Fans" to follow the stories of the Chicago Bears faithful of Section 250 in an eight-episode documentary series on ESPN.
Joe Nicholson/USA TODAY Sports

By the time Marshawn Lynch plays his first game for the Raiders, 20 months will have passed since his last NFL carry. But it's not hard to imagine Beast Mode thriving behind Oakland's O-line.
The mystery of Aaron Hernandez
Josh Reynolds/The Boston Globe via AP

Just when the former NFL star, a convicted murderer, was told he might have something to live for, he's gone. It's one more thing we don't understand.