NFL Draft 2011
MUST-SEE NFL DRAFT COVERAGE
LOOK BACK AT PREVIOUS NFL DRAFTS
2010
Ram Tough?

Injury concerns did not deter St. Louis from making ultra-accurate QB Sam Bradford its franchise player.
2009
Detroit QB City

The Lions had many needs but couldn't pass up a chance at a franchise QB like Matthew Stafford.
2008
Fish Tale

Seeing an OT who could anchor its line for years to come, Miami selected Jake Long No. 1 overall.
2007
The Big One

Enticed by a big arm and bigger upside, the Raiders took JaMarcus Russell No. 1 overall.
2006
Super Mario

The Texans surprised everyone by taking DE Mario Williams with the first overall pick.
2005
49ers' Mr. Smith

San Francisco liked the potential of QB Alex Smith and made him the No. 1 overall pick.
Mel Kiper's rankings on
COMPLETE DRAFT HISTORY
How has your team drafted in previous years? View the history of the draft dating to 1967.
NFL DRAFT EXTRAS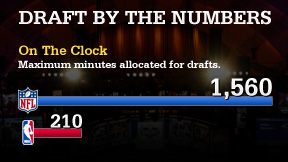 Take a deeper dive into the NFL Draft with a statistical look at this year's draftees and how your team has fared in past drafts.
NFL Draft Stat Shots

QUARTERBACK CENTRAL

ESPN's Year of the Quarterback initiative is covering the lives and careers of QBs from high school to the NFL and has the top 2011 draft prospects under the microscope.