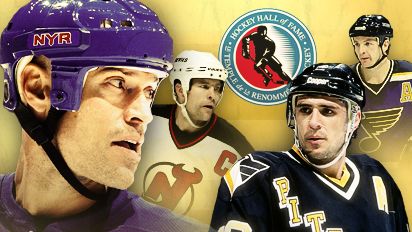 Class By Itself
Ron Francis, Al MacInnis, Mark Messier and Scott Stevens were inducted into the Hall on Monday in arguably the best class ever.
•
Burnside: Seen and heard
|
Q&A: What does it take to be captain?
•
Chat wrap: Burnside

|
Who should be next?
|
Melrose's picks

•

Watch the inductees:
Francis
|
MacInnis
|
Messier
|
Stevens
End text -------------------------
WHAT YOU NEED TO KNOW

WHAT
2007 Hockey Hall of Fame inductions
WHERE
Hockey Hall of Fame, Toronto, Canada
WHEN
Monday, Nov. 12, 7 p.m. ET (NHL Network)
2007 INDUCTEES

NAME
CATEGORY
Ron Francis
Player
Over 23 NHL seasons, Francis played for the Whalers, Penguins, Hurricanes and Maple Leafs. He is second to Wayne Gretzky with 1,249 assists, and ranks among the all-time leaders with 1,731 games (third) and 1,798 points (fourth).
Al MacInnis
Player
Known for his wicked slap shot, MacInnis played 23 NHL seasons with the Calgary Flames and St. Louis Blues. He is the third-leading career scorer among defensemen, trailing only Ray Borque (1,579) and Paul Coffey (1,531).
Mark Messier
Player
As part of the Edmonton dynasty years, Messier won five Cups with the Oilers before winning another with the Rangers. After playing 25 NHL seasons, he is second only to Wayne Gretzky on the all-time scoring list (1,887) and Gordie Howe for games played (1,767).
Scott Stevens
Player
Stevens is a 13-time All-Star who won three Stanley Cups with the New Jersey Devils and played more NHL games than any other defenseman during his 22 seasons (1,635).
Jim Gregory
Builder
Gregory served as general manager of the Toronto Maple Leafs from 1969 to 1979. He also ran the league's Central Scouting department and is currently the senior vice president of operations for the league's Toronto office.
Dave Fay
Elmer Ferguson Memorial Award
Soon after joining The Washington Times at the paper's inception in 1982, Fay started covering the Capitals and covered the team for most of his Times career to earn him this print journalism honor. Fay passed away in July after a 12-year battle with cancer. He was 67.
Bill Hewitt
Foster Hewitt Memorial Award
The longtime "Hockey Night in Canada" announcer will posthumously be honored with the broadcasting award named after his father. He was a talented athlete (playing football, track and field and hockey) before becoming the voice of HNIC from the late 1950s until 1982.
SCHEDULE OF EVENTS

DATE
EVENT
Sat., Nov. 11
Hockey Hall of Fame Game

Rangers vs. Leafs, 7 p.m. ET
Sunday, Nov. 12
HHOF Legends Classic

Expansion vs. Original Six, 2 p.m. ET
Monday, Nov. 13
HHOF Induction Ceremony

7:30 p.m. ET (TSN)