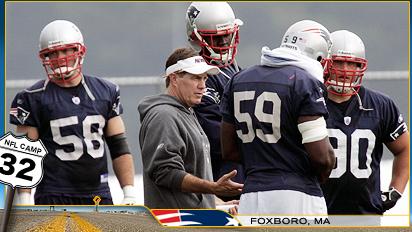 Key Component
Coach Bill Belichick and QB Tom Brady deservedly get a great deal of credit for the Patriots' success. VP Scott Pioli has played a vital role as well and has been recognized for it, Michael Smith writes in our final camp report.
Story

Clayton: The right mix?
Despite winning the NFC West last season, the Seahawks spent a busy offseason making numerous changes.



Smith: Unfinished business
Failing to make the playoffs last season after a strong finish has given the Bills extra motivation for 2005.



Smith: Inside Bills camp


J.P. Losman is going to make some mistakes, but he also will add a new dimension to Buffalo's offense.



Pasquarelli: Giant potential
You might not know a lot about Osi Umenyiora, but the Giants are expecting big things from the third-year defensive end.


End text -------------------------
NFL Training Camp Previews
AFC EAST
SCOUTS INC.
Buffalo Bills
Pittsford, N.Y.
Camp Preview
Smith: Getting over the hump | Inside camp | Vote
Miami Dolphins
Davie, Fla.
Camp Preview
Pasquarelli: Saban leading way | Inside camp | Vote
New England Patriots
Foxboro, Mass.
Camp Preview
Smith: Don't believe the hype | Inside camp | Vote
New York Jets
Hempstead, N.Y.
Camp Preview
Smith: Martin trying to relax | Inside camp | Vote
AFC NORTH
SCOUTS INC.
Baltimore Ravens
Westminster, Md.
Camp Preview
Pasquarelli: Loaded secondary | Inside camp | Vote
Cincinnati Bengals
Georgetown, Ken.
Camp Preview
Pasquarelli: Supporting Palmer | Inside camp | Vote
Cleveland Browns
Berea, Ohio
Camp Preview
Pasquarelli: Believing in Romeo | Inside camp | Vote
Pittsburgh Steelers
St. Vincent College
Camp Preview
Smith: Big Ben has big dreams | Inside camp | Vote
AFC SOUTH
SCOUTS INC.
Houston Texans
Houston, Texas
Camp Preview
Pasquarelli: RB Davis emerges | Inside camp | Vote
Indianapolis Colts
Terre Haute, IN
Camp Preview
Clayton: Chasing the Pats | Inside camp | Vote
Jacksonville Jaguars
Jacksonville, Fla.
Camp Preview
Pasquarelli: Taylor is key | Inside camp | Vote
Tennessee Titans
Nashville, Tenn.
Camp Preview
Pasquarelli: Chow's challenge | Inside camp | Vote
AFC WEST
SCOUTS INC.
Denver Broncos
Englewood, Colo.
Camp Preview
Pasquarelli: Speedy LBs | Inside camp | Vote
Kansas City Chiefs
River Falls, Wis.
Camp Preview
Clayton: On the defensive | Inside camp | Vote
Oakland Raiders
Napa, Calif.
Camp Preview
Clayton: Moss hysteria | Inside camp | Vote
San Diego Chargers
San Diego, Calif.
Camp Preview
Clayton: Facing tough schedule | Inside camp | Vote
NFC EAST
SCOUTS INC.
Dallas Cowboys
Oxnard, Calif.
Camp Preview
Clayton: Tuna gets his players | Inside camp | Vote
New York Giants
Albany, N.Y.
Camp Preview
Pasquarelli: Giant potential for DE | Inside camp | Vote
Philadelphia Eagles
Bethlehem, Pa.
Camp Preview
Pasquarelli: Picking up the slack | Inside camp | Vote
Washington Redskins
Ashburn, Va.
Camp Preview
Pasquarelli: Pass-fail offense | Inside camp | Vote
NFC NORTH
SCOUTS INC.
Chicago Bears
Bourbonnais, Ill.
Camp Preview
Clayton: Pressure's on Rex | Inside camp | Vote
Detroit Lions
Allen Park, Mich.
Camp Preview
Clayton: Heat on Harrington | Inside camp | Vote
Green Bay Packers
DePere, Wis.
Camp Preview
Clayton: Favre's last stand? | Inside camp | Vote
Minnesota Vikings
Mankato, Minn.
Camp Preview
Clayton: No Moss, no problem | Inside camp | Vote
NFC SOUTH
SCOUTS INC.
Atlanta Falcons
Flowery Branch, Ga.
Camp Preview
Pasquarelli: Hall has big plans | Inside camp | Vote
Carolina Panthers
Spartanburg, S.C.
Camp Preview
Pasquarelli: Hot Peppers | Inside camp | Vote
New Orleans Saints
Metairie, La.
Camp Preview
Pasquarelli: Mass destruction | Inside camp | Vote
Tampa Bay Bucs
Lake Buena Vista, Fla.
Camp Preview
Pasquarelli: Barber special | Inside camp | Vote
NFC WEST
SCOUTS INC.
Arizona Cardinals
Flagstaff, Ariz.
Camp Preview
Clayton: Counting on Warner | Inside camp | Vote
St. Louis Rams
St. Louis, Mo.
Camp Preview
Clayton: It's showtime again! | Inside camp | Vote
San Francisco 49ers
Santa Clara, Calif.
Camp Preview
Clayton: No sitting Smith | Inside camp | Vote
Seattle Seahawks
Cheney, Wash.
Camp Preview
Clayton: The right mix? | Inside camp | Vote