Friday, August 17 2018
Cowboy Down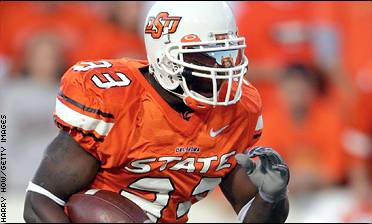 Vernand Morency failed to dispell concerns about his speed.


RB Vernand Morency hurt his draft value when he ran a 4.67 and a 4.68 at Miami's pro timing day. Morency could slip out of second-round range.
Story
•
Mel Kiper: Johnson at No. 8 in first-round projection
•
Len Pasquarelli: Premium on hybrid defenders
•
Pasquarelli: Speed coveted among CBs
•
Kiper: Stock report
|
Kiper: Brown is top RB
Server Error
More From ESPN.com

Kiper: Top 25 NFL prospects


The combine shook up the Big Board, bumping RB Ronnie Brown to No. 1 and getting Fabian Washington on the list.

Scouts: Clarett left behind


All the momentum RB Maurice Clarett built came to a screeching halt in a 10-minute span Saturday.

Pasquarelli: Need for speed
Nothing is as scrutinized as the 40 time. Even for QBs like Aaron Rodgers, it's all about speed.

Mike Williams clocks pedestrian in 40 times
The other orphan from the 2004 draft, former Southern California wide receiver Mike Williams, lost the farm here on Sunday afternoon in the 40-yard dash.

Clarett's 40 times: 4.72, 4.82
Former Ohio State tailback Maurice Clarett could keep himself from being chosen in the 2005 draft.

Pasquarelli: To be No. 3
At the combine in Indianapolis, it's a battle to be the third quarterback selected in the NFL Draft.

Scouts: Combine weights and measures


NFL draft prospects begin the poking and prodding with running backs and offensive linemen checking in.

Clayton: The wait is over
With his path to the NFL no longer barred, all Mike Williams has to do now is make a good impression.

Pasquarelli: Something extra
Wanting to separate himself from the other top backs, Carnell Williams bulked up for the combine.

Kiper Mail: WR or DL for Vikings?


The Minnesota Vikings must replace Randy Moss and there are plenty of good offensive linemen to go around.

Clayton: Humble pie
Maurice Clarett returned to the combine this year with a much different attitude, and look, than he had last year.

Pasquarelli: Centers of attention
While it's a down year overall for offensive lineman in the draft, there is a lot of depth at center.

Pasquarelli: Head of the class
Alex Barron is clearly at the top of what isn't a great draft class for offensive lineman.

Draft diary: Jammal Brown
Former Oklahoma OL Jammal Brown is looking forward to the combine.

Clayton: Wild weekend
With free agency starting next week, this year's combine is about a lot more than the draft.

Kiper: Under the radar


Mel Kiper takes a look at four NFL prospects hoping the Combine and other workouts will boost their profiles.

Kiper: Top 25 NFL prospects


Georgia DE David Pollack is back on Mel Kiper's Big Board while USC WR Mike Williams is back in the top 10.

Pasquarelli: Prep time
Getting players prepared for the combine has become a big business in recent years.

Kiper Mail: Pats, Eagles standing pat?


Mel's latest mailbag looks at a player who slid down the board and the draft needs of this year's Super Bowl teams.

Kiper: Workouts can work wonders


For prospects involved in key position battles, postseason workouts are all about generating some buzz.
End text -------------------------

Scouts: Missing in action


RB Maurice Clarett continues to mystify NFL teams with his decision to not participate in postseason all-star games.

Scouts: Post-Senior Bowl status


Scouts Inc. saw a good deal of movement on its NFL draft board following the 2005 Senior Bowl.

Maisel: Get the knack
Elite competion at the Senior Bowl hasn't slowed DE Matt Roth's knack for getting to the quarterback.

Mueller: Educated guess


While offensive linemen are fairly easy to evaluate, the cornerback position causes nightmares for scouts.

Senior Bowl Show wrap
Cadillac Williams, Kyle Orton, Shaun Cody and many other stopped by to chat on Wednesday.

Maisel: Gospel of Gruden
Jon Gruden's Senior Bowl sermon baptized the South squad into the world of professional football.

Maisel: Transition game
Matt Jones has opted to start catching passes instead of throwing them in order to improve his shot at the NFL.

Williams diary: Something to prove
At the Senior Bowl, Auburn RB Carnell Williams is determined to prove he's the nation's top back.

Clayton diary: On the Mark
At the Senior Bowl, Oklahoma WR Mark Clayton gets his first taste of what professional football is all about.
More Features

Scouts: 49ers on the clock


The Niners will likely look to trade down, but our first mock draft has them taking Cal QB Aaron Rodgers.

Mueller: Crash course


Arkansas QB Matt Jones will be looking to prove to scouts that he can succeed as a WR at the next level.

Maisel: Target practice
Carnell Williams plans on a strong week of Senior Bowl practices shooting him past the other backs in the NFL draft.

Sweet home Alabama
Much has changed in Mobile over the last 54 years, including the ever-growing stature of the Senior Bowl.

Scouts: Best of the rest


Scouts Inc. breaks down which prospects helped their stock the most at a pair of lower-tier all-star games.

Scouts: Diamonds in the rough?


The majority of the players in the Las Vegas All-American Classic are late-round and free-agent prospects.

Kiper: Initial first-round projection


Utah quarterback Alex Smith tops Mel Kiper's initial first-round projection for the 2005 NFL draft.

Oklahoma safety signs with agent
Oklahoma free safety Brodney Pool signed with an agent Wednesday, solidifying his status as an early entry into the NFL draft.

Scouts: Rise and Shrine


QB Stefan Lefors and WR Taylor Stubblefield increased their draft values in the East-West Shrine Game.

Scouts: Executive decision


Several potential Day 1 prospects such as Iowa LB Abdul Hodge chose school over a sizeable paycheck.

Seniors under center: Bowl QBs are named
Auburn's Jason Campbell, Georgia's David Greene and Arizona State's Andrew Walter will share quarterback duties for the South team in the 2005 Senior Bowl.

Gruden, Turner to coach Senior Bowl
Tampa Bay Buccaneers coach Jon Gruden and Oakland Raiders coach Norv Turner will be the coaches at the 56th annual Senior Bowl.

Scouts: To stay or to go


Ahmad Brooks likely would have been a top-10 draft pick, but he has unfinished business in Charlottesville.

Scouts: Rich prospects for 49ers


It's early to be making any projections, but there's a chance the 49ers could draft Matt Leinart or Aaron Rodgers.

Scouts: Back to school


RB Vernand Morency and NT Gabe Watson are both wisely leaning towards returning for their senior seasons.