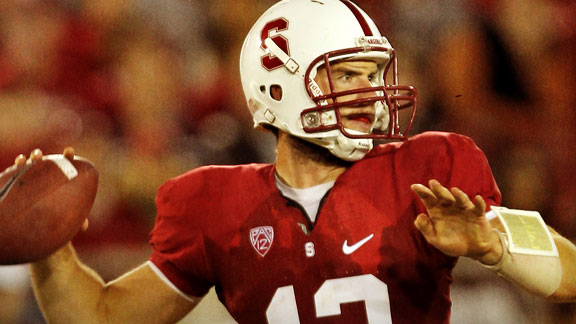 Plenty Good Enough
I believe arm strength is one of the most overrated aspects of quarterback evaluations, but a prospect still must be able to make all the necessary throws. In Luck's case, this is one of his weaker areas.
The ball does not explode out of his hand and will flutter at times, and he does not put a lot of RPMs on the ball like Jay Cutler, Matthew Stafford or Michael Vick, all of whom can really spin it.
Still, a lack of elite arm strength is not a glaring weakness for Luck. In fact, he grades out above average. He can make all the throws and puts good zip on intermediate throws. His timing also helps ease concerns in this area, because Luck gets the ball out in time to get it downfield on certain deep patterns.
Luck compares to Peyton Manning and Matt Ryan in this area. Manning is one of the all-time greats and Ryan one of the up-and-coming passers in the league, so I'm not worried. -- Todd McShay