IRVING, Texas -- Terrell Owens has been excused from the Dallas Cowboys' mandatory offseason minicamp this week while dealing with a personal family matter.
Owens was at the Valley Ranch facility Tuesday morning. But he left to catch a flight before the first of five scheduled practices during the three-day minicamp.
"He didn't want to go into it, and I really don't want to either," coach Wade Phillips said. "It's a family matter and just leave it at that. It's not anything more than that."
The only players other than Owens not on the field Tuesday were free safety Ken Hamlin and receiver Terry Glenn, both absent because of unresolved contract issues that have kept them from taking part in offseason drills.
Owens participated in optional workouts the past four weeks. Heading into the final year of his contract, the 34-year-old receiver two weeks ago signed a three-year extension worth around $27 million through the 2011 season.


"Him missing time certainly is not a big deal," Phillips said. "Especially a veteran player that knows how to play and do the things and has worked as he has this offseason."
Phillips said Owens talked to him Monday, but the coach wouldn't elaborate on that conversation or where T.O. was going. Cowboys owner Jerry Jones also refused to go into detail.
"It was a family matter and certainly with all the hard work he has put in out here during the offseason it is not an issue with me," Jones said.
"It wasn't anything that you guys would go crazy about," quarterback Tony Romo said. "He's worked his butt off. I don't know that [being absent all week] would be a big deal."
Messages left for Owens' agent, Drew Rosenhaus, weren't returned.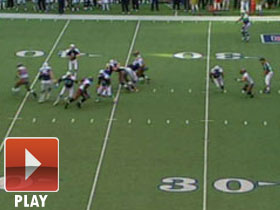 NFL.com Video
Tony Romo 30-yard TD pass to Terry Glenn.
While Owens was excused, Glenn has refused to agree to a $500,000 injury waiver, the amount the Cowboys want to give him instead of his scheduled $1.74 million base salary this season if he reinjures his right knee and is unable to play again.

Glenn told ESPN's Ed Werder that he wants to be released if Jones continues to bar him from preparing for the season by attempting to force him to sign the waiver.
"I'm not signing any waiver," said Glenn, who said he wants to move on with his career if the Cowboys no longer want him.
While the receiver has not been able to practice and has done his own workouts, Glenn has seen his own personal doctor in Columbus, Ohio, who performed his right knee surgery last year. Both believe the health of his knee is not an issue.
Jones took a swipe at Glenn when he recently said he paid Glenn, who missed the first 15 games last year after two knee operations, a $5 million roster bonus last offseason and got only four regular-season plays for the money.
Glenn twice underwent arthroscopic knee surgery in an effort to play last season. Jones praised Glenn at the time for ignoring doctors who wanted to perform microfracture surgery that requires a full year of rehabilitation and threatened to end the 33-year-old receiver's career.
But Glenn isn't feeling the support.
"I want who I'm playing for to want me to be playing for them. ... I will get my freedom and play for someone who didn't talk me into postponing surgery last season and then hold it over my head the next," Glenn told Werder.
Glenn, who said he's been doing football and basketball drills to ensure he has no pain or swelling in the knee, also said: "I don't really have a plan. I'm just following my heart and it tells me that this situation isn't right for me and my family anymore."
Jones said he had an agreement with Glenn before the receiver fired his agent. Jones said they haven't spoken since.
"I'm not talking about it because I don't have an answer for it at all, and I'm certainly not going to sit here and negotiate," Jones said. "He has had an agent before and we worked things out, and then it didn't work out, so we will see where we go."
Hamlin hasn't signed a $4.4 million tender since the Cowboys designated him as their franchise player in February. Hamlin made his first Pro Bowl last season after he had 62 tackles and five interceptions.
Jones said he wasn't worried about Hamlin, who is locked up through the 2008 season.
"I'm not at all," Jones said. "That's a lot of money. And he'll play."
The absence of Owens and Glenn is providing an opportunity for Sam Hurd, Miles Austin and other young receivers to get extra snaps and more time working with Romo in practice. Phillips said Owens wouldn't have gotten "as many reps anyway in the minicamp" in an effort to take care of T.O.
Owens led the NFL with 13 touchdown catches in 2006 and had an NFC-best 15 more last year for a two-year total that is tops in the league. He has 166 catches for 2,535 yards in his two seasons with the Cowboys.
T.O. is ninth on the career receptions list with 882, 10th in receiving yards with 13,070 and third in touchdowns with 129 -- the most among active players, and trailing only Jerry Rice (197) and Cris Carter (130).
Notes
The team's first practice Tuesday was cut short by 45 minutes because of heavy winds and an approaching thunderstorm. The afternoon session was held in the team's practice bubble and went later than scheduled to make up for some of the missed earlier time. … Jay Ratliff, a former seventh-round pick who became a starter at nose guard last season and then got a $20.5 million, five-year contract extension, is again taking snaps at defensive end. "I don't think full time right now, just because he's played so well at nose guard," Phillips said. "We don't want to lose that."
Information from ESPN NFL reporter Ed Werder and The Associated Press was used in this report.