NASHVILLE, Tenn. -- Tennessee Titans defensive end Jevon Kearse has been arrested and charged with driving under the influence after a traffic stop near the Vanderbilt University campus.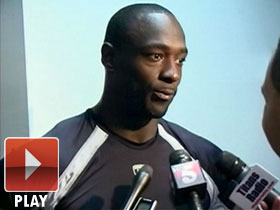 NFL.com Video
Jevon Kearse wants to prove his worth in Tennessee after a poor year with the Eagles in 2007.
Vanderbilt spokesman Jim Patterson said Kearse was stopped early Sunday morning after campus police reported seeing the SUV that Kearse was driving weaving across the road. The Tennessean reported that officer James Hicks said that Kearse also appeared to be traveling well in excess of the posted 30 mph speed limit.
"Immediately I noticed he had red watery eyes, slurred speech, and an obvious odor of alcohol coming from his breath," Hicks wrote in the report, according to the newspaper.
Patterson says Kearse took a field sobriety test, but refused a breathalyzer. He was arrested and charged with DUI and violation of Tennessee's implied consent law for failing to take the breathalyzer test. According to the Tennessean, Kearse was later released on a $1,000 bond and has a court date scheduled for July 14.
Patterson told the Tennessean that there were two passengers in the car and one was given permission by Kearse to drive the car home.
A call to the Titans was not immediately returned. A spokesman for Kearse's agent, Drew Rosenhaus, said Kearse had no comment.
Kearse, the NFL Defensive Rookie of the Year in 1999 with the Titans, re-signed with the club in the offseason after spending the last four years with the Philadelphia Eagles.
Information from The Associated Press was used in this report.