Who says you can't go home again? In an offseason dominated by prominent retirements, Spygate and disgruntled stars pining for trades or new contracts, it can be easy to overlook certain trends. One of them involves familiar faces returning to familiar places.
Several notable players, including Warrick Dunn (Bucs), Jevon Kearse (Titans) and Dominic Rhodes (Colts), have returned to their former teams this offseason. Who benefits the most in these situations?
In this installment of Third and Short, our experts examine the phenomenon.
Paul Kuharsky: From a team standpoint, what are the benefits of bringing back a player for a second stint?
The familiarity factor varies from team to team, of course, based on how much has changed with the franchise. But players who return for a second term with a team don't have to learn the city and often already know all the basics about the team's facility and its methodology, too. That means their teams will count on more from them sooner and look to them to set examples in the classroom and at practice rather than needing to follow.
The Titans are vastly different than they were when defensive end Kearse was last with the team in 2003, but he returns to try to do the same things for the same defensive line coach -- Jim Washburn -- he worked for in his previous incarnation in Nashville. Similarly, receiver Justin McCareins is back and he played his best for offensive coordinator Mike Heimerdinger. Running back Rhodes, who was only gone one season, is in a similar situation in Indianapolis with position coach Gene Huey and his recall should be practically immediate.
Tennessee and Indianapolis liked what they had in the players, and lost them over finances. They benefit now from not just familiarity but lower costs. Kearse's deal was for two years and $6 million, with a $1.3 million signing bonus; McCareins got $1 million for one year; Rhodes will get about $650,000 for the 2008 season.
Others like Dunn in Tampa Bay and Trent Green in St. Louis give their old teams veteran dependability and solid locker room presences, even though the regimes have changed since they left.
Jeffri Chadiha: Of all the players who fit this description, who will have the biggest impact?
This one is easy: Rhodes. At 29, he's the youngest player on this list and he's likely to get the most playing time out of this bunch as well. Along with those two factors, Rhodes is returning to a team that he left only one season ago. It's hard to imagine him having a rough transition back into the Indianapolis Colts' locker room.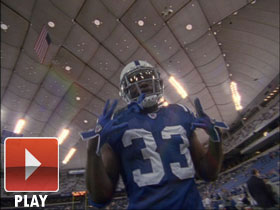 NFL.com Video
2006 Highlight: Dominic Rhodes runs 25 yards against the Chiefs.
The other key variable in Rhodes' situation is motivation. When he signed a two-year, $7.5 million deal with the Oakland Raiders last offseason, it seemed like he'd finally found a place where he could land a starting job. But then a four-game suspension for violating the league's alcohol and substance abuse policy set him back so far that he gained only 302 yards in 10 games. By the time the Raiders started giving more carries to Justin Fargas and eyeballing Darren McFadden as their top pick in the 2008 draft, it became apparent that Rhodes would need to find a new home to rebuild his reputation.
Now that Rhodes is back in Indianapolis, he should help an offense that struggled to run the ball during the second half of last season. Remember, he spent six seasons with that team before leaving for Oakland and he produced respectable numbers when given the chance (including a 1,104-yard season in 2001 while filling in for an injured Edgerrin James). Rhodes also shouldn't have much wear and tear on his body because he's never entered a season as a feature back. That durability -- along with his versatility -- should come in handy for the Colts this fall.

If that isn't enough evidence of Rhodes' potential impact, just consider that he also has a great relationship with Pro Bowl running back Joseph Addai. When the Colts used a first-round pick on Addai in the 2006 draft, Rhodes made a point of mentoring the young talent.
Their bond was forged in mutual roots (both grew up in Texas) and a desire to be team players. They also worked well on the field as a 1-2 punch, with Rhodes providing the power and Addai contributing the slashing, big-play ability.
The Colts tried to fill Rhodes' spot with Kenton Keith last season but their backfield just wasn't the same. That's why it's hard to see Rhodes struggling to win back his spot and be a difference-maker this fall. After all, nobody is asking him to be a star or a savior. The Colts only want him to fit in again, while being as reliable as he was just a couple seasons ago.
Kevin Seifert: How easy is the transition for a player who has already been in a particular city and system?
Often, a returning player's primary attribute is knowledge of the offensive or defensive scheme. He is in position to contribute at a high level right away, rather than facing a learning curve experienced by most new players.

The dirty little secret of free agency: Even some prominent players take a full season to grow comfortable in a new system. That risk is reduced by reacquiring a player who might have lost a step but immediately can play at full speed because he already knows the scheme.

Geography seems to play a minor role in a player's transition these days. More than ever, NFL players establish home residences in a city of their choice and then set up temporary living quarters near their team's practice facility. They might enjoy the comfort level afforded by familiar surroundings. But for many, the experience is dictated by the team they play for, not the city.