Roy Williams Effect

Find out why Patrick Crayton, Deon Anderson and Martellus Bennett are so important now that Roy Williams is in Dallas.
• Crayton's, Anderson's and Bennett's roles on offense
• DAL-STL Preview: How does St. Louis stop Dallas with Williams?

With WR Roy Williams lined up wide left and WR Terrell Owens wide right, the Cowboys will see a lot of Cover 2 because most defenses can't trust their corners one-on-one against these two big, fast and physical vertical threats. Owens and Williams will draw coverage from the safeties, so the middle of the field will be open for TE Jason Witten and WR Patrick Crayton, who has become the Cowboys' slot receiver.
Whichever quarterback is at the helm, Tony Romo or Brad Johnson, he has fairly basic reads -- but there is pressure on him to read his progressions. There will always be a one-on-one matchup to exploit, but the quarterback has to find it -- even if it's his fourth or fifth read. The addition of Williams should also force Romo to be more disciplined and he should make fewer mistakes. Plus, his ability to maneuver in the pocket will allow his receivers more time to get separation.
Here is a look at five passing plays you will see from the Cowboys for the rest of the season.
Z Deep Out
Now that Williams is in the fold, offensive coordinator Jason Garrett has another toy to play with. On this play, Williams drives off the corner and catches the ball on the sidelines, which is one of his strengths. He has long arms and routinely practiced working the sidelines as a Lion.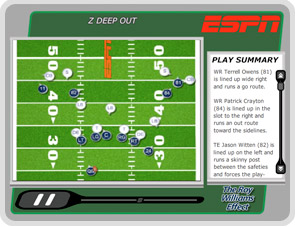 Williams Effect: Z Deep Out
TE Seam
One of the biggest benefits to having Williams in Dallas is that Witten will predominantly be one-on-one with a linebacker. On this play, Witten makes a catch in the middle of the field, which is wide open, because both safeties have to help cover Williams and Owens over the top.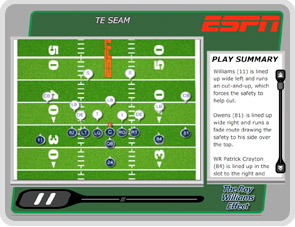 Williams Effect: TE Seam
More on Williams' Impact
Adam Jones suspended ... again. Tony Romo -- down and out, maybe? Another high-priced WR added to the mix. An interesting week in what's been a soap opera of a season for the Cowboys. Greg Garber reports.
"Sunday NFL Countdown."
(ESPN, 11 a.m. ET)

X Motion Drag
Owens has struggled versus physical corners and this play is a perfect way for him to get away from press coverage. However, this play isn't possible without the addition of Williams because he draws extra attention from the safety.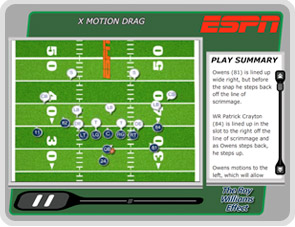 Williams Effect: X Motion Drag
Slot Option
Crayton becomes the slot receiver, now that Williams is in Dallas as the No. 2. Many people actually thought Crayton was better suited as a slot because of his quickness. This play is very effective, yet simple, and it is all possible because the safeties have to play over the top.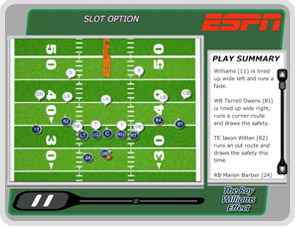 Williams Effect: Slot Option
RB Circle
Not only does the addition of Williams help improve the receivers, his presence gives a big boost to Marion Barber as well. On this play, all the receivers run deep and Barber is one-on-one with a middle linebacker -- a matchup in the Cowboys' favor.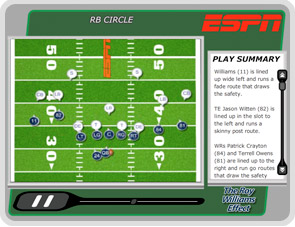 Williams Effect: RB Circle
However, Garrett can't get too pass happy. As good as these matchups look in the passing game, the running game should be devastating as well. RBs Barber and Felix Jones (when he gets back) will have a lot of room to run because most of the defenders will be in turn-and-run situations and will have to worry about the pass. The Cowboys' offensive line will often have one-on-one blocking assignments because their opponent won't be able to put a safety in the box. This means Barber should have some big holes up the middle and Jones should find a lot of space on the edges. Williams and Owens are also good run blockers downfield or in space and we think they will have a sense of pride in doing this.
Here is a look at one running play you will see from the Cowboys for the rest of the season.
RB Draw
The addition of Williams will also help improve the running game. On this play, all the receivers run deep routes and draw the safeties with them. That leaves a simple five-on-five blocking scheme in the run game.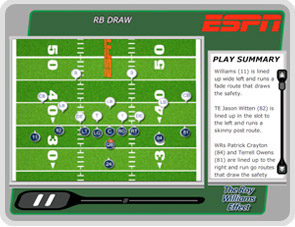 Williams Effect: RB Draw
When Romo is fully healthy this offense is going to be scary good.
Gary Horton, a pro scout for Scouts Inc., has been a football talent evaluator for more than 30 years. He spent 10 years in the NFL and 10 years at the college level before launching a private scouting firm, The War Room.