6:25 PM ET, February 2, 2014
MetLife Stadium, East Rutherford, NJ
Top Performers
Passing: P. Manning (DEN) - 280 YDS, 1 TD, 2 INT
Rushing: P. Harvin (SEA) - 2 CAR, 45 YDS
Receiving: D. Thomas (DEN) - 13 REC, 118 YDS, 1 TD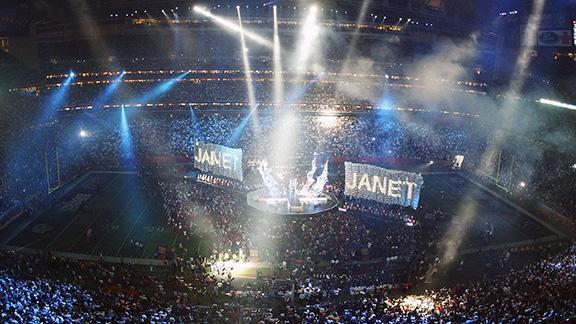 Wardrobe Malfunction
The behind the scenes story of the Super Bowl XXXVIII halftime show.
Wardrobe Malfunction
VIDEO PLAYLIST
Peyton Manning has the opportunity to add another historic accomplishment to his stellar NFL career.
Standing in the way of him and the high-scoring Denver Broncos' offense are the Seattle Seahawks, who hope their intimidating defense will help make history of their own.
Manning looks to become the first starting quarterback to lead two franchises to a Super Bowl title Sunday night when the Broncos face the Seahawks in Super Bowl XLVIII at New Jersey's MetLife Stadium.
For the first time since the New York Giants beat Buffalo 20-19 in Super Bowl XXV following the 1990 season, the NFL's top-ranked offense from Denver (15-3) will face the top-rated defense in Seattle (15-3).
The last time two No. 1 seeds also played for the league title came following the 2009 season, when New Orleans won 31-17 over an Indianapolis team led by Manning in Super Bowl XLIV.
"It will be a great matchup," Seahawks coach Pete Carroll said.
The first outdoor Super Bowl played in a cold-weather city within the league's biggest media market provides a unique backdrop, but much of the focus has remained on Manning.
After undergoing a series of neck operations that forced him to miss the 2011 season for the Colts, Manning earned the NFL Comeback Player of the Year award last season when he threw for 4,659 yards with 37 touchdowns while leading the Broncos to a 13-3 record. They lost to eventual Super Bowl champion Baltimore 38-35 in overtime in the divisional round, a stunning defeat in a game Denver appeared to have locked up before a 70-yard Ravens touchdown pass tied the game with less than a minute left.
Poised to help his team take the next step, Manning opened the 2013 season by throwing an NFL record-tying seven touchdowns in a 49-27 rout of Baltimore. That set the tone for the rest of the season, as he went on to set league records with 5,477 passing yards and 55 TDs for a team that averaged NFL bests of 37.9 points, 340.3 passing yards and 457.3 total yards.
"To have the kind of season he's had to this point this year, I think is unprecedented," said Denver coach John Fox, the sixth coach to take two teams to a Super Bowl.
Regardless of the outcome Sunday, Manning, who turns 38 in March, doesn't appear ready to call it a career. He also remains humble when talking about his place in NFL history.
"I've been being asked about my legacy since I was about 25 years old. I'm not sure you can have a legacy when you're 25 years old. Even 37," said Manning, who won Super Bowl XLI with the Colts and will try to lead Denver to its third after it won during the 1997 and '98 seasons.
"I'd like to have to be, like, 70 to have a legacy. I'm not even 100 percent sure what the word even means.
"I'm down the homestretch of my career, but I'm still in it. It's not over yet. And so it's still playing out."
His teammates will certainly be glad to see him stay. Demaryius Thomas recorded at least 90 receptions and 1,400 yards for a second straight year and caught a career-high 14 touchdowns in 2013. Eric Decker set career bests with 87 receptions and 1,288 yards while catching 11 TDs.
Tight end Julius Thomas had one reception in his first two NFL seasons but blossomed into one of the game's best with 65 for 788 yards and 12 TDs in 2013.
Despite missing three games with a concussion, former New England star Wes Welker caught 73 passes and had 10 touchdowns in his first season in Denver.
Plagued by injuries and ineffectiveness the previous two years, New Jersey native Knowshon Moreno enjoyed his most successful season by rushing for 1,038 yards with 10 TDs and catching 60 passes for 548 with three touchdowns.
Thanks to Manning, 10 Broncos caught at least 10 passes and eight had TD receptions during the regular season and playoffs.
"Peyton's been extraordinary," Carroll said. "People couldn't even dream to have the year that Peyton's had before this season with all the numbers. We're up against it."
However, Carroll and his team are confident, and certainly not concerned that they're the first team since the 1990 Bills to not have a player with Super Bowl experience on the roster. The Seahawks lost 21-10 to Pittsburgh in their only previous Super Bowl appearance following the 2005 season.
"I've never seen experience play in games," said talented but polarizing Seattle cornerback Richard Sherman.
Led by Sherman and a hard-hitting secondary known as the "Legion of Boom," the Seahawks topped the NFL in points (14.4), total yards (273.6) and passing yards (172.0) allowed. They forced a league-high 39 turnovers and, paced by ends Michael Bennett and Cliff Avril, tied for eighth with 44 sacks.
"They are as good as advertised," said Manning, who has completed 67.5 percent of his passes for 580 yards with two TDs and two interceptions in his two Super Bowls.
"Probably one of the more impressive things is how well they play together as a unit."
The Seahawks flexed their defensive muscle during the NFC championship game by forcing three fourth-quarter turnovers, including an interception that came off a deflection by Sherman in the end zone to seal the 23-17 win over San Francisco.
Sherman followed that game with an angry 20-second on-air rant directed at receiver Michael Crabtree, one which went on to spark a debate over sportsmanship and racial attitudes. He's been more subdued and focused on the matter at hand this week.
"I am just a guy trying to be the best," said Sherman, who led the NFL with eight interceptions. "I am a guy who wants to help this team win. I am a fiery competitor who puts his life into his work and puts his everything into his work."
They same goes for Seattle's Marshawn Lynch, who rushed for 1,257 yards and matched a career high with 12 TDs. He also gained 249 yards and scored three touchdowns while averaging 5.0 per carry in the Seahawks' two playoff games.
Though Seattle's Russell Wilson has been understandably overshadowed by Manning this week, his 24 regular-season victories are the most by a quarterback in his first two seasons since 1950. Wilson is also the only QB to post a passer rating of at least 100.0 in each of his first two years.
Wilson, Lynch and the rest of the Seattle offense will try to get the best of a Denver defense that's allowed an average of 15.0 points and 268.5 yards in the last four games, including postseason.
Manning and the intriguing on-field matchup will be the highlight, but the game-day forecast has been a hot topic from the moment the Meadowlands venue was awarded the Super Bowl. Though contingency plans are in place in the event of bad weather -- which allow for the possibility of moving the game to Friday, Saturday or Monday -- they likely won't come into play. Seasonable temperatures and little or no precipitation are predicted for Sunday.
The kickoff temperature, though, could hover around 39 degrees, which is the coldest such reading in Super Bowl history when Dallas beat Miami 24-3 at Tulane Stadium in New Orleans in Super Bowl VI.
"I don't care where we play," star Seattle safety Earl Thomas said. "I know when we play, all the feelings and the stuff I need to get ready and prepare. It'll be there."
Denver and Seattle both played at the Meadowlands this season.
Manning beat little brother Eli's Giants 41-23 on Sept. 15. The Seahawks routed the same opponent 23-0 exactly three months to the day of the Broncos' victory.
Peyton Manning has a chance to pull even in a sibling rivalry, as he can win at Eli's home stadium for his second championship. That would return the favor from Super Bowl XLVI, in which Eli led the Giants past New England at Indianapolis' Lucas Oil Stadium for his second title.
Denver is 34-19 against Seattle and won 31-14 in the most recent meeting in 2010. That includes the Seahawks' 31-7 home victory in the only postseason matchup between the former AFC West rivals in 1983.
Matchup
SEA

DEN

W-L
3-0
2-1
Avg Points
29.7
19.3
Avg Points Allowed
13.3
25.3
Home Record
2-0
2-1
Road Record
1-0
0-0
Division Record
1-0
1-0
Conference Record
2-0
2-0
Complete Standings
Team Averages & NFL Ranks
TEAM OFFENSE
TEAM
PER GAME AVERAGE
Total Yards
SEA

339
DEN

457
Yards Passing
SEA

202
DEN

340
Yards Rushing
SEA

137
DEN

117
TEAM DEFENSE
TEAM
PER GAME AVERAGE
Yards Allowed
SEA

274
DEN

356
Pass Yds Allowed
SEA

172
DEN

254
Rush Yds Allowed
SEA

102
DEN

102
Head to Head Matchups (Since 2001)
Series tied 3-3
Sep 19, 2010
SEA 14, @DEN 31
Dec 3, 2006
SEA 23, @DEN 20
Nov 17, 2002
SEA 9, DEN 31
Dec 9, 2001
SEA 7, @DEN 20
Oct 14, 2001
SEA 34, DEN 21
Research Notes
Percy Harvin
is expected to play in Super Bowl XLVIII after missing the NFC Championship game with a concussion. Will it be worth it?
Bernard Pollard
and
Rob Gronkowski
each played through their own injuries in the previous 2 Super Bowls, but neither made significant contributions.
Wes Welker
has 76 receiving yards in 2 postseason games after missing the final 3 games of the season with a concussion.
[+]
NFL referee Terry McAulay is leading an All-Star 7-man crew into Super Bowl XLVIII that has a combined 110 seasons of NFL officiating experience. But while officials have called just 7 defensive pass interference penalties in 10 playoff games, the Seahawks and Broncos were among the league leaders in both defensive pass interference and defensive holding penalties during the regular season.
[+]
From Elias: Each of the last 8 Super Bowl champions has played the Patriots at some point in their Super Bowl-winning season. According to the Elias Sports Bureau, the Patriots' 8-year streak of having played the eventual Super Bowl champion is tied for the longest in NFL history with the 1989-96 Eagles and the 1968-75 Bills. New England's streak doesn't go back further in part because the Patriots themselves won the Super Bowl following the 2003 and 2004 seasons. Moreover, each of the last 7 Super Bowl champions have also faced the Cowboys, Eagles, and Redskins in the regular season, which means each of those teams is tied for the 4th-longest streak of seasons playing the eventual Super Bowl champion. The Broncos played the NFC East this season, beating the Eagles in Week 4, the Cowboys in Week 5, and the Redskins in Week 8. They lost to the Patriots in Week 12 but avenged the defeat with a victory over New England in the AFC Championship Game. The Seahawks did not face any of those 4 teams in the regular season or playoffs.
[+]
The Seahawks have averaged just 148 Pass YPG in the postseason, the fewest for a team to make the Super Bowl since the 2000 Ravens. Surpisingly, they're the 6th team to reach the Super Bowl with fewer than 200 Pass YPG in the postseason, and 3 of the previous 5 won the Super Bowl.
[+]
Broncos opponents averaged 12.9 drives per game during the regular season (2nd-most in NFL)... Entering the Super Bowl, their opponents have averaged just 8.5 drives per game during the postseason (2nd-fewest in NFL).
Peyton Manning
posted a Total QBR of 79.5 on throws within 10 yards of the line of scrimmage this season (including playoffs), the highest in the NFL and fourth highest in a single season since 2009. The Seahawks have been the best team at defending such passes this season, allowing a league-low Total QBR of 31.1 (including playoffs).
[+]
Including the postseason, the Broncos lead the NFL in receiving yards and touchdowns on screen passes, while averaging 8.3 yards per catch on such plays (3rd in NFL).
Demaryius Thomas
averaged 14.6 yards per catch on screen passes (best among WR - min. 5 rec) The Seahawks are allowing 3.2 yards per attempt on screen passes this season, the lowest average in the NFL.
Peyton Manning
has a Total QBR of 89.6 when throwing outside the right field numbers on passes within 10 yards of the line of scrimmage this season. That will be
Richard Sherman
's territory in Super Bowl XLVIII; Sherman has lined up on the offense's right for 98 percent of his snaps this season.
[+]
The Broncos failed to convert a 1st down on either of their 1st 2 drives. They had 16 drives, 1 without a 1st down entering the game this postseason
Malcolm Smith
's interception return for a touchdown was
Peyton Manning
's first incompletion against a four-man pass rush Sunday (9-of-9 previous).
Peyton Manning
is 1-of-4 for 19 yards and an interception on passes traveling more than 10 yards downfield. His average air yards are 6.3 per attempt, 3.0 per completion.
The Broncos have faced the three largest halftime deficits in Super Bowl history
[+]
Super Bowl XLVIII will be the first time since 1990 that the number one scoring defense will try to slow down the number one scoring offense. In Super Bowl XXV, the Giants limited
Jim Kelly
and the Bills K-Gun offense to 19 points, winning 20-19. That Giants defense and this year's Seahawks defense have similar if not identical stats.
[+]
Peyton Manning
's 24.4 Total QBR was his lowest in a game this season, and the worst in the Super Bowl since
Rex Grossman
in 2006 (7.1)
Russell Wilson
posted a 88.1 Total QBR, the 2nd-highest in the Super Bowl since 2006 (Flacco 93.4), and it snapped Wilson's streak of 6 straight games with a Total QBR under 50.0.
[+]
Peyton Manning
's 10 pass yards in 1st quarter are his fewest in 1st quarter since Week 8 2007 vs Panthers.
The Broncos tried to work the middle of the field Sunday and while it led to a lot of completions, the gains were minimal. Manning attempted 40-of-49 passes in between the painted field numbers Sunday (6.0 yards per attempt), his third-lowest average of the season. Manning attempted a season-low 9 passes outside the numbers.
[+]
1st quarter offense: Seahawks 148 yards, Broncos 11. 148 is the most yards the Seahawks had in a game this season. Denver's previous 1st-quarter low was 59 in Week 1 vs Baltimore. The Broncos were outgained by 137 yards, easily their worst 1st-quarter yardage margin of the season (-79, Week 13 vs Chiefs).
Peyton Manning
's 10 yards are his fewest in the 1st quarter since Week 8 2007 vs Panthers
Total QBR only goes back to 2006, but
Peyton Manning
's performance by that metric in the Super Bowl was by far the worst of his postseason career in the "QBR era".
[+]
The Broncos have allowed 206 points and scored only 58 in the franchise's 5 Super Bowl losses. Denver has scored 10 or fewer points in four Super Bowls, and the Broncos are now on the wrong side of three of the five largest Super Bowl blowouts in history.
Peyton Manning
's 24.4 Total QBR was his lowest in a game this season and the worst in a Super Bowl since the Bears'
Rex Grossman
in 2006 (7.1).
Russell Wilson
posted a 88.1 Total QBR, the 2nd-highest in the Super Bowl since 2006 (
Joe Flacco
had a 93.4 last year), and it snapped Wilson's streak of 6 games with a Total QBR of less than 50.0.
[+]
The Broncos failed to get a first down on their first three possessions Sunday. In their first two postseason games, they didn't pick up a first down on one of their 16 drives.
The Broncos' 1st play from scrimmage, a safety, resulted in a 4.7-point hit to the team's offensive efficiency. After Peyton's pick-6 with 3:36 left in the 2nd quarter, the Broncos win probability dropped to 3.5%. It would never get above 5.0% the rest of the game. They ran 41 offensive plays with a win probability below 5.0%. They ran 19 such plays the rest of the season combined.
Peyton Manning
completed 4 of his 11 pass attempts more than 10 yards downfield (36%), tied for his lowest completion percentage on such passes this season (including playoffs).
From Elias: The Seahawks scored a safety 12 seconds into the game, the fastest score at the start of a Super Bowl.
[+]
The Seahawks forced the Broncos into their worst offensive efficiency performance of the season. The Broncos' offense contributed -21.6 points to their net scoring margin, their first game this season with a negative offensive efficiency. They entered the Super Bowl as the only team without such a game this season. The +21.6 points was the Seahawks' 2nd-best defensive efficiency this season, behind their shutout win against
Eli Manning
and the Giants at MetLife Stadium in Week 15 (+24.3). It was the best by any team in a playoff game since 2009 Wild Card (Ravens +23.1 against Patriots). The Seahawks' defense finished the season with the highest defensive efficiency in the NFL, contributing 7.2 points per game to their net scoring margin (next closest team: Bengals, 4.7). Of those plays, 6.3 per game were on passing plays (+14.3 vs Broncos Sunday).
[+]
-
Russell Wilson
was not sacked in Super Bowl XLVIII and was put under duress on 19 percent of his dropbacks (5-of-27), his second lowest pressure percentage of the season. Including playoffs, Wilson was pressured on an NFL-high 32 percent of dropbacks entering the game. Wilson was sacked 19 times in his previous five games. - The lack of pressure allowed Wilson to make big throws from the pocket. Wilson was 14-of-18 for 173 yards and 2 touchdowns in Super Bowl XLVIII.
[+]
The Broncos gained 122 yards after the catch on 34 catches (3.6 YAC per reception). Denver's 3.6 YAC per reception average was the third-lowest for the Broncos in a game this season, and was a half-yard lower than Seattle's league-leading season average allowed (4.1).
Malcolm Smith
's 69-yd Int Return TD is 4th-longest Int Ret TD in Super Bowl history.
[+]
Peyton Manning
's 24.4 Total QBR was his lowest in a game this season, and the worst in the Super Bowl since
Rex Grossman
in 2006 (7.1).
Russell Wilson
posted a 88.1 Total QBR, the 2nd-highest in the Super Bowl since 2006 (Flacco 93.4), and it snapped Wilson's streak of 6 straight games with a Total QBR under 50.0.
[+]
This is the 4th time the Broncos have faced a halftime deficit in the Super Bowl. They lost the previous 3.
[+]
Denver hasn't been shut out in the first half since Week 6 of 2012. Manning's Broncos scored 35 second-half points in a Monday Night win against the Chargers.
Peyton Manning
faced the blitz on just 12 percent of his dropbacks in the Super Bowl, the 3rd-lowest percentage he's faced with the Broncos... He's had success when opponents sat back over that span, but not last night.
[+]
Broncos are first team shut out at halftime in Super Bowl since the Giants in Super Bowl XXXV - trailed Ravens 10-0 and lost 34-7
-
Percy Harvin
had an 87-yard kickoff return touchdown and three offensive touches totaling 50 yards in Super Bowl XLVIII. Harvin had 58 return yards and 47 yards from scrimmage in his previous two games with the Seahawks.
[+]
The Seahawks loaded the tackle box with more defenders than blockers on 20 of 64 plays (31.3 percent) against the Broncos, the most pre-snap pressure the Broncos have seen in a game this season. The loaded box set the tone early resulting in a botched Broncos snap for a safety on the first play. The Seahawks also showed extra pressure before three Broncos turnovers including MVP
Malcolm Smith
's interception return for a touchdown.
[+]
-
Malcolm Smith
is the ninth defensive player to be named Super Bowl MVP. Smith is the first player in Super Bowl history to have a fumble recovery and interception return for touchdown in the same game. Smith has four interceptions in his last five games (0 in first 44). - Malcolm Smith played 6 or fewer snaps in 5 games this season, not including Week 3 when he was inactive. Smith played only 34.5% of the Seahawks' defensive snaps from Weeks 1-13. Smith played 83.9% of the Seahawks' snaps from Week 14 to the NFC Championship. (Super Bowl data not available)
[+]
Knowshon Moreno
had zero rushing yards after contact. Entering the Super Bowl, he averaged 22.5 yards after contact per game this season.
The Broncos gained 46 yards after contact on 48 combined rushes and completed passes in Super Bowl XLVIII. The Broncos had only one game with fewer yards after contact this season (43 in Week 6 vs Jaguars).
Demaryius Thomas
was the most effective Broncos' target, catching 40% of
Peyton Manning
's completions and his only touchdown. Manning's average throw distance was 4 yards longer targeting Thomas than all other Broncos.
[+]
The Broncos allowed
Russell Wilson
to complete 12-of-14 passes (86%) when the Seahawks had at least three wide receivers on the field, the highest completion percentage the Broncos have allowed against that personnel grouping this season.
[+]
Manning targeted
Julius Thomas
on his first-quarter interception. Seahawks D allowed the lowest QBR targeting tight ends this season including the playoffs (58.6).
Manning's 1st quarter interception was the Seahawks 44th takeaway this season including playoffs, most in NFL. It was their 31st interception, also most in the NFL.
After the Lynch TD, Denver trails 15-0. The Broncos had 12 plays when trailing by at least 15 points this season. Every other team except Detroit (18) had at least twice as many.
Today's safety was the fastest score in Super Bowl history (12 seconds). This is the third-straight year with a safety in the Super Bowl. This was the 9th safety in Super Bowl history.
Malcolm Smith
played only half of the Seahawks' 64 defensive snaps in Super Bowl XLVIII. The Broncos averaged nearly a yard less per play when Smith was on field in the game. 11 different Seahawks played more defensive snaps than Smith in Super Bowl XLVIII.
Earl Thomas
and
Byron Maxwell
were the only two Seahawks defenders to play every defensive snap in the game.
[+]
Peyton Manning
has never overcome a bigger deficit (down 22) to win a postseason game
[+]
The game was essentially out of reach after halftime but
Russell Wilson
had one of his better second halves of the year. For the first time this season, he threw two passing touchdowns in the second half and had his second-highest QBR and completion percentage as he completed 9-of-11 passes.
[+]
The Broncos entered the Super Bowl with the highest scoring offense in NFL history, but their Super Bowl performance was one of the worst in recent seasons.
Peyton Manning
's Total QBR was the worst by a QB in the Super Bowl since
Rex Grossman
in 2006 (7.1).
[+]
Malcolm Smith
(SEA): first player in Super Bowl history with an interception return TD and a fumble recovery in the same game.
Percy Harvin
: 30-yard rush: his longest play from scrimmage this season. FROM ELIAS: Harvin's 30-yard rush was the 2nd-longest by a WR in Super Bowl history (Alvin Garrett: 44 yds Super Bowl XVII)
According to Elias: The Seahawks are the 2nd team to score an offensive TD, defensive TD and a special teams TD before their opponent scored any kind of TD in a playoff game. Only other time: Super Bowl XVIII, Raiders defeated Redskins 38-9. The Raiders had a blocked punt return, a pass TD, then an Int TD. Washington kicked a FG in the midst of that but did not score a TD until later in the game.
After his 2nd quarter touchdown,
Marshawn Lynch
has 12 rushing yards today. He also has 12 yards after contact, making his average point of contact the line of scrimmage.
When the Seahawks have 3+ receivers on the field,
Russell Wilson
is 12-14 for 148 yards and 2 TD.
Peyton Manning
has a Total QBR of 89.9 in two postseason games during the 2013 playoffs, the second highest for any quarterback leading up to the Super Bowl since QBR became available in 2006.
[+]
ESPN Stats & Information