1:00 PM ET, September 20, 2015
Heinz Field, Pittsburgh, PA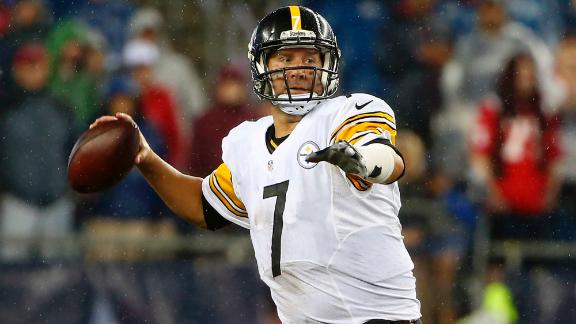 Mark Schlereth believes 49ers vs. Steelers will be a close one
The NFL Live crew breaks down the Week 2 matchup between the San Francisco 49ers and the Pittsburgh Steelers.
Mark Schlereth believes 49ers vs. Steelers will be a close one
VIDEO PLAYLIST
Jim Tomsula's first road game will come in a familiar place.
Another big performance from Carlos Hyde will likely assist in quieting a frenzied Pittsburgh Steelers crowd.
Hyde led the NFL in rushing in Week 1 for the San Francisco 49ers and will look to help spoil the Steelers' home opener Sunday.
San Francisco won 20-3 at home over Minnesota on Monday in Tomsula's first game as coach after replacing Jim Harbaugh. He's from the Pittsburgh suburb of Homestead and joked about not filling out ticket requests for friends in the area as well as discussing local dining options.
Tomsula's game plan will no doubt revolve around a steady diet of carries for Hyde, who rushed for a career-high 168 yards with two scores after taking over as the starter with Frank Gore going to Indianapolis. The 49ers finished with 230 yards rushing.
"I just try to be that momentum builder for our offense, get the offense rolling, spark the offense so we're able to drive down the field and put points on the board," Hyde said.
Pittsburgh was solid against the run in last Thursday's 28-21 loss at New England, yielding 80 yards.
The Steelers realize they face a more difficult task Sunday, and no one knows that better than linebacker Ryan Shazier -- Hyde's former Ohio State teammate.
"I didn't need to learn a lot about Carlos, I kind of knew he was going to do that," Shazier said. "I worked out with him a little bit this offseason and I just knew that he had a big year in store for him."
The 49ers' backfield took a bit of a hit when Reggie Bush left with a mild calf strain, and Tomsula said Friday he will not travel to Pittsburgh for this game.
Pittsburgh is looking to move on following the controversy from the New England game in which its headsets didn't function for part of the contest.
Coach Mike Tomlin can improve to 8-1 in home openers. Pittsburgh went 6-2 at home last year before losing there to Baltimore in a wild-card game.
"Every time you come out of the tunnel in Heinz Field the fans are going crazy, it's awesome," quarterback Ben Roethlisberger said. "Maybe it's a little more special just 'cause it's the first one of the year."
Roethlisberger was 26 of 38 for 351 yards with a touchdown and an interception last week. His offense remains without suspended running back Le'Veon Bell and receiver Martavis Bryant.
Sunday will mark the home debut for former Carolina back DeAngelo Williams, who rushed for 127 yards for the third-highest Week 1 total.
"Obviously we're very happy with what he did but we all kind of knew what we were getting in DeAngelo, a guy that puts the work in every day, is a great football player," Roethlisberger said.
Antonio Brown had nine catches for 133 yards and a score. His next reception will make him the fourth player in franchise history with 400.
The Steelers will face a defense that welcomed back linebacker NaVorro Bowman, who played for the first time since a gruesome left knee injury sustained during the NFC championship game at Seattle in January 2014. Bowman had one sack and tied for the team lead with seven tackles Monday.
"You can't say enough about NaVorro Bowman and what he's overcome," Tomsula said. "You respect that."
The 49ers limited Adrian Peterson to 31 yards on 10 carries.
Pittsburgh will face Colin Kaepernick for the first time. Kaepernick was 17 of 26 for 165 yards Monday with seven carries for 41 yards.
"We have to definitely keep him contained, can't let him break the pocket, get outside," linebacker Lawrence Timmons said. "Just fly to the ball with a guy like that."
Australian former rugby league star Jarryd Hayne fumbled a punt return on his first NFL touch for the 49ers before giving way in that role to Bruce Ellington. Hayne compared the miscue to a rugby gaffe he committed.
"I did a similar thing in Origin in my debut game. I gave away a try and I threw the ball when I shouldn't have thrown the ball," Hayne recalled.
San Francisco is 11-9 against Pittsburgh, winning 20-3 at home in the last meeting in 2011.
Matchup
SF

PIT

W-L
1-1
1-1
Avg Points
9.0
21.5
Avg Points Allowed
21.5
9.0
Home Record
1-0
1-0
Road Record
0-1
0-1
Division Record
0-0
0-0
Conference Record
1-0
0-1
Complete Standings
Team Averages & NFL Ranks
TEAM OFFENSE
TEAM
PER GAME AVERAGE
Total Yards
SF

304
PIT

395
Yards Passing
SF

207
PIT

288
Yards Rushing
SF

97
PIT

108
TEAM DEFENSE
TEAM
PER GAME AVERAGE
Yards Allowed
SF

387
PIT

363
Pass Yds Allowed
SF

261
PIT

272
Rush Yds Allowed
SF

126
PIT

91
Head to Head Matchups (Since 2001)
Series tied 2-2
Dec 19, 2011
SF 20, PIT 3
Sep 23, 2007
SF 16, @PIT 37
Nov 17, 2003
SF 30, PIT 14
Research Notes
Colin Kaepernick
has thrown 144 straight 4th-quarter passes without a 4th-quarter touchdown pass, a streak spanning 21 4th-quarters.
Carlos Hyde
ran for 168 yards in Week 1, the most by a 49er in a season opener since Garrison Hearst in 1998 (187). Only 3 players in NFL history have ever had 150 rushing yards in each of their team's first 2 games in a season (O.J. Simpson, Jim Brown and Alan Ameche).
Antonio Brown
has 5 catches and 50 receiving yards in an NFL-record 33 straight games. The 2nd-longest active streak is 4!
- The 49ers used 3+ tight ends on 33 offensive plays in Week 1, the most by any team in a game in the last 10 seasons, and more than they COMBINED for all of last season. They averaged 6.3 yards per play in 3-TE sets (and scored both their TDs), a full yard better than the league average offense in any formation in Week 1 (5.3)
Ben Roethlisberger
was 5-of-6 for 239 yards and a TD on throws more than 30 yards downfield, the most such completions in a game in the last 10 seasons.
Drew Brees
is the only other quarterback to have 4 completions more than 30 yards downfield in a game (Week 4 of 2008, also against the 49ers).
Colin Kaepernick
(SF): 4th quarter touchdown pass to
Anquan Boldin
snaps his streak of 21 consecutive starts without a 4th-quarter Pass TD, which was the longest active streak in the NFL.
Antonio Brown
is nearing 200 receiving yards on the day, a mark that only 4 Steelers have ever hit, and only 1 since the merger. That was Plaxico Burress, who had a team-record 253 in 2002.
Antonio Brown
's 195 receiving yards were 1 short of a career high.
Ben Roethlisberger
was 9-of-11 targeting Brown, including 3-of-4 for 143 yards on throws at least 15 yards downfield. Brown has 59 receptions on deep throws since 2013, 7 more than any other receiver.
Colin Kaepernick
was sacked 5 times Sunday and was pressured (sacked or under duress) on 23 of his 53 dropbacks (44%), the 4th-highest pressure percentage of his career, including 16 of 34 dropbacks (47%) in the 2nd half. Coming into the game, Kaepernick had been pressured on 31% of dropbacks since the start of last season, the 4th-highest rate in the league.
The Steelers scored a 2-point conversion in the first quarter Sunday. There has not been a 2-point conversion made in the first quarter since Ken Dilger scored on what the Associated Press called "a well-executed fake after the TD" on October 4, 1998 for the Colts against the Chargers. The last "traditional" 2-point conversion made in the first quarter came on September 28, 1997 when Terrell Davis ran it in for the Broncos in a 29-21 win over the Falcons (source: Elias Sports Bureau)
From Elias: Before Sunday, there has not been a 2-point conversion made in the first quarter since Ken Dilger scored on what the Associated Press called "a well-executed fake after the TD" on October 4, 1998 for the Colts against the Chargers. The last "traditional" 2-point conversion made in the first quarter came on September 28, 1997 when Terrell Davis ran it in for the Broncos in a 29-21 win over the Falcons
ESPN Stats & Information