And the server says ...
THIS TIME OF YEAR, everyone has a theory -- about the players who'll matter the most, the games that'll go to the wire and the team that'll exit New Jersey with the Lombardi trophy. You can have your hunches; we'll take analytics every time. So we turned to some of the NFL's smartest statheads. Football Outsiders mined its 22 seasons of data to forecast each team's offensive and defensive performance. Pro-Football Reference used its Approximate Value metric to highlight a non-QB MVP, while our resident Football Scientist, KC Joyner, studied the bad decisions of each signal-caller. Finally, Pro Football Focus performed its algorithmic gymnastics to predict the scores of all 256 regular-season games and our playoff bracket. The only theory left to test: Does champagne taste sweeter at Mile High or the Meadowlands?
AFC North >>> | AFC South >>> | AFC East >>> | AFC West >>>
NFC North >>> | NFC South >>> | NFC East >>> | NFC West >>>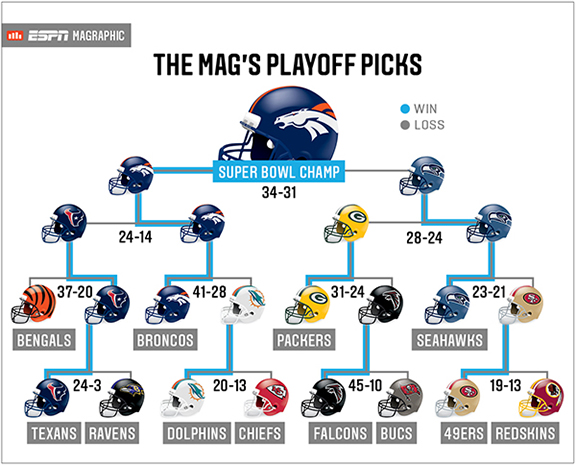 Glossary
DVOA (defense-adjusted value over average): Breaks down the season play-by-play, comparing success to the league average based on variables including down, distance, location on the field, current score gap, quarter and opponent quality.
AV (approximate value): The approximate measure of a players value, calculated by using metrics like games started, Pro Bowls, All-Pros and other stats when applicable.
BDR (bad decision rate): The rate at which a QB makes a mental error that leads to a turnover opportunity for the D.
INT conversion rate: The rate at which a quarterbacks INT opportunitiespasses that reach the catching frame of a defenderare actually picked off.
Adjusted line yards: Measures runs at specific distances to calculate blocking rather than what the RB does in the open field. Adjusted for situation and opponent.
Adjusted games lost: Measures the cost of injuries, of missed games and of games in which players were unable to play to their full potential.
Power success rate: The percentage of runs on third or fourth down, with two yards or less to go, that achieve a first down/TD.