Packers are dangerous; AFC picture in focus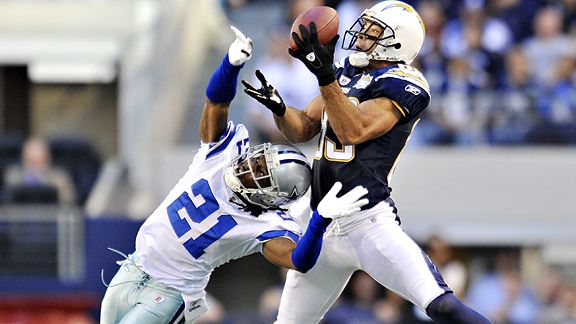 AP Photo/Michael ThomasVincent Jackson caught seven passes for 120 yards, helping San Diego beat Dallas 20-17. It was the Chargers' eighth straight win and 16th straight in December.
Week 14 leaders
Here are five things I learned from Week 14:
1. Packers lean on D: After beating Chicago 21-14, the Green Bay Packers -- barring a collapse -- have the best chance at getting the No. 5 seed in the NFC even though they have potentially tough road games in Pittsburgh and Arizona during the final three weeks. What they proved on Sunday in Soldier Field is they will be a handful to either the Cardinals or the NFC East winner in the first round.
The reason is their defense. Despite getting a 62-yard touchdown run by halfback Ryan Grant on its first play, the Packers' offense never got in sync. Due to the cold weather (wind chill of 32 degrees), Packers coach Mike McCarthy decided to stay away from three-receiver sets and concentrate more on the run. Consequently, Aaron Rodgers was only 16-of-24 for 180 yards -- not a typical day for the Packers' high-powered passing attack.
"It's nice to have a defense you can rely on,'' Rodgers said. "When the defense plays like it did today, it's going to be hard to beat us.''
Defensive coordinator Dom Capers continues to experiment and everything is working well. He tried a 1-5-5 alignment called "Psycho." In the fourth quarter, he unleashed countless cornerback blitzes that forced Bears quarterback Jay Cutler to make mistakes. Overall, the Bears gained only 254 yards of offense against the Packers. Cutler threw two interceptions and was sacked three times.
"Takeaways are the staple of our victories in the past few weeks,'' McCarthy said.
Here's what I like about the Packers and how they match up against the Cardinals or NFC East teams. They can run the ball with Grant. Rodgers can get into a passing shootout with a Kurt Warner and hold his own. The 3-4 defense not only can stop running attacks, but it can create turnovers. It's fitting that the Packers' five-game winning streak started with a victory over Dallas, proving they aren't fearful of an NFC East team. What's also interesting is that their regular-season finale is against the Cardinals, whom they might have to play again the following week.
2. Broncos shine in defeat: Despite their 28-16 loss to the Indianapolis Colts, the Broncos once again proved they are a playoff-caliber team. Wide receiver Brandon Marshall was unstoppable with his record 21-catch day, and the Broncos didn't fall apart after trailing 21-0 in the second quarter. They intercepted Peyton Manning three times, and they had numerous chances to overtake the Colts in the second half. At 8-5, they should be in.
The Dolphins' ugly 14-10 victory over the Jaguars signaled the likely end of Jacksonville's playoff run and put the Dolphins, Jets and Ravens in a battle for the last playoff spot. The Jaguars were in the playoff conversation because of their 7-5 record bloated by victories over subpar teams. It's pretty apparent Jaguars fans weren't buying into it. The game was blacked out, as Jaguars fans apparently are leaning toward buying tickets for Thursday's game against the Colts, rather than supporting the team for its most important game of the season. With WR Mike Sims-Walker playing despite a calf injury, Jaguars quarterback David Garrard completed only 11 of 26 passes for 139 yards. With probable losses coming up against the Colts and Patriots, the Jags should be 7-8 after Week 16.
For the final playoff spot, put your money on Baltimore. The Ravens breezed by the Lions 48-3, and unless they lose to Pittsburgh on Dec. 27, the Ravens will get to 10-6. Despite Chad Henne's efficient day against the Jaguars, it's hard to imagine the Dolphins will win their last three against the Titans, Texans and Steelers. Ricky Williams had three fumbles and may be starting to wear out as a workhorse running back. The Jets may beat the Falcons in Week 15, but they have to hope the Colts and Bengals bench their starters in the final two weeks. Thus, the AFC playoff picture sizes up like this: Indianapolis, San Diego, Cincinnati, New England, Denver and Baltimore.
3. Fourth-down copycats? Coaches are fourth-down crazy this season, and it's creating some strange results. Josh McDaniels of the Broncos was 0-for-3 on fourth-down tries, and it really hurt the Broncos. Trailing by 14 points in the first quarter of Sunday's loss to the Colts, McDaniels went for it on a fourth-and-1 at the Colts' 41-yard line, but Knowshon Moreno was stuffed for no gain. It was too early in the game to give the Colts field position, particularly when they had a two-touchdown lead. I did agree with the Colts' decision to go for it on fourth-and-4 in the second quarter. They were at the Broncos' 34, and out of field goal range for Matt Stover. Manning hit Dallas Clark for a 22-yard gain, setting up the Colts' third touchdown drive of the first half.
Patriots coach Bill Belichick went for it on fourth-and-1 at the Panthers' 40 on New England's first possession and failed with a Sammy Morris run. That failure put the Patriots in field-position problems throughout the first quarter of their 20-10 victory over the Panthers. The Pats have gone for 18 fourth downs and made nine. Heading into Week 14, teams went for it on 407 fourth downs and converted 202, a 49 percent efficiency. Last year there were 491 for the entire season, and teams were 53 percent efficient. There were only 473 fourth-down tries in 2006, with an efficiency rate of 50.5. The were 533 in 2007, but only 49 percent succeeded. Just because Belichick is doing it doesn't mean everyone should copy him. The success rate is like a coin flip, and many coaches are coming up tails.
[+] Enlarge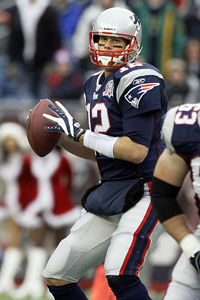 AP Photo/Elise AmendolaPatriots QB Tom Brady appears to be suffering from a shortage of reliable pass-catchers.
4. Pats too predictable: Unless Tom Brady can find a way to spread the ball to more receivers in the spread offense, the Patriots aren't going to go far in the playoffs. Wes Welker may have saved the Patriots in their 20-10 victory over the Panthers, but this offense is receding. Welker was targeted 14 times and had 10 catches for 105 yards. Throwing to the rest of the team, Brady was 9-of-18 for 87 yards. Injuries to his ribs and right index finger might be part of the problem, but Brady's offense is becoming pretty predictable. Whether it's focus, age or injuries, Randy Moss isn't giving Brady 60 minutes of big plays. Panthers cornerback Chris Gamble accused Moss of shutting down his effort during the game.
"We knew he was going to shut it down,'' Gamble said. "He'd just give up a lot. Slow down.''
Gamble said he noticed it in Moss' body language. Against the Panthers, Moss had one catch for 16 yards. The mistake of not re-signing Jabar Gaffney as the No. 3 receiver was clearly noticeable Sunday. Sam Aiken was inactive, and Julian Edelman didn't catch a pass after missing several weeks because of a broken forearm. Kevin Faulk has always been a big part of the run-after-the-catch formula that worked so well for the Patriots, but age may be catching up to him. He's 33 and hasn't had more than four receptions in a game since the opener. He had three catches for 17 yards on Sunday. And only the Rams target the tight end less than the Patriots. Welker is sensational, but he's only going to average 10 or 11 yards a catch working the middle of the field and bubble screens. Brady is going to need more than that once the playoffs begin.
5. December swoon, boon: The Chargers, 20-17 winners in Dallas, are now 11-0 in December games under Norv Turner. Quarterback Philip Rivers is 16-0 as a starter in December. Decision making is one of the reasons the Chargers win in December and the Cowboys lose. All you have to do is focus on Wade Phillips' decision to go for a fourth-and-goal in the first quarter instead of just kicking a field goal. Marion Barber was stopped by Chargers linebackers Brandon Siler and Tim Dobbins. The Chargers led 10-3. Kicking a field goal would have made more sense.
It was expected this was going to be a low-scoring game because both teams have good defenses. Plus, NFC East teams this season have been terrible in the red zone and shaky near the goal line. Coming into the game, the Cowboys failed to get a touchdown nine times in 27 goal-line possessions. That was 15th in the league; no NFC East team ranked higher than 14th in goal-line touchdown efficiency.
The Chargers win in December because they don't commit a lot of penalties or turnovers this time of the year. They peak, while the Cowboys just unravel. With a two-game lead in the AFC West, the Chargers can now focus on next week's game against Cincinnati and their goal to lock up the second seed in the AFC. The Cowboys are in a dogfight just to make the playoffs and keep Phillips employed. In Week 13, they passed too much in a loss to the Giants. On Sunday, they lost three critical points that eventually cost them the game. And the possible loss of linebacker DeMarcus Ware with a neck injury could make it tougher for the Cowboys to win a game in the final three weeks.
Short Takes
Although it can be argued the NFC has caught up to the AFC in terms of quality teams, the NFC continues to lose in interconference play. Of the seven interconference games in Week 14, the AFC won six. The AFC clinched at least a tie with three weeks remaining for the interconference championship. The AFC is 32-23 and hasn't had a losing season to the NFC since 1995, a 14-year string that has featured three ties. … Andre Johnson's 11-catch, 193-yard day against the Seahawks in Houston's 34-7 victory was pretty predictable. Seahawks general manager Tim Ruskell lost his job because he didn't draft big corners to match up against receivers like Larry Fitzgerald and Andre Johnson. It's pretty clear, too, that Matt Schaub is in favor of keeping Gary Kubiak as the Texans' head coach. Playing with a separated left shoulder, Schaub passed for 365 yards and two touchdowns, and he was 24-of-28 for 336 yards in the first half. … Falcons coach Mike Smith deserves a lot of credit for being able to battle the unbeaten New Orleans Saints to the end in a tough 26-23 loss. The Falcons didn't have quarterback Matt Ryan, halfback Michael Turner and guard Harvey Dahl. Backup QB Chris Redman threw for 303 yards and had to operate without a running game. At 6-7, the Falcons' playoff run is over, but they served notice that they will be a factor in the NFC South once next season comes around and they fix their left cornerback spot. … The Ravens' Derrick Mason had the best catch of the day. He got crunched by two Lions defenders but stayed on his feet and ran 62 yards for a touchdown. … Bill Belichick's decision to deactivate linebacker Adalius Thomas wasn't much of a surprise. First, Thomas put himself in the doghouse by showing up late for work Wednesday and then not showing remorse later. But he's being phased out of the Patriots' defense. Against the Panthers, a running team, Thomas wasn't needed because there wasn't a premium on pass coverage or the pass rush. … Bucs quarterback Josh Freeman's struggles continue. He had three more interceptions and was sacked three times. He also fumbled a snap. With only 93 yards passing, Freeman wasn't much of a factor. … With Devin Hester out of the game with a calf injury, Bears QB Jay Cutler completed eight passes for 76 yards and a touchdown to unknown WR Devin Aromashodu. Cutler has pushed for Aromashodu to be in the offense. He started Sunday against the Packers. … A lack of discipline was one of the reasons the Bengals lost to the Vikings 30-10. The Bengals made too many mental mistakes, committing 11 penalties for 85 yards. The run defense was vulnerable without Domata Peko, and the Bengals' defensive front seven was banged up with injuries, making it easy for Adrian Peterson and the rest of the Vikings' offense to rush for 142 yards. Still, at 9-4, the Bengals are a lock to win the AFC North. … Coming back from a broken foot, Vikings cornerback Antoine Winfield proved he's healthy, making a hard tackle on Bengals halfback Larry Johnson. … Down Marc Bulger and Kyle Boller at quarterback, the Rams didn't have a chance against the Titans. To be honest, they did a pretty good job holding Titans halfback Chris Johnson to 117 yards on 28 carries, but he scored three touchdowns. The biggest loser was Rams halfback Steven Jackson. With Keith Null at quarterback, Jackson, playing with a sore back, ran against a stacked run defense that limited him to 47 yards on 19 carries. … Bruce Gradkowski's knee injury allowed JaMarcus Russell to come back and remind everyone of how bad he is at quarterback. He was sacked once every three times he dropped back to pass during a 34-13 loss to the Redskins. … Vince Young strained his right hamstring on a 44-yard run in the Titans' victory over the Rams. That could derail his efforts to claim the starting job for next season if he can't play in the final three weeks.
John Clayton's game balls

• Offense: Maybe it's time for the Broncos to start thinking about giving Brandon Marshall a contract extension. Marshall caught an NFL-record 21 passes against the Colts for 200 yards and two touchdowns. In 2008, he had 18 catches for 166 yards against the San Diego Chargers, so he has two of the top four single-game reception days in NFL history. He has 1,008 yards for the season, his third straight 1,000-yard season. This was the eighth game in which he had at least 10 catches, an NFL record for a player in his first four seasons.

• Defense: All season, Houston's Brian Cushing held a big lead for defensive rookie of the year honors, but Brian Orakpo's four-sack performance in Washington's 34-13 victory over Oakland could give him a chance to take the award. He now has 11 sacks for the season, and usually, double-digit sackers tend to win the defensive rookie honors. He had gone three weeks without a sack and had even let Clay Matthews of the Packers slip ahead of him. Matthews recorded his eighth sack of the season in the Packers' win over the Bears. Cushing had 10 tackles, a sack, three tackles behind the line of scrimmage and three quarterback hits in a victory over the Seahawks. But Orakpo had the chance to get at JaMarcus Russell and is now making a big push.

• Special teams: At 33, Jay Feely is having an outstanding year. Now on his fifth NFL team, Feeley was 4-for-5 on field goals during the Jets' 26-3 victory over Tampa Bay. He made field goals of 40, 24, 49 and 49 yards and is now 25-for-29 on the season, the second-best season of his career. He was 21-for-23 in 2007 for the Miami Dolphins, making 91.3 percent of his field goals that year. He could have been 5-for-5 on Sunday, but James Dearth's snap was high, causing him to miss a 48-yard field goal.
Playoff picture
If the playoffs started today, here's how the teams would be seeded. Teams seeded fifth and sixth are wild cards.
NFC SEEDS

1. New Orleans (13-0) | Next: vs. Dallas

2. Minnesota (11-2) | Next: at Carolina

3. Philadelphia (9-4) | Next: vs. San Francisco

4. Arizona (8-4) | Next: at San Francisco (MNF)

5. Green Bay (9-4) | Next: at Pittsburgh

6. Dallas (8-5) | Next: at New Orleans

In the hunt:
N.Y. Giants (7-6), Atlanta (6-7) and San Francisco (5-7)
AFC SEEDS

1. Indianapolis (13-0) | Next: at Jacksonville

2. San Diego (10-3) | Next: vs. Cincinnati

3. Cincinnati (9-4) | Next: at San Diego

4. New England (8-5) | Next: at Buffalo

5. Denver (8-5) | Next: vs. Oakland

6. Jacksonville (7-6) | Next: vs. Indianapolis
In the hunt:
Baltimore (7-6), Miami (7-6), N.Y. Jets (7-6), Pittsburgh (6-7), Tennessee (6-7) and Houston (6-7)
Week 14 rundown
• Cleveland 13, Pittsburgh 6
From 6-2 to 6-7. In all likelihood, the Steelers' title defense is over. Pittsburgh couldn't protect Big Ben (eight sacks) or stop Josh Cribbs (200 all-purpose yards).
• Indianapolis 28, Denver 16
The Colts got their 22nd straight regular-season win, a new record. The Broncos' Brandon Marshall (a record 21 catches) did his best to steal the spotlight.
• New Orleans 26, Atlanta 23
The Saints survived, but is their kicking situation a legitimate concern going forward? Neither John Carney nor Garrett Hartley (missed extra point on Sunday) appears to be an ideal option.
• Green Bay 21, Chicago 14
The Packers (9-4) took another big step toward securing a wild card. The silver lining for the Bears? They might have found a WR in Devin Aromashodu (eight catches, 76 yards, TD).
• Buffalo 16, Kansas City 10
Bills QB Ryan Fitzpatrick (86 yards, 12-of-20 passing) was far from stellar. Chiefs QB Matt Cassel (four more INTs) is far from where he was last year.
• Minnesota 30, Cincinnati 10
The Bengals (9-4) are still on track to win the AFC North, but their offense isn't exactly clicking. Carson Palmer (only 94 passing yards on Sunday) hasn't had a two-TD-pass game since Week 7.
• New England 20, Carolina 10
The Patriots are usually a first-half team. Not on Sunday. After a sluggish start, New England woke up just in time to protect its AFC East lead.
• N.Y. Jets 26, Tampa Bay 3
Subbing for the injured Mark Sanchez, Jets QB Kellen Clemens had the benefit of a reliable running game (175 yards). The Bucs' Josh Freeman did not (43 yards).
• Miami 14, Jacksonville 10
The second wild-card spot in the AFC is officially up for grabs. At 7-6, the Dolphins are now tied with the Jaguars, Jets and Ravens with three to go.
• Baltimore 48, Detroit 3
A huge day for the Ravens' running game (308 yards). Ray Rice ran for 151 yards before halftime.
• Houston 34, Seattle 7
Who needs a running game when you have Andre Johnson (11 catches, 193 yards)? His 64-yard TD catch on the first play from scrimmage set the tone in a convincing victory.
• Tennessee 47, St. Louis 7
How bad have things gotten for the 1-12 Rams? Someone named Keith Null (five INTs) started at quarterback for them on Sunday.
• Washington 34, Oakland 13
No fourth-quarter collapse for the Redskins this week. Washington's pass rush (eight sacks) was too much for Oakland to handle.
• San Diego 20, Dallas 17
Norv Turner hasn't gotten much consideration for coach of the year. Maybe he should. His Chargers have won eight straight and are homing in on the No. 2 seed in the AFC playoffs.
• Philadelphia 45, N.Y. Giants 38
A Sunday night shootout in the Meadowlands. The Eagles (9-4) took control of the NFC East with a big-play offense. Now they can work on their defense.
-- ESPN.com
MONDAY NIGHT FOOTBALL
•
Arizona at San Francisco (ESPN, 8:30 ET)
Looking ahead
An early look at next weekend's biggest games:
• Indianapolis (13-0) at Jacksonville (7-6): The Colts are striving for perfection. The Jags are fighting for a playoff berth.
• Dallas (8-5) at New Orleans (13-0): Another tough December test for the Cowboys.
• Cincinnati (9-4) at San Diego (10-3): Another chance for the Bengals to clinch the AFC North. It won't be easy against the red-hot Chargers.