Uphill climb for 7-7 teams; Eagles provide clarity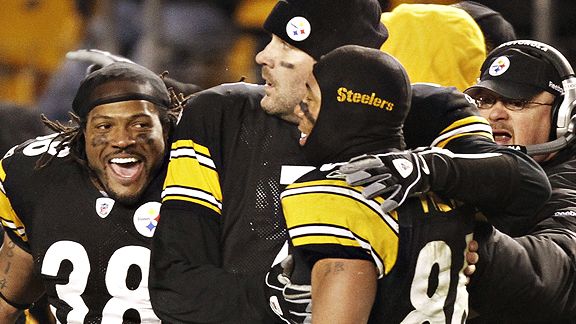 AP Photo/Keith SrakocicThe Steelers' losing streak is history. Ben Roethlisberger's 19-yard TD pass to Mike Wallace as time expired gave Pittsburgh a 37-36 win over Green Bay. Big Ben passed for 503 yards.
Week 15 leaders
Here are five things I learned from Week 15:
1. Ravens sitting pretty: On a Sunday of close calls, weather-related horror stories and big plays, the Ravens were the big winners. They had the easiest victory of the day, winning 31-7 over a Chicago Bears team that appeared outmatched and unmotivated. The Ravens (8-6) are now in prime position to earn a wild-card berth. The Dolphins and Jets lost, leaving six 7-7 AFC hopefuls in pursuit of Baltimore and Denver (8-6). The Ravens still have a tough game against the Steelers next Sunday, but a season-ending trip to Oakland offers them the reasonably sure chance of getting to 9-7.
You can't say the same for the 7-7 teams. The Colts appear to be leaning toward keeping their starters on the field next Sunday and trying to stay unbeaten, which is bad news for a Jets team that could be eliminated with another loss. The Jets close out the season against Cincinnati, another tough matchup. The Dolphins have tough remaining home games against the Texans and Steelers, which are basically elimination games. Even though the Titans are one of the most dangerous teams in the league, with Vince Young 7-1 as a starter, they have seven conference losses and lose about every tiebreaker in the wild-card race. Tennessee finishes the season against San Diego and at Seattle.
The Steelers, Jaguars and Texans are also 7-7. After playing host to Baltimore, the Steelers play at Miami in Week 17. Houston travels to Miami in Week 16 before closing out the season against New England. Jacksonville has road games at New England and Cleveland. Even though some 7-7 teams have easier schedules than others, all six have to hope the Ravens or Broncos -- who finish with Philadelphia and Kansas City -- trip up.
As for Baltimore, it got a big boost from QB Joe Flacco, who threw four touchdown passes. People might have forgotten that Flacco and the Ravens won two playoff games last year after an 11-5 season. Look out.
2. NFC picture now clear: The Eagles made it easy to figure out the NFC playoff race. It's no longer a race. It's a walk. The Eagles eliminated the 49ers with an easy 27-13 victory. The Falcons were eliminated Saturday night when the Cowboys upset the Saints. The final playoff spot now comes down to the Cowboys and Giants, with the Cowboys holding a game-and-a-half lead over the Giants, who have a tough game against the Redskins on Monday night. Although the Cowboys control their fate, they can't relax. They visit the Redskins in Week 16 and play host to the Eagles in Week 17. If the Cowboys and Giants finish the regular season with the same record, New York will make the playoffs by virtue of its season sweep of Dallas.
[+] Enlarge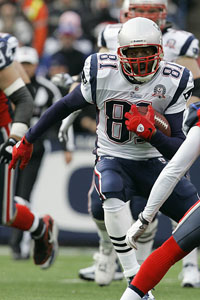 AP Photo/Dean DupreyRandy Moss had a solid game, even though he and Tom Brady couldn't connect on the long ball.
What continues to shape up is the possibility of Week 17 games being a preview of the playoffs. The Cardinals squeaked by Detroit 31-24 in a mistake-filled game that keeps them the likely No. 4 seed. They finish the regular season against Green Bay at home. If the Packers finish as the No. 5 seed, they probably would play Arizona again in the wild-card round. If the Cowboys end up as the sixth seed, they could end up having to play two straight games against the Eagles. What do we call that -- Deja Two?
3. Patriots find a way: The Patriots had to go old-school to beat the Buffalo Bills 17-10 and open up a two-game lead in the AFC East. Tom Brady wasn't able to consistently move the passing offense, completing only 11 of 23 passes for 115 yards, with his longest completion only 16 yards. Randy Moss -- recently ridiculed for not consistently running his routes hard enough or making tough catches -- was targeted seven times, catching five passes for 70 yards and a touchdown. His longest play was a 43-yard gain after an interference call against safety Donte Whitner. Moss spoke after the game, responding to the criticism against him.
"You did all your talking, now let me do mine," Moss said. "I've been in this league 12 years, man, and I've been through a lot and these shoulders that I have on my body, you can put the earth on it. … I bounce back."
The Patriots' old-school approach featured a stingy defense and hard running. Laurence Maroney (23 carries, 81 yards, one TD) was a big factor. So was the Patriots' defense. The Patriots were down three defensive linemen: Vince Wilfork, Ty Warren and Myron Pryor. Coach Bill Belichick kept the Patriots in the 3-4, and their offense stayed in more two-back formations. The Bills had only 241 yards of total offense. After a 14-play, 74-yard drive to open the game, the Bills did little against the Patriots, leaving New England at 9-5 and in control of the AFC East.
4. AFC Least: The AFC East needs to be renamed. On Sunday, it was the AFC Least because of strange losses by the Dolphins and Jets. On the positive side, the Dolphins came back from an 18-point deficit to take the Titans into overtime. But after the Dolphins won the coin toss, Chad Henne threw an interception, which was followed by a penalty that set up the Titans for the game-winning Rob Bironas field goal.
At 7-7, the Dolphins probably will end up a game shy of claiming the final wild-card spot. In some ways, though, it shouldn't be too surprising. After going from 1-15 to 11-5, the Dolphins faced a tough schedule that was supposed to drop them to about 8-8. The Dolphins are 1-2 against the tough AFC South, lost to the Chargers and are 2-2 against the NFC South.
Totally unexplainable was the Jets' 10-7 loss to the Falcons. New York struggled to score points at home against a banged-up Falcons team that has holes in its secondary. The Jets let the Falcons hang around too long, giving Matt Ryan the chance to orchestrate a last-minute touchdown drive to pull out the win. Jets QB Mark Sanchez was gutting it out by wearing two knee braces in what he called his "Forrest Gump" look, but the Jets' offense was a big zero. Plus he threw three interceptions, which were killer.
[+] Enlarge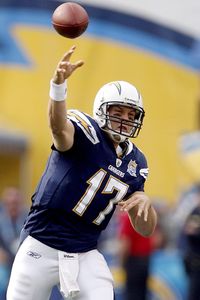 AP Photo/Lenny IgnelziPhilip Rivers threw for 308 yards and three TD passes as the Chargers won their ninth straight.
5. Collision course: The San Diego Chargers and Indianapolis Colts appear destined to meet in the AFC Championship Game. Both teams might be beatable, but they are going to be hard to beat at home in the playoffs. That was really noticeable during the Chargers' 27-24 victory over the Bengals. The Bengals came in focused and emotionally charged, trying to play in honor of wide receiver Chris Henry, who died after falling out of a moving truck last week. Bengals QB Carson Palmer couldn't have been much sharper in the first half. He was 12-of-19 for 189 yards and converted five of eight third downs with great throws.
Like the Colts, the Chargers' offense puts a lot of pressure on opposing teams to come up with touchdown drives. Despite outgaining the Chargers 226-172 in the first half, the Bengals trailed 14-13. Crowd noise and big plays by the Chargers broke down the Bengals in the third quarter. Midway through the third quarter, Palmer was intercepted by cornerback Quentin Jammer at the Bengals' 40-yard line. Two plays later, Philip Rivers hit Vincent Jackson for a 34-yard touchdown.
Enter the crowd. On the next three plays, the Bengals had a false start, an illegal substitution and a delay of game, setting up a first-and-25 at their 7. After a Cincinnati punt, Rivers delivered a 36-yard completion to LaDainian Tomlinson and an 18-yard completion to Jackson that set up a field goal and gave San Diego a 24-13 lead. The Bengals rallied to tie it up, but Rivers needed only 54 seconds to drive for a game-winning field goal. He did it just like Peyton Manning. You feel those two are going to meet again.
Short Takes
In 2007, the Falcons drafted defensive end Jamaal Anderson -- inactive for Sunday's game against the Jets -- with the eighth pick instead of cornerback Darrelle Revis, who went to the Jets six choices later. The Falcons already had John Abraham as a main pass-rusher, and Anderson has produced only 2.5 sacks in 44 games. Revis has developed into one of the best cover cornerbacks in football, perhaps the biggest current need of the Falcons. … Considering the snowy conditions that hit the New York market, it was fitting that Ron Winter refereed the Jets-Falcons game and that Matty Ice (Matt Ryan) would start at quarterback for the Falcons despite a turf-toe injury. Too bad Justin Snow of the Colts wasn't available to add to the wintry mix. … Dolphins running back Ricky Williams pretty much ensured he will be the with team next season. He became only the seventh back in the NFL history to surpass 1,000 yards rushing in a season in which he was 32 or older at the start of the season, but he's developing a bad fumbling problem. He has four fumbles in the past two weeks. The most recent 1,000-yard season for Williams was in 2003. … Dolphins safety Gibril Wilson is having serious trouble in pass coverage. He was beaten for his third touchdown of the season Sunday when Justin Gage got behind him on a throw from Vince Young. … The Texans can't fix their problems in the backfield. Gary Kubiak tried undrafted rookie Arian Foster, and he responded with a first-quarter fumble. … Mike Holmgren is contemplating a reported 10-year, $50 million offer from the Browns. Can you imagine what he was thinking after Browns punter Reggie Hodges froze on a deflected snap that went into the end zone, allowing Chiefs linebacker Andy Studebaker to recover for a touchdown? Eric Mangini doesn't have a chance of being in the building one day after the season if Holmgren accepts the GM job Monday. … First-round pick Andre Smith appears to be winning over the Bengals. Despite holding out and missing much of the season with a foot injury, Smith is starting at right tackle and former starter Anthony Collins was inactive Sunday. … Texans WR Andre Johnson can't be stopped in first halves. He had four catches for 110 yards in the first half of Houston's 16-13 victory over the Rams. In Week 14 against the Seahawks, Johnson had 10 catches for 184 yards and two touchdowns in the first half. … Texans safety Bernard Pollard lost his job in Kansas City because he became too physical on plays and drew penalties. He might be repeating that pattern in Houston. Coaches had to take him off the field for a play after he ripped off the helmet of halfback Steven Jackson, drawing a 15-yard penalty. … Brady Quinn of the Browns is starting to look like Kyle Orton when it comes to throwing long passes. Orton is known for throwing accurately in a 20-yard range but not being very good at throwing passes longer than that. Quinn threw two long passes that hung in the air and were intercepted by the Chiefs. … The Bears seem to be torn as to what to do with Lovie Smith. He's owed $11 million, which should give him job security. He will have to fire most of his offensive staff and hire a defensive coordinator after the season. Smith is only staying as head coach because of the money.
John Clayton's game balls

• Offense: To say Jerome Harrison had a career game would be an understatement. Harrison entered Sunday's 41-34 victory over the Chiefs with only 301 rushing yards on the season and 749 for his career. He broke Jim Brown's franchise rushing record (237 yards) by rushing for 286 yards and three TDs on 34 carries. The former Washington State star had the third-best rushing day in NFL history.

• Defense: Maybe it's an indictment of the Patriots' defense, but linebacker Tully Banta-Cain is becoming its best pass-rushing threat. During the Patriots' 17-10 victory over the Bills, Banta-Cain, who makes the NFL's minimum salary, had three of the Patriots' six sacks. The Patriots have only 28 sacks for the season; Banta-Cain has 8.5 of them.

• Special teams: This one was easy. Josh Cribbs has taken over for Devin Hester as the game's most dangerous returner. He set an NFL record Sunday with his seventh and eighth kickoff returns for touchdowns. Cribbs had a 100-yarder in the first quarter and a 103-yarder in the second quarter. He entered the game with 47 kickoff returns for 1,206 yards and a touchdown, a 25.7-yard average. Against the Chiefs, he had six kickoff returns for 269 yards and two touchdowns.
Playoff picture
If the playoffs started today, here's how the teams would be seeded. Teams seeded fifth and sixth are wild cards.
NFC SEEDS

1. New Orleans (13-1) | Next: vs. Tampa Bay

2. Minnesota (11-3) | Next: at Chicago

3. Philadelphia (10-4) | Next: vs. Denver

4. Arizona (9-5) | Next: vs. St. Louis

5. Green Bay (9-5) | Next: vs. Seattle

6. Dallas (9-5) | Next: at Washington

In the hunt:
N.Y. Giants (8-6)
AFC SEEDS

1. Indianapolis (14-0) | Next: vs. N.Y. Jets

2. San Diego (11-3) | Next: at Tennessee

3. New England (9-5) | Next: vs. Jacksonville

4. Cincinnati (9-5) | Next: vs. Kansas City

5. Baltimore (8-6) | Next: at Pittsburgh

6. Denver (8-6) | Next: at Philadelphia
In the hunt:
Jacksonville (7-7), Miami (7-7), N.Y. Jets (7-7), Pittsburgh (7-7), Tennessee (7-7) and Houston (7-7)
Week 15 rundown
• Indianapolis 35, Jacksonville 31
Where was the defense? This Thursday night shootout produced 714 yards, 43 first downs and 10 lead changes.
• Dallas 24, New Orleans 17
December darlings. The Cowboys exorcised some demons and ended the Saints' bid for a perfect season.
• New England 17, Buffalo 10
The Patriots weren't pretty, but they're one step closer to the AFC East title. They also have a real road win -- finally.
• Arizona 31, Detroit 24
The Lions put up a fight (rallying from a 17-0 deficit), but the Cardinals made enough plays late to finish their road schedule at 6-2. They were 3-5 away from the desert a year ago.
• Tennessee 27, Miami 24 (OT)
After three quarters, Vince Young had only nine completions. Luckily for the Titans, three of them went for TDs.
• Cleveland 41, Kansas City 34
Two downtrodden teams delivered one of the most exciting games of the weekend. The Browns' Josh Cribbs (two kickoff return for TDs) had a starring role.
• Houston 16, St. Louis 13
Matt Schaub and Andre Johnson were unstoppable, until they got near the end zone. Still, the Texans were able to escape against an anemic Rams team that has now lost 12 straight at home.
• Atlanta 10, N.Y. Jets 7
The Jets have lost some heartbreakers at home this season. The common denominator? Mistakes by Mark Sanchez, who threw three more picks Sunday.
• San Diego 27, Cincinnati 24
The Bengals ended a trying week on a disappointing note. The Chargers essentially locked up the No. 2 seed in the AFC playoffs.
• Philadelphia 27, San Francisco 13
Alex Smith is trying to seize the 49ers' QB job for 2010 and beyond. A three-INT performance won't help his cause.
• Pittsburgh 37, Green Bay 36
The Steelers rediscovered some of that championship magic. As dramatic as the victory was, chances are it won't mean much in the big picture.
• Tampa Bay 24, Seattle 7
The Seahawks have had a dreadful season. A lopsided home loss to the woeful Buccaneers qualifies as a new low.
• Baltimore 31, Chicago 7
Don't look back. The Ravens (8-6) and Broncos (8-6) currently own the two wild cards in the AFC playoffs, but six 7-7 teams are ready to pounce.
• Oakland 20, Denver 19
JaMarcus Russell provided relief, not a headache, for the Raiders. A win would have put the Broncos in an ideal playoff position. Now they have to sweat it out.
• Carolina 26, Minnesota 7
Did the Vikings peak too early? They've looked rather ordinary in two of the last three weeks.
-- ESPN.com
MONDAY NIGHT FOOTBALL
•
N.Y. Giants at Washington (ESPN, 8:30 ET)
Looking ahead
An early look at next weekend's biggest games:
• San Diego (11-3) at Tennessee (7-7): Christmas night. Can the Titans slow the surging Chargers?
• Baltimore (8-6) at Pittsburgh (7-7): A rivalry game with huge wild-card implications.
• Jacksonville (7-7) at New England (9-5): A last gasp for the Jags. The Pats will be looking to clinch a division title.
• Denver (8-6) at Philadelphia (10-4): Their first meeting since 2005.