Texans' Foster crashes defensive party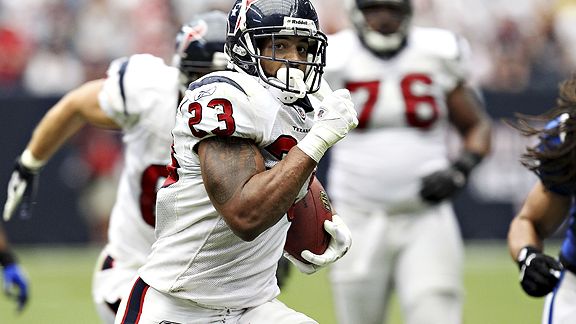 Ronald Martinez/Getty ImagesArian Foster spent most of 2009 on the practice squad. On Sunday, he starred in the Texans' biggest win ever. Foster ran for a team-record 231 yards as Houston beat the Colts 34-24.
Week 1 leaders
Normally, defenses come out of the preseason ahead of offenses.
No doubt that was the key trend in Week 1. The week started with Drew Brees battling Brett Favre in what turned out to be a 23-point game. Falcons quarterback Matt Ryan couldn't produce a touchdown drive in what is supposed to be his breakout season.
In the first 13 games -- those played Sunday afternoon and Thursday -- the average point total in games was 39.46. That's 3.44 points less than last year's average of 42.9.
Defensive highlights exceeded some of the top offensive plays as quarterbacks struggled to consistently connect with receivers and running games got off to rather slow starts. There were only three quarterbacks who threw for more than 300 yards. There were only four 100-yard rushers, including Michael Vick, and eight 100-yard pass-catchers.
Here are five things I learned from Week 1:
1. Old problem resurfaces for Colts: Sunday was Groundhog Day for the Colts' run defense. Texans running back Arian Foster burned the Colts for 231 rushing yards and three touchdowns in a 34-24 Houston victory. The game brought back memories of a Dec. 10, 2006, disaster against Jacksonville in which the Jaguars rushed for 375 yards and blew out the Colts, 44-17.
"We don't think it's schematic,'' Colts coach Jim Caldwell said. "The same thing happened to us a few years ago in Jacksonville down there. It was not a pretty sight either. We have a system in place that's proven. We just have to play better.''
It didn't help that Colts safety Bob Sanders missed more than three quarters with an elbow injury. It's uncertain how serious Sanders' injury is, but one thing is clear: The Colts' defense has trouble stopping bigger backs. Texans right tackle Eric Winston says what makes Foster good is that he's 227 pounds and big enough to break arm tackles. Winston remembered how retired Texan Ron Dayne rushed for 153 yards in a Christmas Eve game against the Colts in 2006. The good news for Colts fans is that their team corrected the problem and ended up beating the Bears in the Super Bowl.
2. 'Free Megatron' strategy on hold: Too bad Calvin Johnson couldn't pull off what would have likely been a game-winning touchdown catch in the final 24 seconds of the Lions' 19-14 loss to the Chicago Bears. What should have been a top fantasy player for this season could be invisible if quarterback Matthew Stafford suffered a serious shoulder injury, courtesy of Bears defensive end Julius Peppers. Lions coach Jim Schwartz said he didn't know how bad the injury was. Stafford left Soldier Field in a sling with the team not saying if it was an AC joint injury or a rotator cuff problem.
Safe to say, though, he's going to be out for a while, and if that's the case, Johnson will be invisible. Last season, Megatron, as he is known, drew double and often triple coverage, which kept his numbers down. Stafford's injury temporarily hampers an offseason strategy to pull coverage away from Johnson with the additions of tight end Tony Scheffler and Nate Burleson.
Before the injury, Stafford was working the "Free Megatron" strategy brilliantly. Scheffler caught five first-half passes for 33 yards from Stafford, which would have set up for a nice second half for Johnson. Shaun Hill is a nice backup, but defenses tend to figure him out after a few games. Stafford has the arm strength and talent to beat tight coverage on Johnson, but those plans are on hold until he's back.
3. QB disadvantage for Eagles: Well, how does that Donovan McNabb trade look now? The answer is horrible. Eagles QB Kevin Kolb suffered a first-half concussion that ended his day, opening the door for a relatively easy 27-20 victory by the Packers. I'll stand by the idea that the Eagles picked the wrong time to trade McNabb, and they particularly picked the wrong team -- the Redskins -- to send him to.
The Eagles' defense faces an Aaron Rodgers-like quarterback in three-quarters of its games. Kolb had to give the Eagles' management a slight headache when he went through the preseason without generating a touchdown drive. Vick still is an exciting talent with his ability to run around and make deep throws, but he's not going to be able to match this list of quarterbacks pass for pass, drive for drive -- Rodgers, Favre, Matt Schaub, Peyton Manning, Ryan, Jay Cutler, McNabb, Eli Manning and Tony Romo.
You have keep reminding people that the Packers are trying to win their first division title in the post-Favre era and Rodgers went 6-10 as a first-time starter. Though it's too early the panic, the Eagles might be following the same path as the Packers.
4. Plot thickens for Bengals: The Bengals lost more than a game with their 38-24 defeat to the New England Patriots. The fact that the Steelers pulled off a 15-9 overtime victory over the Falcons with Dennis Dixon at quarterback likely means Pittsburgh will be a factor in the AFC North race all season. The Bengals face a tough schedule, so they needed a few breaks. They needed the Steelers to get off to a 1-3 start or worse to make their lives easier. The Bengals' .539 schedule (based on last season's records) is the fourth-toughest in football.
Dixon made his mistakes. He was intercepted once and took two sacks in the final two minutes of the fourth quarter, giving Ryan one chance to get a two-minute drive. But safety Troy Polamalu bailed out Dixon by intercepting Ryan and Rashard Mendenhall won the game with a 50-yard touchdown run.
Now the Bengals face a must-win home game next Sunday against the Ravens.
5. 49ers far from shoo-ins: Forget about the thoughts of the San Francisco 49ers running away with the NFC West. Though the 49ers are the most solid team in the division in terms of personnel, they are not in terms of execution. A 31-6 loss to the Seahawks illustrated how much the 49ers' fortunes ride with the play of Alex Smith on the road. Smith looked totally out of sorts playing before the Seahawks' loud fans. The 12th man, as the Seahawks call their fans, caused false starts and seemed to get to Smith.
Seahawks quarterback Matt Hasselbeck worked a short passing game that was smart because the team didn't have Russell Okung at left tackle and went with Tyler Polumbus. Hasselbeck completed 18 of 23 passes for 170 yards.
Short Takes
Officials followed through with the plan to protect players from injuries. In the Texans' 34-24 victory over the Colts, Texans cornerback Glover Quin received a 15-yard penalty for leading with his helmet as he hit Colts receiver Reggie Wayne after a 22-yard catch late in the first quarter. This is a new emphasis. Wayne was considered defenseless because he didn't have time to plant his feet and prepare for the hit. In the Titans-Raiders game, Oakland's Jason Campbell was hit low by Titans rookie defensive end Derrick Morgan, who was penalized. … The Rams' trade for Ravens wide receiver Mark Clayton might have been the best of any of the late moves before the start of the season. He had 119 yards receiving against the Cardinals, making rookie quarterback Sam Bradford more effective. … The Eagles' Pro Bowl fullback Leonard Weaver left the game against Green Bay with a bad knee injury that could keep him out for a while. Fullbacks are hard to find. Teams such as the Cardinals and Bengals had been looking for a fullback the entire offseason without success. … There were several interesting decisions among the inactives. The Eagles deactivated defensive end Darryl Tapp, who received a three-year, $11.7 million contract after coming from Seattle in a trade. Pete Carroll of the Seahawks decided receiver Deon Butler, a draft choice from last year, was more important than 2010 second-round choice Golden Tate, a receiver who was inactive. The Lions didn't want to take the chance of using Kevin Smith, coming off knee surgery, in Week 1. He was inactive. … It's amazing to think Wes Welker of the Patriots could catch eight of the 11 passes thrown to him for 64 yards and two touchdowns after having major knee surgery in February. … It's a good thing the Dolphins won their opener, 15-10, over a Bills team without much offense. Dolphins QB Chad Henne was OK, completing 21 passes, eight to Brandon Marshall. … It must be deflating for Eric Mangini and the Browns to lose to Josh Freeman, a second-year quarterback who rallied the Bucs from an 11-point deficit to win in the fourth quarter. … The Bills can't catch a break at linebacker for their new 3-4 defense. Paul Posluszny (right knee) is the latest linebacker to get hurt. On Friday, the Bills lost Kawika Mitchell for the season with a foot injury. … Tom Coughlin must be happy about his Giants' win over the Panthers, but he also must be concerned about four holding penalties.
John Clayton's game balls

• Offense: Texans running back Arian Foster: A year ago, Foster started the season on the practice squad. Now, he's the franchise's top running back. He set a Texans record with 231 yards rushing on 33 carries and scored three touchdowns. He had 191 yards in the second half and wore out the Colts' defense. At 227 pounds, Foster is a big back who is hard to bring down after first contact.

• Defense: Steelers safety Troy Polamalu: Polamalu made a key fourth-quarter interception of Falcons quarterback Matt Ryan in the Steelers' 15-9 overtime victory. Polamalu had five tackles and one other pass defensed. His presence made it tough for Ryan to get into a passing rhythm.

• Special teams: Patriots receiver Brandon Tate: The Patriots believe they have a potential big-play receiver in Tate. He's also great as a returner. Tate had four kickoff returns for 184 yards in Sunday's 38-24 victory over the Bengals. He returned the second-half kickoff 97 yards for a touchdown that gave New England a 31-3 lead.
Week 1 rundown
• New Orleans 14, Minnesota 9
Not exactly the offensive show a lot of people were expecting. The absence of WR Sidney Rice is already being felt in the Vikings' huddle.
• Jacksonville 24, Denver 17
Jaguars fans once clamored for Tim Tebow, but they should have been happy to have David Garrard (3 TD passes) on Sunday. Tebow's impact? Two carries for 2 yards.
• Miami 15, Buffalo 10
The Dolphins' offensive wasn't explosive, but it was balanced and controlled the clock. That, along with a stingy defense, was enough to beat the listless Bills.
• Chicago 19, Detroit 14
A bad day all around for the Lions. First, they lost QB Matthew Stafford to another shoulder injury. Then they lost the game after a Calvin Johnson touchdown catch was overturned.
• Tennessee 38, Oakland 13
A poor start (0-6 to be exact) doomed the Titans in 2009. Things are already looking much better in 2010, thanks largely to Chris Johnson (142 rushing yards, 2 TDs).
• N.Y. Giants 31, Carolina 18
A second-half surge (17 points) helped the Giants open their new stadium on a positive note. Hakeem Nicks (3 TD catches) appears to be well on his way toward becoming a viable big-play threat for Eli Manning.
• New England 38, Cincinnati 24
Fender benders. Contract drama. Distractions? Not quite. The Patriots were impressive in every phase against a Bengals team that's supposed to be a legit AFC contender.
• Pittsburgh 15, Atlanta 9
Who needs Ben Roethlisberger? Well, the Steelers do, but they proved they can beat a good team without him. As long as Pittsburgh's D plays like it did on Sunday, that is.
• Tampa Bay 17, Cleveland 14
More of the same. The Browns, who let a 14-3 lead slip away, fell to 1-11 in season openers since the club returned as an expansion franchise in 1999.
• Houston 34, Indianapolis 24
Have the Texans finally arrived? That might be a stretch, but they did take a big step forward by beating the defending AFC champs, who were uncharacteristically sloppy.
• Arizona 17, St. Louis 13
Conservative with a rookie QB? Not the Rams, who let Sam Bradford throw a whopping 55 times.
• Green Bay 27, Philadelphia 20
Michael Vick showed he still has electric ability, even though his frantic comeback bid fell short. Will Vick's strong relief work lead to a QB controversy in Philly?
• Seattle 31, San Francisco 6
Not a good start for the 49ers, a popular pick to win the NFC West. A few more weeks like this and Pete Carroll will be the most popular guy in Seattle.
• Washington 13, Dallas 7
Donovan McNabb was solid but unspectacular in his Redskins debut. Good thing for him the Skns' D made enough big plays to secure the victory.
-- ESPN.com
MONDAY NIGHT FOOTBALL
•
Baltimore at N.Y. Jets (ESPN, 7 ET)
• San Diego at Kansas City (ESPN, 10:15 ET)
Looking ahead
An early look at next weekend's biggest games:
• Baltimore (0-0) at Cincinnati (0-1): Can the Bengals bounce back after stumbling in Week 1?
• New England (1-0) at N.Y. Jets (0-0): Early AFC East bragging rights on the line.
• N.Y. Giants (1-0) at Indianapolis (0-1): Manning Bowl II. Can little brother keep big brother winless on the season?