Week 10: Clues to playoff race emerging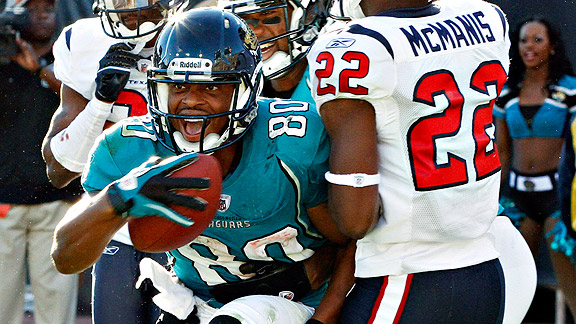 AP Photo/Reinhold MatayMiracle in Jacksonville? Sort of. Mike Thomas hauled in a 50-yard Hail Mary TD pass from David Garrard as time expired, giving the Jaguars a stirring 31-24 victory over Houston.
Week 10 leaders
As the NFL season gets closer to Thanksgiving, players and teams either step up or step back. They either get lucky or have bad things happen.
Week 10 was defining in what has been a season of close games and upsets. The Cincinnati Bengals, Minnesota Vikings and Arizona Cardinals all but officially declared they won't be making return trips to the playoffs. The Dallas Cowboys upset the New York Giants, but at 2-7, they aren't going anywhere.
The big winners of the day were the Seattle Seahawks, Chicago Bears, Indianapolis Colts, New York Jets, Tampa Bay Buccaneers and New England Patriots. The Jets may have had the weakest performance of that group with 26-20 overtime victory over the Cleveland Browns, but at least they won.
The Miami Dolphins came up with a huge win over the Tennessee Titans, but it came with a big cost. The seasons of quarterbacks Chad Pennington and Chad Henne and left tackle Jake Long are in the hands of doctors and technicians who will look at MRIs on Monday.
It was a day of quarterback scares. Mark Sanchez of the Jets banged up his surgically repaired knee. Seahawks quarterback Matt Hasselbeck broke a bone in his left hand and still played well. The Titans' Kerry Collins started for an injured Vince Young, but he couldn't finish the game because of a calf injury.
Here are five things I learned in Week 10.
1. Lovie pushes right buttons: Bears coach Lovie Smith all but saved his job with a 27-13 NFC North victory over the Vikings in which the Bears looked like the better-coached team. After needing to scramble to barely beat the lowly Buffalo Bills in Week 9, Chicago's coaching staff made some significant adjustments. The biggest was returning Devin Hester to kickoff returns. Hester looked fresh Sunday, returning kickoffs for 68 and 32 yards and punts for 42 and 5. Hester, one of the greatest returners in NFL history, hadn't returned a kickoff all season.
"We're just looking for ways to be productive and to get points as much as anything," Smith said of the decision to use Hester on kick returns. "You can kind of tell where he gets that feel now that every time he goes back there he is thinking of about going the distance."
That strategy gave the Bears great field position all day. The combination of great returns and Vikings turnovers enabled the Bears to start eight of their 13 drives in Vikings territory. Jay Cutler worked the short field against the Vikings' Cover 2, completing 22 of 35 for 237 yards and three touchdowns and surviving two interceptions, including a bone-headed throw into the end zone that was picked off by Vikings safety Husain Abdullah. Offensive coordinator Mike Martz mixed in a little more max protection on third down, allowing the league's worst third-down offense to convert 11 of 19 opportunities. Martz even called 34 running plays compared with 40 passes.
"We used more packages with our receivers and created some mismatches," Cutler said.
Even though the Bears don't have the feel of a playoff team yet, they are 6-3 and tied with Green Bay for the NFC North lead. "This is November ball," Smith said. "This is when the teams that are really going to compete step up and play their best ball."
2. Wildcat bails out Dolphins: Dolphins coach Tony Sparano probably made a mistake in replacing Henne with the fragile Pennington, but the Dolphins' extensive use of the Wildcat allowed them to escape with a 29-17 victory over the Titans and stay alive in the AFC playoff race. Pennington's return to the starting lineup officially lasted two plays, but he injured his right shoulder on his first play. After being hit in the backfield, Pennington's body twisted and his right shoulder collapsed into the body of Long. Sparano was looking for a spark and instead got a disaster. There's a good chance Pennington's season and possibly career might be over. He'll undergo tests Monday.
[+] Enlarge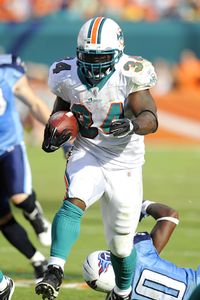 AP Photo/Rhona WiseRicky Williams (11 carries, 64 yards) helped the Dolphins compensate for their QB issues.
Enter Henne, who played well until he suffered a left knee injury with 1:06 remaining in the third quarter. Tyler Thigpen is the third quarterback, but he couldn't enter until the fourth quarter unless Sparano wanted to make Henne and Pennington ineligible. So Sparano used the Wildcat with Ronnie Brown and came up with the big plays that are usually missing from the Dolphins' offense. With Miami leading 20-17, halfback Brown took direct snaps to perfection. The first Wildcat play included a pitch to Brandon Marshall, who tried a long, well-thrown incompletion toward Patrick Cobbs. From the Wildcat, Ricky Williams broke runs of 14 and 23 yards. Things were going so well with the Wildcat the Dolphins stayed with it for two more plays before putting Thigpen behind center. Those Wildcat plays set up a Dan Carpenter 42-yard field goal and gave Miami a 23-17 lead.
The Dolphins may have to use the Wildcat more going forward because Pennington and Henne may have suffered significant injuries. The Dolphins play Thursday night against the Bears, so Thipgen might be their only quarterback. There might not be time to get a quarterback off the street and get him up to speed.
"The people that you have handling the ball there you really trust with Ronnie Brown and Ricky Williams," Sparano said.
3. Texans don't have a prayer: The Houston Texans may lament their 31-24 loss to the Jacksonville Jaguars that ended on a Hail Mary, but they have only themselves to blame. When your defense is the worst in the league, it's fitting a miracle pass would beat you in the end.
In the craziest finish of Sunday, a fumble by Texans tight end Joel Dreessen gave the Jaguars the ball at their own 34-yard line with eight seconds left. David Garrard got to midfield with an 11-yard completion and a 5-yard defensive offsides penalty, giving the Jaguars a chance for the Hail Mary.
Garrard fired the ball in the air, and cornerback Glover Quin batted it to Jaguars wide receiver Mike Thomas instead of batting it to the ground. Before that 50-yard game-winning pass, the Texans had surrendered 23 completions by Garrard for 292 yards.
"It's your typical Hail Mary play," Thomas told reporters after the game. "I'm the scoop man. I was like a little kid at Christmas."
The loss pretty much sealed Houston's fate. The Texans are 4-5 and trail the Colts by two games in the AFC South. But they can't think of playoffs when they are surrendering more than 400 yards a game.
4. Seahawks sitting pretty: The Seahawks moved into a great position to win the NFC West with their 36-18 victory over at Arizona. Winning on the road has became almost impossible for NFC West teams, who have a combined 3-15 road record. The Seahawks have two of those wins and they have the quarterback, Hasselbeck, who stepped up huge at the right time. Despite missing some time in the game because of a broken bone in his left hand, Hasselbeck threw for 333 yards and had a 106.6 quarterback rating. He did that despite a makeshift offensive line.
A week ago, some fans in Seattle were hoping Charlie Whitehurst would take over the offense, but he looks as lost as Cardinals quarterback Derek Anderson. Anderson threw for 322 yards Sunday, but he just isn't working out. The Cardinals were a woeful 2-for-11 on third down.
Although the St. Louis Rams played a strong game on the road Sunday, they lost 23-20 to the San Francisco 49ers in overtime and now are a game behind the Seahawks. The Rams, who still must play in Seattle, are 0-4 on the road. By getting to 5-4, though, the Seahawks offer the league hope they can get to eight or maybe nine wins. Had they lost, it sure was looking as though a seven-win team would win the NFC West.
5. Power outage for Giants: The Atlanta Falcons are now the top dogs in the NFC thanks to their strong performance Thursday night against the Baltimore Ravens and the Giants' 33-20 loss to the Cowboys. The Giants' loss shouldn't have been a surprise, though. They entered the game down four starters -- guard David Diehl, center Shaun O'Hara, fullback Madison Hedgecock and wide receiver Steve Smith.
Despite their dominance of the past two months, the Giants have been a team prone to turnovers and occasionally vulnerable to big plays. Sunday was a nightmare. The lights went out at New Meadowlands Stadium and delayed the game for more than 10 minutes. The lights went out on the Giants early when Dallas jumped to a 19-3 first-half lead.
The Giants jumped to a 6-2 record playing the league's fifth-easiest schedule, and everyone knew the schedule was going to toughen down the stretch. This was a wake-up call.
Short Takes
Panthers owner Jerry Richardson wanted a younger roster for economic reasons this year, but the Tampa Bay Buccaneers showed his team the better way to get younger and get better. The Bucs started seven rookies and won 31-16. They also gave significant playing time to rookie halfback LeGarrette Blount and wide receiver Preston Parker. Blount is slowly taking over for Cadillac Williams as the main running back. He had 19 carries for 91 yards; Williams did respond with a 45-yard run but had only five carries. … The New York Jets set an NFL record with their 26-20 overtime win over the Cleveland Browns. It's the first time in NFL history a team won back-to-back road overtime games. … With their 14-12 loss to the Buffalo Bills, the Detroit Lions set the league record with their 25th consecutive road loss. … Mike Singletary has to clean up the sloppy play of the 49ers' offense. The 49ers had three touchdowns called back because of penalties. … The Colts had to scratch wide receivers Blair White (shoulder) and Austin Collie (concussion), but Peyton Manning worked his magic by targeting tight end Jacob Tamme 10 times and wide receiver Pierre Garcon nine times, completing 12 passes to them. Garcon almost cost the Colts in the final three minutes, however. He let an onside kick slip through his hands and then removed his helmet, resulting in a 15-yard penalty. The Colts were fortunate Bengals TE Jermaine Gresham fumbled to seal the victory for Indianapolis. … Cleveland Browns coach Eric Mangini has been doing a masterful job of keeping the Browns competitive during a three-game stretch in which they beat the Saints and Patriots but lost in overtime to the Jets. But he got a little too cute Sunday by going for an onside kick in the first quarter that failed. That play gave the Jets their first possession at the Browns' 42-yard line and set up an easy field goal drive to tie the score. … Jets linebacker Bart Scott can expect a fine after making a penalized helmet hit on Browns quarterback Colt McCoy. Scott paid a price when Browns fullback Lawrence Vickers leveled him on a touchdown run by Peyton Hillis. … The Bills finally found a running game with Fred Jackson getting 133 yards on 25 carries, but they may have lost C.J. Spiller for a week or two with a hamstring injury. Quarterback Ryan Fitzpatrick, who averaged 38 throws a game entering Week 10, had to throw only 24 times, making his job easier. … New Titans wide receiver Randy Moss was targeted only four times and caught one pass for 26 yards. The Dolphins rotated a safety on top of him often, but the Titans did throw deep to Moss and Nate Washington. That opened some running lanes for halfback Chris Johnson, who had 117 yards on 17 carries. … Jeff Fisher said he came close to letting Vince Young start despite an ankle injury, but he decided to give him another week. Plus, you get the feeling the Titans' coach wanted Kerry Collins to run a more conventional pocket offense for Moss' first game. Collins suffered a calf injury and Fisher didn't know how long he'd be out.
John Clayton's game balls

• Offense: Denver's Kyle Orton wasn't among the 12 quarterbacks to throw for 300 or more yards Sunday, but he was the offensive star of the day in a 49-29 victory over the Kansas City Chiefs. By helping Denver jump to a 35-0 lead in the first half, Orton was able to put the offense in cruise control and did not have to worry about the game or stats. He completed 22 of 34 passes for 296 yards and four touchdowns. In the first half alone, he was 15-of-22 for 210 yards and three touchdowns. The Chiefs couldn't stop him. Orton has passed for 2,806 yards in his first nine games and has a 5,000-yard season in sight.

• Defense: In a day of crazy offense, Denver linebacker Mario Haggan caught the Kansas City Chiefs at the right time. Because Kyle Orton and the Broncos' offense jumped on the Chiefs early, the Chiefs had to be one-dimensional. They couldn't sit back and just run the ball, the staple of their 5-3 start. The Chiefs had to pass to survive and Haggan had a career game. He had three sacks, six tackles, three quarterback hits, one forced fumble and two tackles for losses. He was everywhere. The Broncos have been without Elvis Dumervil and Robert Ayers. An inside linebacker by trade, Haggan was asked to move to the outside and he had a Dumervil-type day.

• Special teams: Devin Hester had two kickoff returns for 100 yards, including a 68-yarder, and two punt returns for 47, including a 42-yarder. As a receiver, Hester, who gave Jay Cutler great field position the entire day in a 27-13 victory over the Minnesota Vikings, caught four passes for 38 yards and a touchdown. For the game, he had 185 all-purpose yards. The plan was to rotate Hester with Danieal Manning as the main kick returner, but Hester ended up being the sole returner because he had the hot hand. During his career, Hester has returned 13 kicks for touchdowns, tying Brian Mitchell's NFL record. He has been the league's best punt returner this season and now he's going back on kickoffs. Watch out.
Week 10 rundown
• Atlanta 26, Baltimore 21
Probably the signature moment of Matt Ryan's career so far. Roddy White (12 catches, 138 yards, 2 TDs) is keeping himself solidly in the MVP discussion.
• Buffalo 14, Detroit 12
The Bills are in the win column, finally. A season-best performance by Fred Jackson (170 total yards, 2 TDs) was the boost Buffalo needed.
• Chicago 27, Minnesota 13
That should pretty much close the book on the Vikings. Sure, there's a lot of football to be played, but Minnesota hardly has the look of a team poised for dramatic turnaround.
• N.Y. Jets 26, Cleveland 20 (OT)
Another week, another big overtime catch for Santonio Holmes. The game Browns now have four losses by a touchdown or less.
• Indianapolis 23, Cincinnati 17
The Bengals' D (it kept Peyton Manning out of the end zone and allowed only 256 total yards) performed admirably. Carson Palmer (three more INTs) did not.
• Miami 29, Tennessee 17
Randy Moss (1 catch for 26 yards) was a nonfactor in his Titans debut. The Dolphins needed three QBs (and a healthy dose of the Wildcat) to end a five-game home losing streak.
• Tampa Bay 31, Carolina 16
Stat of the day: The Bucs' Cadillac Williams averaged 12.4 yards a carry Sunday. He came into the game averaging 2.4 yards per carry.
• Jacksonville 31, Houston 24
Is this rock bottom for the Texans, who have now dropped three straight? It doesn't get much worse than losing on a last-second Hail Mary that was actually defended correctly.
• Dallas 33, N.Y. Giants 20
A variety of big plays, including Bryan McCann's 101-yard pick-six, made Jason Garrett a winner in his head-coaching debut.
• Seattle 36, Arizona 18
Despite being decimated by injuries, the Seahawks (5-4) still have plenty of traction in the NFC West race. Matt Hasselbeck (333 passing yards) had his most productive game since Week 6 of 2007.
• San Francisco 23, St. Louis 20 (OT)
With Troy Smith (356 passing yards on Sunday) now 2-0 as the 49ers' starting QB, Alex Smith can pretty much forget about getting his job back anytime soon.
• Denver 49, Kansas City 29
Where did this come from? Fans of both teams were probably asking themselves the same question after watching Denver open a 35-0 lead.
• New England 39, Pittsburgh 26
Who needs Randy Moss when you have ... Rob Gronkowski? At least for one night, Gronkowski (3 TD catches) was Tom Brady's big-play target.
-- ESPN.com
MONDAY NIGHT FOOTBALL
•
Philadelphia at Washington (ESPN, 8:30 ET)
Looking ahead
An early look at next weekend's biggest games:
• Oakland (5-4) at Pittsburgh (6-3): A big test for the resurgent Raiders.
• Indianapolis (6-3) at New England (7-2): Manning versus Brady. Enough said.
• N.Y. Giants (6-3) at Philadelphia (5-3): The pivotal game in the NFC East? Maybe.