Key AFC playoff questions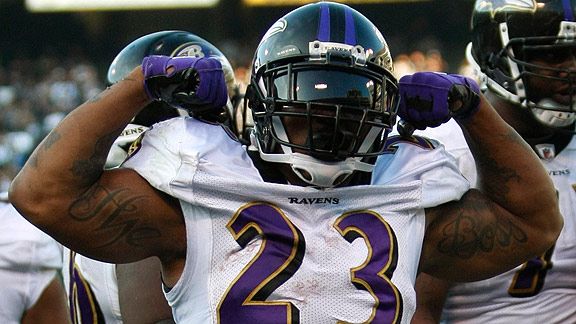 AP Photo/Paul SakumaWillis McGahee and the Ravens flexed their muscles in Oakland. McGahee rushed for 167 yards and three TDs as Baltimore clinched a playoff berth with a 21-13 victory.
Week 17 leaders
From the looks of the AFC playoffs, it's going to hard to block a championship matchup between the San Diego Chargers and Indianapolis Colts.
The four teams set to play next weekend enter the playoffs with problems. Patriots quarterback Tom Brady lost his best target, Wes Welker. The Ravens have struggled at wide receiver and in the secondary. The Bengals' already-slow receiving corps has to worry about Chad Ochocinco's sore knee, injured during warm-ups before Sunday night's 37-0 loss to the New York Jets. The Jets may be healthy, but they have to try to win two games in six days against the Bengals with a rookie quarterback, Mark Sanchez.
Because next weekend's wild-card games figure to be physical contests in cold locations (Foxborough, Mass., and Cincinnati), the Chargers and Colts have a chance to rest while their divisional-round opponents get banged up.
The pairings for the first round are perfect. The Jets travel to Cincinnati Saturday at 4 p.m. ET in a matchup of the two lowest-scoring AFC playoff teams. The Ravens-Patriots game, scheduled for 1 p.m. Sunday, features two top quarterbacks -- Brady and Joe Flacco -- who really don't know what they have at wide receiver from week to week. Brady's struggled to find a third receiver and get the ball to tight ends, while Flacco has dependable Derrick Mason and plenty of question marks.
Overall, there was a 50 percent turnover in the AFC playoffs from last season, with the Bengals, Patriots and Jets replacing the Steelers, Dolphins and Titans. Philip Rivers and Peyton Manning will sit back for a week and wait to see who stands in the way of their third playoff meeting in three seasons.
Here are 10 questions for the AFC playoffs:
1. What is the key theme for the AFC playoffs?
Quarterbacks. Quarterbacks. Quarterbacks. Five elite quarterbacks dominate the AFC playoffs: Manning, Brady, Rivers, Flacco and Carson Palmer of the Bengals. Having this many elite quarterbacks could make for some great football.
The only one of that group who hasn't won a playoff game is Palmer, who had his left knee blown out in the first quarter of the Bengals' playoff loss to Ben Roethlisberger and the Steelers after the 2005 season. Brady is 14-3 in playoff games, Manning is 7-8, Rivers is 3-3 and Flacco is 2-1. The key matchups could start in the divisional round. Rivers is 0-2 in playoff games against Brady. Manning is 1-2 against Brady but won their last meeting -- the 2006 AFC Championship Game. Rivers is 2-0 against Manning.
2. What are the key injuries heading into the playoffs?
Welker, the Patriots' go-to receiver, appeared to blow out his left knee on a non-contact play less than six minutes into Sunday's 34-27 loss to the Texans. That injury -- believed to be a torn ACL and MCL -- alone could cost New England a trip to the Super Bowl. Take away their easy neutral-site win over the Tampa Bay Buccaneers in London, and the Patriots were 1-6 in road games and faded in the second half. Because they don't throw much to the tight end and don't have a fully developed No. 3 wide receiver, Brady is forced to rely on Welker and Welker alone if Randy Moss slows down in the second half of games. Welker led the NFL with 123 catches for 1,348 yards and four touchdowns. According to ESPN Stats & Information, Brady is a 68 percent passer this year with 8.3 yards per attempt when Welker is in the game. Without him, he completes 58.3 percent of his passes with 5.9 yards per attempt.
Guard Dan Connolly had to be taken to the Pats' locker room Sunday because of an ankle injury. Brady himself is playing with three cracked ribs and a broken right ring finger. The Patriots rested defensive linemen Vince Wilfork (foot) and Ty Warren (ankle) on Sunday, so they should be healthy for the first playoff game.
The Colts have the longest injury list with 12 players, but the bye week should allow defensive ends Dwight Freeney (abdomen) and Robert Mathis (quad), left tackle Charlie Johnson (foot), safety Melvin Bullitt (shoulder) and cornerback Jerraud Powers (knee) to start in their first playoff game.
For more, click here.
Key NFC playoff questions
By Len Pasquarelli
ESPN.com
Late-season slumps by the New Orleans Saints and Minnesota Vikings, two teams that at one point represented the class of the NFC, have created a perception that the conference's playoffs are wide-open.
Over the next three weeks, that perception could become reality.
Certainly it is fueled by the Saints' losing their last three outings after a 13-0 start and the Vikings' losses in three of their last five after an 11-2 start.
What's more, the six NFC teams in the postseason combined for just a 19-11 record after Dec. 1. Four of the six teams dropped at least two games in the final five weeks of the 2009 campaign. The Philadelphia Eagles, who always seem to gather momentum at this juncture, and the Green Bay Packers were the only one-loss entries during that late stretch.
There are a lot of reasons to suggest that any of the playoff qualifiers could represent the NFC in Super Bowl XLIV.
The six franchises each have double-digit victories, only the fifth time that has occurred since 1990, when the NFL adopted the 12-team playoff format. Five of the six clubs own 11 or more wins, only the fifth time that has happened in the past 20 years. The 68 combined victories are the most since 2001 and the fifth-most ever.
"What's gone on has maybe created as many questions as answers," New Orleans quarterback Drew Brees said.
Here are 10 of them:
1. Does having the home-field advantage throughout the playoffs really help the Saints that much?
If you've ever been to a game at the Superdome, you know the answer to that one. The place requires a couple of Excedrin before the game, and at least two after it. The "Who Dats" can fuel the home team and make life miserable for visitors. Still, the Saints lost their final two home games and don't seem as invincible as they once did. And just six of the last 10 top-seeded teams in the NFC have advanced to the Super Bowl.
2. Four "dome" teams from the NFC have advanced to the Super Bowl in the previous 11 seasons, most recently the Arizona Cardinals (retractable roof) last season. Will back-to-back "dome" teams win the NFC title?
Well, the odds are 50-50, since three of conference qualifiers play their home games in domed stadiums: the Vikings, Saints and Cardinals. It's the first time since 2004 that the NFC has placed three dome teams in the playoffs, and just the fifth time in 20 years. The three teams have a combined home record of 18-6 but are 17-7 on the road, so they have demonstrated they can win anywhere. By the way, the three non-dome franchises are also 18-6 at home and are 15-9 on the road.
For more, click here.
Short Takes
Broncos coach Josh McDaniels faces a long, turbulent offseason after losing eight of his last 10 games, including Sunday's 44-24 loss to the Chiefs, and missing the playoffs. McDaniels was hired for his brilliant offensive mind, but the offense wasn't as explosive with Kyle Orton replacing the traded Jay Cutler. … Any talk of commissioner Roger Goodell getting the Competition Committee to implement a rule to make playoff teams play starters in the final weeks might be squashed by the left knee injury suffered by Patriots wide receiver Wes Welker, who had to be carted off the field after suffering what is believed to be a torn ACL and MCL. … The injury had to be eerie for the Patriots because when Welker was injured, he was near Texans safety Bernard Pollard, who ended Tom Brady's season in 2008 when (as a Kansas City Chief) he destroyed Brady's knee. Welker injured his left knee by planting it on the turf trying to gain yards after a catch. Pollard had a great game, getting six tackles and an interception. … The Giants were pathetic in their 44-7 loss to the Vikings. They were outgained 487-181 and seemed disinterested. The Giants were outscored 85-16 in their final two games. … Here's the value of a running offense. Jonathan Stewart and DeAngelo Williams became the first running backs on one team to post 1,100-yard seasons. In a passing league, the Panthers are 8-8. … Wade Phillips probably needs to win a playoff game to stay on as Cowboys head coach, but according to a source, Jerry Jones has already started the process of signing his assistants to contract extensions. … So much for the William Gay experiment. The Steelers' coaching staff talked the front office into letting Bryant McFadden leave in free agency to Arizona because they believed Gay could be a starting corner. Deshea Townsend, 34, started for Gay on Sunday against the Dolphins. It was his second consecutive start. … Jaguars coach Jack Del Rio may have put his job in jeopardy by losing to the Browns 23-10. It was the Jaguars' fourth consecutive loss. Owner Wayne Weaver owes Del Rio three more years on his contract at a cost of $15 million. Fans have turned on the Jaguars and Weaver is concerned about ticket sales if he brings Del Rio back. … The Dolphins have to feel miserable about the way their season finished. They lost their last three games to Tennessee, Houston and Pittsburgh. Quarterback Chad Henne couldn't finish Sunday's game because of an eye injury and backup Pat White had to be carted off the field after an Ike Taylor hit. White suffered a concussion that is considered mild, according to the team. The Dolphins finished the year with 29 turnovers, 16 more than last season. … It looks as though Panthers coach John Fox will return in 2010 and then hit free agency. He could be a candidate for the Giants in 2011 or maybe a West Coast team. Over the final four weeks of the season, Fox's defense held four top-10 offenses (New England, Minnesota, the Giants and New Orleans) to 46 total points. Impressive. … Even though Cowboys quarterback Tony Romo finished the season hot, his relationship with wide receiver Roy Williams remains cold. As much as he tries to force throws to Williams, they aren't connecting. … Texans kicker Kris Brown was booed by his home fans because of his field goal troubles this season. He has missed 11 of 32 attempts, having one of the worst seasons for a kicker in the NFL. … New Browns president Mike Holmgren might feel good about the team's halfback position. Jerome Harrison rushed for 661 yards in the Browns' final three games. … The Texans and Falcons set milestones with their season-ending victories. The Texans enjoyed the first winning season in the organization's short history. The Falcons posted back-to-back winning seasons for the first time in their 44-year history by finishing 9-7 with their win over the Bucs. Atlanta was 11-5 last year. … It's fitting Jim Zorn's last game as a Redskin was another close, low-scoring game. The Redskins finished 2-8 in games decided by eight points or less, including a 2-5 record in games decided by three points or less. … The AFC finished the year with a 37-27 edge over the NFC in interconference games. … 49ers defensive end Justin Smith finished a great season with a bang. He had 3½ sacks, eight total tackles and four additional hits on the quarterback during a 28-6 victory over the St. Louis Rams. … Even though the Seahawks lost to the Titans in the season finale, coach Jim Mora may have saved his job. There were rumblings that a poor finale could doom Mora. The Seahawks lost in the final seconds, 17-13.
John Clayton's game balls

• Offense: Vikings QB Brett Favre finished strongly in a 44-7 blowout of the New York Giants. He completed 25 of 31 passes for 316 yards and four touchdowns. Particularly impressive was how he rolled out of the pocket to avoid pressure and fired long passes downfield. The Giants, like most teams playing the Vikings, stacked the line of scrimmage to stop Adrian Peterson. Favre spotted the openings and took shots downfield. "We ran the ball well enough today to open up little bootlegs and things like that,'' Favre said. "It wasn't anything dramatic that we did. If anything, it was back to basics.'' Favre has such a good relationship with wide receivers Sidney Rice and Percy Harvin and tight end Visanthe Shiancoe that they can improvise routes when the pocket breaks down.

• Defense: Even though coach Todd Haley and the new Chiefs administration didn't believe Derrick Johnson (who had been a weakside linebacker in a 4-3 defense) fit as a starter in the team's 3-4, Johnson didn't give up. He tied an NFL record with interception returns of 45 and 60 yards in a 44-24 win over the Broncos that knocked Denver out of the playoff hunt. Johnson's speed enables him to have great range in pass coverage. Not only did he intercept two passes, but he was credited with four other passes defensed.

• Special teams: Even though the Chargers pulled their starters against Washington, kicker Nate Kaeding provided enough offense to put San Diego over the top in a 23-20 victory. Kaeding had field goals of 47, 24 and 45 yards. He finished the season with 32 field goals.
Playoff picture
NFC SEEDS

1. New Orleans (13-3)

2. Minnesota (12-4)

3. Dallas (11-5)

4. Arizona (10-6)

5. Green Bay (11-5)

6. Philadelphia (11-5)

AFC SEEDS

1. Indianapolis (14-2)

2. San Diego (13-3)

3. New England (10-6)

4. Cincinnati (10-6)

5. N.Y. Jets (9-7)

6. Baltimore (9-7)
Week 17 rundown
• Buffalo 30, Indianapolis 7
Another forfeit by the Colts? Pretty much. Indy rested numerous starters and pulled Peyton Manning in the second quarter.
• Cleveland 23, Jacksonville 17
The Browns finished with a flourish (four straight wins). Did they do enough to save Eric Mangini's job?
• Chicago 37, Detroit 23
Jay Cutler also finished with a flourish. He ended a rocky first season in Chicago with four TD passes in each of his last two games.
• San Francisco 28, St. Louis 6
Two Rams QBs combined for 22 net yards on Sunday. Will the No. 1 pick in the draft net St. Louis a franchise signal-caller?
• Pittsburgh 30, Miami 24
Three straight wins weren't enough to get the defending champs in the postseason. Every playoff team is breathing a sigh of relief.
• Minnesota 44, N.Y. Giants 7
The Giants were outscored 85-16 in their final two games. It's probably safe to say changes on D are imminent.
• Atlanta 20, Tampa Bay 10
A career game by RB Jason Snelling (25 carries, 147 yards) helped the Falcons secure back-to-back winning seasons for the first time in franchise history.
• Carolina 23, New Orleans 10
The Saints are the No. 1 seed in the NFC, but they'll enter the postseason on a three-game losing streak. Can they flip the switch in two weeks?
• Houston 34, New England 7
An obscure second-stringer entering Week 17, Patriots WR Julian Edelman (Wes Welker's replacement) is now officially under the microscope.
• Kansas City 44, Denver 24
Late-season slide. Blowout loss to close out the year. This script is becoming all too familiar for Broncos fans.
• Dallas 24, Philadelphia 0
The Cowboys claimed the NFC East title with a convincing victory. Is Dallas now the most dangerous team in the NFC playoff picture?
• Baltimore 21, Oakland 13
The Black Hole has swallowed up some top contenders this season. Not the Ravens, who got a big game from Willis McGahee (167 rushing yards, 3 TDs) and clinched a playoff berth.
• Green Bay 33, Arizona 7
See you next week. The Packers controlled what amounted to a dress rehearsal for the wild-card round.
• San Diego 23, Washington 20
The Jim Zorn era in Washington is expected to end on Monday. The final tally: 12 wins, 20 losses and two last-place finishes in the NFC East.
• Tennessee 17, Seattle 13
Titans RB Chris Johnson finished a remarkable year by becoming the sixth player to rush for 2,000 yards in a season.
• N.Y. Jets 37, Cincinnati 0
These teams reconvene next week in Cincy. Will a change of venue cure the Bengals' offensive woes?
-- ESPN.com