Week 11: Elite teams starting to gain separation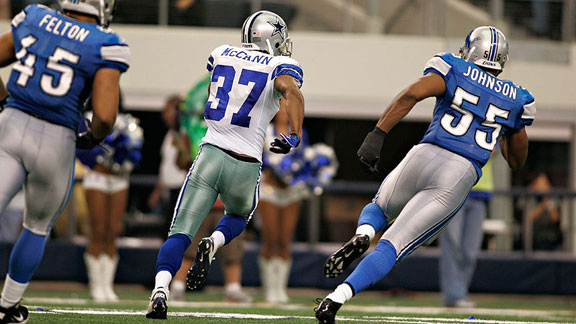 Tim Heitman/US PresswireAnother week, another game-changing play by Bryan McCann. The rookie returned a punt 97 yards for a touchdown, sparking Dallas to a 35-19 victory over Detroit.
Week 11 leaders
Even though the NFL has never had a season in which division races have been this close, Week 11 created some degree of separation.
Many of the top 12 teams in the league took advantage of opportunities and opened some distance on the middle of the pack. Nine teams that entered Sunday with six or more victories -- the New England Patriots, New York Jets, Baltimore Ravens, Pittsburgh Steelers, Green Bay Packers, Atlanta Falcons, New Orleans Saints, Tampa Bay Buccaneers and Philadelphia Eagles -- won.
Now, for the most part, we know the players from the non-players in terms of the playoffs and are starting to get an idea of how the playoff seedings will shake out.
For example, in the AFC, the leaders of the North and East are moving toward the top two seeds, while the South and West leaders are starting to look like No. 3 and No. 4 seeds.
In the NFC, the South and North have five teams at 7-3 or better, positioning their division champs to get top seeds. The Eagles are 7-3 too, but they could have a tougher time because they have three more divisional games left. As for the NFC West, someone has to win it, but all four teams lost on Sunday, three handing victories to the NFC South.
Here are five things I learned in Week 11.
1. Overzealous officiating: With about 10 minutes left in the second quarter of the Steelers' 35-3 blowout of the Oakland Raiders, referee Tony Corrente, trying to officiate one of the many post-play scrums, left his microphone on for everyone at Heinz Field to hear.
"You get out of here or I'll throw you out," Corrente told feisty Raiders defensive tackle Richard Seymour. He continued by turning to his crew and saying, "I lost my whistle. Do you have an extra?" Corrente got his replacement whistle, but officials -- trying to be safety conscious since commissioner Roger Goodell's helmet-to-helmet crackdown -- are getting too overzealous in calling unnecessary roughness penalties.
Detroit Lions defensive tackle Ndamukong Suh was called for a horse-collar penalty on a legal play in the fourth quarter when he grabbed the long hair of Dallas Cowboys halfback Marion Barber. The call was costly for the Lions, who lost 35-19. The Lions were trailing 21-19 with 13 minutes left in the fourth quarter, and Suh's tackle should have set up a third-and-11. Instead of holding the Cowboys to a field goal and a five-point lead, the Cowboys got the first down at the Lions' 5-yard line.
"They said he didn't pull his hair, they saw a horse collar," Lions coach Jim Schwartz told reporters. "I saw the same thing you saw. That was a huge penalty also. We're trying to hold them to a field goal right there and obviously that was a big penalty that gave them another chance." The Cowboys scored three plays later.
Hits that resulted in penalties involving Colt McCoy of the Cleveland Browns, Drew Brees of the New Orleans Saints and Vince Young of the Tennessee Titans were further proof that officials won't hesitate to throw flags when it comes to hits on quarterbacks.
Things were even worse in the Steelers game. There were three debatable calls involving the Steelers. Linebacker LaMarr Woodley was flagged in the first quarter for a roughing-the-passer penalty when he appeared to be following through on a potential tackle as Jason Campbell was releasing the ball. Safety Ryan Clark was flagged for a helmet-to-helmet hit in the first quarter when he appeared to be using his shoulder, not his helmet. A questionable personal-foul call on linebacker James Harrison nullified an Ike Taylor interception return for a touchdown.
"You can't let penalties slow you down," Woodley said. "I thought the call was pretty bad because I didn't run into the guy all the way."
Woodley theorized the high-profile status of Pittsburgh's defense is the reason the Steelers are getting extra calls for hits. He worries about consequences later in the season when the Steelers play better quarterbacks than Campbell.
"A big-name quarterback can definitely take advantage of it," Woodley said on a day Pittsburgh's defense gave the Raiders only 182 yards and three points despite 163 yards of penalties. "It depends on who you have at quarterback, and they are quick to throw a flag with a big-name quarterback."
Harrison, who visited with Goodell earlier this season regarding his hits, added: "I'm going to just play the game the way I was taught to play the game and let the cards fall the way they may."
2. Last act for VY? Week 11 featured some of the season's biggest meltdowns. You just have to wonder about the long-term consequences of the many meltdowns.
The Vince Young era in Tennessee could come to an abrupt end, not because of a thumb injury, but the immature act of throwing his shoulder pads and jersey into the stands as he walked off the field after a 19-16 overtime loss to the Washington Redskins.
Coach Jeff Fisher said Young is no longer the starting quarterback, even though backup Kerry Collins is out a couple of weeks with a calf injury. Fisher is willing to go with rookie Rusty Smith next Sunday. Young might need thumb surgery, but his act of immaturity could be the final straw for him as the franchise quarterback. Young is scheduled to earn $12.75 million next year. Odds are getting stronger he might not be on the roster to collect it.
Houston Texans coach Gary Kubiak may have a hard time returning next season after his team's embarrassing final minute of a 30-27 loss to the Jets. The defense did nothing -- as usual. It gave up 401 yards, including 298 passing, but the poor discipline during the final drive was ridiculous. Jets quarterback Mark Sanchez needed only 45 seconds to go 68 yards. Braylon Edwards beat new Texans cornerback Jason Allen for a 42-yard gain down the right sideline, which was followed by another game-winning touchdown pass to Santonio Holmes. The Texans are 4-6 and at the bottom of the AFC South.
Eric Mangini has made the Browns more competitive, but they've broken down in key moments in the past two games. Last week, Holmes beat the Browns for a 36-yard touchdown in overtime. Sunday's 24-20 loss to the Jacksonville Jaguars was even worse. The Jags had six turnovers, but the Browns scored only 20 points. In the second half, interceptions gave McCoy the ball three times in Jaguars territory, but the Browns didn't score any points. The final embarrassment was watching Maurice Jones-Drew run through poor tackling on a 75-yard screen pass that set up Jones-Drew's game-winning touchdown. The Browns are 3-7 and finished.
Even the Colts' Peyton Manning made a critical mistake. Trailing by three and in field goal range, Manning threw an interception to safety James Sanders that enabled the Patriots to get away with a 31-28 victory.
3. Skins in world of hurt: Credit the Washington Redskins with great resilience, coming back from their 59-28 Monday night loss to the Eagles, but will they have enough players next week against the Minnesota Vikings to compete? To address the number of injuries following the Redskins' overtime win over the Titans, coach Mike Shanahan told reporters to ask about individuals because there were too many injuries for him to remember.
[+] Enlarge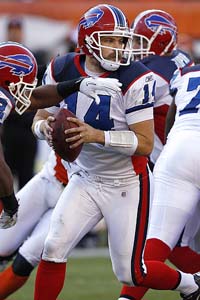 Frank Victores/US PresswireRyan Fitzpatrick (316 yards, 4 TDs) shredded the Bengals' depleted secondary.
The Redskins entered the game down four starters -- cornerback Carlos Rogers, safety LaRon Landry, guard Artis Hicks and halfback Ryan Torain. Clinton Portis was back at halfback, but he aggravated his groin injury and will be out several weeks. The Skins also lost offensive lineman Casey Rabach (knee), forcing Derrick Dockery to play guard and Kory Lichtensteiger to play center. Then Dockery suffered an injury and Will Montgomery had to play guard. Linebackers Lorenzo Alexander (hamstring) and Rocky McIntosh (thigh) had to leave the game. In the pregame, running back Chad Simpson broke a bone in his foot and could be lost for the season.
While the Redskins persevered through their injuries, the Cincinnati Bengals collapsed. They jumped to a 28-7 lead over the Buffalo Bills, but lost safeties Roy Williams and Chris Crocker and cornerbacks Johnathan Joseph and Brandon Ghee, leaving them with only two safeties and three cornerbacks. Ryan Fitzpatrick then shredded the Bengals in an incredible 49-31 comeback win for the Bills. The Bengals are 2-8 and officially one of the worst teams in the league.
4. Colts still kicking: Despite losing at New England, the Colts still have the best chance to win the AFC South and be the third seed in the AFC. Once again, Manning tried to do his best with what little he had as far as weapons. Austin Collie was back from his concussion, but he didn't finish the game. The backfield didn't have Joseph Addai or Mike Hart and had only 71 yards on 20 carries. Manning still completed 38 of 52 passes for 396 yards and four touchdowns and had the ball within field goal range with 37 seconds left. He shook his head after trying to get the ball to wide receiver Pierre Garcon and instead having it intercepted by safety Sanders.
You get the feeling the Colts and Patriots will meet again. The question is where. What helps the Colts in the AFC South race is that the Titans' Fisher has a horrible quarterback controversy brewing now that he's given up on Young and may have to go a week or two with rookie Smith. The Jaguars are 6-4 and tied for first place, but it's still hard to believe they can stay with the Colts, who have four home games remaining (the Jaguars have only two). And the Texans are 4-6 and can't stop anyone on defense. If the Patriots win the AFC East, ultimately the Colts may have to meet them again in Foxborough. But if the Pats lose the division to the Jets, they may have to play in Indianapolis in the first week of the playoffs. Another Tom Brady-Peyton Manning matchup? Bring it on.
5. NFC South stacked: Don't discount the chances of the NFC South getting three playoff spots. The Saints (7-3) beat the Seattle Seahawks, the Falcons (8-2) defeated the St. Louis Rams and the Buccaneers (7-3) shut out the San Francisco 49ers. Thanks to those three NFC South teams having a combined 8-1 record against the NFC West, the winner of the NFC South could get the top seed and the runners-up could challenge for the wild cards.
The Falcons have the best chance of getting the No. 1 seed. Their closing schedule is the 10th easiest in the league. They play host to an important NFC game next Sunday against Green Bay, but after that, the only teams with winning records they play are the Bucs (Dec. 5) and Saints (Dec. 27). The Falcons do have three consecutive road games, but they are at Tampa, Carolina and Seattle. Their final game is against Carolina.
The Saints got a four-touchdown day from Brees in an easy 34-19 victory over Seattle, and they once again did it without Reggie Bush, who should be back in a week. The Saints should make up ground in the next three weeks with games against the Cowboys, Bengals and Rams, but they close against the Ravens, Falcons and Bucs. As for the Bucs, their fate could be determined in the next three weeks, when they play Baltimore, Atlanta and Washington. After that, they play host to Detroit and Seattle, which are winnable games. They close against the Saints.
Short Takes
The pass-crazy trends in the league continue. Last week, a record 13 quarterbacks had 300-yard games. On Sunday afternoon, eight quarterbacks had 300-yard efforts in the 13 games played. Often, quarterbacks are forced to scramble when they are behind and end up getting 300- or 400-yard games in losses. On Sunday, six of the eight quarterbacks to throw for 300 yards or more -- Drew Brees, Donovan McNabb, Ryan Fitzpatrick, Joe Flacco, Mark Sanchez and Aaron Rodgers -- did so in a victory. Matt Hasselbeck and Peyton Manning lost 300-yard games. … Most of the Steelers believe Raiders defensive tackle Richard Seymour will get a suspension after being ejected for slapping quarterback Ben Roethlisberger in the head. With the NFL cracking down on injuries, the NFL will have a hard time not suspending him because it was so blatant. … At 3-7, the 49ers are back to square one. They were shut out by the Bucs 21-0, and now Mike Singletary doesn't know which direction he is going at quarterback. Troy Smith won his first two starts, but he was 16-of-31 against the Bucs and had a 51.5 quarterback rating. … Give Cowboys defensive coordinator Paul Pasqualoni credit for being creative in a 35-19 victory over the Lions. He blitzed cornerback Orlando Scandrick and Scandrick knocked down a third-down pass. That set up a 97-yard punt return on the next play by cornerback Bryan McCann. Scandrick had three passes defensed Sunday. … Panthers coach John Fox surprised everyone by starting Brian St. Pierre at quarterback over rookie Tony Pike because he said it gave the Carolina Panthers the best chance to win. Maybe the Panthers would have been blown out anyway, but St. Pierre completed only 13 of 28 passes for 173 yards and had a 48.7 quarterback rating in a 37-13 loss to the Baltimore Ravens. In that game, Ravens safety Ed Reed grabbed his 50th career interception and pitched it to Dawan Landry for a 23-yard interception return for a touchdown. … The Arizona Cardinals couldn't wait for linebacker Gerald Hayes to come off the physically unable to perform list and help the defense. He's making some bad mistakes, though. Last week, he got a dumb penalty for kicking a ball. On Sunday, in the second quarter of the Cardinals' 31-13 loss in Kansas City, he got an unnecessary-roughness penalty for shoving a Chiefs player he thought went for his face mask. That penalty helped the Chiefs in a touchdown drive. … Browns quarterback Colt McCoy left the Jaguars game in a boot after suffering a leg injury. Eric Mangini said afterward he considered benching the banged-up McCoy and going with Seneca Wallace. McCoy was sacked six times, and he had to scramble for four runs of 39 yards. … Falcons quarterback Matt Ryan's quick release negated the St. Louis Rams' pass rush in a 34-17 win. The Rams entered the game with a league-best 28 sacks. Ryan came out clean with no sacks and only one quarterback hit.
John Clayton's game balls

• Offense: The Week 10 bye gave Drew Brees the chance to relax and regroup. He came out firing in a 34-19 victory over the Seattle Seahawks. He completed 29 of 43 passes for 382 yards and four touchdowns. He even had a little bit of a running game, with rookie Chris Ivory getting 99 yards on 23 carries and the Saints rushing for a total of 112 yards. As usual, Brees distributed the ball to everyone. He targeted Marques Colston 11 times and hit him for eight completions for 113 yards and two touchdowns. Tight end Jeremy Shockey was out with a rib injury, but Brees hit tight end Jimmy Graham five times for 72 yards and two other tight ends for three more completions. In the second quarter, Brees also broke Archie Manning's Saints record for completions when he got his 1,850th completion.

• Defense: No defender has undergone more scrutiny than James Harrison since commissioner Roger Goodell legislated hard against helmet-to-helmet hits and extra-violent acts. Harrison has had to try to play his aggressive style of football with the threats of heavy fines and penalty flags looming. Harrison fought through that adversity and earned a game ball in Sunday's 35-3 victory over the Oakland Raiders. He had two sacks, two tackles for losses, two quarterback hits and one interception. It wasn't easy. On one play, he appeared to wrap up quarterback Jason Campbell, but was called for a personal foul. That nullified an Ike Taylor interception return for a touchdown. He was also penalized for encroachment, giving him seven penalties for the season. With Harrison, though, the Steelers will live with the penalties. He's still one of the best defenders in the game. Harrison has nine sacks and the Steelers have seven wins.

• Special teams: Marc Mariani, the Titans' seventh-round pick, continues to be a big-play threat in the punt game. He returned a punt 87 yards for a touchdown to give the Titans a 7-0 first-quarter lead over the Washington Redskins. The Titans lost the game 19-16 in overtime, but not because of special teams. Rob Bironas kicked three field goals, and the offense didn't have a touchdown drive. Mariani had a 98-yard kickoff return for a touchdown earlier this season. He entered Sunday with a respectable 12.7 yard punt return average and a 26.2 yard kickoff return average. Against the Skins, he averaged 27.3 yards on three kickoff returns.
Week 11 rundown
• Chicago 16, Miami 0
Defense, defense, defense. The Bears had plenty of it on Thursday night (only 187 yards allowed, six sacks). They'll need similar efforts the rest of the way.
• Buffalo 49, Cincinnati 31
The T.O. Bowl went to the Bills, whose incredible comeback (35 unanswered points) likely sealed the fate of Bengals coach Marvin Lewis.
• Dallas 35, Detroit 19
Big-play Bryan McCann strikes again. The rookie's 97-yard punt return for a TD propelled the Cowboys to their second straight win.
• Washington 19, Tennessee 16 (OT)
Killer penalties. Shoddy tackling. More Vince Young drama. Titans coach Jeff Fisher has seen better days.
• Kansas City 31, Arizona 13
It was gut-check time for the Chiefs, and they responded. After a slow start to the season, KC's Dwayne Bowe (565 receiving yards and 10 TDs in his past six games) is on fire.
• Green Bay 31, Minnesota 3
The return of Sidney Rice (three catches, 56 yards) couldn't change the Vikings' fortunes. Winners of four straight, the Packers' fortunes keep improving (despite injuries and a suspect running game).
• N.Y. Jets 30, Houston 27
More high drama for the Jets, and Santonio Holmes (7 catches, 126 yards, 2 TDs) was right in the thick of it -- again.
• Pittsburgh 35, Oakland 3
Still on that Raiders bandwagon? Oakland has made strides, but an early East Coast game against an elite defense was too steep of a challenge.
• Baltimore 37, Carolina 13
The Ravens rode their offense to an early lead. They leaned on their defense (two fourth-quarter INT returns for scores) to secure the victory.
• Jacksonville 24, Cleveland 20
No Hail Mary this week. Instead, the Jaguars got a huge late-game effort from Maurice Jones-Drew.
• Atlanta 34, St. Louis 17
Trap game for the Falcons? Please. Atlanta pulled away late and takes a lot of momentum into its Week 12 showdown with Green Bay.
• Tampa Bay 21, San Francisco 0
Troy Smith's big-play magic disappeared, and the 49ers' modest winning streak is over. And yes, somehow they're still in the NFC West race.
• New Orleans 34, Seattle 19
The defending Super Bowl champs seem to be flying under the radar. That's probably just fine with Drew Brees & Co., who are 7-3 and clicking on offense.
• New England 31, Indianapolis 28
With back-to-back wins over Pittsburgh and Indy, the Patriots (8-2) are stating their case as the AFC's best. If Danny Woodhead and BenJarvus Green-Ellis (165 combined rushing yards, 2 TDs) keep producing like they did on Sunday, New England will be tough to stop.
• Philadelphia 27, N.Y. Giants 17
It wasn't as pretty as their Monday night dismantling of Washington, but the Eagles will take it. Eli Manning's turnover problems (six in the last two games) need to end for the Giants to be a real factor down the stretch.
-- ESPN.com
MONDAY NIGHT FOOTBALL
•
Denver at San Diego (ESPN, 8:30 ET)
Looking ahead
An early look at next weekend's biggest games:
• Green Bay (7-3) at Atlanta (8-2): NFC title game preview? Maybe.
• Jacksonville (6-4) at N.Y. Giants (6-4): This once looked like a gimme for the Giants. Not anymore.
• Philadelphia (7-3) at Chicago (7-3): The Bears' defense stuffed Miami. This will be a much tougher challenge.