Key AFC Championship questions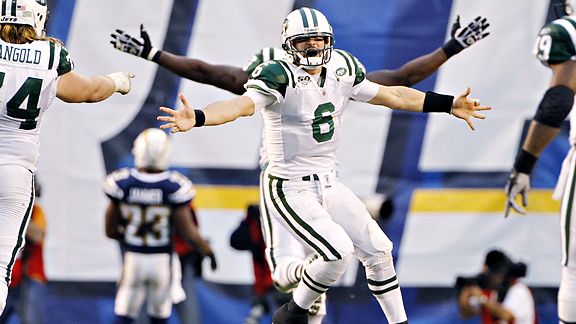 AP Photo/Jeff ChiuThe Jets --
yes, the Jets
-- are headed to the AFC title game. Mark Sanchez and Co. scored their second straight road playoff victory, upsetting the Chargers 17-14.
Divisional-round leaders
Did the Indianapolis Colts create a monster when they pulled their starters in Week 16, thus paving the way for the Jets' playoff run?
We'll find out in the AFC Championship Game next Sunday, when the surprising New York Jets face the Colts at Lucas Oil Stadium. The Jets earned a spot in the title game by beating the Chargers 17-14 on Sunday.
1. What's the biggest surprise of the AFC Championship Game?
That a running team like the Jets advanced this far. In a 2009 season that featured 10 4,000-yard passers and 12 quarterbacks who threw for at least 25 touchdowns, teams that relied on running the ball and playing defense lost some luster.
Not the Jets. Rex Ryan has brought an attitude to this team. The Jets' defense blitzes more than any other team in the NFL. Ryan attacked Philip Rivers with blitzes from every possible angle. He loves have two defenders rush the gaps between the center and guards. He'll then come back and overload sides of the blocking scheme to try get a defender to rush free at the quarterback. To complicate things further, he'll have a third blitzing defender coming in on a delay. The scheme works. The Jets had 32 sacks, but quarterbacks had a rating of only 58.8 against New York. The Jets' mission next week is to make life miserable for Manning.
2. How did the strategy work in the first game?
Peyton Manning didn't put up great numbers in the Dec. 27 game in Lucas Oil Stadium. He was 14-for-21 for 192 yards and no touchdowns, But he wasn't intercepted and he wasn't sacked. After Brad Smith had a 106-yard kickoff return for a touchdown at the beginning of the third quarter that gave the Jets a 10-9 lead, Manning started to figure things out. He executed a nine-play, 81-yard drive that culminated with a 1-yard touchdown run by rookie halfback Donald Brown.
The Jets followed the same plan in that victory that they did against the Chargers. Mark Sanchez was 8-for-10 in the first half for a modest 69 yards, but he didn't commit a turnover. Halfbacks Thomas Jones and rookie Shonn Greene combined for 68 yards on 15 carries in the first half.
The great part about this rematch is the possibility of Ryan providing some bulletin-board material for the Colts' locker room. Ryan speaks his mind. He believes in his players. He'll call them favorites even though they will be heavy underdogs against Manning.
For more, click here.
Key NFC Championship questions
By Jeffri Chadiha
ESPN.com
We should've seen this coming from the start. The New Orleans Saints were the hottest team in the NFC for 13 weeks. The Minnesota Vikings were the second-best squad for 11 weeks. They seemed to be steamrolling toward a meeting in the NFC title game and now here they are, the last two left in the race to decide conference supremacy.
One thing we already know is that this should be a heck of game. But here are 10 other questions that deserve to be answered before kickoff next Sunday:
1. Which Pro Bowl quarterback has the edge in the NFC Championship Game?
Though Drew Brees is pursuing his first Super Bowl appearance inside the cozy confines of the Superdome, you have to go with Brett Favre in this contest. Favre couldn't stay away from the NFL because he wanted another shot at a Super Bowl. (Granted, having a couple of shots at his former team, the Green Bay Packers, also motivated him.) Now he gets to pursue that opportunity in a stadium that is (1) the site of his only Super Bowl victory and (2) about an hour from his hometown of Kiln, Miss. On top of all that, Favre's last trip to the NFC Championship Game -- a loss with Green Bay against the New York Giants two years ago -- has to be etched in his memory because his overtime interception led to that defeat. You think he'll be jacked? No question.
2. Which head coach has the edge in this game?
Give the nod to the Saints' Sean Payton because he was pulling out all the stops in his team's 45-14 divisional playoff win over the Arizona Cardinals. Payton was handing out bats to sell his players on the message of "bringing the wood." He put beloved Saints running back Deuce McAllister back in uniform and let him lead the other players onto the field as a team captain. Heck, Payton even had Saints running back Reggie Bush running with more ferocity than anybody has ever seen from him. Sure, some of those moves sound hokey. But they made a strong psychological impact on this team and you can bet Payton has a few more motivational tactics left in his bag.
For more, click here.
Short Takes
You have to feel bad for Cowboys kicker Shaun Suisham. Key misses in close games cost him a job with the Washington Redskins and sealed the fate of coach Jim Zorn. His two missed field goals on Sunday epitomized the Cowboys' futility in a 34-3 loss to Minnesota. The weird part is you'd think he'd be better in domes. Suisham is a 73.7 percent kicker in domes and 79.2 in outdoor stadiums. His misses put the Cowboys in the market for a new kicker. … Despite the bad loss to the Vikings, Wade Phillips is expected to stay on as the Cowboys' head coach. That was pretty much assured when Phillips asked owner Jerry Jones to sign Paul Pasqualoni to replace defensive line coach Todd Grantham, who is leaving for the University of Georgia. … With Derrick Mason unsigned and not sure if he's going to retire or continue to play, expect the Ravens to consider a trade for Broncos wide receiver Brandon Marshall if there is no salary cap and he's a restricted free agent. … Colts wide receiver Pierre Garcon had one of the best plays of the playoffs when he chased down Ravens safety Ed Reed after Reed intercepted a Peyton Manning pass. Garcon caught up to Reed and punched out the ball, which was recovered by the Colts. Great play. … The Saints' offense works so much better when tight end Jeremy Shockey works the middle of the field. He draws coverage away from other receivers. Even though he seems to be fighting leg injuries, Shockey finds ways to get open and be a target for Drew Brees. … The Ravens have to figure out a way to cut down on their defensive penalties. They had a league-high 16 interference calls during the regular season and two more Saturday night that were costly in the loss to the Colts. Plus, middle linebacker Ray Lewis has to stop making those downfield helmet-to-helmet hits on defenseless receivers like he did on Colts receiver Austin Collie. He did the same thing to Bengals wide receiver Chad Ochocinco in Week 8 that ended up helping the Bengals put together a game-winning touchdown drive in the final two minutes. … Even though the Cowboys had won four straight before Sunday, their offensive line collapsed. They allowed 14 sacks in the past five games. … The Bills head-coaching search took another setback with the Vikings' victory. Now, the Bills will have to wait until after the NFC Championship Game to talk to Vikings defensive coordinator Leslie Frazier. They were turned down by Stanford coach Jim Harbaugh. Cardinals assistant head coach Russ Grimm hasn't decided whether he's interested in interviewing for the job. He can speak with them, now that the Cardinals have been eliminated from the playoffs.
John Clayton's game balls

• Offense: When they drafted Sidney Rice at the age of 20, the Vikings knew he might take some time to develop into a star. Well, Rice was worth the wait. After a Pro Bowl season in which he caught 83 passes for 1,312 yards, Rice tied an NFL postseason record by catching three touchdown passes from quarterback Brett Favre in Sunday's 34-3 rout of Dallas. His touchdown catches went for 47, 16 and 45 yards. Favre targeted him seven times and connected six times, accounting for 141 of his 234 passing yards. Favre has developed a great relationship with Rice.

• Defense: Vikings defensive end Ray Edwards had one of the best playoff performances by a defender in years. Edwards was everywhere. He had three sacks for 23 yards, four tackles behind the line of scrimmage, six hits on quarterback Tony Romo and one forced fumble. He left the game in the fourth quarter with a knee injury that required a wrap. The Vikings had a team playoff-record six sacks. Edwards continues to evolve as a rush threat on the other side of Vikings defensive end Jared Allen. Edwards' knee injury could end up being a big factor in the NFC Championship Game. After Sunday's game, Edwards was fitted with a brace, but he told reporters he was fine.

• Special teams: Reggie Bush's 83-yard punt return in the third quarter of Saturday's 45-14 victory over the Cardinals reminded Saints fans of why the team drafted him second overall in 2006. Even though Bush doesn't touch the ball a lot, opponents have to game plan for him. He had 109 yards on three punt returns, including the return for a touchdown. A 46-yard touchdown run also contributed to his 217 all-purpose yards. "It definitely was my best postseason game,'' Bush said in a huge understatement. Bush had only five carries, but he had 84 yards. He caught four passes for 24 yards. But the return highlighted his speed and elusiveness. He ran from left to right and made an incredible move in the middle of the field. Once he saw punter Ben Graham, he was confident he was going to run the final yards for a touchdown.
Writers' bloc
• The well-rested Colts moved closer to vindication by pummeling Baltimore. Pasquarelli
• The Colts' defense asserted itself early, then slammed the door late. Kuharsky
• Reggie Bush came out swinging and set the tone in the Saints' rout. Yasinskas
• Injuries on D put Arizona in a nearly impossible predicament against Drew Brees. Sando
• America's top 40, Brett Favre turned in a stellar performance vs. Dallas. Wojciechowski
• Brett Favre threw for four TDs, but Minnesota's pass rush was the difference-maker. Seifert
• A week after a breakthrough win, the Cowboys looked overmatched in Minnesota. Mosley
• The Jets -- yes, the Jets! -- reached the final four. How did this happen? Graham
• To the shock of many, San Diego's Super Bowl run ended in a New York minute. Williamson
Divisional-round rundown
• New Orleans 45, Arizona 14
Reggie! Reggie! The Saints' offense showed no rust from the bye week, and Reggie Bush (217 all-purpose yards, 2 TDs) dazzled like he did in his college days. The Cardinals' injury-riddled defense had no answer for the New Orleans' onslaught.
• Indianapolis 20, Baltimore 3
The Colts buried Baltimore with a 14-point spurt in the final two minutes of the first half. Ravens QB Joe Flacco struggled, and his running game wasn't nearly as effective as it was a week ago at New England.
• Minnesota 34, Dallas 3
Tony Romo keyed the Cowboys' late-season run by taking care of the football. Well, his three turnovers on Sunday (two lost fumbles, one INT) prevented Dallas from finding an offensive rhythm. So did the Vikings' pass rush, which generated six sacks and constant pressure.
• N.Y. Jets 17, San Diego 14
The shocker of the playoffs so far. The Jets' D bent but didn't break, then Shonn Greene broke the Chargers' backs with a 53-yard TD run. Now the Jets head back to Indy, where their magic carpet ride began. This time, though, they'll have to outplay the Colts' starters for an entire game.
-- ESPN.com