Red zone woes altering outcomes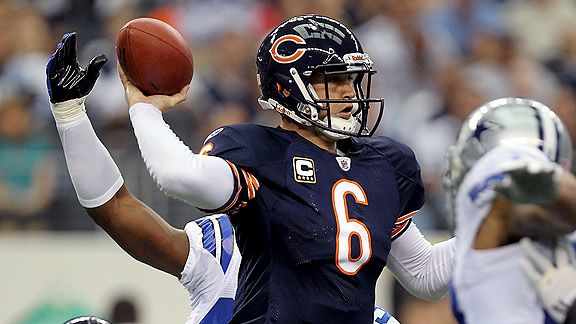 Matthew Emmons/US PresswireHighly criticized a year ago, Jay Cutler has the Bears off to a 2-0 start. Cutler threw for 277 yards and three touchdowns as Chicago upset the Cowboys 27-20.
Week 2 leaders
The RedZone Channel may be gaining rapid popularity for its ability to keep fantasy players aware of scores, but on Sunday, we learned offenses need to get better reception in the red zone.
The red zone efficiency has been below average in the first two weeks. In Week 1, only 47.6 percent of red zone opportunities were converted into touchdowns. Minus the Sunday night Colts-Giants game, Week 2 was slightly better; 51 percent of 84 red zone opportunities produced touchdowns.
Last year, the league average was 51.9 percent and playoff teams scored touchdowns at a 56 percent clip.
Those failures had major effects on the game. The Vikings lost to the Miami Dolphins because Brett Favre, the league's best red zone passer last season, went 1-for-5 in the red zone. The Bengals outkicked the Ravens 15-10 in a game in which both teams went 0-for-5 in the red zone.
The Vikings game was a particular surprise because Favre was last year's red zone hero, and Dolphins quarterback Chad Henne, who had a touchdown on his one red zone possession Sunday, was the league's worst last year.
Here are five things I learned from Week 2:
1. Bengals lean on winning formula: Bengals coach Marvin Lewis has figured out the formula to beat the Steelers and Ravens in the AFC North. The secret is patience, which may frustrate offensive stars such as Carson Palmer, Chad Ochocinco and Terrell Owens, but it worked well enough for the Bengals to beat the Ravens without a touchdown.
"I'm frustrated now," said Palmer, who had to settle for 16-of-35 passing for 167 yards and numerous failures in the red zone. "One of the keys is the mindset that I'm not turning the ball over. When you play the Steelers and Ravens, they're two teams that strike off turnovers."
Palmer notes that both Pittsburgh and Baltimore are exceptional at getting fumbles and interceptions, and using those turnovers as motivation, so it forces a conservative approach in which Palmer is forced to settle for field goals, punts and an occasional third-down throwaway. Together, Palmer and Lewis are 9-3 against the Ravens. The Bengals, who won the division last season, have won eight consecutive AFC North games.
"Last I checked, that group [the Ravens] gives up very few big plays," Lewis said. "If you drop back, you better throw in a hurry because they're not going to let you sit there and keep it in your hand very long."
Like Peyton Manning, Palmer likes a controlled environment instead of the chaos created by the aggressive Ravens defense. Palmer knows the key to winning is being varied in the approach. The best the Bengals looked on Sunday was a 13-play, field goal drive out of no-huddle that kept Ravens defenders a step behind.
"There is no specific scheme that works against them," Palmer said. Sunday's win for the Bengals was typical. It reminded everyone of a 21-7 win in 2007, when the Bengals settled for seven field goals and no touchdowns.
2. Early surprises: On paper, the Washington Redskins and Oakland Raiders were supposed to be the league's surprise teams with upgrades at quarterback -- Donovan McNabb replacing Jason Campbell in Washington and Campbell replacing JaMarcus Russell in Oakland. Their 1-1 starts and Campbell's benching in Oakland may have slowed some of those hopes, but two clear surprise teams have emerged in the first two weeks -- the Kansas City Chiefs and Tampa Bay Buccaneers.
[+] Enlarge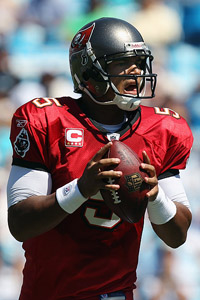 Streeter Lecka/Getty ImagesBucs QB Josh Freeman has exhibited poise and the knack for converting on third down.
Neither team is expected to be good enough to get to .500, but their starts and their schedules clearly indicate both teams are on the upswing. The Bucs have the benefit of playing four home games against teams that had 11 or more losses last season, and Sunday's 20-7 win over Carolina gives them a chance to be a six- or seven-win team. The key is Josh Freeman, who has established himself as the NFC South's third-best quarterback behind Drew Brees and Matt Ryan. Freeman converted six third downs that were longer than 8 yards. Three conversions were on completions to tight end Kellen Winslow, two were on scrambles and one was on a defensive personal foul. The next three weeks will be tough because the Bucs play the Steelers, Bengals and Saints, but if they maintain their confidence, Freeman could hold them up as a surprise team.
In training camp, the Chiefs had the look of a team that could improve from four to six wins, but their 2-0 start offers more hope. Sunday's 16-14 victory over the Browns wasn't pretty, but it shows Kansas City's rebuilding process is ahead of Romeo Crennel's old team. Crennel's defense held the Browns to 299 yards and head coach Todd Haley has the Chiefs playing solid football.
3. Shake-up in NFC: Normally, there is a 40 to 50 percent turnover among playoff teams on an annual basis. We learned in the first two weeks that most of the change this season will likely come in the NFC, where four of the six returning playoff teams are off to poor starts. Defending NFC West champion Arizona is 1-1 and looked lost in a 41-7 loss to the Atlanta Falcons. Derek Anderson hasn't had the benefit of being at home yet, but in his two starts, he's completed 54.1 percent of his passes even with Larry Fitzgerald catching the ball. At least the Cardinals are in better shape than the Vikings and Cowboys, who are 0-2. The Eagles are 1-1, but they struggled to put away the Lions on Sunday and have a brewing quarterback controversy between Michael Vick and Kevin Kolb.
As for the Vikings, they better make a trade for Vincent Jackson or their 2010 season could be a disaster. With Sidney Rice out until midseason with a hip injury and Percy Harvin being on and off the field with a hip injury of his own, the Vikings better trade for Jackson or Favre's return will go to waste. Favre's average of 6.3 yards per attempt is 1.6 yards worse than last year. His average completion of 10.7 yards is almost a yard less than last year.
As for the Cowboys, their offensive line problems stand between Jerry Jones and a home Super Bowl. Rushing for 36 yards on 20 carries, which they did on Sunday, is embarrassing. Through two games, Dallas has 139 yards rushing with Marion Barber, Felix Jones and Tashard Choice.
4. Running theme at QB: Vick is supposed to be the Eagles' starting quarterback for only as long as it takes Kolb to recover from his concussion. But his return to the starting lineup brought back the running quarterback for a change. In a league that has worked its quarterbacks mostly from the pocket in recent years, Vick followed his 103-yard rushing performance against the Packers in Week 1 with seven carries for 37 yards in a 35-32 win over the Detroit Lions. Vick scrambled the Eagles back from a 17-7 second-quarter deficit to a 35-17 lead at one point. Vick also completed 21 passes, but remember, he was doing it against a Lions defense that has major holes at linebacker and in the secondary.
Vick wasn't alone with his ability to run. Freeman had 43 yards on four runs in the Bucs' victory over Carolina. Aaron Rodgers of the Packers ran five times for 20 yards. Dennis Dixon of the Steelers had three runs for 28 yards before being carted off with a knee injury.
5. Sanchez makes strides: Sunday resolved a few things at the sport's most important position: quarterback. Some of it was good. Some of it was bad. No one needed a bounce-back performance more than Jets quarterback Mark Sanchez, who was completely ineffective in the Monday night loss to the Ravens. In a 28-14 victory over the Patriots, Sanchez took baby steps. While most people want him to throw more long passes, Sanchez worked on his short throws. According to ESPN Stats & Information, he completed 17 of 20 passes thrown for 10 or fewer yards. He was 21-of-30 for the game and had three touchdown passes. Coaches stressed to him during the offseason to simply get the ball into the hands of a better group of playmaking receivers. In the opener, he failed on just about everything. He was 9-of-18 on those 10-yard throws. Rex Ryan will call Sunday's results progress.
While Sanchez saw progress, others regressed. Matt Moore of the Carolina Panthers may have played himself out of a starting job with a 6-for-16 performance against Tampa Bay. After two losses and only 20 completions in two games, Moore has put head coach John Fox in a tough position. As much as Fox, in the last year of his contract, would love to stay with a more experienced quarterback, he may have to go with rookie Jimmy Clausen to rescue the season.
Vince Young of the Titans and David Garrard of the Jaguars made the Pro Bowl last season, but both were benched Sunday. Neither is in danger of losing his starting job, though. The situation in Oakland is more interesting. Raiders coach Tom Cable might have been feeling stress about his job security while watching Campbell stink it up in the first half against the Rams with a 42.9 quarterback rating and 7-3 deficit. Bruce Gradkowski came off the bench to beat the Rams, so Cable now has a full-blown quarterback controversy.
Short Takes
Player safety needs to be re-emphasized by the league office this week. There were two plays in which players were thrown to the ground in a dangerous manner and I'm sure the players involved will be heavily fined. Steelers linebacker James Harrison body-slammed Titans quarterback Vince Young in one incident. In a similar play in the Oakland-St. Louis game, Rams receiver Danny Amendola was body-slammed by Raiders linebacker Rolando McClain. McClain was flagged. There were seven total personal fouls in the game. … It will be interesting to see how the league handles Cardinals safety Kerry Rhodes. Rhodes had two unsportsmanlike conduct penalties and was ejected late in the Cardinals' loss to the Falcons when he bounced up and bumped into an official. … Aaron Rodgers of the Packers has evolved into one of the league's top quarterbacks. But he had a strange comment after Sunday's win over the Bills because of trouble throwing the ball. "I couldn't throw a spiral on some passes," Rodgers told reporters. Rodgers, who finished 19-for-29 passes for 255 yards, threw better in the second half. … The Steelers held Titans running back Chris Johnson to 34 yards on 16 carries, but he did break an 85-yard touchdown run that was nullified by a Eugene Amano holding penalty. Jeff Fisher credited the Steelers with doing a good job of dropping a lineman back from the line of scrimmage to help contain Johnson from breaking long, legal runs. He also credited the Steelers with a great job of taking the edges of the running game away. … The Steelers may have found a secret weapon on their bench with rookie Antonio Brown. He opened the game with an 89-yard kickoff return for a touchdown. Scouts around the league thought he was going to be a great returner. … One of the reasons for the Jets' success against the Patriots was a balanced running attack. LaDainian Tomlinson had 11 carries for 76 yards. Shonn Greene had 15 carries for 52 yards. Overall, the Jets had 32 runs, which works for their offense. Conversely, the Patriots operate with older running backs and virtually no running game. They had 20 carries for 52 yards. … The Redskins have to be concerned that opponents don't seem to be afraid to pass against them. Tony Romo threw 47 passes against them in Week 1. Houston's Matt Schaub completed 38 of 52 passes for 497 yards against them Sunday. … The NFC West was 0-3 in its first games out of the division. It could be 0-4 if the 49ers lose to the Saints. The NFC West won only 12 games out of the division last year. … Jacksonville coach Jack Del Rio began Sunday's game with half of his starting secondary -- safety Anthony Smith and cornerback Derek Cox -- inactive. The Jaguars paid the price. Philip Rivers completed 22 of 29 passes for 334 yards and three touchdowns.
John Clayton's game balls

• Offense: After being contained in Week 1 by the Bears, Lions first-round pick Jahvid Best did his best Barry Sanders impersonation in Detroit's home opener. He had 232 yards of offense in an exciting 35-32 loss to the Philadelphia Eagles. Best rushed for 78 yards on 18 carries and scored two touchdowns. Backup quarterback Shaun Hill targeted him 14 times as a receiver, connecting on nine passes for 154 yards and a touchdown.

• Defense: Green Bay linebacker Clay Matthews had three sacks, five quarterback hits and four tackles behind the line of scrimmage in a win over Buffalo. A great Week 1 only got better for Matthews when the NFL awarded him an additional sack in the win over the Eagles. Matthews already has six sacks in 2010.

• Special teams: Mike Nugent scored all the Bengals' points in a 15-10 victory over the Ravens. Nugent made kicks of 36, 30, 46, 38 and 25 yards. He was also strong with his kickoffs. "That's why he's here," Bengals coach Marvin Lewis said. "We have a lot of confidence in him." To win against the Ravens, the Bengals knew they needed an accurate field goal kicker. "There's such a high percentage of games now ending with seven points or less or three points or less, so it can come down to the punting and kicking," Nugent said.
Week 2 rundown
• Atlanta 41, Arizona 7
This one was lopsided in almost every phase. The Falcons had a 33-11 edge in first downs and nearly a 20-minute edge in time of possession.
• Cincinnati 15, Baltimore 10
The Bengals' AFC North dominance continues. Carson Palmer didn't do much (only 167 passing yards), but he's now 9-3 versus the Ravens.
• Kansas City 16, Cleveland 14
The Chiefs gutted it out to improve to 2-0, but QB Matt Cassel's lack of production (176 yards, 2 INTs) is putting a lot of pressure on K.C.'s defense.
• Chicago 27, Dallas 20
It doesn't take much to get people panicking in Big D. An 0-2 start and a mistake-prone offense should do the trick.
• Philadelphia 35, Detroit 32
The Lions' frantic comeback bid fell just short. The good news for Detroit is rookie Jahvid Best (232 total yards), who flashed his amazing potential.
• Green Bay 34, Buffalo 7
How bad is the Bills' offense? It's failed to crack 200 total yards in either game this season.
• Pittsburgh 19, Tennessee 11
The Steelers' D is officially back. Want proof? It held the seemingly unstoppable Chris Johnson to 34 yards and no TDs on 16 carries.
• Miami 14, Minnesota 10
Is the Dolphins' defense this good, or does the Vikings' offense have issues? Let's lean toward the latter.
• Tampa Bay 20, Carolina 7
It's too early to jump to conclusions about the 2-0 Bucs, but they're giving off a much different (and more positive) vibe than they were a year ago at this time.
• Oakland 16, St. Louis 14
Is that it for the Jason Campbell era? The Raiders' big offseason addition was benched at halftime for Bruce Gradkowski.
• N.Y. Jets 28, New England 14
Who needs Darrelle Revis? After Revis got burned for a TD by Randy Moss and left with a sore hamstring, the Jets came alive.
• San Diego 38, Jacksonville 13
Frustrated over the Monday night loss in Kansas City, the Chargers let out their frustrations by forcing six turnovers and limiting Maurice Jones-Drew to 31 rushing yards.
• Houston 30, Washington 27 (OT)
The Texans were the feel-good story of Week 1. The Redskins were on track to possibly be the feel-good story of Week 2 -- then they blew a 17-point lead.
• Denver 31, Seattle 14
A solid all-around effort by the Broncos. Perhaps the most encouraging sign for Denver was an eight-catch, 97-yard, one-TD performance by rookie WR Demaryius Thomas.
• Indianapolis 38, N.Y. Giants 14
Oh brother, this one was ugly. The Giants' Brandon Jacobs contributed with 8 rushing yards and one flying helmet.
-- ESPN.com
MONDAY NIGHT FOOTBALL
•
New Orleans at San Francisco (ESPN, 8:30 ET)
Looking ahead
An early look at next weekend's biggest games:
• Pittsburgh (2-0) at Tampa Bay (2-0): We'll learn a lot more about the young Bucs in this one.
• N.Y. Jets (1-1) at Miami (2-0): An AFC East showdown and a battle of two fierce defenses.
• Green Bay (2-0) at Chicago (2-0): The NFL's oldest rivalry. The winner gets first place in the NFC North.