Super Bowl XLIV analysis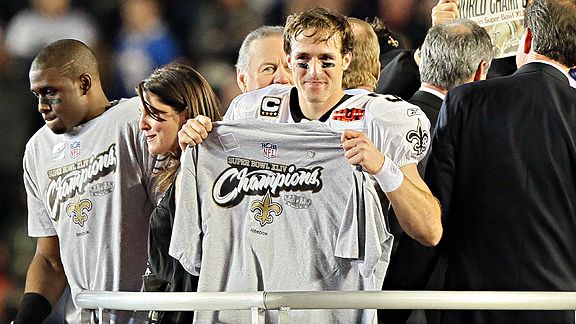 Jed Jacobsohn/Getty ImagesDrew Brees and the Saints overcame a slow start to earn their first Super Bowl title. Brees was 32-of-39 for 288 yards and two touchdowns in New Orleans' 31-17 victory over the Colts.
MIAMI -- What was heartbreaking to Peyton Manning was heartwarming to Drew Brees and the city of New Orleans.
Brees (32-of-39, 288 yards, two TDs) outdueled and outperformed Manning to win Super Bowl XLIV 31-17, furthering the Manning riddle in the process. Although Manning might be one of the greatest game managers and quarterbacks of all time, yet another Super Bowl slipped away. Years from now, he may hold every significant passing record, but great quarterbacks are judged -- rightly or wrongly -- by Super Bowl rings.
Manning has one, and now Brees has one at Manning's expense. Though Manning may have revolutionized the game with his no-huddle style of play, he has one Super Bowl ring to Tom Brady's three. Eli Manning has as many rings as his brother.
But the story of Super Bowl XLIV was the coaching of Sean Payton and the great play of Brees. Here are the five things we learned in this game:
1. Gambling man: Payton is a riverboat gambler, and his willingness to gamble paid off. He made three risky decisions in the Saints' Super Bowl victory. In many ways, I think this might be one of the greatest coaching jobs in Super Bowl history. Payton was nearly flawless.
Trailing 10-3 with 1:55 left in the first half, Payton went for it on fourth-and-goal at the Colts' 1-yard line and failed when Pierre Thomas was stopped for no gain on a run to the right. The Saints' defense bailed out Payton by stopping the Colts on three running plays and giving Brees a chance to drive for a field goal before the half.
Payton's biggest gamble of the game was a successful onside kick at the beginning of the second half. It allowed the Saints to get a quick 58-yard touchdown drive.
Another smart move by Payton was his challenge after a pass to Lance Moore was ruled incomplete on a two-point conversion attempt in the fourth quarter. By watching stadium replays, Payton noticed Moore had extended the ball over the goal line before it was knocked away. Referee Scott Green overruled the on-the-field call. The two-point conversion gave New Orleans a 24-17 lead.
2. Williams, Saints adjust: In the first quarter, Manning moved the ball well against Gregg Williams' defense, which was trying to confuse him with a three-man line. In the end, however, the Saints' defensive coordinator got the best of Manning.
Williams has 27 sub packages, but he didn't use too many. The one that worked the best was a 3-3-5. The Saints opened the game in a 3-4, with Sedrick Ellis as the nose tackle and Marvin Mitchell joining Scott Fujita, Jonathan Vilma and Scott Shanle at linebacker.
On the Colts' second possession, Williams replaced Mitchell with a corner in the 3-3-5. Although the scheme didn't fare well at first (Manning engineered a 96-yard touchdown drive), it featured some confusing packages and blitzes that eventually forced Manning into mistakes.
3. Freeney guts it out: Dwight Freeney is one amazing athlete. Like Curt Schilling in 2004, Freeney performed well on one of the most-publicized ankles in sports history. Playing on a right ankle injury that would sideline many players for as long as six to 10 weeks, Freeney made an impact.
Credit Freeney with being smart and dedicated in his recovery. The smartest thing he did was waiting until game day to test the ankle. Freeney suffered a third-degree ankle sprain in the final minutes of the Colts' AFC Championship Game victory over the Jets. He resisted the urge to test the ankle Friday and Saturday, obviously fearing a reinjury that would set him back. Instead, he didn't put on cleats until Sunday, and relied on a great taping job and enough pain medication to get him through the game.
He started out by bull-rushing left tackle Jermon Bushrod on passing plays and then was able to dust off some spin moves. The fact that Freeney was able to get a sack and draw double-team blocking helped the Colts' defense.
Freeney struggled in the second half, which was expected because of the 25-minute halftime. Hines Ward of the Steelers learned that a year ago coming off a knee injury. He did some good things in the first half of the Steelers' Super Bowl victory over Arizona, but the long halftime slowed the adrenaline. Ward tired out. So did Freeney, who had to constantly adjust his tape to get some burst off the line of scrimmage. Freeney wasn't a factor in the second half, and Brees had time to work the offense.
4. Powers' absence felt: The more significant injury for the Colts turned out to be the foot of cornerback Jerraud Powers, who had missed Indianapolis' two previous playoff games and required surgery to repair a fracture. Powers didn't practice most of the past two weeks and was used only for a few plays in the nickel.
Powers was one of the best rookie cornerbacks in the league this year, but his injury forced the Colts to use Tim Jennings for the entire game. Brees followed the trend of most Colts opponents; he kept throwing at Jennings. During the season, Jennings gave up five touchdown passes and had about two of every three passes completed against him. Kelvin Hayden played well. Jacob Lacey did a decent job, but the weak link was Jennings.
In typical Brees fashion, he didn't feature any one receiver. Marques Colston caught seven passes for 83 yards. Devery Henderson caught seven for 63.
It was quite apparent that Brees had supreme confidence in what he could do against the Colts' secondary. He knew he could complete just about every pass he wanted to against Jennings. Brees was able to work a lot of completions into the middle of the field. With Freeney wearing down and the Colts unable to get a pass rush in the last three quarters, the Colts' secondary was totally exposed by Brees, who earned Super Bowl MVP honors.
5. Thomas' impact: Thomas doesn't get enough credit for what he adds to the Saints' offense. Reggie Bush may be the headliner, but Thomas is the dependable back who makes the plays when the Saints need them.
Thomas' ability to break tackles in critical situations helped the Saints win their first Super Bowl title. He was particularly effective on a 16-yard touchdown reception in the third quarter that gave the Saints their first lead. Thomas is a fearless runner, and he does have some elusive moves. He's a no-nonsense back who gets yards quickly without much flash. Not only does Thomas get the tough yards, he also has good hands; he caught six passes for 55 yards Sunday.
John Clayton's game balls

• Offense: Drew Brees gave the Saints their first Super Bowl trophy with one of the most accurate performances in Super Bowl history. He tied Tom Brady's Super Bowl record with 32 completions in New Orleans' 31-17 win. He threw 39 times for 288 yards and two touchdowns. Brees got off to a slow start, completing only three of his first seven passes. After that, he was 29-of-32 for 261 yards and overcame a 10-0 deficit.

• Defense: Tracy Porter clinched the Saints' victory with a 74-yard interception return late in the fourth quarter. He stepped in front of one of Peyton Manning's favorite plays: a simple pass against single coverage to the left toward wide receiver Reggie Wayne. Porter contained Wayne all day, limiting the Colts' best receiver to five catches for 46 yards. On the interception, Porter read Wayne's route, and knowing the Saints were blitzing, sensed Manning would be releasing the ball quickly. He read the play, made the interception and ran for the touchdown. "It was great film study,'' Porter said of the interception. "We knew that on third-and-short, they stack and they like the outside release on the slant. It was great film study by me, a great jump and a great play.''

• Special teams: Garrett Hartley became the first kicker in Super Bowl history to kick three field goals longer than 40 yards. He connected on kicks of 46, 44 and 47 yards. "I can't explain it,'' Hartley said of the Super Bowl win and his kicking day. "It's awesome.''
Super Bowl grades
• INDIANAPOLIS
Offense: Against conventional standards, pretty good; against Colts standards, a bit off. The Colts needed a touchdown, not a field goal, out of the game's opening drive. And of course, the one big mistake came when Tracy Porter stepped between Peyton Manning and Reggie Wayne for an interception he took back for a score that pretty much sealed the game. Grade: B-minus
Defense: Gave up 24 points. Although the Colts did well keeping plays in front of them, they didn't make a big play against Drew Brees and allowed him to string things together. The Saints were too often in rhythm and Brees had the second-best completion percentage in Super Bowl history by going 32-of-39. Grade: C
Special teams:
Though it seemed they got seriously outplayed, the final numbers in the return games made it look like a wash. But the Colts' average drive start was the 17-yard line compared to the 29 for the Saints. Half of Indy's possessions started inside its 15 and
Matt Stover
missed a 51-yard field goal attempt.
Grade: C
Coaching:
Trying the 51-yarder with Stover, an accurate guy who's hardly got a long-distance leg at this stage of his career, was awfully hopeful. The play calling late in the second quarter seemed a little cautious compared to usual and produced a scenario in which the Saints got the ball back and tacked on a field goal.
Grade: C
-- Paul Kuharsky
• NEW ORLEANS
Offense: Yeah, the Saints got outgunned by 100 yards in total offense. But they made their yards matter after a poor first quarter. Drew Brees was pretty much flawless from the second quarter on. Still want to say he's behind Peyton Manning and Tom Brady on the list of great quarterbacks? You can't do that any longer because Brees has earned a Super Bowl ring. Grade: A-minus
Defense: Yes, the Saints gave up 432 yards, but put it in perspective. They held Manning to one touchdown pass and got an interception return by Tracy Porter for a touchdown. You hold Manning and the Colts' offense to two touchdowns and a field goal … there's not much more you can ask from a defense. Grade: B-plus
Special teams: This turned out to be the area that decided the game. The Saints recovered an onside kick to start the second half and got three field goals from Garrett Hartley. Grade: A-plus
Coaching: Sean Payton coached like a man who had nothing to lose. His offensive play calling was solid after the first quarter and defensive coordinator Gregg Williams and his unit gave Manning something to remember. Grade: A
-- Pat Yasinskas