Week 4: Close encounters among divisional foes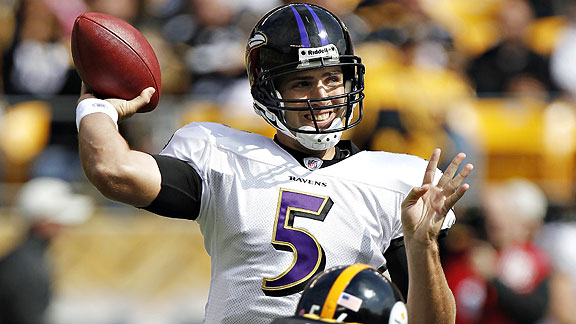 Gregory Shamus/Getty ImagesJoe Flacco finally won in Pittsburgh, but it wasn't easy. Flacco hit T.J. Houshmandzadeh with 32 seconds left, lifting Baltimore to a 17-14 victory and first place in the AFC North.
Week 4 leaders
Familiarity bred close games in Week 4.
Of the eight divisional games played Sunday, six were determined by five points or fewer. Because division teams play each other twice a year, close games are often the norm, but this was an unusual Sunday because of upsets and the unpredictability of the games.
The Cincinnati Bengals won in the stats, but lost to the Cleveland Browns 23-20. The Steelers' possible 4-0 start was ruined by Joe Flacco and the Baltimore Ravens in a 17-14 thriller at Heinz Field. The Houston Texans are emerging as the team to beat in the AFC South, thanks to their 31-24 win over the Oakland Raiders and the Jacksonville Jaguars' stunning 31-28 upset of the Indianapolis Colts.
Donovan McNabb showed Philadelphia Eagles fans what they were missing in a 17-12 statement victory by the Washington Redskins. The New Orleans Saints struggled to hold off the Carolina Panthers, and the St. Louis Rams -- believe it or not -- are in a three-way tie for first place in the NFC West after blowing out the Seahawks 20-3. The Green Bay Packers looked sloppy but were able to hold off a late rally by the Detroit Lions in a 28-26 victory.
The only divisional game that went as planned was the New York Jets' 38-14 rout of the Buffalo Bills.
Here are five things I learned in Week 4.
1. Western supremacy? Hardly: The NFC West race may go down as perhaps the worst in NFL history. The 49ers blew a 14-point lead and lost to the Atlanta Falcons 16-14. The Cardinals were blown out by San Diego 41-10 and benched QB Derek Anderson in favor of rookie undrafted free agent Max Hall. The Seahawks once again showed they can't win on the road and were blown away by the St. Louis Rams 20-3, ending a 10-game winning streak over St. Louis.
Let's look at the reality of this division. No one -- repeat, no one -- is good enough to win on the road. NFC West teams are 1-8 in road games, and if you can't win road games, you can't put up a winning record. In five of those eight losses, NFC West teams lost by 17 points or more. Unless the road problems of these four teams change, it's inevitable seven wins will capture this division. It will come down to which team wins their home games. Heck, it's not out of the question that six wins could take this division.
2. Flacco cements elite status: Flacco doubters took a backseat Sunday. Flacco, the elite quarterback few want to completely embrace, directed a four-play, 40-yard touchdown drive to beat Pittsburgh. He hit T.J. Houshmandzadeh on an 18-yard TD pass with 32 seconds remaining. Though he had five previous fourth-quarter game-winning drives, this was Flacco's first game winner in the final two minutes.
"I think there are going to be a lot of defining moments for Joe, but this is going to be one of them, and this is going to be one that all the Ravens fans are going to remember for a long time,'' Ravens coach John Harbaugh said.
"For Joe to do that on that defense is something,'' linebacker Ray Lewis said.
Houshmandzadeh made a double move to beat Steelers cornerback Bryant McFadden for the game-winning score.
Ravens players remarked how Flacco remains calm at all times. With 2:44 left in regulation, the Steelers, leading by four points, stopped Flacco on a fourth-and-goal incompletion from the Steelers' 2-yard line. Flacco came to the bench knowing the Steelers would call three conservative running plays that the Ravens' defense would stop, figuring he would have 1:15 and field position to try to take the lead.
"There are not many better ways to win a game when you're coming to Pittsburgh,'' Flacco said.
3. Del Rio endures: Is there any coach in football who responds to the hot seat better than Jack Del Rio? Del Rio pulled out a critical 31-28, last-second victory over the Indianapolis Colts thanks to a 59-yard field goal by Josh Scobee. The victory also saved the starting job of quarterback David Garrard, who had to worry about this week's waiver claim of former Bills starting quarterback Trent Edwards.
In reality, the Jaguars probably wouldn't have fired Del Rio had the Colts won in a blowout, but next Sunday would have been troubling for Del Rio and Garrard. The Jags play in Buffalo, and a loss there could have cost Del Rio and Garrard jobs. Now, the Jaguars have life and the Colts have to be feeling some pressure. It's not out of the question for the Jaguars to beat the Bills, win a home game against the Titans and beat the Chiefs on the road in the next three games to end up at 5-2. The Colts have to worry because they have lost two AFC South road games and won't have their usual 5-1 or 6-0 division record.
Although the Jaguars might have been the biggest winner within the AFC South, the Texans didn't come out too badly. They beat the Raiders despite the early benching of Arian Foster and lead the division with a 3-1 record.
[+] Enlarge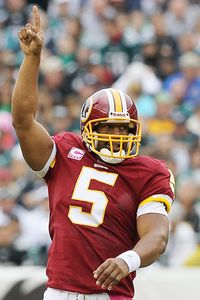 Jim McIsaac/Getty ImagesDonovan McNabb managed to beat his former teammates without putting up big numbers.
4. Edge to McNabb, Redskins: The McNabb trade looks even worse for the Eagles because Andy Reid is four weeks into the season and his quarterback situation is a mess. As predicted, the hits finally caught up to Michael Vick, who averaged about 20 hits a game over the past couple of weeks. He was lost late in the first quarter with rib/chest injury that is going to require a Monday MRI. McNabb didn't put up great numbers, completing only 8 of 19 passes for 125 yards, but he established a running offense that was never emphasized during his Eagles days.
The Redskins' 35 runs kept the Eagles off balance, and, let's face it, Mike Shanahan outwitted Reid in the first quarter. He keyed a scoring drive with a 34-yard reverse that was soon followed by a 12-yard Ryan Torain touchdown run. McNabb had only one completion before he hit tight end Chris Cooley with a 31-yard touchdown pass late in the first quarter. The 14 first-quarter points were all McNabb needed.
Reid and the Eagles have to live with the fact that they are 0-2 at home and with more uncertainty at quarterback. Vick's status is uncertain, and Kevin Kolb looked shaky coming off the bench. I still contend the Eagles should have kept McNabb for at least this season.
5. Flight lessons: Some fans and many coaches don't want to admit that this is a passing league, but the trend toward passing continues. The Denver Broncos beat the Tennessee Titans 26-20 in a game in which their running backs had only 8 rushing yards on 17 carries, a franchise low. The Ravens beat the Steelers with featured running back Ray Rice starting the game on the bench and being only 80 to 85 percent healthy by his admission. The Packers put up 28 points against Detroit, but their running offense was once again absent. They mustered only 92 yards. The Saints didn't have Reggie Bush and Pierre Thomas because of injuries, so Drew Brees had to throw 48 passes to beat the Carolina Panthers 16-14. Coach Sean Payton had to be happy that Chris Ivory and Ladell Betts helped the running game produce 121 yards, but Brees needed 33 completions to win the game.
Coming into Sunday, quarterbacks had 136 touchdown passes in the first three weeks, the second most in NFL history. The best was 1987, when there were 137 through three weeks. Teams that can't pass the ball nowadays struggle to consistently win.
Short Takes
Atlanta Falcons receiver Roddy White saved the day for Matt Ryan. White stripped the ball from the hands of 49ers cornerback Nate Clements, who had picked off a pass intended for tight end Tony Gonzalez late in the fourth quarter of the Falcons' 16-14 victory and Atlanta recovered. "Any time you see a defensive player carrying the ball, they aren't used to it so you've got a chance,'' White said. … The St. Louis Rams were the most injured team Sunday. Seven of their eight inactives were injured players. They had Steven Jackson active despite a leg injury and he had 70 yards on 22 carries. … The Bengals activated Andre Smith, the sixth pick in last year's draft, after a week in which they had a couple retired offensive linemen work with him on technique. He was inactive last week but was on the field for some right tackle plays Sunday. … Falcons wide receiver Michael Jenkins could have played, but the Falcons continue to be cautious, wanting to give his injured shoulder an extra week of rest and not risk reinjury. Jenkins should be good to go for the final 12 games of the season. … Julius Jones was the Seahawks' starting running back in 2008 and '09, but his stock has fallen to the point where he was inactive Sunday. Justin Forsett and Leon Washington remain ahead of him. … Titans defensive coordinator Chuck Cecil can expect a fine this week. He was caught making an obscene gesture to an official after a controversial call. … Cardinals coach Ken Whisenhunt doesn't know which way to go at quarterback after benching Derek Anderson and replacing him with Max Hall. But it doesn't matter who is the quarterback when the Cardinals give up nine sacks to a Chargers defense that didn't have Larry English and Shawne Merriman because of injuries. By the way, Shaun Phillips was my second choice for defensive game ball behind Charles Woodson of the Packers. Phillips had four sacks, four quarterback hits and a 31-yard interception for a touchdown. Against the Cardinals, almost every defensive player was able to put up good stats. Arizona was that bad. … Panthers wide receiver Steve Smith suffered a high ankle sprain, an injury that usually sidelines a player for four to six weeks. His loss will really make it tough for Jimmy Clausen to do well through the air. Clausen completed only 11 passes Sunday, only five to wide receivers, including two to Smith. … Reggie Wayne of the Colts caught 15 of the 19 passes thrown to him by Peyton Manning for 196 yards, but his fumble at the Jaguars' 10 early in the fourth quarter cost the Colts key points in their 31-28 loss. … Despite the changes to the 49ers' passing offense under new coordinator Mike Johnson, the 49ers didn't get Brian Westbrook involved. The 49ers also had two turnovers, both interceptions.
John Clayton's game balls

• Offense: Terrell Owens, 36, became the oldest player in NFL history to cross the 200-yard receiving mark with his 10-catch, 222-yard day. He was targeted 15 times and had a 78-yard touchdown pass in the second quarter. Stats, though, didn't mean anything. The Bengals lost to the Cleveland Browns 23-20. Carson Palmer threw for 371 yards, his 14th 300-yard game. His record in those games is 5-9. In four games, Owens has 24 catches for 374 yards. If the trend continues, he could become the fifth receiver since 1983 older than 36 to have a 1,000-yard season. So far, though, the stats have produced a 2-2 start for Cincinnati.

• Defense: Charles Woodson, the reigning NFL Defensive Player of the Year, had 13 tackles and three passes defensed. But his 48-yard interception return for a touchdown was the play that gave the Packers a 28-26 victory over the Detroit Lions. It gave the Packers a 28-14 lead early in the third quarter. Lions QB Shaun Hill kept trying to bring the Lions back with field goal drives, but those four second-half field goals left the Lions two points shy of tying the game.

• Special teams: Titans rookie Marc Mariani continued the recent flurry of touchdown returns with his 98-yard kickoff return for a score in the third quarter of Tennessee's 26-20 loss to Denver. Overall, he had six kickoff returns for 187 yards and one punt return for 9. His was the seventh kickoff return for a touchdown in the first four weeks, one of the fastest paces for kickoff return scores in NFL history. He's averaging 26.8 yards a return this season and already has two returns for more than 40 yards. Mariani is a seventh-round pick out of Montana whom the Titans are grooming to be a slot receiver.
Week 4 rundown
• Denver 26, Tennessee 20
Labled an underachiever in the past, Broncos WR Brandon Lloyd (11 catches, 115 yards) has emerged as one of Kyle Orton's main targets and appears headed for a breakout year.
• Atlanta 16, San Francisco 14
The hits keep on coming for the 49ers, who let another late lead slip away. Is it too early to wonder about Mike Singletary's job security?
• N.Y. Jets 38, Buffalo 14
Guess who hasn't thrown an interception yet this season? The Jets' Mark Sanchez. That's right, the same Mark Sanchez who had 20 last season.
• Cleveland 23, Cincinnati 20
The Bengals finally got a big day from their passing game -- and lost. Maybe they're better off playing their usual ugly, close-to-the-vest style.
• Green Bay 28, Detroit 26
Penalized 18 times in a sloppy Monday night loss to Chicago, the Packers tightened it up on Sunday. Green Bay was penalized only three times in a hard-earned victory.
• St. Louis 20, Seattle 3
A winning streak for the Rams? It's a modest one (two games), but it's a sign St. Louis is becoming respectable.
• New Orleans 16, Carolina 14
Ugly wins are becoming the norm for the Saints, who were boosted by newcomer (sort of) John Carney's three field goals.
• Baltimore 17, Pittsburgh 14
After the initial sting wears off, the Steelers will probably feel good about finishing the Big Ben-less part of their schedule at 3-1.
• Houston 31, Oakland 24
Talk about making up for lost time. After being benched for most of the first half, Arian Foster rushed for 131 yards and scored a pair of TDs.
• Jacksonville 31, Indianapolis 28
Minor hiccup or major concern for the Colts? We'll go with the former, but it's strange to see the normally superior Colts at 2-2.
• Washington 17, Philadelphia 12
The Eagles lost Michael Vick to injury. Then they lost the game to a player (Donovan McNabb) who's proving he still can win in the NFC East. How's that trade looking now, Philly?
• San Diego 41, Arizona 10
Are the Cardinals wishing they held on to Matt Leinart? Probably not, but Derek Anderson (benched for Max Hall) isn't coming close to filling Kurt Warner's shoes.
• N.Y. Giants 17, Chicago 3
It couldn't get much worse for the Bears' offense. Ten sacks allowed (nine in the first half). Two downed QBs. Only 110 total yards. Not pretty.
-- ESPN.com
MONDAY NIGHT FOOTBALL
•
New England at Miami (ESPN, 8:30 ET)
Looking ahead
An early look at next weekend's biggest games:
• Kansas City (3-0) at Indianapolis (2-2): An early litmus test for the surprising Chiefs.
• Denver (2-2) at Baltimore (3-1): Will the pass-happy Broncos find success against the Ravens' stingy D?
• Minnesota (1-2) at N.Y. Jets (3-1): Welcome back to the Meadowlands, Mr. Favre.