Week 6: Fortunate Vikings find new life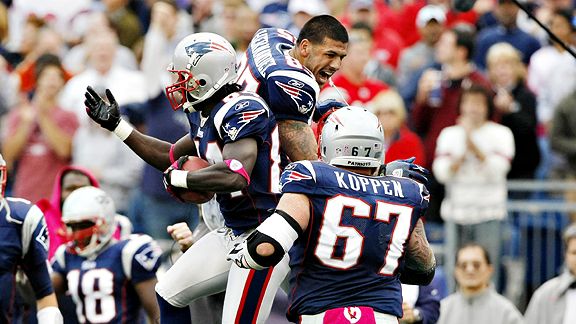 David Butler II/US PresswireDeion Branch, left, made a splash in his return to New England. Branch caught nine passes for 98 yards and a touchdown to help the Patriots beat Baltimore 23-20 in overtime.
Week 6 leaders
Trying to make sense out of Week 6 isn't easy.
The only Sunday afternoon games that weren't decided by eight points or fewer were the Pittsburgh Steelers' 28-10 victory over the Cleveland Browns, the Philadelphia Eagles' 31-17 victory over the Atlanta Falcons, which included an impressive showing from Kevin Kolb, and the New Orleans Saints' 31-6 win over Tampa Bay. Almost 57 percent of the games this season have been decided by eight points or fewer. That's unprecedented.
The division that must feel the worst is the AFC West, a little engine that could that just couldn't get over the top Sunday. The Kansas City Chiefs blew a 10-point fourth-quarter lead in a 35-31 loss to the Houston Texans. The Denver Broncos still can't believe safety Renaldo Hill was called for a pass-interference penalty at the 2-yard line when the contact on New York Jets wide receiver Santonio Holmes was debatable. That play set up the Jets' winning touchdown run in their 24-20 victory over Denver. The San Diego Chargers and Oakland Raiders lost to NFC West teams (St. Louis Rams and San Francisco 49ers).
It was a day in which the Minnesota Vikings may have saved their season, thanks to a 24-21 victory over the Dallas Cowboys. In fact, the Vikings caught a huge break when the Chicago Bears lost to the Seattle Seahawks 23-20, and the Green Bay Packers lost in overtime to the Miami Dolphins by the same score.
The Vikings are now only a game and a half behind the Bears in the division race and a half game behind the Packers. They have life.
Here are five things I learned in Week 6.
1. Phillips safe, by default: No, Cowboys owner Jerry Jones isn't going to fire Wade Phillips after Sunday's loss. Firing a coach means promoting an assistant, and it's pretty clear Jones can't promote offensive coordinator Jason Garrett. The offense is more out of sync than the defense. Despite having Miles Austin, Roy Williams, Jason Witten and a banged-up Dez Bryant, Garrett tried to dink his way to victory against the Vikings. It didn't work.
On the surface, Tony Romo's numbers look decent. He completed 24 of 32 passes for 220 yards and three touchdowns. His quarterback rating was a respectable 98.4. But ESPN Stats & Information calculated Romo completed only 25 percent of his passes when they traveled 6 yards or more. As a result, he averaged 9.2 yards a completion against the Vikings. The Vikings traded for Randy Moss because they were averaging only 9.8 yards a completion.
To make matters worse, Romo threw one interception on a pass that traveled fewer than 6 yards. For a team that had 11 penalties and numerous mistakes, the Cowboys need big plays, not little ones.
2. Steelers strike winning balance: What you saw Sunday was what the Steelers' offense should be. Rashard Mendenhall ran the ball 27 times for 84 yards in Pittsburgh's win over the Browns. Overall, the Steelers ran the ball 35 times compared to 27 Ben Roethlisberger passes.
"It's hard to be a physical ball club when you're throwing the ball around all the time," Steelers receiver Hines Ward said. "Last year we threw the ball left and right, but we didn't get where we needed to get. We've been passing teams for two or three years, but those are the years we didn't make the playoffs. We're better when our receivers aren't getting 1,000-yard seasons."
Steelers defensive end Aaron Smith said it's important for the Steelers to run the ball and win the time-of-possession battle. He said the defense plays so hard it needs time to rest and recover after a series. The Steelers held the ball for 31:56 against the Browns, and they pounded Mendenhall into the Browns' defense 12 times in the first half.
Running early set up play-action opportunities in the second half. With 5:12 left in the third quarter and the Steelers leading 7-3, Roethlisberger, operating from his 4-yard line, took advantage of a cornerback blitz. He threw a 50-yard completion to Mike Wallace, who was covered by a safety. On the next play, Roethlisberger spotted another corner blitz and hit tight end Heath Miller for a 36-yard gain. Two plays later, Roethlisberger flipped a short pass to Ward against an all-out blitz. The play resulted in an 8-yard touchdown that secured the victory.
3. Patriots escape: Bill Belichick and the New England Patriots should be breathing a huge sigh of relief after sneaking away with a 23-20 overtime victory over the Baltimore Ravens. The Patriots were outplayed by Baltimore, and the offense looked different without Moss. Thanks to Moss' speed and size, Tom Brady could send Moss outside the numbers to open up the middle of the field. Brady entered Week 6 as the No. 1 quarterback operating between the numbers, but he struggled in that area on Sunday: Brady was 12-of-22 for 156 yards and a 39.2 quarterback rating inside the numbers. He also had two interceptions inside the numbers, indicating the Ravens' scheme was able to limit the impact of Wes Welker and the Patriots' talented tight ends working the middle of the field. In his first four games before the Moss trade, Brady completed 71.2 percent of passes inside the numbers and had a 117.6 quarterback rating.
Overall, the Patriots ran a lot of two-receiver formations featuring Deion Branch and Welker, who had seven catches for 53 yards. They also had Brandon Tate and Julian Edelman combinations. It's rare to see Brady come out of a game with a 69.5 quarterback rating despite throwing for 292 yards.
4. Schaub delivers late: Quarterback Matt Schaub saved the Texans' season by proving he can be one of the best fourth-quarter quarterbacks in the league. Schaub completed 11 of 15 passes for 155 yards during three fourth-quarter touchdown drives to lead Houston to an incredible 35-31 victory over the Chiefs. Particularly impressive were drives of 86 and 80 yards in the final seven minutes. The Texans trailed 31-21 early in the fourth quarter and Schaub, like Peyton Manning the week before, had trouble solving the defensive scheme devised by Chiefs coordinator Romeo Crennel.
Two things were very apparent in this game: The Chiefs are improving rapidly and will be a factor this year and in future years; and the Texans, despite some recent disappointments, have arrived.
"We are in the process and we are still actually in the foundation stage," Chiefs coach Todd Haley said after the game. "A lot of people may think that's just coaching rhetoric or that type of angle, but it's not. I've been telling you pretty much the way it is. We're a team in transition. We're going to come on the road and we're going to win these big games, and I think it's going to be sooner rather than later. We're obviously just not there yet."
5. Hitting it head-on: Helmet-to-helmet hits will be a big topic this week. Sunday was scary. The headline play came in the Philadelphia-Atlanta game, when Falcons cornerback Dunta Robinson and Eagles wide receiver DeSean Jackson had a helmet-to-helmet collision that knocked both players out of the game. After the game, Eagles owner Jeffrey Lurie told USA Today he would like a leaguewide review, with thoughts of stiffer penalties for helmet-to-helmet hits.
"We've got to protect players and penalize players who issue concussions," Lurie said.
Browns receiver Josh Cribbs suffered a concussion and couldn't return after a helmet-to-helmet hit from Steelers linebacker James Harrison that Browns players thought was borderline.
"I don't know, I heard guys talking afterwards," Browns left tackle Joe Thomas said. "I don't know if it was head-to-head, head-to-shoulder. They didn't call it."
Chargers linebacker Kevin Burnett appeared to use his helmet on a sack of Rams quarterback Sam Bradford with less than three minutes left in the first half of the Rams' 20-17 win. There was no flag, but expect a fine when the league reviews the hit.
The NFL is growing increasingly concerned about concussions and helmet hits. The league has come a long way since 2009, when Roethlisberger was criticized by teammates for not playing because of a concussion. Now, players with concussions have to go through plenty of tests just to get back on the field. Still, when it comes to concussions and helmet hits, the NFL still has a long way to go.
Short Takes
The Seahawks' trade for running back Marshawn Lynch paid dividends during their 23-20 victory over the Bears. Now Seattle has a running game. Lynch had 17 carries for only 44 yards, but the Seahawks had 31 rushes for 111 yards overall against a Bears defense that has been good this season stopping the run. The running game gave Matt Hasselbeck the ability to use play-action, complete 25 passes and post an 87.7 quarterback rating. … Here's the maddening part of the Bears' offense: It has a strong-armed quarterback in Jay Cutler, and Mike Martz is one of the best playcallers in the game. But the Bears went 0-for-12 on third-down conversions and haven't had a Cutler-directed offense convert a third down since Week 3. … Andy Reid said Michael Vick will be the Eagles' starting quarterback once he gets healthy, but he isn't tipping his hand over who he will start at quarterback in Week 7. Reid was happy Kevin Kolb played so well and noted that Vick is making strides in coming back from his rib injury. Asked who he would start, Reid joked, "You take Michael Kolb and we go play, baby." Why not Kevin Vick? … Falcons coach Mike Smith didn't want to make excuses for the loss to the Eagles, but it was pretty obvious the Falcons couldn't go to a balanced attack. They fell behind 21-0, so Matt Ryan had to drop back to pass 45 times. They had only 19 runs for 65 yards. … In their 24-20 loss to the Jets, the Broncos had to switch from a 3-4 to a 4-3 defense because of injuries. Denver sacked Mark Sanchez twice, but it has only seven sacks for the season. Sanchez threw his first two interceptions of the season. … The impact of the Brandon Marshall trade was very evident in the Dolphins' 23-20 overtime victory over the Packers. Marshall caught 10 passes for 127 yards and helped Chad Henne work the middle of the field. According to ESPN Stats & Information, Henne completed 14 of 17 passes inside the numbers for 135 yards and two touchdowns. He had a quarterback rating of 139 on passes inside the numbers. … The concerning part of the Bucs' 31-6 loss to the Saints was the lack of a running game. Cadillac Williams had only 18 yards on 10 carries. The Bucs have done a great job rebuilding the passing offense with Josh Freeman, Mike Williams and others, but they might be in the market for running back help next year. … With as many injuries as have hit the Packers' defense, it was surprising Green Bay gave up only 381 yards. The Packers' defensive line has lost Justin Harrell and Johnny Jolly for the season and it didn't have Ryan Pickett and Mike Neal on Sunday. The linebacking corps has lost Nick Barnett for the season, and it didn't have Brandon Chillar and Clay Matthews on Sunday. The Packers lost Brady Poppinga during the game. The secondary is also a mess. … It was sad to see the Lions lose quarterback Shaun Hill with a fractured left forearm. Filling in for Matthew Stafford, Hill put up numbers that projected to a 3,900-yard passing season if he were to play 16 games. Now the Lions must get by with Drew Stanton until Stafford is ready by Halloween. By the way, the Lions have lost 24 consecutive road games.
John Clayton's game balls

• Offense: The Philadelphia Eagles believed so much in Kevin Kolb, they traded away Donovan McNabb to the division rival Washington Redskins. On Sunday, Kolb shredded the Atlanta Falcons' defense, hitting 23 of 29 passes for 326 yards and three touchdowns in a 31-17 victory over the Falcons. What was even more impressive is how he didn't let the concussion to DeSean Jackson change his effectiveness. When Jackson left in the first half after a collision with Falcons cornerback Dunta Robinson, the receiver already had a 31-yard touchdown run and a 34-yard touchdown catch and was set to have a big day. Kolb kept firing to Jeremy Maclin and connected with him on 7-of-7 attempts for 159 yards and two touchdowns. Now, Andy Reid has to decide if he wants to stay with the hot Kolb, who has beaten the Falcons and 49ers, or go back to Michael Vick, who may return next week from his rib injury.

• Defense: Jerod Mayo had 18 tackles and was everywhere during the New England Patriots' 23-20 overtime victory over the Baltimore Ravens. He led a defense that is finally starting to fix its problems on third down. Against the Ravens, the Patriots' defense allowed only five third-down conversions in 16 attempts. With so many young players, Mayo, only in his third season, is asked to be a leader. Statistically, he's having his best season. He has 61 tackles in five games, on a pace to easily top the 128 he had as a rookie and the 103 he had last season.

• Special teams: The Minnesota Vikings were so desperate to make big plays, they traded a third-round choice to the New England Patriots for Randy Moss. But the big plays weren't there in Sunday's 24-21 victory over the Dallas Cowboys. Moss had only 55 yards receiving, and Brett Favre had only 118 yards passing. It was Percy Harvin who provided the spark. Trailing 14-7, Harvin returned the opening kickoff of the second half 95 yards for a touchdown that changed the momentum. It was the 10th kickoff return for a touchdown in the NFL this season. Harvin had three kickoff returns for 134 yards.
Week 6 rundown
• Seattle 23, Chicago 20
A bust no more? Mike Williams' 10-catch, 123-yard performance (the best of his career by far) helped the Seahawks earn a big road victory.
• Miami 23, Green Bay 20 (OT)
Maybe the Dolphins should lobby to play every game on the road. They're now 3-0 away from home, and their defense appears to thrive in hostile environments.
• St. Louis 20, San Diego 17
Why numbers lie: The Chargers entered Week 6 with the top-ranked offense and second-ranked defense. Then they got dominated by the suddenly formidable Rams.
• New England 23, Baltimore 20 (OT)
Who needs Randy Moss? The Patriots outlasted Baltimore without much of a vertical threat. With Deion Branch (9 catches, 98 yards), maybe they don't need one.
• N.Y. Giants 28, Detroit 20
Costly penalties. Lethargic run game. Another injured QB. An all-around forgettable day for the Lions, who tied their own record for road futility (24 straight losses).
• Philadelphia 31, Atlanta 17
Will Michael Vick get his job back? Thanks to Kevin Kolb's best game yet (326 yards, 3 TDs), the Eagles' QB controversy is alive and well.
• Pittsburgh 28, Cleveland 10
Ben Roethlisberger showed some early rust, but he eventually found his rhythm against a Browns team that lost its top playmaker (Josh Cribbs) early.
• New Orleans 31, Tampa Bay 6
A breakout game by rookie Chris Ivory (158 rushing yards) propelled the Saints, whose offense finally resembled the explosive unit we've become accustomed to seeing.
• Houston 35, Kansas City 31
There were plenty of positives for the Chiefs -- until the fourth quarter. The Texans rallied, but their defense remains a sore spot.
• N.Y. Jets 24, Denver 20
Sure, Tim Tebow scored his first NFL touchdown. But Broncos fans will be talking about that late pass-interference call more than anything else.
• San Francisco 17, Oakland 9
The 49ers finally got a win. They'll need a few more before 49ers fans warm up to QB Alex Smith, the target of boos for the second straight week.
• Minnesota 24, Dallas 21
More penalties. More special-teams breakdowns. More questionable play calling. It isn't hard to figure out why the Cowboys are 1-4 and essentially finished.
• Indianapolis 27, Washington 24
Another nail-biter for the Redskins, who squandered many opportunities to take control of the game. Before leaving with a shoulder injury, the Colts' Joseph Addai recorded his first 100-yard rushing game since 2008.
-- ESPN.com
MONDAY NIGHT FOOTBALL
•
Tennessee at Jacksonville (ESPN, 8:30 ET)
Looking ahead
An early look at next weekend's biggest games:
• Pittsburgh (4-1) at Miami (3-2): The first road test for Ben Roethlisberger.
• Minnesota (2-3) at Green Bay (3-3): The Packers are wounded and reeling. Will Brett Favre inflict more pain?
• N.Y. Giants (4-2) at Dallas (1-4): One last chance for the Cowboys to save their season.