Week 13: Colts, Chargers on shaky ground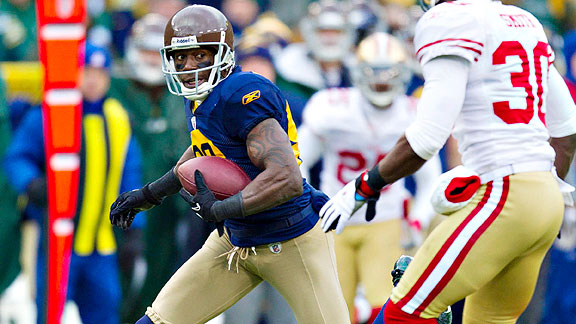 Jeff Hanisch/US presswireThe play of the day? You'd be hard-pressed to find one more exciting than Donald Driver's 61-yard catch and run for a score. Driver's gem helped Green Bay beat the 49ers, 34-16.
Week 13 leaders
Sunday afternoon was supposed to be reserved for the NFC because of the prime-time appearances of the AFC's top four teams on Sunday and Monday nights.
As it turned out, the AFC playoff race turned over dramatically. The Kansas City Chiefs took firm control of the AFC West over a San Diego Chargers squad that lost to the Oakland Raiders. The Indianapolis Colts lost in overtime to the Dallas Cowboys 38-35 and dropped a game behind the Jacksonville Jaguars in the AFC South.
Even though there was drama in the NFC games, the top six teams in terms of records, including the Philadelphia Eagles on Thursday night, won. The NFC West even got a little bit more respectable with victories by the Seattle Seahawks and St. Louis Rams that brought their records to .500.
For weeks, everyone has been saying Philip Rivers and Peyton Manning are so good they can pull their teams to the playoffs despite injuries. Now, both teams are in trouble. Imagine a playoff race with Matt Cassel and David Garrard instead of Rivers and Manning.
Here are five things I learned in Week 13.
1. Manning out of sync: Peyton Manning is pressing. The quarterback known for his accuracy and tenacity has now thrown 11 interceptions in the past three games, including four in Sunday's loss to Dallas. Although the interceptions and mistakes can be attributed to the lack of a running game, shaky offensive line blocking and wide receiver injuries, Manning clearly isn't on the same page with his pass-catchers. There are even times he's not on the same page with Reggie Wayne, his most dependable receiver, who caught 14 passes for 200 yards Sunday. Late in the game, Manning missed Wayne along the sideline on a play they never miss.
Everything falls on Manning to win. The defense struggles against running teams, taking possession time away from Manning and making him force more plays to get points. The Cowboys rushed for 217 yards even though Marion Barber, the team's most physical back, was inactive. The Colts countered with only 40 yards on 17 carries. After one of his interceptions, Manning came off the field with Blair White as they tried to talk through the miscommunication that led to White being in the wrong place.
Still, you can't rule out Manning sneaking into the playoffs. The Colts play Jacksonville in two weeks. What's very apparent, though, is the Colts may not be a factor in late December and early January. Manning can't make big plays consistently with his current talent. According to ESPN Stats & Information, he has completed only 29 percent of passes that travel more than 11 yards downfield over the past six games. Even more frightening is that 11 of those types of throws have been intercepted.
[+] Enlarge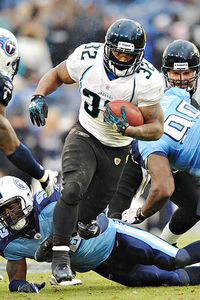 Don McPeak/US PresswireMaurice Jones-Drew (186 rushing yards) left the Titans' defense in his wake.
2. Balancing act: The NFL is a passing league, particularly in a QB-rich AFC, but Sunday proved that offensive balance can rule the day. The Jaguars (7-5) and Chiefs (8-4) lead their divisions because they can balance the run with the pass. The Jaguars pounded out 258 rushing yards, led by Maurice Jones-Drew's 186, in a 17-6 win over the Tennessee Titans. The Chiefs rushed for 185 yards in a 10-6 win over the Denver Broncos, with Jamaal Charles and Thomas Jones combining for 169 yards.
Compare those numbers with the Chargers, who rushed for only 21 yards on eight carries. The Raiders had 251 on 52 attempts. The Chargers lost the physical battle, as did the Colts and others who were so reliant on the pass. The physical Jaguars played as though they had a chip on their shoulders. Jaguars coach Jack Del Rio gambled on three fourth downs and made two.
"We want to be an aggressive offense, an aggressive team," Jones-Drew said. "That's what we've been doing before. We knew that we had to really make it physical. We're going to get third-and-shorts, fourth-and-shorts and go for it and put it on our offensive line.''
Before the season, no one gave the Jaguars and Chiefs a chance to make the playoffs. After Sunday, they are now real threats to make it.
3. Giants' subs deliver: The New York Giants have done a better job than the Washington Redskins of building roster options during desperate times. Adversity has hit both offenses, but the Giants have done a better job of filling in for five injured starters. Conversely, Redskins quarterback Donovan McNabb has no chance with his undermanned cast of offensive characters.
"The reason we are still in this thing is because a lot of guys who were thrown into the fire really stepped up and played great,'' defensive end Justin Tuck said.
Minus receivers Hakeem Nicks and Steve Smith, fullback Madison Hedgecock and two key blockers (left tackle David Diehl and center Shaun O'Hara), quarterback Eli Manning worked out of mostly two- and three-tight end sets Sunday. Because the Giants have better running options, the disaster plan worked. Brandon Jacobs is normally hard to tackle, but Redskins defenders swung and missed like Adam Dunn in allowing him to run for 103 yards on eight carries. The previously benched Ahmad Bradshaw jumped in with 97 yards on 25 carries. Bear Pascoe, a former practice squad tight end, and wide receiver Derek Hagan, just signed a couple of weeks ago, were examples of unheralded Giants who stepped up.
McNabb has nothing. Mike Shanahan left him with James Davis and Keiland Williams as running backs. Not good enough. Shanahan counted on Clinton Portis getting through the entire season as a runner and a backfield blocker. Minus Portis and playing with a bad offensive line, Shanahan had to use way too many two-tight end, max-protection sets to keep McNabb upright. Even when the Redskins were behind, McNabb could get only two receivers into routes, and his only true options are wide receiver Santana Moss and tight end Chris Cooley.
The Giants' ability to handle adversity is the reason they are 8-4. The Redskins are all but out of the playoff race at 5-7.
4. Henne hindering Dolphins: Atlanta Falcons players call Matt Ryan a great closer for what he can do in the final minutes of games. The Miami Dolphins may not be willing to close the book on quarterback Chad Henne, but he did the equivalent of giving up a grand slam in the final minutes of a 13-10 loss to the Cleveland Browns. The loss sealed the fate of a disappointing Dolphins team that is 1-5 at home and isn't going to make the playoffs.
Henne struggled all day, completing 16 of 32 passes for 174 yards and three interceptions. He made an underthrow on one pick and an overthrow on another. But the fatal mistake came with 54 seconds left. The score was tied at 10 and Henne was at the Dolphins' 25-yard line. Then Henne proceeded to hand the game to the Browns. The coach may not have helped him by calling a first-down running play that netted only 1 yard. Henne didn't sync up with tight end Anthony Fasano on a second-down pass. On third down, Henne threw a pass that deflected off defensive end David Bowens into the hands of defensive back Mike Adams, who returned the ball to the Dolphins' 2, setting up an easy game-winning field goal.
Maybe now we are seeing why Bill Parcells distanced himself from the team. Instead of drafting Ryan in 2008, Parcells thought he could fix the left tackle and quarterback positions with Jake Long and Henne. With Ryan, the Falcons are fighting for an NFC title. With Henne, the Dolphins are a 6-6 nonfactor.
5. Falcons flying high: Good luck catching the Falcons in the NFC. Ryan is having the type of magical season Drew Brees had last year. Before the season, he felt as though the Falcons were a 12-win team. Now, they could get to 13 or maybe 14 wins. Their 28-24 victory over the Tampa Bay Buccaneers was huge. Ryan rallied the Falcons back from a 24-14 deficit in the fourth quarter, using his Matty Ice calm. His game-winning 67-yard drive in the fourth quarter was classic because he had to convert three third downs, including a third-and-20 when he somehow hit Roddy White for a 25-yard gain.
From Eric Weems' 102-yard kickoff return for a touchdown in the fourth quarter to key defensive stops by cornerback Brent Grimes, the Falcons came up with the big plays at the right time. With two games against Carolina, a trip to face a beatable Seahawks team and a home game against the New Orleans Saints, the Falcons look like the top dogs in the NFC heading into the playoffs.
Short Takes
Here's my problem with the unnecessary roughness call on Lions defensive tackle Ndamukong Suh for his hit on Bears quarterback Jay Cutler. Cutler was a runner on the play, not a quarterback who required protection. Officials aren't supposed to make unnecessary roughness calls on runners because they have the ability to protect themselves. Referee Ed Hochuli said Suh made an unnecessary nonfootball act by making a blow to the back of the helmet as Cutler was going down. "The quarterback receives more protection, but in that situation, no,'' Hochuli said in his pool report. "As I saw it, he [Suh] hit him in the back of the helmet.'' As a result, the Bears, who were trailing 20-17, had a first down at the Lions' 7-yard line and scored the game-winning touchdown on the next play. It may not have been as damaging as the touchdown taken away from Calvin Johnson in Week 1, but the call was costly. … The Lions lost their 19th consecutive division game, the longest such streak since the merger. … Fans booed the Tennessee Titans during a 17-6 loss to the Jaguars, and they should have. Kerry Collins had a horrible performance at the wrong time, completing only 14 of 32 passes for 169 yards and throwing two picks. Even worse, he completed only one 13-yard pass to Randy Moss, who has only five catches and 62 yards in his four games as a Titan. … Expect Brett Favre to play next week against the New York Giants. He suffered a sprained shoulder on the first possession of the Vikings' easy 38-14 win over the Buffalo Bills. Though he may miss some practice time, Favre gives Leslie Frazier the better chance of winning and keeping his job, and Tarvaris Jackson, who did a nice job filling in for Favre, probably is not going to be re-signed after the season. … The Bills' offensive line was already in trouble entering Week 13 without its best guard, Eric Wood, who sat out with an ankle injury. The interior of the line took two more hits when center Geoff Hangartner and guard Kraig Urbik suffered knee injuries that might be serious. "We've probably lost both of them," Bills coach Chan Gailey said. … Though the Bengals played hard in a 34-30 loss to New Orleans, mistakes killed them, as they have all season. I didn't like Bengals coach Marvin Lewis going for it on fourth-and-1 at the Saints' 5-yard line with 3:28 to go in the first half. He should have gone for the field goal. The Saints drove 88 yards before the half and got a field goal that gave them a 13-6 lead. Against an offensive team as good as New Orleans, points are essential. Maybe Lewis had questions about kicker Clint Stitser, who missed an extra point in the second half, but the Bengals probably should have signed a more expensive kicker anyway, such as Jeff Reed. It was also unbelievable that defensive tackle Pat Sims got a neutral zone penalty on a fourth-and-2 with 34 seconds left that allowed the Saints to score the game-winning touchdown on the next play. … The most optimistic thing coming from the Green Bay Packers' 34-16 victory over the San Francisco 49ers was the 73-yard, 18-carry performance from James Starks, who recently came off the physically unable to perform list. Like the Falcons the week before, the 49ers dropped most of their defenders into pass coverage. Starks added some tough running and limited Aaron Rodgers, who was the Packers' leading rusher last week, to only four carries and 39 yards. … 49ers quarterback Troy Smith finally linked up with tight end Vernon Davis. In his first four starts, Smith connected with Davis for only eight catches and 126 yards and no touchdowns. Sunday, Smith completed four passes to Davis for 126 yards, including a 66-yard touchdown. … You get the feeling the Saints aren't concerned about the return of Pierre Thomas anymore. He missed his ninth consecutive start because of an ankle injury, but Chris Ivory rushed for 117 yards on 15 carries and has made Thomas, who was inactive Sunday, a forgotten player. Ivory is now averaging 5.2 yards a carry and has 636 yards for the season.
John Clayton's game balls

• Offense: Because of his hip problems, Vikings WR Sidney Rice isn't a lock to play every week. Although he didn't put up the best numbers Sunday, his five-catch, 105-yard, two-TD performance in a 38-14 victory over the Buffalo Bills was impressive. Rice's two acrobatic touchdown receptions from Tarvaris Jackson were amazing and came in a game in which the Vikings deactivated three receivers -- Percy Harvin, Hank Baskett and Greg Lewis. Though he was heavily covered by defenders, Rice made the big plays.

• Defense: Tamba Hali may not have topped Cliff Avril's three-sack performance for the Detroit Lions, but the timing of his two sacks was critical in the Chiefs' 10-6 victory over the Denver Broncos. Hali set the tone during the Broncos' first possession with a sack of Kyle Orton. His fourth-quarter sack may have saved the game. With the Broncos driving at the Chiefs' 29-yard line with 10 minutes left, Hali recorded a second-down sack and forced a fumble that he recovered. Overall, Hali had four tackles, two sacks, a forced fumble and an additional quarterback hit.

• Special teams: With the Falcons trailing by 10 points in Tampa Bay, Eric Weems had a 102-yard kickoff return for a touchdown that turned the momentum in Atlanta's favor. The Falcons won 28-24. For the day, Weems had four kickoff returns for 163 yards and a touchdown.
Week 13 rundown
• Philadelphia 34, Houston 24
Michael Vick (2 passing TDs, 1 rushing TD) continues to soar -- and take an alarming number of jarring hits. Right now, the Eagles aren't going to argue with the results.
• New Orleans 34, Cincinnati 30
The Saints, now winners of five straight, got another nice boost from rookie RB Chris Ivory (117 yards, 2 TDs). The good news for Cincy? Carson Palmer had his first INT-free game since Week 7.
• Chicago 24, Detroit 20
The Lions flirted with victory but fell short -- again. Detroit hasn't won an NFC North game since Week 9 of 2007.
• Green Bay 34, San Francisco 16
The Packers' impressive win included one of the most entertaining plays of the season (Donald Driver's 61-yard TD catch and run). But what was up with those uniforms?
• Jacksonville 17, Tennessee 6
On a cold, windy day, the Jaguars took to the ground -- with amazing success. Maurice Jones-Drew ran for a career-high 186 yards as Jacksonville totaled 258 yards on the ground.
• Kansas City 10, Denver 6
Todd Haley exacted some revenge, but he wasn't able to run up the score on Josh McDaniels' Broncos. Neither team's offense was up to the task, unlike in their Week 10 matchup.
• Cleveland 13, Miami 10
This one wasn't pretty. The Browns showed some resourcefulness by managing to win a game in which Peyton Hillis (57 rushing yards) was contained.
• Minnesota 38, Buffalo 14
With a lot of help from Adrian Peterson (107 rushing yards, 3 TDs), Tarvaris Jackson filled in capably for Brett Favre, who was knocked out after one pass.
• N.Y. Giants 31, Washington 7
The Redskins looked disinterested from the start. The Giants' running game (197 yards) made Washington's D look hapless, especially early.
• Oakland 28, San Diego 13
A Chargers loss in December qualifies as a shocking development, especially when it's orchestrated by Oakland.
• Dallas 38, Indianapolis 35 (OT)
Peyton Manning was an MVP candidate three weeks ago. Three straight losses and 11 interceptions later, the Colts are now chasing Jacksonville in the AFC South.
• St. Louis 19, Arizona 6
Another unfunny outcome for the Cardinals, who have now lost seven straight and clinched their first losing season under Ken Whisenhunt.
• Seattle 31, Carolina 14
It didn't look good early for the Seahawks, but Marshawn Lynch's three rushing TDs helped Seattle (6-6) keep pace with St. Louis in the NFC West.
• Atlanta 28, Tampa Bay 24
Cross "impressive road win" off the Falcons' to-do list. Winners of six straight and 10 of 11, they have NFC home-field advantage in their sights.
• Pittsburgh 13, Baltimore 10
A stinging loss for the Ravens. Should they have kicked the field goal? Let the second-guessing begin.
-- ESPN.com
MONDAY NIGHT FOOTBALL
•
N.Y. Jets at New England (ESPN, 8:30 ET)
Looking ahead
An early look at next weekend's biggest games:
• N.Y. Giants (8-4) at Minnesota (5-7): Is the streak over? You'll hear a lot about Brett Favre's shoulder this week.
• Kansas City (8-4) at San Diego (6-6): A win would allow the Chiefs to all but taste the AFC West title.
• New England (9-2) at Chicago (8-3): Super Bowl preview? Hey, it could happen.