Week 14: Surging Patriots, Brady clearly superior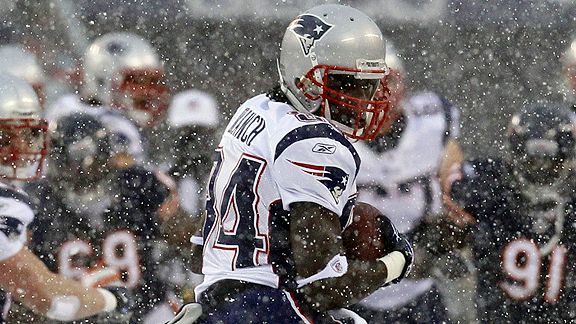 AP Photo/Charles Rex ArbogastSnowy conditions didn't slow the Patriots. Neither did the Bears' defense. Deion Branch's 59-yard TD catch was among the many highlights for New England in a 36-7 victory at Chicago.
Week 14 leaders
The weather outside might have been frightful in Week 14, but the New England Patriots are scarier.
The Patriots, who blew out the Chicago Bears 36-7 in a snowstorm, look like a lock to win the AFC. At 11-2 and having clinched a playoff spot, the Patriots seem to be destined to have a 13-3 or 14-2 regular-season record, which would clinch home-field advantage. They finish the season with home games against a Green Bay Packers team that can't run the ball and a Miami Dolphins team that can't figure out what it is on offense. The Pats' final road game is in Buffalo.
Since coming to New England, Bill Belichick is now 10-0 in snow games. Tom Brady is having an MVP season. He became only the second player in NFL history to have six consecutive games with two or more touchdowns and no interceptions. The late Don Meredith is the only other quarterback to have accomplished that feat.
With the Atlanta Falcons drawing closer to getting the NFC's No. 1 seed, we might be looking at a Matty Ice (Matt Ryan)-Tom Brady Super Bowl.
Here are five things I learned in Week 14.
1. Safety concerns: One of the most entertaining games of the year was the Jacksonville Jaguars' 38-31 victory over the Oakland Raiders, but both teams have so many problems at safety that it's hard to consider them viable playoff teams. The biggest disappointment is the Raiders' Michael Huff, the seventh pick in the 2006 draft. Jaguars coach Jack Del Rio went into the game believing he could isolate tight ends or backs on the Raiders' safeties and beat them in man coverage. That strategy helped to win the game. Tight end Marcedes Lewis beat Tyvon Branch for a 1-yard touchdown in the second quarter. Huff was beaten in single coverage by wide receiver Jason Hill for a 48-yard score and by wideout Mike Sims-Walker for a 10-yard touchdown.
The Jaguars basically don't have adequate safeties. With Courtney Greene out with a shoulder injury, the Jaguars were down to Sean Considine and Donald Carey, and gave up too many big plays downfield. Darren McFadden had 123 yards rushing on only 16 carries and caught three passes for 86 yards. Once McFadden got past the first wave of defenders, the Jaguars were unable to contain him, a problem that could be exposed against the Indianapolis Colts next Sunday.
It's been a great year for the Jaguars. They have gone 8-5 with a young roster that Del Rio knows has holes. They've unloaded safeties Gerald Alexander, Reggie Nelson and Anthony Smith, but what's left has to be on the upgrade list for next season.
[+] Enlarge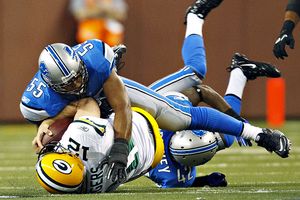 AP Photo/Rick OsentoskiThe Packers' lack of a running game has left Aaron Rodgers vulnerable.
2. Packers' recurring problem: Coach Mike McCarthy and the Green Bay Packers' organization learned a valuable lesson that might cost them a trip to the playoffs. Without a running attack, the Packers became too dependent on not only Aaron Rodgers' arm, but his legs. That dependence cost them Rodgers on Sunday and paved the way for a 7-3 loss to the Detroit Lions.
With 2:43 left in the second quarter, Rodgers used his legs on a scramble for an 18-yard gain, but he suffered a concussion that ended his day. It was his second concussion of the season. Since the Week 10 bye, Rodgers has been getting more than six carries a game. At times, the Packers have gone to a five-receiver package that gives Rodgers the freedom to run if his first early passing options are covered.
It's very clear backup Matt Flynn isn't good enough to replace Rodgers. He completed 15 of 26 passes for 177 yards but couldn't do anything with the offense. The Packers rushed for only 66 yards, but Rodgers had 25 of them. Rodgers should be back next week, but so will the problems with the running game. The Packers should have traded for Marshawn Lynch.
3. Weather sets tone: Whether it was snow or chilling rain, the conditions in many venues dictated running the ball. During the 12 afternoon games, there were nine 100-yard rushers, compared with only four 100-yard receivers and two 300-yard quarterbacks. It was a day for running and defense.
The New England Patriots' offense, though, is suited for the snowy weather. Patriots receivers don't rely on speed. They are mostly slow possession receivers who get separation from defenders with the way they break their routes. Sure-handed receivers Wes Welker and Deion Branch each had eight catches and combined for 266 yards. It was clear the Bears were more affected by the tough conditions than the Patriots. Chicago's defense is built around speed, but the defensive line couldn't find the footing to put pressure on Brady.
Conditions in Pittsburgh, Buffalo, Chicago, the Meadowlands and Washington made it difficult for quarterbacks. Chad Henne of the Miami Dolphins needed only 55 passing yards to beat the New York Jets 10-6. The lack of passing meant there were good running back battles Sunday. Fred Jackson of the Buffalo Bills had 112 rushing yards, topping Peyton Hillis of the Cleveland Browns, who had 108. Ryan Torain of the Washington Redskins had a great day with 172 rushing yards, but special-teams mistakes and a poor red zone play by Donovan McNabb cost the Redskins in a 17-16 loss to the Tampa Bay Buccaneers.
4. Jets' offense fading: You can call what is happening to the Jets a slump. Or maybe opponents have figured them out. The two staples of the Jets' persona are lacking: Quarterback Mark Sanchez has strung together too many bad games, and the running attack is missing in action. Sanchez was 17-of-44 for 216 yards in the 10-6 loss to Miami. His quarterback rating was 45.3. In the seven weeks since the bye, Sanchez has completed only 137 of 264 passes -- 51.9 percent -- and has thrown 12 interceptions compared with only seven touchdowns. His confidence is clearly missing.
It's also not helping that the running game is drying up. The Jets ran the ball for 87 yards on 31 attempts Sunday. Running back Shonn Greene has averaged 3.7 yards a carry over the past five games. LaDainian Tomlinson, who had only 49 yards against the Dolphins, hasn't rushed for more than 57 yards since Week 5. The Jets are 9-4 and still should make the playoffs as a wild card, but they aren't playing like a playoff team.
5. Western fronts: The race in the AFC West got more interesting. The race in the NFC West became more of an embarrassment.
The San Diego Chargers had a predictable 31-0 victory over the Kansas City Chiefs, who were minus quarterback Matt Cassel (appendectomy). Backup Brodie Croyle, 0-10 as a starter, completed only seven passes. With the Chiefs lacking a passing threat, the Chargers were able to jump out to an early lead and then force the Chiefs away from running the ball. The Chiefs had only 48 rushing yards on 17 carries Sunday. The Chargers are now 7-6, one game behind the Chiefs (8-5). Although the Chargers have a great chance of winning their three remaining games and getting to 10-6, they need Kansas City to lose to either the Rams, Titans or Raiders to give them a chance to win the AFC West.
Things are so bad in the NFC West, the San Francisco 49ers, who were 1-6, could climb back into contention. Alex Smith turned out to be the right choice at quarterback. He passed for 255 yards and three TDs in a 40-21 victory over the Seahawks. The Rams were blown out by the New Orleans Saints 31-13, and quarterback Sam Bradford finally looked like a rookie. Saints safety Malcolm Jenkins picked off Bradford twice, returning one 96 yards for a touchdown. The only good news for commissioner Roger Goodell is the division winner should at least get to 7-9. The Seahawks play the Rams in the season finale, so at least one team will get to seven wins. The losses by the Rams and Seahawks virtually assure that no team in this division will get to nine wins.
Short Takes
The Seahawks have serious problems at wide receiver. Starters Mike Williams and Ben Obomanu sat out Sunday's loss to the 49ers. Then they lost Deon Butler for the season with a broken leg. … 49ers rookie right tackle Anthony Davis continues to have some problems pass blocking. He gave up his eighth sack of the season, this one to Seahawks defensive end Chris Clemons. … Chargers quarterback Philip Rivers, according to ESPN Stats & Information, completed 15 of 17 passes for 204 yards and a touchdown out of the shotgun. The Chiefs had to figure it would be difficult to win with Brodie Croyle as quarterback, but the poor performance by the defense has to be concerning. … Vikings QB Brett Favre made the trip to Detroit for the Monday night game against the New York Giants, but don't expect him to play. He has a three-week shoulder injury and isn't ready to play. … Broncos interim coach Eric Studesville had to endure a 43-13 loss to the Arizona Cardinals in his debut. The Broncos looked lost and disinterested. … Eric Mangini might have blown his chance to get a third year as the head coach of the Cleveland Browns. In a 13-6 loss to the Bills, Mangini had the early advantage of the ground game. Peyton Hillis had 72 rushing yards in the first half but the Browns had to settle for two field goals. Mangini set a bad tone by not going for a fourth-and-1 after the opening drive and instead settling for a field goal. "I felt it was going to be a low-scoring game and I wanted to get points," Mangini said. He got only six against an undermanned Bills defense. … Carson Palmer had two more interceptions for touchdowns that increased his career total to 15, the most of any quarterback since 2004. There is no question the Terrell Owens acquisition has thrown him off. After his first interception for a score during the 23-7 loss to the Steelers, Palmer had a sideline discussion with Owens about his route and walked away frustrated after he listened to Owens' explanation. … The Tampa Bay Buccaneers are running out of gas even though they beat the Redskins 17-16. Defensive tackle Gerald McCoy (torn triceps) and linebacker Quincy Black (forearm) suffered season-ending injuries. The Bucs have lost six starters in the past three weeks, including their two best blockers (Davin Joseph and Jeff Faine) and their two best defenders (Aqib Talib and McCoy). They gave up 188 yards rushing to the Redskins but still won. Ryan Torain had 158 yards in the first half against the buckling Bucs' defense. … There were plenty of post-play skirmishes during the Jacksonville-Oakland game, but that shouldn't be a surprise. The Raiders brought back former Jags John Henderson, Khalif Barnes and Quentin Groves, who left on bad terms. … The Redskins looked like the San Diego Chargers on special teams on Sunday. Kicker Graham Gano seems destined for the waiver wire, missing two field goals. He has missed 10 of 31 attempts this year. He barely made a hooked extra point attempt and then was victimized by a bad snap at the end of the game on an extra point. Holder Hunter Smith took the blame for the bad snap, saying he let the ball go through his hands. … Ben Roethlisberger deserves praise for his toughness. He has a broken bone in his foot. His broken nose is taped. He suffered an ankle injury during the Steelers' victory over the Bengals but stayed on the field. "I'll be OK," he told reporters after the game. … Seahawks returner Leon Washington had his third kickoff return for a touchdown this year and the seventh of his career. … The Bills have lost wide receiver Lee Evans for a couple of weeks with an ankle injury. That should restrict wide receiver Steve Johnson, who has 66 receptions for 874 yards this season. Evans has never missed a game during his seven-year Bills career. … The Atlanta Falcons' defense was relentless during a 31-10 victory over the Carolina Panthers. The Falcons sacked Jimmy Clausen five times and had eight tackles for loss. Defensive end John Abraham had two sacks and became the 25th player in NFL history to have more than 100 career sacks. He has 100.5. … The NFL better fine and punish Jets strength coach Sal Alosi, who tripped Dolphins defensive back Nolan Carroll when he was running down the sideline in punt coverage. Replays showed Alosi sticking out his knee and tripping Carroll, who suffered an knee injury on the play.
John Clayton's game balls

• Offense: Falcons RB Michael Turner has bounced back from a disappointing 2009 season. He may not be "The Burner" anymore, but he's tough to bring down. He had 28 carries for 112 yards and three touchdowns in a 31-10 victory over the Carolina Panthers. Turner isn't breaking the long runs he did in 2008, but he gets the tough yards. For the season, he has 1,174 yards, 11 touchdowns and 4.3 yard average.

• Defense: The difference between the 2009 Steelers team that faded in December and the 2010 edition is safety Troy Polamalu, who may be making a case for Defensive Player of the Year consideration. He intercepted two Carson Palmer passes in the Steelers' 23-7 victory over the Cincinnati Bengals. His 45-yard interception return for a touchdown in the second quarter changed the momentum of the game. When Palmer and Terrell Owens weren't on the same page on a pass down the middle of the field, Polamalu broke in full stride to intercept the pass and went the distance for the touchdown that tied the score at 7.

• Special teams: With a rookie at quarterback (John Skelton), the Cardinals needed as much support as possible from his teammates. Kicker Jay Feely provided the offense. He had five field goals, five extra points and he took a pitch on a fake field goal in for a touchdown, accounting for 25 points in a 43-13 victory over the Denver Broncos.
Week 14 rundown
• Indianapolis 30, Tennessee 28
Peyton Manning didn't throw a pick and the Colts won for the first time since Week 10. Still, they can't be happy about blowing a 21-0 lead to a Titans team in disarray.
• Buffalo 13, Cleveland 6
Browns RB Peyton Hillis is having a huge year, but his ball security is a glaring weakness. He fumbled three times Sunday, losing one, to bump his total to eight on the season.
• Detroit 7, Green Bay 3
Not what the Packers needed for their playoff hopes. Neither was a concussion to QB Aaron Rodgers.
• Pittsburgh 23, Cincinnati 7
For the second straight week, Troy Polamalu (this time a second-quarter pick-six) made a momentum-changing play for the Steelers.
• Tampa Bay 17, Washington 16
Blame it on the rain? This one was headed to OT -- until a snap on a point after attempt slipped through holder Hunter Smith's fingers. The flub spoiled a career day by Redskins RB Ryan Torain (172 yards).
• Atlanta 31, Carolina 10
The Falcons keep rolling toward the NFC's No. 1 seed. Atlanta DE John Abraham had two sacks, putting him over 100 for his career.
• Jacksonville 38, Oakland 31
In a game of big plays, Maurice Jones-Drew's late 30-yard TD run kept the Jaguars in first place. They can clinch the AFC South with a win next week at Indy.
• Arizona 43, Denver 13
Cardinals rookie QB John Skelton avoided mistakes in his starting debut. The Broncos (six turnovers) did not.
• New Orleans 31, St. Louis 13
Solid proof the upstart Rams have a ways to go. Drew Brees continued to spread the wealth. Five Saints receivers caught at least four passes.
• San Francisco 40, Seattle 21
Welcome back, Alex Smith. The forgotten Niners QB (255 yards, three TDs, no INTs) re-emerged in a big way. Amazingly, San Francisco can still win the NFC West.
• New England 36, Chicago 7
Snow. Wind. Bears D. Nothing seems to stand in the Patriots' way these days. Chicago (four turnovers, 185 total yards) looked overmatched from the start.
• Miami 10, N.Y. Jets 6
Lethargic. Mistake-prone. Uninspiring. Many adjectives can be used to describe the Jets' offense. Feel free to pick your own.
• San Diego 31, Kansas City 0
A predictable outcome, given Matt Cassel's medical situation. But the Chiefs' normally stout running game (48 yards on 17 carries) didn't do much to ease backup QB Brodie Croyle's burden.
• Philadelphia 30, Dallas 28
The Eagles' DeSean Jackson specializes in one thing -- big plays. Jackson, whose 91-yard TD catch and run was the play of the game, averaged 36 yards a touch on offense.
• N.Y. Giants vs. Minnesota (Monday night, 7:20 ET, in Detroit)

-- ESPN.com
MONDAY NIGHT FOOTBALL
•
Baltimore at Houston (ESPN, 8:30 ET)
Looking ahead
An early look at next weekend's biggest games:
• Jacksonville (8-5) at Indianapolis (7-6): A victory by the Jags ends Indy's long AFC South reign.
• Philadelphia (9-4) at N.Y. Giants (8-4): The winner takes a big step toward an NFC East title.
• N.Y. Jets (9-4) at Pittsburgh (10-3): A tough spot for a Jets team seemingly in a tailspin.
• Green Bay (8-5) at New England (11-2): The teams' first meeting since 2006.