Week 15: Steelers, Jaguars can't seize the day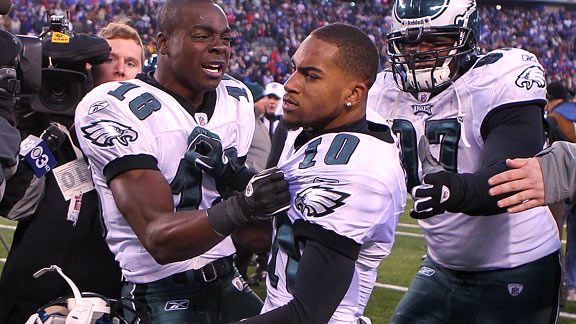 Jim O'Connor/US PresswireThe Eagles erased a 21-point deficit and beat the Giants 38-31. DeSean Jackson (10) capped the improbable comeback with a 65-yard punt return for a score.
Playoff Machine
Sunday was a day of missed opportunities.
The Pittsburgh Steelers could have moved closer to clinching the AFC North, but their 22-17 loss to the New York Jets means the division is still in play. The good news for the Steelers is they did qualify for the playoffs. The New York Giants blew a 21-point lead to the Philadelphia Eagles and made the fatal mistake of punting to DeSean Jackson, whose 65-yard return for a touchdown gave the Eagles a 38-31 victory. Instead of clinching the AFC South for the first time in team history, the Jacksonville Jaguars handed the keys, and tiebreakers, in the division to the Indianapolis Colts in a 34-24 loss.
Overall, though, we continue to find out who the true players are in the playoff race. Wins by the Jets and Baltimore Ravens took a lot of drama out of the AFC wild-card race. The Giants' loss gave the NFC East tiebreaker to the Eagles, but all the Giants need to do is beat the Green Bay Packers next week to stay ahead of the banged-up Packers and Tampa Bay Buccaneers if they have to settle for an NFC wild card.
The Kansas City Chiefs looked solid in beating the St. Louis Rams 27-13 and staying a game ahead of the San Diego Chargers in the AFC West. The Chiefs finish the season with two home games. The Atlanta Falcons almost look like a lock for the No. 1 seed in the NFC after blowing out the Seattle Seahawks 34-18.
Teams such as the Miami Dolphins, Bucs and Jaguars went from contenders to pretenders. The Steelers, Falcons and Patriots have officially landed in the playoffs.
Here are five things I learned in Week 15.
1. Colts still not safe: Colts coach Jim Caldwell said Sunday his team has been walking a tightrope for weeks. Austin Collie's second concussion of the season means the Colts are still on dangerous ground. After beating the Jaguars 34-24, the Colts can win the AFC South with wins over the Oakland Raiders and Tennessee Titans. But with 1:07 left in the first half, Jaguars linebacker Daryl Smith slammed an arm into Collie's helmet, knocking out the Colts' best slot receiver. After missing five games with a concussion, Collie caught eight passes for 87 yards and two touchdowns in a 252-yard first half in which the Colts led 14-10. Adding to Collie's work from the slot was the return of the running game. Donald Brown had an 80-yard first half that featured a 49-yard run.
Manning could do everything he likes. He even dusted off a stretch play or two and that set up some deep play-action attempts on first down. Manning averaged 6.6 yards a play in the first half. Without Collie, he averaged 4.6 yards in the second half and had to use more two-tight end sets.
Here's the deal with the Colts' offense. Manning is fine when he has all of his weapons. He's bottled up when he doesn't. Dallas Clark's replacement at tight end is Jacob Tamme, who's good for catching underneath routes in zones, but he's not going to average more than 10 yards a catch. Clark can turn a 10-yard play into a 17-yarder or more. The two-tight end set features Tamme and Gijon Robinson, who couldn't make the team this summer.
The Colts now have 12 players on their 53-man roster who weren't active in Week 1. Sunday's win proved the Colts can still be a Super Bowl contender if they have healthy outside receivers, a healthy slot guy and a running threat. If two of those three elements are missing, they are slipping off the tightrope and aren't nearly as imposing as the AFC's top contenders.
[+] Enlarge
Mitch Stringer/US PresswireThe Ravens unleased Ray Rice, who gashed the Saints' defense with 153 rushing yards.
2. Ravens rush in: The return of the running game was the key to the Ravens' 30-24 victory over the New Orleans Saints. Ray Rice had 153 yards on 31 carries and Baltimore had 208 rushing yards overall against a talented Saints defense. The key was running up the middle. Rice averaged 6.9 yards a carry up the middle when the Saints had seven or fewer defenders in the box. In the first 13 games, Rice averaged only 3.9 yards an attempt in those situations.
The Ravens' offensive line has been a disappointment all season. In recent weeks, though, coach John Harbaugh has tried 315-pound guard Chris Chester at tight end and put him on the right side. The move has solidified blocking on that side, which had been a big problem.
It's pretty clear the Ravens' pass defense is vulnerable in the fourth quarter. Saints QB Drew Brees completed 10 of 19 passes in the fourth quarter for 89 yards and a touchdown. His TD pass to Lance Moore tied the score at 24 and marked the ninth time this season the Ravens blew a fourth-quarter lead. But Rice was able to get 10 carries for 74 yards in the fourth quarter, eating up enough time off the clock and setting up two field goal drives.
"We had probably broken more tackles than we've ever had," Harbaugh said. "I thought that Rice and Willis McGahee ran really hard and I thought our offensive line finished blocks. We moved people and finished blocks." The improved blocking led to a good finish for the Ravens.
3. Vick the new Rocky: At some point, the city of Philadelphia needs to make a statue of quarterback Michael Vick. Pound for pound, he's the best fighter that city has had since Rocky Balboa. The more defenses pound Vick, the more he responds. In Week 11, Vick took a pounding from a Giants defense that blitzed extra defensive backs to disrupt him. The Eagles won the game, but Vick was tired and sore in the fourth quarter.
During Sunday's amazing 38-31 victory over the Giants in the New Meadowlands, Vick looked like Rocky coming off the mat and beating Apollo Creed in the final round.
The Giants' rush was even more relentless this time. In the first half, Giants coach Tom Coughlin brought seven or more pass-rushers six times, according to ESPN Stats & Information. Vick managed only a 5-yard completion to Jeremy Maclin. In the second half, the Giants rushed seven or more five times, but Vick scrambled for 68 yards on two plays and threw an 8-yard completion to Maclin.
In this game, though, Vick only got stronger at the end. In the fourth quarter, he was 7-of-14 for 151 yards and two touchdowns and directed touchdown drives of 75, 57 and 85 yards. The Giants lost the game when rookie punter Matt Dodge punted the ball in the middle of the field to Jackson, who returned it 65 yards for a touchdown. Dodge was instructed to punt away from Jackson. The blunder could end up costing New York the NFC East crown.
4. Clock mismanagement: Mark Sanchez held up reasonably well during the Jets' victory over Pittsburgh. But he could use some help from the sideline in closing out games. With three minutes left and the Jets leading 20-17, two pass plays were called that went for incompletions from the Steelers' 32-yard line. The Jets punted to the Steelers' 3, but it gave the Steelers and Ben Roethlisberger 2:45 to start a potential game-winning drive.
After a safety gave New York another chance to seal the game, the Jets' coaches again failed to milk the clock. The Steelers stuffed the first two running plays and called timeouts, but the Jets were in good shape with a third-and-3. Sanchez got a pass call from the sidelines and he threw an incompletion to tight end Dustin Keller. The play was flagged for having an illegal man downfield, but the Steelers declined the penalty and let the Jets punt.
How do you get two possessions and kill less than a minute? Roethlisberger got the ball with 2:08 left and drove to the Jets' 10, but he couldn't get the game-winning touchdown. Sanchez completed 19 of 29 passes for 170 yards and did not throw an interception.
5. Rookie QBs on display: It's still amazing to see a weekend in which six rookie quarterbacks started. By the time Joe Webb of the Minnesota Vikings plays on Monday night against the Chicago Bears, eight rookies will have starts this season. On Sunday, most eyes were on the Denver-Oakland game to see how Tim Tebow would do filling in for Kyle Orton, who sat out with a rib injury. The Raiders blew out the Broncos 39-23, but Tebow made a respectable showing, more with his feet than with his funky release. Tebow completed only eight of 16 passes, but he was the Broncos' leading rusher with 78 yards on eight carries. Tebow showed great leadership, but he had five three-and-outs, was sacked for a safety and had only 51 offensive plays. The Broncos were planning to start him next week, but the injury pushed things up a week.
Sam Bradford became only the third rookie quarterback to go over 3,000 yards passing, but his Rams were overpowered by the Chiefs 27-13. Jimmy Clausen did a nice job of managing his first career victory, a 19-12 defeat of the Arizona Cardinals and rookie quarterback John Skelton. Skelton was a nonfactor, completing 17 of 33 passes for 196 yards and one interception. Clausen was 13-of-19 for 141 yards, but managed a running game that had 45 attempts. Browns rookie Colt McCoy justified Eric Mangini's decision to start him the rest of the season by completing 19 of 25 passes for 243 yards, but the Browns lost to the Bengals 19-17.
Short Takes
Matt Hasselbeck's days as the Seahawks' starting quarterback may be ending. Pete Carroll said after Sunday's 34-18 loss to the Atlanta Falcons that he doesn't know who is going to start at quarterback next week. Hasselbeck, who had four interceptions last week, had two more Sunday against the Falcons and completed only 10 of 17 passes. Charlie Whitehurst had done little in practice to earn the starting job, but he might get the start next week against Tampa Bay. Hasselbeck has 17 turnovers this season, 10 in the past three games. … Don't expect Terrell Owens and Chad Ochocinco to be back with the Bengals next season. Owens and Ochocinco didn't start Sunday's 19-17 victory over the Cleveland Browns and they only rotated into the game. Sure, both receivers were injured, but Marvin Lewis wanted to get a look at younger receivers Jerome Simpson and Andre Caldwell. Owens' season officially ended when he tore a meniscus in his left knee. Not only did Owens not catch a pass, but he was left 17 yards short of 1,000 yards. Since 1983, only four receivers over the age of 36 had 1,000-yard seasons. Owens is 37. … Bengals halfback Cedric Benson was noticeably elated about getting 31 carries for 150 yards. Even though he entered the game averaging 18.8 carries a game, Benson has been pushing the team to do more running. … Redskins QB Rex Grossman did all right by throwing four touchdown passes against the Cowboys, but he also threw two interceptions and came up short in a 33-30 game. Shanahan won some points by replacing Donovan McNabb, but the bottom line is he didn't win and owner Dan Snyder isn't very happy. … If things weren't bad enough for the Redskins, linebacker Brian Orakpo, their best defensive player, is concerned about missing the final two games because of hamstring and groin problems. … A 31-17 loss to Tennessee put Houston coach Gary Kubiak back on the hot seat. The Texans finish with games against Jacksonville and Denver. Owner Bob McNair likes Kubiak, but it's going to be hard to sell him to the fans with a 6-10 or 5-11 season. … The strangest sight of the day was Texans defensive end Antonio Smith getting into a fight with teammate Brian Cushing. Smith ripped off Cushing's helmet and the Texans were penalized 15 yards for having a helmet removed. … Give Matt Cassel a lot of credit for being tough. He was only 11 days from an appendectomy and he ran six times on scrambles for 17 yards. His 15-of-29 performance in a 27-13 victory over the St. Louis Rams wasn't the prettiest, but it was needed for the Chiefs to stay ahead of the San Diego Chargers in the AFC West. … The injuries have caught up to the Tampa Bay Buccaneers. They lost 23-20 in overtime to the Detroit Lions because the absence of cornerback Aqib Talib (hip) prevented them from containing Lions wide receiver Calvin Johnson, who had 10 catches for 152 yards. Injuries along the defensive line, particularly the loss of defensive tackle Gerald McCoy, left the Bucs with a run defense that can't stop anyone. Lions backup Maurice Morris pounded Tampa Bay for 109 yards. … The Miami Dolphins may have been the biggest loser of the day. At 7-7 after a 17-14 loss to Buffalo, the Dolphins' season is done and coach Tony Sparano has to explain to owner Stephen Ross why his team couldn't make any plays Sunday and is 1-6 at home. This team looks lost. The Dolphins are mixing in a few more Wildcat plays, but that takes Chad Henne off the field. Henne makes bad decisions and this team can't finish drives. Kicker Dan Carpenter missed four field goals, but he's attempted 38 this season. Where are the touchdowns?
John Clayton's game balls

• Offense: Michael Vick did it all Sunday in an amazing 38-31 victory over the New York Giants. He had 372 yards of total offense and four touchdowns (three passing). He completed 21 of 35 passes for 242 yards. He ran for 130 yards on 10 carries. Tom Brady may win the MVP award, but Vick isn't far behind.

• Defense: Drew Coleman was one of coach Rex Ryan's designated blitzers from the secondary during the Jets' 22-17 victory over the Pittsburgh Steelers. Coleman sacked Ben Roethlisberger twice, had 10 tackles and two forced fumbles.

• Special teams: Brad Smith gave the Jets momentum in their victory over the Pittsburgh Steelers with a 97-yard kickoff return for a touchdown to open the game. The Jets' offense had a 12-quarter streak in which they hadn't scored a touchdown. Confidence had been shaky. Smith had three kickoff returns for 140 yards. It was his second kickoff return for a touchdown this season.
Week 15 rundown
• San Diego 34, San Francisco 7
Are the Chargers suddenly a defensive juggernaut? Maybe. San Diego's D made another statement with a six-sack performance.
• Cincinnati 19, Cleveland 17
The Bengals finally stopped the bleeding. After back-to-back ugly losses, Browns coach Eric Mangini will need a minor miracle to save his job.
• Dallas 33, Washington 30
The Rex Grossman era is off and running in Washington. We're kidding, but the veteran QB (322 yards passing, 4 TDs) deserves credit for rallying the Redskins back.
• Tennessee 31, Houston 17
The Texans suffered an emotionally draining loss last Monday night. They played like an emotionally drained team (for most of the game anyway) on Sunday.
• Indianapolis 34, Jacksonville 24
Changing of the guard in the AFC South? Not so fast. The Colts finally found a running game (155 yards) and took a big step toward their seventh division crown in eight seasons.
• Kansas City 27, St. Louis 13
Tough enough? Matt Cassel sure is. Only 11 days after having an appendectomy, Cassel put the AFC West title in the Chiefs' sight.
• Buffalo 17, Miami 14
Home sweet home? Not for the Dolphins, who fell to an amazing 1-6 at Sun Life Stadium. And yes, Tony Sparano is in trouble.
• Philadelphia 38, N.Y. Giants 31
An epic collapse by the Giants, whose countless second-half mistakes will be well-chronicled in the coming week. Once again, DeSean Jackson proved his big-play ability is second to none.
• Detroit 23, Tampa Bay 20 (OT)
A crushing blow to the Bucs' playoff hopes. After many close losses this season, the Lions finally found a finishing touch.
• Carolina 19, Arizona 12
The Panthers' Jimmy Clausen threw his first TD pass since Week 4, but the rookie still doesn't have a 200-yard passing game to his credit.
• Baltimore 30, New Orleans 24
A tough road loss won't cripple the Saints (10-4). However, CB Jabari Greer's knee injury, if serious, is a major cause for concern.
• Oakland 39, Denver 23
Tim Tebow had his moments, but the Raiders had more big plays. At 7-7, Oakland is ready to pounce if the Chiefs and Chargers slip.
• Atlanta 34, Seattle 18
The Falcons clinched a playoff berth when the Giants lost, then rolled over the mistake-prone Seahawks, whose fans seem to have seen enough of QB Matt Hasselbeck.
• N.Y. Jets 22, Pittsburgh 17
The Jets ended a tumultuous week with a much-needed victory. Mark Sanchez delivered his first turnover-free performance since Week 5.
• New England 31, Green Bay 28
Matt Flynn nearly outdueled Tom Brady. An offensive lineman (Dan Connolly) had a 71-yard kickoff return. Yeah, it was a strange night in Foxborough.
-- ESPN.com
MONDAY NIGHT FOOTBALL
•
Chicago at Minnesota (ESPN, 8:30 ET)
Looking ahead
An early look at next weekend's biggest games:
• N.Y. Jets (10-4) at Chicago (9-4): Both teams looking to lock down playoff berths.
• N.Y. Giants (9-5) at Green Bay (8-6): Will the Giants bounce back from the Meadowlands Meltdown?
• New Orleans (10-4) at Atlanta (12-2): The Falcons can clinch the NFC South title.