Key AFC divisional playoffs questions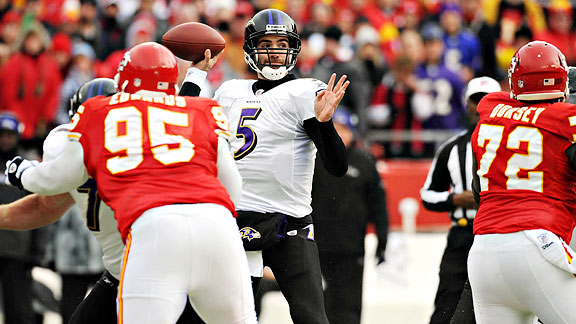 John Rieger/US PresswireJoe Flacco and the Ravens are moving on. Flacco tossed a pair of touchdown passes, leading Baltimore to a 30-7 rout of Kansas City. The Ravens will head to Pittsburgh for Round 2.
Wild-card leaders
The AFC truly enters the divisional phase of the playoffs next week. The two games are between divisional rivals.
But the great part is that the AFC divisional round matches two of the conference's best divisional rivals. The Pittsburgh Steelers host the Baltimore Ravens. The New York Jets and Rex Ryan get to call out the New England Patriots.
"What better than these four teams,'' Ravens linebacker Terrell Suggs said. "Everybody wanted to see this matchup [the Steelers and Ravens] because [the teams] split during the regular season. This is Armageddon for both teams.''
The Jets split with the Pats, with each team winning at home. The Ravens won at Heinz Field, but the Steelers came back and won in Baltimore. "It's personal between these two cities,'' Suggs said. "It shouldn't surprise you that these teams are at their throats. This is the NFL at its best.''
Here are the 10 biggest questions surrounding Round 2 of the AFC playoffs.
1. Is it rare to have division rivals meet again in the playoffs?
Divisional playoff rematches are becoming more and more common. Since 2000, divisional rivals have met again in the playoffs 17 times. Last year, the Dallas Cowboys beat the Philadelphia Eagles 34-14, completing a three-game season sweep of Philly. Following the 2008 season, the Steelers beat the Ravens in the AFC Championship Game, 23-14, and went on to the Super Bowl to face the Arizona Cardinals. "Three-peats'' seem to happen in close divisions such as the AFC North and NFC East, particularly now that the league is broken into eight divisions. The reason is simple. Teams such as the Steelers and Ravens have had stability within their organizations and their rosters and are good enough to win opening-round playoff games to advance. A similar thing is happening in the AFC East now that Ryan is establishing a winning tradition with his Jets. There has been at least one divisional playoff rematch in every year since 2004.
For more, click here.
Key NFC divisional playoffs questions
By Jeffri Chadiha
ESPN.com
The Seattle Seahawks' 41-36 win over the New Orleans Saints should have reminded us of something that makes the NFL playoffs so special: Anything truly is possible. Boasting a 7-9 regular-season record, the Seahawks were easily the worst postseason participant in league history, a squad so unimpressive that they were 10-point underdogs heading into that contest. Yet they're the team that's advancing to the next round instead of the defending Super Bowl champs. Their survival alone makes it that much harder to determine how this postseason will shake out in the NFC.
The key to Seattle's success? An unwavering belief that the regular season no longer matters and that a lack of respect isn't the best motivating force at this time of year.
"We don't do any of that," said head coach Pete Carroll when asked if he pumps his team up by citing its long list of doubters. "We have to do what we do and we don't use outside stuff to motivate [the players]. It's a great standard to live by because we're not going to be intimidated by anybody we play."
Because Seattle has now muddled the playoff picture, it's time to examine 10 questions that might help us make sense of the NFC as the divisional playoff round ensues:
1. Can the Seahawks pull off an upset for the second straight week?
Don't bet on it. It's one thing to create some postseason magic when you're playing at home. It's a whole different ball game when you're talking about finding a comfort zone in somebody else's house. What can't be forgotten in Seattle's win is that the Seahawks started slowly and fell behind by 10 points early. Try doing that at Chicago in January. The game could be over before the Seahawks ever know what's happened. And please don't talk about the confidence Seattle gained by winning in Chicago earlier this season. The Bears surely remember that loss, as well.
For more, click here.
Short Takes
According to sources, Marc Trestman, head coach of the Montreal Alouettes of the CFL, is drawing consideration for NFL offensive coordinator jobs. The 49ers contacted him Friday. The Panthers are considering him because he lives in Charlotte, N.C., during CFL offseasons. … Chiefs linebacker Mike Vrabel jogged to the locker room after Sunday's 30-7 loss to the Ravens wiping tears from his face. It makes you wonder if the 35-year-old linebacker had played his last game. … Colts wide receiver Reggie Wayne deserves to be upset about having only one catch for 1 yard in Saturday's 17-16 loss to the Jets. Normally, Peyton Manning forces a few throws to Wayne when he's closely covered, but Manning targeted him only once. … Give credit to Jets coach Rex Ryan for adjusting the game plan on offense in the second half. With Mark Sanchez overthrowing receivers, Ryan went to more running plays out of running formations. Smart. … Covering themselves in case cornerback Nnamdi Asomugha leaves in free agency, Raiders owner Al Davis contacted the team's other starting cornerback, Stanford Routt, and initiated contract extension talks, according to a source. Routt is a free agent and is coming off a great season. … The Saints have serious concerns after their 41-36 loss to the Seahawks. They have 27 free agents, including offensive linemen Jonathan Goodwin, Jermon Bushrod and Carl Nicks; safety Roman Harper; linebacker Scott Shanle; and wide receiver Lance Moore. … Receivers coach Ray Sherman interviewed for the Cowboys' head-coaching job as part of the Rooney Rule, but he wasn't retained for Jason Garrett's staff. Does anyone else think that's strange?
John Clayton's game balls

• Offense: Matt Hasselbeck was unbelievable in the Seattle Seahawks' 41-36 victory over the New Orleans Saints on Saturday. He completed 22 of 35 passes for 272 yards and four touchdowns. His quarterback rating was 113. He showed plenty of poise in leading the Seahawks back from a 10-0 deficit.

• Defense: Terrell Suggs led an aggressive defensive assault that led to three Kansas City Chiefs turnovers in the second half of the Baltimore Ravens' 30-7 victory. Suggs had two sacks, four tackles -- including two for losses -- and four hits on the quarterback.

• Special teams: Filling in for an injured Brad Smith, Antonio Cromartie broke off a 47-yard kickoff return with 53 seconds remaining in the Jets' 17-16, come-from-behind victory over the Indianapolis Colts on Saturday night. The return gave the Jets great field position and made it easier for Mark Sanchez to set up the game-winning field goal drive. Cromartie also had a 41-yard kickoff return.
Wild-card rundown
• Seattle 41, New Orleans 36
A quick exit for the defending champs, who were done in by a porous defense. Marshawn Lynch's spectacular 67-yard TD run helped the Seahawks win the game, and win over a lot of their critics.
• N.Y. Jets 17, Indianapolis 16
Mark Sanchez (18-of-31, 189 yards) was off the mark for much of the game, but he made some big throws in crunch time. Of course, Antonio Cromartie's 47-yard kickoff return -- and some curious clock management by the Colts -- made Sanchez's job a lot easier on New York's final drive.
• Baltimore 30, Kansas City 7
The moment seemed too big for the young Chiefs, who committed five turnovers and allowed 27 unanswered points. The Ravens will now set their sights on facing Pittsburgh and avenging a Week 13 loss that ended up costing them the AFC North title.
• Green Bay 21, Philadelphia 16
People can stop talking about Aaron Rodgers' lack of playoff wins now -- never mind that he had only one previous postseason start. The best news for the Packers? They found a running game, thanks to little-known rookie James Starks, who caught the Eagles' D off guard and gained 123 yards on 23 carries.
-- ESPN.com