Key AFC championship questions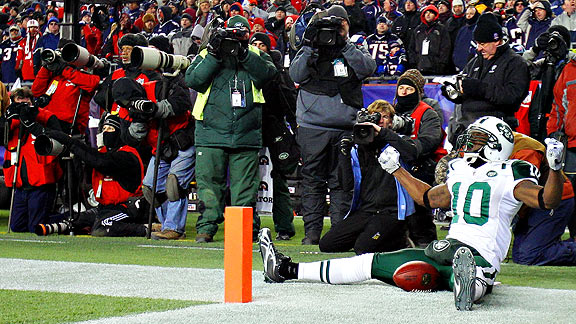 Elsa/Getty ImagesSantonio Holmes' latest big catch came at a great time for the Jets. Holmes' 7-yard TD grab put New York up by 10 and propelled it to a 28-21 upset of New England.
Divisional-round leaders
Early last week, New York Jets coach Rex Ryan read to his defense the stats of Tom Brady's last few playoff games.
Brady's quarterback rating in last season's playoff loss to the Baltimore Ravens was 49.1. In the Patriots' Super Bowl XLII loss to the New York Giants, it was 82.5. Brady's rating in the 2007 AFC Championship Game against San Diego was 66.4.
"All he had to do was read the numbers,'' Jets linebacker Bart Scott said of Ryan. "[Brady's] touchdown to interception ratio [five touchdowns to six interceptions in the past three playoff games] was high. We looked at our roster and knew we had all the playoff experience, and they had a young roster that was only used to last year's butt-whipping by Baltimore.''
You get the feeling, following Sunday's 28-21 divisional playoff victory in Foxborough, the Jets respect the Pittsburgh Steelers more than the rival Patriots. The regular season is one thing, but Brady's recent playoff numbers didn't scare the Jets. Scott and his Jets defensive teammates spoke in glowing terms about Ben Roethlisberger, who takes hits and is hard to get off his game. The Jets' defenders, however, felt they could rattle Brady with blitzes and hits.
"No quarterback likes to get hit,'' Scott said.
Brady was hit numerous times Sunday, and even though he threw for 299 yards, he was sacked five times and threw a rare interception. Starting Monday, Ryan and the Jets' defense will concentrate their efforts on stopping Roethlisberger in the AFC title game.
Here are the 10 biggest questions heading into next weekend's game.
1. What is the significance of Roethlisberger's appearance in the AFC Championship Game?
If Roethlisberger beats the Jets and eventually gets the Lombardi Trophy, he will earn his third Super Bowl ring, tying Brady and giving him two more than Peyton Manning. The Manning-Brady battles dominated the 2000s. Both are locks to be first-ballot Hall of Famers. Roethlisberger might not be able to put "HOF" next to his name yet, but three Super Bowl rings would let him enter the conversation. He's only 28 years old. What's amazing is that he's 9-2 as a playoff quarterback. Manning has been in the playoffs in 11 of his 13 seasons, but his record is 9-10. Putting it in more perspective, there are only five quarterbacks since 1980 who have more playoff wins than Roethlisberger -- Joe Montana (16), Brady (14), John Elway (14), Brett Favre (13) and Troy Aikman (11).
For more, click here.
Key NFC championship questions
By Jeffri Chadiha
ESPN.com
The NFC playoff picture just became much clearer … and not merely because we now know the participants in next Sunday's championship game. It's because we can see that the Green Bay Packers are the team to beat. Anybody who saw that team's 48-21 demolition of the top-seeded Atlanta Falcons should've come away with that impression. The Packers aren't just on a roll. They're on a mission.
Now that doesn't take anything away from the Chicago Bears. They did what they were supposed to do by extinguishing the hopes of the upstart Seattle Seahawks as quickly as possible. In posting a 35-24 victory, the Bears looked cool and efficient, which is exactly the attitude you want at this time of year. Now they have to be equally steady against a Packers team riding a dangerous wave of both emotion and momentum.
Given the long history between these two NFC North rivals, it should be a game that lives up to the hype. But before we get to next Sunday's meeting, here are 10 questions worth pondering in the interim:
1. Will Aaron Rodgers stay this hot?
Yes. Even without the help of a cozy dome or a wounded secondary -- the Falcons didn't have nickelback Brian Williams available Sunday -- Rodgers has an eerie vibe to his game right now. He riddled Atlanta for 366 yards and three touchdowns on 31-of-36 passing. He displayed the kind of savvy decision-making that made the Packers practicably unstoppable on every possession in the game. Most important, he kept pushing his teammates even when that game was no longer in question. As proof, Pro Bowl wide receiver Greg Jennings said Rodgers shot him a nasty glare after Jennings slipped on a route when the score was 42-21. The message, as Jennings explained later, was clear: The Packers aren't about to let up at this time of the year. "He was pretty perturbed, but that's his mindset right now," Jennings said. "It's scary when you have a guy who's approaching things like that."
For more, click here.
Short Takes
Patriots quarterback Tom Brady had gone 339 passes without an interception before being picked off in the first quarter of Sunday's 28-21 loss to the Jets. … The Patriots have now lost their past three playoff games. They lost to the Giants in Super Bowl XLII. They lost last year's wild-card game to the Baltimore Ravens and they lost to the Jets Sunday. … All signs continue to point to offensive coordinator Hue Jackson getting the Raiders' coaching job, but don't expect him to be hired Monday. It's Martin Luther King Day. According to sources, Jackson is telling other coaches he is ready to present a full staff to owner Al Davis. The Raiders could announce the hiring of Jackson sometime this week, according to a source, but with this being the last open head-coaching job, Davis isn't in a hurry to do anything. … The Ravens had three 600-plus-yard receivers in Derrick Mason, Anquan Boldin and T.J. Houshmandzadeh, but they might have to consider changes for next season. Because of their ages, all three struggle to get separation from corners, and the problem was very noticeable during the Ravens' 31-24 loss to the Steelers. Houshmandzadeh is a free agent and might go elsewhere. Boldin is one of the league's best slot receivers and most certainly will be back. Mason turns 37 this week, and this was his first season with less than 1,000 yards in four years. … There are some quiet rumbles about the future of Ravens offensive coordinator Cam Cameron, who is one of the better offensive playcallers in football. The Ravens' offense has been criticized for passing the ball a little too much and not getting the most out of its running game. Cameron has also been criticized for being too conservative in the closing minutes of close games. … Steelers cornerback Ike Taylor faces a hefty fine for head-butting Houshmandzadeh after a play. The helmet head-butt was caught clearly by the television cameras. … Bears defensive tackle Tommie Harris, who had his quietest season, is making a mini-comeback. He had two sacks, two tackles for losses and two quarterback hits during the Bears' 35-24 victory over Seattle. Benched for 10 of the Bears' first 12 games, Harris started the final four games. He had only 13 tackles and 1½ sacks during the regular season, even though he makes $7.99 million a year. … According to a source, the Broncos are taking a serious look at former Seahawks and Falcons head coach Jim Mora Jr. as a defensive coordinator.
John Clayton's game balls

• Offense: Aaron Rodgers was almost perfect in the Packers' 48-21 blowout of the Atlanta Falcons. He completed 31 of 36 passes for 366 yards and three touchdowns. His quarterback rating was 136.8. His 86.1 completion percentage was the fifth best in NFL playoff history.

• Defense: Going against Ravens left tackle Michael Oher, Steelers linebacker James Harrison was his usual unstoppable self. He had three sacks, two quarterback hits, three tackles for losses and seven total tackles. He also defended two passes.

• Special teams: Eric Weems, the NFC's Pro Bowl return specialist, did his best to give the Falcons an edge. He broke off a 102-yard touchdown return through the middle of the Packers' kickoff coverage team. That second-quarter score gave the Falcons a short-lived 14-7 lead. Weems had six kickoff returns for 195 yards. During the regular season, Weems had a kickoff return and a punt return for touchdowns.
Divisional playoffs rundown
• Pittsburgh 31, Baltimore 24
Dropped passes. Fumbles. A big interception. For whatever reason, the Ravens are their own worst enemy against the Steelers. Even with a 21-7 lead. Pittsburgh QB Ben Roethlisberger added a clutch, 58-yard pass to rookie Antonio Brown to his already-impressive list of playoff highlights.
• Green Bay 48, Atlanta 21
Has a No. 1 seed ever been so thoroughly dismantled? Think hard. The Packers' offense is clicking -- at the perfect time. Green Bay set a team playoff record for most points in a single game and Aaron Rodgers threw for more yards (366) than Brett Favre ever did in a playoff game.
• Chicago 35, Seattle 24
This one was over early, regardless what the final score might suggest. Whether it was the inclement weather or the Bears' stifling D, Seattle's offense could not carry over the momentum from the wild-card round. Jay Cutler, meanwhile, was a dual threat in his playoff debut, throwing for two scores and running for two.
• N.Y. Jets 28, New England 21
Maybe the trash-talking Jets knew what they were doing all along. Rex Ryan outcoached Bill Belichick and Mark Sanchez (three TD passes) outplayed Tom Brady. Now the Jets head to Pittsburgh, where they saved their season in Week 15.
-- ESPN.com