Key Super Bowl XLV questions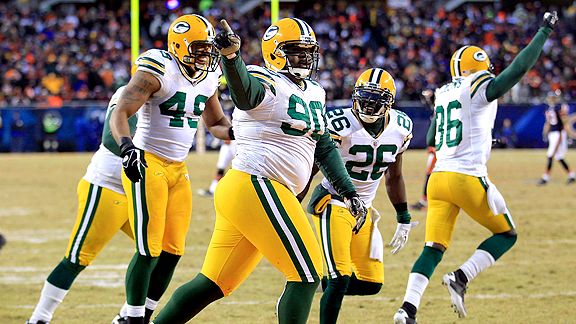 Jonathan Daniel/Getty ImagesThe Packers are Super Bowl bound, thanks in large part to B.J. Raji's fourth-quarter pick-six. Raji's first-career touchdown gave Green Bay breathing room in a 21-14 victory at Chicago.
Leaders
PITTSBURGH -- Dallas Cowboys owner Jerry Jones, though disappointed his franchise isn't participating in Super Bowl XLV, couldn't have been any luckier with the Super Bowl draw.
The Green Bay Packers and Pittsburgh Steelers -- two of the game's best brand names with two of the best traveling fans in all of sports -- meet up in Arlington, Texas, for a chance to win the Lombardi Trophy.
The Steelers will be trying to take ownership of the Lombardi Trophy for the seventh time in franchise history. This will be their third trip in six years. The Packers are going for the fifth time (they've won three), but this is the first time they'll have a chance to claim the Lombardi Trophy, named after their legendary former coach, against the team that has won it the most. It should make for great theater.
Here is the first round of questions heading into two weeks of Super Bowl hype.
1. What is the historical perspective of this game?
The Packers will try to become the second No. 6 seed to win a Super Bowl. Who was the first? The Pittsburgh Steelers, who beat the Seattle Seahawks 21-10 after the 2005 season. Since the NFL went to eight divisions in 2002, wild-card teams have made a lot of noise. The New York Giants were a No. 5 seed in 2007 and they beat the New England Patriots in Super Bowl XLII. The reason for wild-card success? Quarterbacks -- more than anything else. Elite quarterbacks don't always win division titles. But an elite quarterback can carry a team through three road victories to get to the Super Bowl. Eli Manning and Ben Roethlisberger have done it. Aaron Rodgers of the Packers did it this season.
2. How does the QB matchup stack up?
At the age of 28, Roethlisberger will be on the cusp of Hall of Fame consideration if he can win a third Super Bowl. He's 10-2 in playoff games and has evolved into one of the league's all-time great clutch quarterbacks. He's one of the best in the league rolling out to the right and creating big plays on the run. He's also clutch in the fourth quarter. Both Super Bowl quarterbacks have strong arms and can make big plays. Both quarterbacks can make first downs with their feet. Rodgers heads to the Super Bowl the hotter quarterback. He has completed 71 percent of his passes (66 of 93) for 790 yards and six touchdowns in three playoff games. But there is a subtle difference that could give Roethlisberger a slight advantage. Super Bowl balls usually have a little more paint on them and are a little harder to handle. For Roethlisberger, it shouldn't be a problem. This will be his third game using Super Bowl balls. This is Rodgers' first experience.
For more, click here.
Short Takes
Even though the Packers are a No. 6 seed, they are being installed as 2½- to 3½-point favorites in Super Bowl XLV. Expect the Steelers to play the disrespect card for the next two weeks. … Steelers defensive end Aaron Smith is scheduled to visit a doctor Monday to undergo tests to see if his torn triceps muscle is strong enough to play, according to a source. Smith believes he is healthy enough to play, but there is a question about whether the triceps has healed well enough for it not to rip again. … With the Packers advancing to the Super Bowl, six Pro Bowl slots have opened up for other NFC teams. Left tackle Donald Penn of the Tampa Bay Buccaneers, wide receiver Larry Fitzgerald of the Arizona Cardinals, linebacker Brian Orakpo of the Washington Redskins, safety Roman Harper of the New Orleans Saints and two Pro Bowl alternates will replace left tackle Chad Clifton, wide receiver Greg Jennings, linebacker Clay Matthews, safety Nick Collins, and cornerbacks Charles Woodson and Tramon Williams. … The Steelers have four Pro Bowlers who won't attend the game -- center Maurkice Pouncey, safety Troy Polamalu, defensive end Brett Keisel and linebacker James Harrison. That will open the door for Colts center Jeff Saturday, Chiefs linebacker Tamba Hali, a linebacker alternate and a safety. … Bengals wide receiver Chad Ochocinco had a few laughs on his Twitter account about Carson Palmer contemplating retirement unless he's traded. He noted the last Bengal to try that -- himself, then Chad Johnson -- was ripped by the media and didn't get a trade. From Corey Dillon to Ochocinco, the last thing Bengals ownership does when confronted with a trade ultimatum is trade the player. … Even though Bears linebacker Brian Urlacher and other players supported quarterback Jay Cutler in not coming back from a first-half knee injury, it's going to be hard for Cutler to win back the fans. Body language is a big problem with Cutler, and he looked lost and disinterested along the sideline.
John Clayton's game balls

• Offense: Against one of the league's better run defenses, Rashard Mendenhall rushed for 121 yards and one touchdown on 27 carries in the Steelers' 24-19 victory over the Jets. His yards were tough yards. Often, he was hit in the backfield, but he kept his legs churning and forced numerous missed tackles. He had 95 yards on 17 carries by halftime.

• Defense: Sam Shields, a rookie free-agent cornerback, was a star for the Packers in their 21-14 victory over Chicago. He intercepted two passes. He also recorded a second-quarter sack of Jay Cutler that caused a lost fumble.

• Special teams: Field position is everything in playoff games, and Packers punter Tim Masthay couldn't have been better in making the Bears work extra hard for points. Five of Masthay's eight punts went inside the Bears' 20-yard line. The average field position for the Bears after those eight punts was the 17.3-yard line. Down two quarterbacks, the Bears were unable to generate consistent offense under those circumstances.
Conference championship rundown
• Green Bay 21, Chicago 14
How badly was Jay Cutler hurt? Did he quit on the team? Those will be just some of the questions Bears fans will be asking. Caleb Hanie gave the Bears a spark, but his inexperience shined through against the Packers' opportunistic defense (three takeaways).
• Pittsburgh 24, N.Y. Jets 19
The Jets' frantic comeback fell just short. Their defense struggled early, and it couldn't corral Ben Roethlisberger with the game on the line. Rashard Mendenhall gashed the Jets' D for 95 first-half rushing yards. That effort, and a fumble return for a TD late in the second quarter, gave Pittsburgh the cushion it needed.
-- ESPN.com