Five Things We Learned From Super Bowl XLV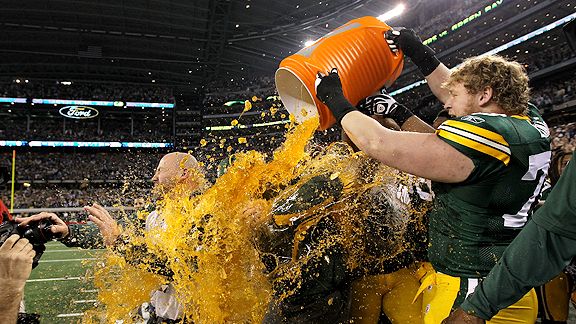 Al Bello/Getty ImagesGreen Bay's T.J. Lang (70) doused head coach Mike McCarthy to celebrate the Packers' 31-25 victory over the Pittsburgh Steelers in Super Bowl XLV at Cowboys Stadium.
ARLINGTON, Texas -- Super Bowl XLV was a game of attrition.
The
Green Bay Packers
lost wide receiver
Donald Driver
(high-ankle sprain) and cornerback
Charles Woodson
(broken collarbone) in the first half.
Sam Shields
, the Packers' talented third cornerback, injured a shoulder and missed more than a quarter of the game. The
Pittsburgh Steelers
lost wide receiver
Emmanuel Sanders
(foot) and didn't have Pro Bowl center
Maurkice Pouncey
(high ankle) or defensive end
Aaron Smith
(triceps) in uniform.
But the Packers proved to be the more resilient team Sunday, holding off a Steelers comeback and winning Super Bowl XLV 31-25 in Cowboys Stadium. While Driver was trying to tape up his throbbing ankle at halftime in hopes of returning to the field, he heard his teammates shout in the locker room. Woodson, who knew his night was over because of the broken collarbone, had offered inspiration with a short speech that he finished by saying "Just win." "Everyone was saying on the sidelines, 'We've been through this before, it's nothing new,'" Shields said about losing three key Packers to injury. "Everyone just relaxed on the sideline. The defense was up, and that's what defense does: It wins games." The Packers had 15 players on the injured reserve list, including six starters, yet they got hot at the end and returned the Lombardi trophy to Titletown. Here's what we learned in Super Bowl XLV:
1. The long halftime helped the Packers more than it did the Steelers: While the Black Eyed Peas, Slash and Usher entertained the crowd on the field, Packers defensive coordinator Dom Capers and his staff had to make more adjustments to his defense than at any time this year. Woodson and Shields, two of his top three cornerbacks, were injured, forcing Capers to junk his plan to play a lot of man coverage. That was the scheme they used in the first half. Normal halftimes are 12 minutes long. Super Bowl halftimes last 28 minutes.
[+] Enlarge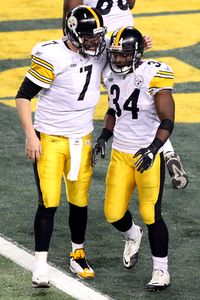 Nelson Chenault/US PresswireBen Roethlisberger (right) and Rashard Mendenhall could not overcome their mistakes.
Capers had to throw together a complete zone package of defenses in the second half to contain
Ben Roethlisberger
. "One of the things we had to do is we had to play more zone coverage in the second half than we did in the first half," Capers said. "We just didn't want to lock some of the other guys up into one-on-one situations." Roethlisberger dominated the second quarter and completed 12 of 19 passes for 120 yards in the second half, but the zone defense was able to do enough to prevent the Packers from blowing what at one point was an 18-point lead.
2. Like the New England Patriots, the Packers are the ultimate team:
The Packers may have a rock-star quarterback in Rodgers, but it's their overall depth and unselfishness that enabled them to win their first Super Bowl. Driver suffered a high-ankle sprain in the first half, and
Ike Taylor
, the Steelers' best coverage cornerback, was locked on
Greg Jennings
, the Packers' best receiver. The Packers still stuck to their plan of using spread formations (three- and four-receiver sets) and watched Rodgers distribute the football. Packers head coach Mike McCarthy knew that
Jordy Nelson
-- the team's fourth-best receiver, who moved into the No. 3 hole with Driver out -- could beat Steelers cornerback
Bryant McFadden
. McFadden plays off coverage and, as Jennings says, doesn't have a great first step in getting back to the receiver. Nelson was targeted 15 times and caught nine passes for 140 yards and a touchdown. Sure, he dropped three passes, but he made enough plays to move the offense. It eventually forced the Steelers to use a bit too much Cover 2 defense down the stretch, when Jennings could make big plays. Here is the ultimate team stat for the Packers: They had 11 different players score touchdowns during the playoffs, topping the standard of 10 that had been set by six other teams.
3. If these teams meet 10 times, expect the same type of game in all 10 games: Super Bowl XLV was almost a repeat of their 2009 regular-season game in Pittsburgh. In that high-scoring game, the Steelers trailed 36-30 with 2 minutes, 6 seconds remaining and they had the ball on their 14. They rallied to beat the Packers 37-36.
In Super Bowl XLV, the Steelers trailed 31-25 and got the ball at their 13 with 1:59 left. Even though both teams have top-five defenses, they know each others' schemes and know how to beat them. Capers of the Packers and counterpart Dick LeBeau of the Steelers put together the 900-play playbook of the Steelers defense in 1992. The Packers started learning it in 2009 when Capers became the team's defensive coordinator. Capers likes to use a little more man-to-man than LeBeau.
If Roethlisberger gets the right matchups, he can come up with big drives. Likewise, Rodgers isn't intimidated by the Steelers' "fire zone" blitzes because he sees them every day in practice. Because of that, Steelers-Packers games should always be high-scoring and exciting as long as Rodgers and Roethlisberger are out there. It's one of the best matchups in the league.
4. Roethlisberger will bounce back: Even though his two-interception game in Super Bowl XLV meant Roethlisberger didn't have great games in two of his three Super Bowls, he still showed how great he was in this game. Although his interceptions resulted in 14 points for the Packers and Rashard Mendenhall 's fumble handed the Packers another touchdown drive, Roethlisberger was able to rally the team from an 18-point deficit to get within three points.
He had several opportunities to be one drive away from taking a lead. He hurt his knee early in the game. He's been playing with broken bones in a foot, a broken nose and several other injuries. His teammates believe in him. "He's a warrior," wide receiver
Hines Ward
said. "He stayed in there. I think someone went at his knees, twisted his knee. His ankle was already bum, but he's always going to be a competitor to the end. That's why going into that two-minute drive I just knew we had a chance." Trailing by six points with 1:59 left, Roethlisberger reminded his offense of the faith he had in them to try to get the job done. The comeback stalled with three incompletions.
[+] Enlarge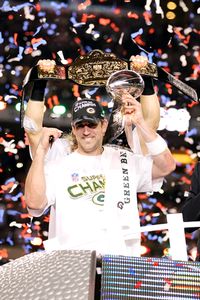 Al Bello/Getty ImagesAaron Rodgers could be repeating this scene for years to come.
5. Thanks to Rodgers, the Packers are in for some kind of a ride: The NFC has produced nine different Super Bowl teams in the past nine years. I'm not saying the Packers will repeat next year, but this is the one team that could reach two or three Super Bowls in a five- to seven-year stretch.
Rodgers joined
Kurt Warner
as the only quarterback to throw for more than 1,000 yards and nine touchdown passes in the playoffs. They have a young core group that includes Jennings,
Jermichael Finley
,
B.J. Raji
,
Tramon Williams
,
Clay Matthews
,
Ryan Grant
,
Cullen Jenkins
,
Nick Collins
and so many others. Rodgers' 31-yard pass to Jennings on a third-and-10 from the Packers' 25 with 5:59 remaining illustrated how great he is in clutch situations. The Packers were holding on to a three-point lead at the time. An incompletion would have caused a punt and given the Steelers great field position. Jennings beat Taylor, the Steelers cornerback, at the line of scrimmage against press coverage. Rodgers caught the Steelers in a two-deep zone and he knew he could get a timing route to Jennings in the seam in front of
Troy Polamalu
. The Packers ended up getting another field goal and the win.
John Clayton's game balls

• Offense: In his first Super Bowl, Packers QB Aaron Rodgers was the MVP. He completed 24 of 39 passes for 304 yards and three touchdowns. His quarterback rating was 111.5. Had his receivers not dropped four or five passes, he might have had one of the best quarterback ratings in Super Bowl history.

• Defense: With 3:20 left in the first quarter, Packers Pro Bowl safety Nick Collins watched the coverage develop in front of him and read the eyes of Steelers quarterback Ben Roethlisberger. Collins picked off Roethlisberger's pass and returned it 37 yards for a touchdown. With Charles Woodson out for most of the game with a broken collarbone, Collins had to make sure every other defender was set in the right positions. He had four tackles, a pass defense and an interception.

• Special teams: In a game that didn't feature many special-teams stars, Pittsburgh's Antonio Brown had the best game. He had four kickoff returns for 88 yards. His numbers would have been better had it not been for penalties.
Super Bowl grades
• PITTSBURGH
Offense: The Steelers committed three turnovers, leading to 21 points by Green Bay. You can't win a championship with that kind of sloppy play. Ben Roethlisberger put his team in a 21-3 hole with two interceptions, and he had none of his late-game magic in this Super Bowl. Santonio Holmes, where are you? The Steelers got a nice game out of RB Rashard Mendenhall, who pounded the left side of the Green Bay defense. Grade: C-minus
Defense: Pittsburgh tainted its Steel Curtain legacy with a horrible game. This was a brutal effort by the secondary, which surrendered three touchdown passes and 304 yards to Aaron Rodgers. Safeties Troy Polamalu and Ryan Clark were a step slow in coverage, William Gay played the wrong technique on a 29-yard TD catch by Jordy Nelson, and Ike Taylor was torched on a key late reception. If it hadn't been for four drops by the Packers, the passing yardage would have looked even worse. The Steelers had decent pressure on Rodgers, but the back end didn't hold up its end of the bargain. Grade: D
Special teams:
There was a killer penalty by
Keyaron Fox
on the Steelers' last kickoff return, forcing them to start at their own 13 on a would-be game-winning drive. The Steelers were heavily penalized during the season, and it came back to bite them in crunch time. Kicker
Shaun Suisham
missed badly on a 52-yard FG attempt, a duck hook.
Grade: C-minus
Coaching:
The Steelers started slowly, and that falls on Mike Tomlin. They didn't seem prepared for the Packers' spread formations, although they adjusted nicely. The biggest sin was burning two timeouts in the third quarter, ruining their chances of a late comeback. Why try a 52-yard field goal with the inconsistent Suisham? The Cowboys ran him out of Dallas for a reason. The Steelers should have punted and played field position in that situation. Pittsburgh did a poor job of attacking the Packers' injury-depleted secondary.
Grade: C
-- Rich Cimini
• GREEN BAY
Offense: At least six dropped passes prevented the Packers' offense from blowing this game open. Losing Donald Driver to injury weakened the spread looks Green Bay uses to great effect, but the Packers still did enough to control the game most of the way. Aaron Rodgers -- while missing a few shorter throws that he normally makes -- tossed three touchdown passes without a pick. He might have challenged Steve Young's record of six TD passes in a Super Bowl if his receivers had made plays for him. Grade: B
Defense: Nick Collins and Jarrett Bush picked off passes, and Clay Matthews forced a critical fumble in the second half. Those three turnovers led to 21 points, including seven when Collins returned his interception 37 yards for a touchdown and a 14-0 lead in the first quarter. The Packers won the game with a fourth-and-5 stop in the final minute, preventing the Steelers from putting together another Super Bowl rally. Grade: A-minus
Special teams: Tramon Williams muffed a punt early and was fortunate Green Bay recovered. Officials flagged Tom Crabtree for a sketchy face-mask penalty during punt coverage. They flagged linebacker Diyral Briggs as an ineligible man downfield during another Packers punt. Grade: C
Coaching: Mike McCarthy and defensive coordinator Dom Capers were in survival mode for stretches after incurring key injuries on both sides of the ball. McCarthy lost a challenge. He went away from the run as the game progressed, and it's easy to see why, with Rodgers throwing lasers all over the field. Overall, Green Bay was ready to play. The Packers entered this game as the team without Super Bowl experience, but they did not act like it. McCarthy projected confidence all week, and his team responded. Grade: B-plus
-- Mike Sando