Week 2: Brees, Saints dissect Bears' D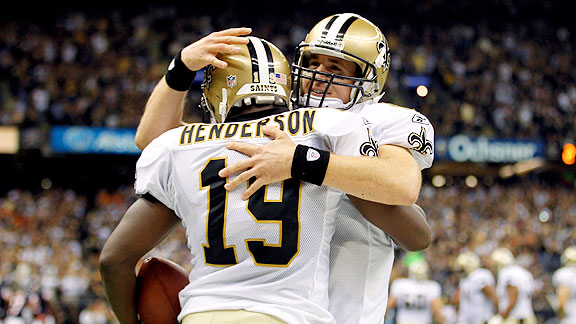 Chris Graythen/Getty ImagesDrew Brees and Devery Henderson highlighted the Saints' 30-13 victory over Chicago with a 79-yard pass and catch for a TD. Brees finished with 270 passing yards and three TDs.
Week 2 leaders
The offensive trend that exploded in Week 1 continued in Week 2.
During the 14 Sunday afternoon games, eight quarterbacks threw for more than 300 yards. That might not be as crazy as the 14 300-yard efforts of Week 1, but it was close.
More teams settled for field goals than scored touchdowns, but there were plenty of big plays and surprises. After an opening week in which eight kickoffs and punts were returned for touchdowns, none were brought back Sunday.
The stunners of the day were the Bills outgunning the Raiders and the Titans beating the Ravens.
Cam Newton continued to show he's ready for prime time in a close loss to the Packers. The Redskins outlasted the Cardinals.
Here are five things I learned from Week 2:
1. Brees finally solves Bears:
Saints quarterback
Drew Brees
has had some of his worst days against the
Chicago Bears
' Cover 2 defense. In three previous games against the Bears, Brees completed 55.9 percent of his passes and had a poor 66.4 quarterback rating.
Thanks to smart play calling and patience, Brees found the right formula to beat the Bears' Cover 2 in a hard-hitting 30-13 victory in the Superdome. Saints coach Sean Payton says an offense has to have good protection, receivers who get off the line cleanly and an accurate passer to beat a Cover 2. Brees had all of the above, hitting Devery Henderson for a game-breaking, 79-yard touchdown on a third-and-12 in the second quarter that gave the Saints a 10-7 lead. Later in the quarter, Brees hit tight end Jimmy Graham for a 31-yard completion on a first down against the Cover 2.
"Typically, when it's two high safeties, Cover 2, that's typically a more conservative approach," said Brees, who completed 26 of 37 passes for 270 yards and three touchdowns. "But our two big plays came against Cover 2."
Payton described the third-and-12 call as a hit-or-miss play because it required Brees to hold onto the ball a long time and it required Henderson to get off the line quickly. It also helped that the Bears were without starting safety Chris Harris and that safety Major Wright got banged up during the game.
According to ESPN Stats & Information, the Bears' secondary gave up 9.4 yards per pass attempt and two touchdowns against the Saints. Last week, the Bears' Cover 2 covered well enough to limit Matt Ryan to 6.2 yards an attempt.
2. Colts, Chiefs reeling: The Colts and Chiefs made the playoffs last season, but now they are in the Andrew Luck competition. You could see it coming in Indianapolis when Peyton Manning had surgery and now is scrambling overseas, according to FoxSports, to see if there is a stem cell treatment that could speed up his recovery. The Colts need more than a stem cell treatment.
Their 27-19 loss to the Cleveland Browns might unofficially make the Colts the worst team in football. This was a home game. They were playing a Browns team that didn't seem overly confident. Manning and the Colts have been one of the best red zone touchdown teams in football, but replacement QB Kerry Collins had four drives on which he had to settle for field goals. That's what lost the game. The Colts let the Browns hang around long enough to take control of the game.
Colts coach Jim Caldwell said he's not thinking about benching Collins in favor of Curtis Painter.
The Chiefs have been uncompetitive since the opening kickoff of the season. They've lost TE Tony Moeaki, safety Eric Berry and now halfback Jamaal Charles with knee injuries. Charles suffered a bad knee injury on Sunday when he stepped on a sideline marker and immediately went down.
The Chiefs have been outscored 89-10 in the first two games.
"We are not going back to the old Chiefs," said cornerback Brandon Flowers, referring to the horrible Chiefs teams from 2007 to 2009. Those teams won 10 games in three seasons.
[+] Enlarge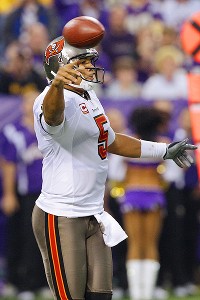 AP Photo/Charlie NeibergallFourth-quarter comebacks are becoming commonplace for Buccaneers QB Josh Freeman.
3. Freeman delivers late: Josh Freeman proved once again he's elite. With eight fourth-quarter comebacks in his first 26 games, Freeman continues to evolve into one of the game's most exciting quarterbacks.
Sunday's 24-20 victory over the Vikings might have been his best. The Bucs looked lost and hopeless in the first half, trailing 17-0. The Vikings had outgained the Bucs 284 to 62. The Bucs had only 20 first-half plays. But Freeman plays his best when he's behind. He was 15-of-20 for 191 yards in the second half and produced 24 points.
4. From goat to hero: Tony Romo was a portrait in courage Sunday, leading the Cowboys to a 27-24 overtime victory despite a rib injury. Whether it was a cracked rib or just a bad bruise, Romo couldn't start the second half. Jon Kitna took over, but the 49ers built a 24-14 lead.
A week after losing a fumble and throwing a late interception in a loss to the Jets, Romo was remarkable against the Niners. He didn't have Dez Bryant, who was inactive with a thigh injury. Felix Jones was slowed by an injured right shoulder.
Romo was wincing with pain when he made handoffs. But he did what he does best -- throw the ball. He finished 20-of-33 for 345 yards and two touchdowns. His pass to the unheralded Jesse Holley for 77 yards down the right sideline was remarkable. This was a great win for the Cowboys. It was a better win for Romo.
5. Waiting for Round 2: As expected, the Patriots beat the Chargers 35-21, but from the look of these two teams, they will meet again in the playoffs. If they do, it will be a great game. Tom Brady burned the Chargers' secondary for 423 yards, but the Chargers got a few hits on him. Brady was sacked twice and hit five other times.
It just seemed like the Patriots were just a step ahead of the Chargers all day, and it's hard to get into a shootout with Brady. Still, the Chargers have the quarterback who can keep up with Brady. Philip Rivers completed 29 of 40 passes for 378 yards.
The Patriots don't match up well against teams with big receivers. The Chargers have giants. Vincent Jackson had 10 catches for 172 yards. Malcolm Floyd had two for 59 before getting banged up. The one missing piece was TE Antonio Gates, who didn't catch a pass. If the Chargers tighten up their pass coverage and get more out of Gates, they might be able to cut down the difference.
Short Takes
The Titans' faith in troubled wide receiver Kenny Britt paid off with Britt catching nine passes for 135 yards and a touchdown in the Titans' 26-13 upset of the Ravens. "We all know Kenny is a special guy, a special talent," Titans coach Mike Munchak said. "It's just a matter of keeping him healthy and getting him on the field." … The Panthers and Cam Newton made a few too many mistakes in a 30-23 loss at Green Bay, but they are an exciting team. No one thought Newton could repeat his 422-yard Week 1 effort. They were right. He threw for 432 against the Packers. The guy is a stud. … While the Bears specialize in the Cover 2, the Saints believe in pressure. They used Cover Zero (having no deep safety to free up more defenders to rush) 10 to 12 times to pressure Jay Cutler and the Bears in a 30-13 victory. Cutler was sacked six times and hit 10 more times. "It was a long day out there," Cutler said. … The Texans were smart running Arian Foster only 10 times in a 23-13 victory over the Dolphins. The Texans had the luxury of not overusing him because of Ben Tate, who had his second consecutive 100-yard game coming off the bench. Foster didn't look like the same running back because of the hamstring injury. … Give the Broncos and John Fox credit for tenacity. They had seven key players, including Champ Bailey, Knowshon Moreno, Elvis Dumervil and Brandon Lloyd, on the inactive list and they beat the Bengals 24-22. … Cutting David Garrard and going with Luke McCown the Tuesday before the opener might have worked for the Jaguars at home in Week 1, but that magic wore out in Sunday's embarrassing 32-3 loss to the Jets. McCown had a quarterback rating of 1.8. He completed six passes to Jaguars and four to Jets defenders for interceptions. I still say coach Jack Del Rio, who needs to make the playoffs to save his job, would have a better chance with Garrard. After the game, Del Rio didn't name a quarterback, meaning first-round choice Blaine Gabbert, who completed five of six passes in relief, could start two months earlier than expected. … Speaking of Garrard, he'll evaluate what jobs are still open and see if he wants to sign with a team this week. He's kept a couple of offers on hold for the past two weeks. … One of the reasons the Detroit Lions look great is the confidence of quarterback Matthew Stafford, who was 23-of-39 for 294 yards and four touchdowns in a 48-3 victory over the Chiefs. But the other reason is the go-for-the-throat mentality of Lions coach Jim Schwartz. The best example was him going for a fourth-and-goal from the Chiefs' 1-yard line with 1:21 left in the third quarter. The Lions led 20-3. Stafford hit Calvin Johnson for a touchdown pass, effectively ending the game. … The Seahawks, shut out by the Steelers 24-0, are a mess. Coach Pete Carroll confirmed wide receiver Sidney Rice has a torn labrum, but not one that requires season-ending surgery. Rice was brought in to add big plays to the passing attack, but he hasn't played a game. The Seahawks signed former Raiders tight end Zach Miller, but the offensive-line problems have forced him to be more blocker than pass-catcher. … Everyone kept saying penalties would cost the Raiders a game. They had a mere eight penalties in a 38-35 loss to the Buffalo Bills, but the holding penalty by Raiders cornerback Chris Johnson in the fourth quarter proved to be critical. With the Raiders leading 28-24, the Bills had a third-and-8 and might have settled for a field goal had Johnson not committed the foul. Given first down at the 4, Ryan Fitzpatrick hit tight end Scott Chandler with a 6-yard touchdown pass that gave Buffalo a 31-28 lead. … Because Kevin Kolb is good enough to get the ball to Larry Fitzgerald seven times for 133 yards, he's going to put up good numbers and score a lot of points. Kolb threw for 251 yards in a 22-21 loss to the Washington Redskins, but face it, the Cardinals' defense is bad. The Redskins ran for 172 yards and Rex Grossman threw for 291. To make matters worse, the Cardinals have two 34-year-old linebackers -- Joey Porter and Clark Haggans -- so don't expect much pressure. Inside linebacker Daryl Washington was hurt and the other starting inside linebacker, Paris Lenon, had to be carted off with a knee injury.
John Clayton's game balls
• Offense: Let's give it to the MVP. Cam Newton may have beaten Tom Brady in the yardage department, 432 to 423, but Brady beat the San Diego Chargers 35-21. Brady completed 31 of 40 passes and had three TD passes.
• Defense: At 34, Charles Woodson continues to age gracefully. After a relatively quiet Week 1, Woodson had two interceptions, five tackles, two pass defenses and a fumble recovery during the Packers' 30-23 victory over the Carolina Panthers.
• Special teams: Josh Cribbs gave the Browns good field position all day with his returns. He had two kickoff returns for 80 yards -- a 52-yarder and a 28-yarder. He had two punt returns for 52. For big plays on special teams, he went 4-for-4.
Week 2 rundown
• Detroit 48, Kansas City 3
Doormats no more. The Lions are 2-0 for the first time since 2007, and they made it look easy against the mistake-prone Chiefs (six turnovers).
• Buffalo 38, Oakland 35
Speaking of 2-0 teams, the Bills survived a thriller to remain unbeaten. Both teams had more than 450 yards of total offense.
• Tennessee 26, Baltimore 13
The Ravens followed an emotional Week 1 win with a massive Week 2 letdown. Of course, the Titans' newfound passing game (358 yards) had a lot to do with it.
• Cleveland 27, Indianapolis 19
The 0-2 Colts find themselves in an unfamiliar spot -- last place in the AFC South. Don't expect it to be an easy climb out.
• Tampa Bay 24, Minnesota 20
The Vikings were in command -- until Bucs QB Josh Freeman delivered more second-half heroics. Adrian Peterson (120 yards, 2 TDs) became Minnesota's all-time rushing leader.
• New Orleans 30, Chicago 13
No Marques Colston, no problem for the Saints' offense. Drew Brees & Co. piled up 382 yards on a Bears D that was stout in Week 1.
• N.Y. Jets 32, Jacksonville 3
Is it time for Blaine Gabbert? Hard to say for sure, but the Jaguars' offense looks listless with journeyman Luke McCown under center.
• Pittsburgh 24, Seattle 0
The Seahawks were easy prey for an angry Steelers team playing at home. Pittsburgh cleaned it up on offense (no turnovers) and was stingy on defense (164 total yards allowed).
• Washington 22, Arizona 21
Add the Redskins to the list of surprise 2-0 teams. Washington QB Rex Grossman threw two early picks, but a healthy running game (172 yards) helped him stay the course.
• Green Bay 30, Carolina 23
Another week, another eye-popping passing yardage total (432) for Cam Newton. The Panthers were game, but it's hard to overcome four turnovers against the defending champs.
• Dallas 27, San Francisco 24 (OT)
There's not much Tony Romo's detractors can point to this week. Not only did he lead the Cowboys out of a hole, but he did so in obvious pain.
• Houston 23, Miami 13
The early returns are positive for the Texans' revamped defense. Dolphins QB Chad Henne (12-of-30, 170 yards) had a much easier time against the Patriots.
• Denver 24, Cincinnati 22
Without several key players, the Broncos blocked out a major distraction (Tim Tebow mania) and scored a hard-fought victory.
• New England 35, San Diego 21
Is Tom Brady going to put up even bigger numbers than he did a year ago? His 940-yard, two-game total is staggering.
• Atlanta 35, Philadelphia 31
Michael Vick left with a 10-point lead, but the Eagles' defense couldn't hold it. Eagles WR Jeremy Maclin (13 catches, 171 yards, 2 TDs) was having a career game -- until a big fourth-down drop in the closing minutes.
-- ESPN.com
MONDAY NIGHT FOOTBALL
•
St. Louis at N.Y. Giants (ESPN, 8:30 p.m. ET)
Looking ahead
An early look at next weekend's biggest games:
• Houston (2-0) at New Orleans (1-1): A tough early test for the Texans' improved defense.
• New England (2-0) at Buffalo (2-0): Are the Bills legit? We'll get a good idea next weekend.
• Green Bay (2-0) at Chicago (1-1): NFC title game rematch. Are the Bears equipped to exact some revenge?