Week 3: Surprising Bills prove they're for real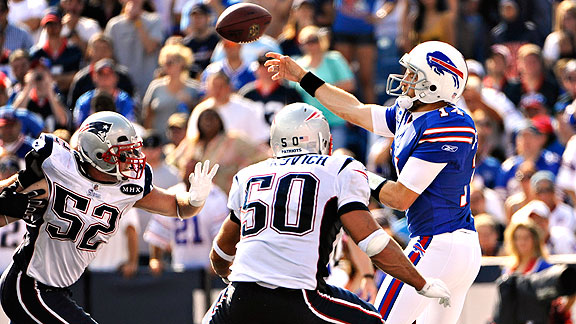 Richard Mackson/US Presswire The Bills -- not the Patriots or Jets -- are atop the AFC East. Ryan Fitzpatrick & Co. improved to 3-0 with a dramatic and stunning 34-31 victory over New England.
Week 3 leaders
The pass-crazy NFL had yet another great Sunday.
Ten of the 14 Sunday afternoon games were decided by seven points or fewer. Ten quarterbacks threw for more than 300 yards and there were great showdowns -- Ryan Fitzpatrick-Tom Brady, Drew Brees-Matt Schaub and Josh Freeman-Matt Ryan.
It was a Sunday during which Michael Vick broke a hand and may have a body in need of a week off. It was a Sunday during which the Saints gutted out injuries at linebacker and to offensive linemen Olin Kreutz and Zach Strief to beat the Texans.
To date, it was the best day of the season.
Here are five things I learned from Week 3:
1. Texans still can't close: Saints coach Sean Payton, one of the brightest minds in the league, had this to say after Sunday's 40-33 victory over the Texans:
"You find ways to win and certainly you can find ways to lose," Payton said. "It's not just dumb luck."
The Texans found a way to lose, something they've done too many times in recent years. The Texans were leading 26-17 six seconds into the fourth quarter. They had a solid runner, Ben Tate, who rushed for 80 yards in three quarters. Wade Phillips' defense had done a good job of confusing Drew Brees and it stopped him on the Saints' first drive of the fourth quarter.
Then the Texans did their best to fall apart. Instead of running, the Texans had two incompletions in a three-and-out possession that preceded a horrible 34-yard punt by rookie Brett Hartmann. Brees eventually shredded the Texans' defense with 13 completions on 19 attempts for 163 yards and two touchdowns in a 23-point fourth quarter.
Everything is set for the Texans to win the AFC South. The Colts' Peyton Manning is injured. The Jaguars are 1-2 and starting a rookie quarterback, Blaine Gabbert. The Titans are trying to find themselves. Sunday's game could have been a Texans blowout but they had to settle for four field goals in the red zone.
"Man, it's tough," Texans wide receiver Andre Johnson said. "Today we were going to find out who we were as a football team. We didn't score seven points when we needed to score seven points."
The Saints followed Payton's passages. They found a way to win. The Texans must learn to do the same.
2. Dream team has its nightmare: The sight of Michael Vick aching and woozy on the bench because of injuries is starting to remind me of watching Brett Favre last season. Vick is still young and has plenty of football ahead of him, but the sight of him taking hit after hit is getting ridiculous.
[+] Enlarge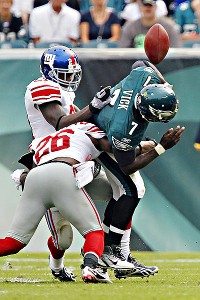 Hunter Martin/Getty ImagesEagles QB Michael Vick (broken hand, concussion) has already taken quite a beating this season.
After the Eagles' 29-16 loss to the Giants, Vick made strong statements about the league and officials not giving him protection.
"I don't get the 15-yard flags like everybody else," Vick said. "But hey, I'm not going to complain about it. I'm just making everybody aware and hopeful somebody will take notice."
Vick broke his right hand on a play in which Giants defensive tackle Chris Canty hit him after he threw a pass. Last week, you saw Vick struggling with a concussion. He tried to go back on the field after he broke his hand Sunday, but the television shots of him on the bench showed how much pain he was in. He looked ill. No player can take the pounding that Vick undergoes each week. Going into the game, he had been hit a league-high 33 times, almost two times more than any other quarterback in the league. And his numbers are going down.
On Sunday, Vick ran for 31 yards and passed for 176. In this game, the Giants looked like bullies, and I mean that in a positive way. Their defense didn't seem intimidated by the Eagles' offense. Running backs Ahmad Bradshaw and Brandon Jacobs were giving stiff-arms and pushing aside defenders. Bradshaw had 139 combined yards. Jacobs had 61.
By losing, the Eagles gave life to a New York Giants team that is 2-1 despite having a long list of injuries.
3. Worthy of top billing: The Detroit Lions have become darlings of the league because of their 3-0 start, but the Buffalo Bills are the best story in the league so far.
No one saw this one coming. A team that had the look of being so bad that it would be in the Andrew Luck sweepstakes now needs to scramble to sign quarterback Ryan Fitzpatrick to a contract extension. All the credit for their 3-0 start and their 34-31 victory over the New England Patriots goes to Chan Gailey, their coach, and Fitzpatrick.
Gailey constructed a three- and four-receiver offense that not even Bill Belichick could figure out a way to stop. Gailey's style is to spread the field with wide receivers and run Fred Jackson up the gut. As the game progressed, Gailey realized the Patriots couldn't pressure the quarterback and that cornerback Devin McCourty could be exploited. Instead of aggressive pass-rushing sets, the Patriots used mostly coverage packages on defense. According to ESPN Stats & Information, the Patriots rushed four or fewer defenders on 31 of Fitzpatrick's 40 attempts.
Fitzpatrick had two interceptions early and averaged only 4.9 yards an attempt in the first quarter. The Pats jumped out to a 21-0 lead. But Fitzpatrick was able to get enough time to throw and he eventually found a comfort zone, passing for 369 yards and two TDs. Don't just blame a Patriots defense that didn't have Albert Haynesworth, Mike Wright, Patrick Chung and Ras-I Dowling. Fitzpatrick outdueled Tom Brady, who threw four interceptions even though he had the lead.
4. You could see this coming: The most predictable upset of the day was the Raiders' 34-24 victory over the New York Jets. The Raiders have a powerful defensive line. The Jets don't have much of an offensive line, particularly with center Nick Mangold not making the trip because of an ankle injury. Rookie Colin Baxter was overmatched at center. Wayne Hunter, the right tackle, is off to a rough start. Finally, the Jets' inability to run the ball is forcing Mark Sanchez to be more of a thrower than a manager of the game. That doesn't work.
Sanchez had to throw 43 times Sunday and he took a lot of punishing hits. In fact, he may have broken his nose. This isn't Rex Ryan football. Things should get better if Mangold returns to the lineup next week, but the Jets better figure out how to get the running game going or they may not have Sanchez long.
5. The run to the playoffs: The Green Bay Packers took control of the NFC North with a 27-17 victory over the Chicago Bears, and the Tampa Bay Buccaneers clawed their way back into the NFC South race with a 16-13 win over the Atlanta Falcons.
In both games, the running games were the difference. The inability of the Bears and Falcons to run leaves them vulnerable to losses. Everyone knew the pressure was on Bears offensive coordinator Mike Martz to run the ball more after having 52 called passes and only 11 called running plays last week. The way the game went, though, Martz had to stay in the air to keep up with Aaron Rodgers. Matt Forte had only nine running attempts for 2 yards, but he did catch seven of eight pass attempts in his direction. Jay Cutler threw 37 passes, completing 21 for 302 yards, but his two interceptions crushed the Bears.
The Falcons' Matt Ryan had to throw 47 times because the Bucs stacked the run and held the Falcons to 30 rushing yards on 15 attempts. The Bucs got the win thanks to LeGarrette Blount getting 81 yards on 24 carries while QB Josh Freeman had 10 hard runs himself.
Short Takes
One of the highlights of the Chargers' 20-17 victory over the Kansas City Chiefs was the long-overdue good game by halfback Ryan Mathews, who had 98 yards on 21 carries. … Seahawks WR Sidney Rice, who missed two games with a torn labrum, showed his worth by catching eight passes for 109 yards in a 13-10 win over the Arizona Cardinals. Rice caught eight of the 18 passes completed by Tarvaris Jackson. … The lack of receivers and an injured Steven Jackson getting only 23 yards left Rams QB Sam Bradford in for a horrible day in a 37-7 loss to Baltimore. Bradford passed for only 166 yards and had no time to throw the ball. Meanwhile, Joe Flacco threw for 389 yards in a game in which he had only one legitimate wide receiver, Anquan Boldin. … The likely season-ending loss of wide receiver Kenny Britt to a knee injury is devastating for the Titans. Quarterback Matt Hasselbeck has established a great rhythm getting the ball to Britt and Nate Washington. Without Britt, who is a big-play deep threat, defenses will try to take away Hasselbeck's effective short passing game. Hasselbeck missed on only nine of his 36 throws, but three were to RB Chris Johnson, who is having trouble catching the ball and running. Still, the Titans are 2-1 after a 17-14 victory over the Broncos. … Talk about teams going different directions. The Vikings are 0-3 and have blown three double-digit leads in three weeks. The Lions are 3-0 because they are fearless and aggressive. Matthew Stafford gets the ball downfield. He completed 32 of 46 passes for 378 yards and rallied the Lions from a 20-0 deficit in a 26-23 overtime victory over the Vikings, who are too conservative. Donovan McNabb's average completion was 9.59 yards Sunday. Stafford averaged 11.8. By the way, that's the Lions' first road win in Minnesota since 1997. … The Dolphins need to figure out if they want to be a shotgun team that utilizes Reggie Bush's pass-catching skills or an inside running team featuring Daniel Thomas. One thing that is certain, the Dolphins can't figure out what to do in the red zone. They converted only one touchdown drive in three trips into the red zone Sunday, settling for two of their three field goals. They are 6-for-14 on the season in the red zone. The Browns weren't the same offense without halfback Peyton Hillis, who was sent home because of strep throat. But the Dolphins' inability to get touchdowns allowed the Browns to hang around and win 17-16 in the final seconds. "You can't substitute field goals for touchdowns," wide receiver Davone Bess said. … Cam Newton was clearly the best of the rookie quarterbacks on the rain-soaked field during the Panthers' 16-10 victory over the Jaguars. Newton didn't put up big numbers (18-of-34 for 158 yards) but he generated a 55-yard, game-winning touchdown drive in the fourth quarter. The Panthers made his job easier with 28 rushing plays. Jaguars quarterback Blaine Gabbert, sacked for a safety in the first quarter, couldn't take advantage of a 122-yard rushing day by Maurice Jones-Drew. He completed only 12 passes for 139 yards. … 49ers coach Jim Harbaugh showed he had decent depth when halfback Frank Gore and safety Donte Whitner were injured. Reggie Smith did a nice job filling in at safety. Rookie halfback Kendall Hunter had 26 tough yards on nine carries and a touchdown replacing Gore in an ugly 13-8 victory over the Bengals. … Being a rookie is catching up with Bengals QB Andy Dalton, who completed 17 of 32 passes for 157 yards and had two interceptions. … The surprise inactive of the day was Dolphins defensive end Phillip Merling, a second-round pick in 2008. He was replaced on the active roster by Igor Olshansky. … 49ers guard Chilo Rachal gave up two sacks and had two holding penalties. At one point, he was replaced by Adam Snyder.
John Clayton's game balls
• Offense: Darren McFadden gashed a New York Jets defense that is geared toward stopping the run. He rushed for 171 yards on 19 carries (9.0 yard average) in a 34-24 victory. He also scored two touchdowns.
• Defense: Jared Allen destroyed the Lions' offensive line and harassed Matthew Stafford all day in a 26-23 overtime loss to the Detroit Lions. He had three sacks, two additional hits on the quarterback, one forced fumble and six total tackles.
• Special teams: Jason Hanson was 4-for-4 on field goals and gave the Lions the ability to come from behind to beat the Minnesota Vikings 26-23 in overtime. Hanson, 41, is 8-for-8 this season. He's been with the Lions since 1992.
Week 3 rundown
• Tennessee 17, Denver 14
Two turnovers. Eleven penalties. Meager running game. The Titans had to overcome plenty, and efficient QB play by Matt Hasselbeck (27-of-36, 311 yards) allowed them to do just that.
• Buffalo 34, New England 31
Another week, another dramatic comeback by the now 3-0 Bills. This one is sure to send shockwaves; Buffalo picked off Tom Brady four times.
• San Francisco 13, Cincinnati 8
The 49ers are a Tony Romo comeback away from being 3-0. A big day by Vernon Davis (8 catches, 114 yards) helped San Francisco enjoy a more than 10-minute edge in time of possession.
• Cleveland 17, Miami 16
The road is usually kind to the Dolphins. Not on Sunday, thanks to Colt McCoy's late heroics. Will Miami coach Tony Sparano make it to midseason?
• Detroit 26, Minnesota 23 (OT)
Still need proof that this is a different Lions team? After looking lost in the first half, Matthew Stafford & Co. came to life and won at the Metrodome for the first time in 14 games.
• New Orleans 40, Houston 33
The Texans were on the precipice of a huge win, but they couldn't keep up with Drew Brees and the Saints. The teams combined for five TDs in a frantic fourth quarter.
• N.Y. Giants 29, Philadelphia 16
Make that two straight games Michael Vick (broken hand) has been unable to finish for the Eagles. The depleted Giants might have unearthed a home run hitter in WR Victor Cruz (2 TDs).
• Carolina 16, Jacksonville 10
Panthers QB Cam Newton was finally held to fewer than 400 yards, but he still got the win. The Jags' D -- and driving rain -- kept the rookie in check (158 passing yards).
• Oakland 34, N.Y. Jets 24
Many considered this to be a tough spot for the Jets, and that certainly proved to be the case. Two Raiders TDs in a 42-second span turned the tide.
• Baltimore 37, St. Louis 7
This one was over quickly. Is the Rams' season already over? If you look at their injury situation and upcoming schedule, it's hard to find a silver lining.
• San Diego 20, Kansas City 17
Despite not registering a single first-half first down, the Chiefs were competitive for the first time this season. Ryan Mathews (98 rushing yards, 2 TDs) highlighted what was a spotty offensive effort by the Chargers.
• Green Bay 27, Chicago 17
Who needs the long ball? Not the Packers, whose longest completion was 25 yards. Still, Aaron Rodgers came just 3 yards shy of another 300-yard passing game.
• Seattle 13, Arizona 10
Has Sidney Rice been the missing ingredient for the Seahawks? Maybe so. The wideout caught eight passes for 109 yards in his regular-season debut.
• Tampa Bay 16, Atlanta 13
The Bucs delivered their best defensive effort of the season (three turnovers, four sacks) and ended a five-game losing streak to the Falcons.
• Pittsburgh 23, Indianapolis 20
The Steelers escaped with a win, but there's no masking their O-line problems. Ben Roethlisberger was sacked three times, lost two fumbles and was under constant duress.
-- ESPN.com
MONDAY NIGHT FOOTBALL
•
Washington at Dallas (ESPN, 8:30 p.m. ET)
Looking ahead
An early look at next weekend's biggest games:
• Detroit (3-0) at Dallas (1-1): No one has stopped the Lions yet. Will the Cowboys be the first?
• New England (2-1) at Oakland (2-1): Can the Pats rebound in the Black Hole?
• N.Y. Jets (2-1) at Baltimore (2-1): Another tough road game for the Jets, who suddenly appear vulnerable.