Week 4: Megatron, Lions make Cowboys pay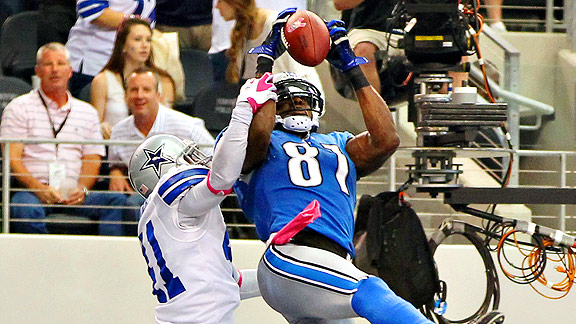 Tim Heitman/US PresswireA pair of acrobatic touchdown catches by Calvin Johnson helped the Lions overcome a 24-point deficit and stun Dallas 34-30. Detroit is 4-0 for the first time since 1980.
Week 4 leaders
Comebacks highlighted Week 4.
The Detroit Lions overcame a 24-point deficit to beat the Cowboys 34-30, tying the greatest road comeback in NFL history. The New York Giants overcame a 10-point fourth-quarter deficit to beat Arizona 31-27. The Bengals came back to beat the previously unbeaten Bills 23-20 after trailing by 14. The 49ers came back on the road from a 23-3 deficit to beat the Philadelphia Eagles 24-23.
In four weeks, there have been 15 double-digit comebacks.
Aside from comebacks, here are five things I learned from Week 4:
1. Don't underestimate Megatron:
Cowboys defensive coordinator Rob Ryan made the fatal mistake of saying that Lions wide receiver
Calvin Johnson
, whose nickname is Megatron, would be no better than the Cowboys' third wide receiver. Cowboys QB
Tony Romo
threw two third-quarter pick-sixes that set up an amazing show by Johnson, who had five catches for 58 yards and two touchdowns in the fourth quarter.
"I'm glad the third-best receiver on their team is on our team," Lions coach Jim Schwartz said.
Johnson had one of the most impressive plays of the season, catching a 23-yard touchdown pass from Matthew Stafford when he was defended by three Cowboys players. On that play, a first-and-10 with the Lions trailing 30-17, Johnson looked at Stafford and pointed upward with his index finger.
"It was Shawn Kemp pointing to Gary Payton to throw it up for a dunk," Lions receiver Nate Burleson said.
The Lions knew the Cowboys were vulnerable inside the numbers. According to ESPN Stats & Information, the Cowboys had the third-worst numbers for completion-percentage allowed inside the numbers. Accordingly, Stafford hit Johnson on four consecutive plays inside the numbers.
The killer for the Cowboys came at the end of the game. With 1:39 left in regulation, the Cowboys were flagged for having 12 defenders on the field, but they had only one defender (cornerback Terence Newman) covering Johnson, who snared a 2-yard TD pass to give Detroit a 34-30 victory.
In the past two weeks, the Lions have come back from 20- and 24-point deficits in the second half, and they now stand at 4-0. Burleson notes that last year the Lions were still learning how to win these types of games. Thanks to the calm leadership of Stafford and the opportunistic defense of Schwartz, the Lions head into next week's Monday night showdown against the Bears with a 4-0 record. Yes, they are for real.
2. Panic in the Steel City: It's way too early to panic in Pittsburgh, but the Steelers have to be worried after a 17-10 loss to the Houston Texans. They are 2-2, which isn't bad, but they aren't playing well. Quarterback Ben Roethlisberger injured his left foot and was wearing a walking boot when he left the stadium. Linebacker James Harrison (eye), defensive end Aaron Smith (midfoot), defensive end Jason Worilds (quad) and running back Rashard Mendenhall couldn't finish the game because of injuries.
But more than anything else, the Steelers just aren't playing that well. Everyone in Pittsburgh is concerned about a defense that has as many as eight players in their 30s and looks a step slow. Houston's Arian Foster, who has been fighting hamstring problems since the first day of training camp, ran around and through the Blitzburgh defense for 155 yards on 30 carries. No one is supposed to run on the Steelers, but the Texans did. Even more amazing is that the Steelers' defense has forced only one turnover in four games.
"We've got to tackle better," Steelers coach Mike Tomlin said after the game.
Next week, the Titans visit Heinz Field with a top-ranked defense and a hot quarterback (Matt Hasselbeck). Tomlin has to be concerned.
3. See, the Bears CAN run the ball: Bears offensive coordinator Mike Martz has been criticized for rushing the ball only a dozen times in Weeks 2 and 3. Matt Forte, who had only 19 carries and 51 rushing yards in those games, came out running Sunday. Martz ordered seven straight running plays to open the game in a 78-yard field goal drive. Martz mixed in the nifty running of Forte with the power running of Marion Barber to establish a physical presence.
"We knew as an offense that we can run the ball," Forte said. "We just had to establish that first and then continue to do it the rest of the game."
Forte had a career-best 205 yards on 25 carries. Barber added 17 more on five carries. Although the 34-29 victory over the Panthers was a thriller because of Cam Newton's 374-yard passing performance, Martz stayed patient and the Bears won.
For Bears quarterback Jay Cutler, this game must have felt like a bye week. He entered the game with 14 sacks, 20 knockdowns and 15 hurries in three games. Thanks to Forte's taking the pounding, Cutler had to drop back to pass only 18 times. He completed 9 of 17 passes for 102 yards and was sacked only once.
This was a good game for the Bears' struggling offensive line. Chicago benched right tackle Frank Omiyale and replaced him with Lance Louis. After the game, coach Lovie Smith said he wasn't apologizing for the victory. He shouldn't.
4. Defense hurts Eagles: The Eagles invested $128 million in contracts for cornerback Nnamdi Asomugha, defensive end Jason Babin and defensive tackle Cullen Jenkins, but their lack of investments in the middle of the defense is leading to a horrible 1-3 start.
The 49ers rushed for 164 yards against an Eagles defense that is weak up the middle. In four games, the Eagles are giving up an average of 139.5 rushing yards per game.
"We'll continue to improve," coach Andy Reid said when asked whether the team is strong enough up the middle. "That's what we're going to do. We're going to get better. It's not just one thing."
According to ESPN Stats & Information, 49ers RB Frank Gore rushed for 109 yards up the middle and averaged 8.4 yards a carry. The Eagles let safety Quintin Mikell leave in free agency at the time Nate Allen was coming off knee surgery. Allen regained his starting job Sunday after Kurt Coleman was benched.
5. Missing Nnamdi: The Raiders showed for a while that they could play with the New England Patriots, but Sunday was an example of when the Raiders missed departed CB Nnamdi Asomugha, the master of shutting out the best opposing pass-catcher. The Raiders play mostly man coverage, but it's not as effective without him.
Sure, the Raiders' secondary was hurting (cornerback Chris Johnson and safety Michael Huff were inactive with injuries), but no one could stop Patriots WR Wes Welker, who caught 9 of 14 passes thrown in his direction for 158 yards and one touchdown in a 31-19 victory. Plus, the Pats were able to rush for 183 yards.
Patriots QB Tom Brady didn't put up monster numbers. He completed 16 of 30 passes for 226 yards, but he moved the ball when he needed to. Brady said afterward he was happy about the offense's play, but the team has to be concerned about its defense: The Raiders put up 504 yards. And if that wasn't bad enough, Patriots linebacker Jerod Mayo couldn't finish the game because of a knee injury.
Short Takes
Dolphins coach Tony Sparano has to return to Miami for a bye week amid plenty of uncertainty. Quarterback Chad Henne injured his shoulder in a 26-16 loss to the San Diego Chargers, and the team is 0-4. I don't think Sparano will get fired, but the team is in deep trouble. Rookie rusher Daniel Thomas might return after the bye from a hamstring injury, but the team could get only 50 rushing yards from Reggie Bush. Sparano's situation will be reviewed this week. … Talk about bad timing. Eagles rookie place-kicker Alex Henery missed two field goals of fewer than 40 yards on a day the Eagles faced David Akers, their longtime kicker. Akers didn't have a great day, either. He was wide on one kick and had another blocked. … It had to help the Bengals that Mike Zimmer, their talented defensive coordinator, knew Bills quarterback Ryan Fitzpatrick from Fitzpatrick's days as a Bengals backup. Fitzpatrick had been unstoppable for three weeks out of three- and four-receiver sets, but Zimmer held Fitzpatrick to 199 yards passing and contained Fred Jackson from running the ball out of spread sets. Jackson had only 66 yards on 17 carries, and the defense kept the Bengals in the game long enough to come back from a 14-point deficit. … Maybe there is life in the NFC West. The 49ers came from behind to beat the Eagles. The Seahawks gave the Falcons a battle in a 30-28 loss. Even though the Cardinals blew the game down the stretch to the Giants, the letdown in the division was the Rams, who generated only 172 yards of offense in a 17-10 loss to the Redskins. The Redskins held RB Steven Jackson to 45 yards. Sam Bradford was sacked seven times and had only 127 net passing yards, illustrating that the five-step drop change by offensive coordinator Josh McDaniels isn't working. … Thanks to the signing of quarterback Matt Hasselbeck and the surprising strong performance of their defense, the Titans are 3-1 and wiping out the problems of last season. Their 31-13 win over the Browns ended a seven-game road losing streak. After averaging 2.1 yards a carry through three games, Chris Johnson had 101 yards rushing on 23 carries. Hasselbeck may have completed only 50 percent of his throws, but he had an 80-yard touchdown pass to tight end Jared Cook. The team feels like a winner. … Although ugly, the Chiefs' 22-17 victory over the Vikings was important for coach Todd Haley and quarterback Matt Cassel. "Matt Cassel battled today," Haley, who'd had a sideline argument with his quarterback during the game, told reporters afterward. "If we don't beat ourselves in games, we have a chance to be a good team." Cassel didn't have his running game, getting only 37 yards out of Thomas Jones, and had to provide 20 of the Chiefs' 103 rushing yards himself. But he kept drives alive long enough to get field goals (K.C. got five Sunday), completing 18 of 29 passes for 260 yards. … Drew Brees didn't think the Saints took advantage of all their opportunities in a 23-10 victory over the Jacksonville Jaguars, but they didn't need to do much. The Jags are going with a rookie quarterback (Blaine Gabbert) and a suspect defense. Once again, the Jags proved they haven't improved enough at safety despite the signing of Dawan Landry and Dwight Lowery. Saints tight end Jimmy Graham was targeted 14 times and had 10 catches for 132 yards. Darren Sproles had 56 yards receiving and 75 rushing yards on seven carries. That was enough. … The Texans can't catch a break when it comes to hamstrings. Just when RB Arian Foster returned from hamstring problems, WR Andre Johnson suffered a hamstring injury and may be out a while.
John Clayton's game balls
• Offense: Aaron Rodgers was completely unstoppable in a 49-23 victory over the Denver Broncos. He completed 29 of 38 passes for 408 yards and four touchdowns. His passer rating was 134.5. He led six touchdown drives on the Packers' first 10 possessions. He also rushed for two touchdowns. Rodgers the first NFL player to have at least 400 yards passing, four passing touchdowns and two rushing scores in one game.
• Defense: Chiefs linebacker Tamba Hali might not have had the most sacks Sunday, but he made the right plays at the right time to allow the Chiefs to earn their first victory, 22-17 over the Vikings. Hali had two sacks, five hits on Vikings quarterback Donovan McNabb and five other tackles.
• Special teams: Devin Hester said his Chicago Bears team "thirsted" for a return. Hester drowned the Panthers with a 73-yard kickoff return and a 69-yard punt return for a touchdown during the Bears' 34-29 victory. Hester has 15 career returns for touchdowns, including an NFL-record 11 punt returns for scores.
Week 4 rundown
• Chicago 34, Carolina 29
The Bears' running game is just fine after all. Matt Forte followed his nine-carry, 2-yard performance a week ago with a whopping 205 yards on 25 carries.
• Cincinnati 23, Buffalo 20
Were the Bills granted contender status too soon? Maybe. Instead of another thrilling comeback, Buffalo coughed up a 17-3 lead.
• Tennessee 31, Cleveland 13
The suddenly big-play Titans (two touchdowns of 80-plus yards) walked all over the listless Browns. Tennessee RB Chris Johnson (101 yards) is showing signs of his former self.
• Detroit 34, Dallas 30
The Cowboys were in total meltdown mode at the end. Of course, Calvin Johnson's ability to make superhuman catches had a lot to do with Dallas' demise.
• Kansas City 22, Minnesota 17
The Chiefs got their first turnover-free game of the season -- and a game-changing play from WR Dwayne Bowe (52-yard TD catch).
• Washington 17, St. Louis 10
Will the Rams ever win? Yes, but it might be a while. Their upcoming schedule is as brutal as it gets.
• San Francisco 24, Philadelphia 23
What was supposed to be a dream season for the Eagles is quickly becoming a nightmare. The blame game starts on defense.
• New Orleans 23, Jacksonville 10
Darren Sproles (188 all-purpose yards) is doing just fine in Reggie Bush's old role. Saints TE and rising star Jimmy Graham had his second straight 100-yard game.
• Houston 17, Pittsburgh 10
The Texans proved they can beat a good team. Now they might have to prove they can win without WR Andre Johnson (hamstring).
• N.Y. Giants 31, Arizona 27
There's just something about the desert that brings out the best in Eli Manning and the Giants. Benefiting from a controversial call never hurts, either.
• Green Bay 49, Denver 23
Six total touchdowns. A career-high 408 passing yards. Aaron Rodgers will have a hard time topping what might have been the best performance of his career.
• New England 31, Oakland 19
If this was a measuring-stick game for the Raiders, they have a long way to go. The Pats' D is still a problem, and Jerod Mayo's knee injury certainly won't help matters.
• San Diego 26, Miami 16
The Dolphins enter their bye week winless and with a wounded starting quarterback. Is it time to call David Garrard?
• Atlanta 30, Seattle 28
It was a tale of two halves for the Falcons, who led 24-7, then made this much more interesting than it needed to be. That won't cut it next week versus Green Bay.
• Baltimore 34, N.Y. Jets 17
Are defenses falling behind? Don't tell that to the Ravens, whose D forced four turnovers and delivered three TDs in a runaway victory.
-- ESPN.com
MONDAY NIGHT FOOTBALL
•
Indianapolis at Tampa Bay (ESPN, 8:30 p.m. ET)
Looking ahead
An early look at next weekend's biggest games:
• Tennessee (3-1) at Pittsburgh (2-2): Will the Steelers have enough healthy bodies to fight off the surprising Titans?
• N.Y. Jets (2-2) at New England (3-1): There's never a shortage of storylines when these rivals meet. Can the Jets turn things around?
• Green Bay (4-0) at Atlanta (2-2): NFC title game preview? Only if the wobbly Falcons pull it together.