Week 5: Steelers respond; Eagles unravel again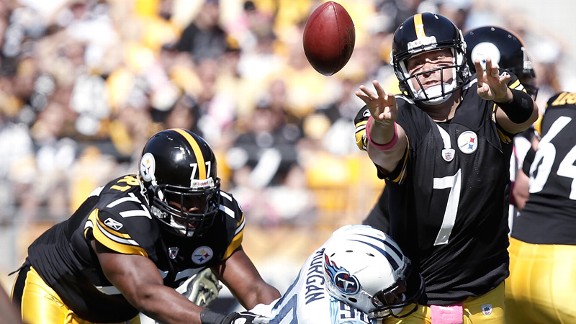 Jared Wickerham/Getty ImagesBen Roethlisberger and the banged-up Steelers came up big against Tennessee. Roethlisberger matched a career high with five TD passes, leading Pittsburgh to a 38-17 victory.
Week 5 leaders
In a tribute to one of the game's icons, NFL teams had a "Just win, baby," Sunday to honor Raiders owner Al Davis, who passed away at the age of 82 on Saturday.
Davis coined the phrase when his Raiders established themselves as Super Bowl contenders. It's fitting that Davis' Raiders would honor him with a 25-20 victory over the Houston Texans.
The victory wasn't pretty. Jason Campbell completed only 15 of 35 passes. Darren McFadden was held to 51 yards. Sebastian Janikowski had to kick four field goals to give the Raiders enough points for the victory, but it was a great win for a Raiders team that is now 3-2.
Week 5 was one in which the underdogs rose and scored big victories. The Bills upset the league's best underachievers, beating the Eagles 31-24. The Seahawks went on the road and upset the Giants 36-25. And despite a 29-24 loss to the San Diego Chargers, the Tim Tebow era may have begun in the Denver with the benching of Kyle Orton.
Here are five things I learned from Week 5:
1. Troubling losses for coaches: Once again, the Houston Texans and Gary Kubiak came up short in a close game, this time against the Raiders. Losing close games has been a staple of the Texans under Kubiak. Starting last November, the Texans finished a disappointing 6-10 season by losing five games that were decided by seven points or fewer. They blew a nine-point lead earlier this year in New Orleans, and Sunday's loss to the Raiders was even more frustrating. During Kubiak's coaching career, the Texans are 20-24 in close games.
The Texans jumped to a 14-6 lead by the second quarter, but the offense went cold late in the first half. Things started falling apart when QB Matt Schaub had a second-and-1 at the Raiders' 37-yard line, managed only two incompletions and Houston ended up punting and getting no points. The Texans followed with three worthless possessions in their own territory, giving the Raiders a chance to come back.
Wade Phillips came in as defensive coordinator and has shaved 7.7 points a game off what Houston's defense allowed last year. But what's amazing is that the Texans, considered the AFC South's front-runner with the Colts' Peyton Manning not playing, have been outscored 24-6 in the third quarter this season. If the Texans lose the division to the Tennessee Titans, owner Bob McNair might be tempted to bring in Bill Cowher, Jon Gruden or Jeff Fisher next year.
Tom Coughlin should have job security, but the Giants' loss to the Seahawks is troubling and potentially job damaging. Eli Manning was responsible for four turnovers and the Giants had five overall. They kept letting the Seahawks stay in the game and eventually take control in the fourth quarter. Coughlin took some heat last year after a 6-2 start fell short of the playoffs because of a 4-4 finish. Sunday's loss could be costly in terms of tiebreakers later in the season, and a non-playoff season could put Coughlin on shaky ground.
2. Steelers pass gut-check: The Steelers showed in their 38-17 victory over Tennessee why they have been a championship-caliber team in recent years. Coach Mike Tomlin challenged a banged-up roster after a sluggish 2-2 start. Six Steelers, including four starters, were scratched because of injuries, and even though the Steelers let halfback Rashard Mendenhall suit up, they weren't going to play him because of a hamstring injury.
"I wouldn't say it was a must-win, but there was more of a sense of urgency," Steelers receiver Hines Ward said.
Though the defense started slow and the Steelers' crowd was uncharacteristically quiet as Matt Hasselbeck moved the Titans to the Steelers' 7-yard line during the opening drive, Pittsburgh's defense, missing veterans Aaron Smith, Casey Hampton and James Harrison, held the Titans to a field goal. That stand and a 52-yard kickoff return by Antonio Brown sparked the Steelers. After that the crowd, which didn't even respond to the call for "Noise" on the scoreboard during the first drive, went wild. Tackling was crisp. Ben Roethlisberger fought through the pain of a left foot sprain to throw five touchdown passes, but the most important thing was his patience. With the Titans playing a Cover 2, Roethlisberger took the easy completions in the middle of the field to Ward and Heath Miller.
Tomlin was particularly aggressive. In the second quarter, Tomlin extended a drive by having punter Danny Sepulveda fake a punt and throw a 33-yard completion to Ryan Mundy.
"We weren't going to leave any bullets in the gun," Tomlin said. "It was appropriate we get off to a fast start."
Six more Steelers suffered minor injuries during the game, but the team kept battling and dominating. Max Starks, unemployed and watching football last Sunday in a Phoenix bar, started at left tackle after only three practices and played all but three plays. Third-string running back Isaac Redman had 49 the Steelers' 174 rushing yards; he also blocked well when needed.
[+] Enlarge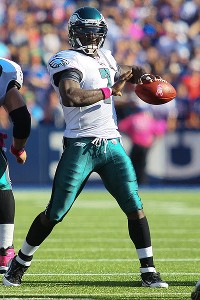 Kellen Micah\Icon SMITrying to compensate for a struggling D, Michael Vick is making too many mistakes.
3. Who will pay in Philly? The play that sums up what's wrong with the Philadelphia Eagles came in the second quarter of their loss at Buffalo. Bills running back Fred Jackson took a screen pass to the right and split the middle of the defense for 49 yards. The Eagles' defense uses a zone scheme to prevent big plays, but little plays have become big plays against this defense all season.
According to ESPN Stats & Information, Bills QB Ryan Fitzpatrick attempted only three passes that flew at least 10 yards in the air. Those passes were incomplete. Instead, he hit 21 of 24 short passes for 193 yards. The Eagles' inability to stop inside runs also has been a problem all season. Jackson rushed for 111 yards and the Bills put up 143 rushing yards on the Eagles.
Because the Eagles' defense is struggling, QB Michael Vick has had to take more chances and he's making more mistakes because of that. Vick had four interceptions Sunday, including a pick-six by Nick Barnett. Vick recently put the Dream Team idea to rest, but Eagles ownership may soon be seeking answers for why this team is playing so poorly.
Coach Andy Reid was asked after the game if jobs are on the line at this point. "In the National Football League, your job is on the line every week," he said.
4. Jim Harbaugh emerging as Coach of the Year candidate: Because of the lockout, new coaches were supposed to struggle. The 49ers' Harbaugh may not have had an offseason to install what he wants to do as a coach, but he's put a positive brand on this team faster than most expected. Despite taking criticism for keeping Alex Smith as his quarterback, Harbaugh so far has proved he made the right move.
Smith manages an offense that doesn't make many mistakes. Vic Fangio has put together a defense that is nearly impossible to run against and can get quarterbacks out of their game. Sunday's 48-3 blowout of the Tampa Bay Buccaneers coupled with last week's comeback win over the Eagles has the 49ers at 4-1.
A year ago, most people around the league felt former coach Mike Singletary had the most talented roster in the NFC West, but the team was in disarray all season. Harbaugh has established a winning standard and now has a two-game lead over the Seahawks in the division.
5. It's Tebow time: Even though the Broncos lost to the Chargers, Broncos fans felt as though they were the winners Sunday. They finally got Tebow on the field. Orton was benched at the start of the third quarter after completing only six of 13 passes for 34 yards. The Broncos' offense has become lifeless with Orton at quarterback. Commentators noted Friday's practice seemed lifeless in Denver. Fans booed Orton and rooted for Tebow.
Though his numbers weren't great -- he completed 4-of-10 for 79 yards and a TD -- Tebow gave the offense a spark. He brought the Broncos back from 16-point deficit and cut the lead to two points. He had the team driving to the end zone at the end of the game.
Fans cheered Tebow as he came off the field. Coach John Fox said after the game the team will review the quarterback position during the bye week. With the Broncos being 1-4 and in a bye, they might just go to Tebow, which could limit the team's offensive playbook because he's so raw.
Short Takes
The Jets tried a little "ground and pound" in their 30-21 loss to the New England Patriots, but the Patriots did a better job of pounding the football. The Patriots, paced by BenJarvus Green-Ellis, had 35 carries for 152 yards. The Jets had 25 rushes for 97 yards and dropped back to pass 28 times. The problem for New York was its inability to convert third downs. The Jets were 3-for-11 on third down in their third loss of the season. Because of that, they had only 53 offensive plays, which isn't enough. … Despite Charlie Whitehurst's contributions in the Seahawks' upset victory over the New York Giants, there is no quarterback controversy in Seattle. Tarvaris Jackson remains the starter even though he suffered what the team considers a minor pectoral injury. The Seahawks are on a bye this week and coach Pete Carroll believes Jackson will have enough time to heal for the next start. … The more concerning pectoral injury is the one to Texans linebacker Mario Williams. The team will have him undergo tests; his loss would be a huge one for the Texans. He has five sacks and a forced fumble in five games. … With Aaron Smith, Casey Hampton and James Harrison out with injuries, the average age of the Steelers' starting defense dropped from 31.18 to 30.09. … Andy Dalton proved to be the more seasoned of the two rookie quarterbacks in the Bengals' 30-20 victory over the Jacksonville Jaguars and Blaine Gabbert. Dalton continues to show poise and the ability to get the ball to wide receiver A.J. Green (five catches for 90 yards) and tight end Jermaine Gresham (5 for 21). Gabbert isn't blessed with such pass-catching stars. He completed 15 passes for 221 yards, but he made more mistakes than Dalton. … Colts QB Curtis Painter got off to a good start, but he couldn't finish in a 28-24 loss to the Kansas City Chiefs. Painter was 3-of-10 in the second half for 40 yards. … Don't be surprised if the Raiders reach out to former Packers general manager Ron Wolf and former Raiders coach John Madden to help the organization following the passing of Al Davis. … You feel sorry for Donovan McNabb. The Vikings won their first game, blowing out the Cardinals 34-10, but fans seemed to be frustrated with his play. Some chanted for Christian Ponder. McNabb completed 10 of 21 passes for 169 yards, but Adrian Peterson saved the day with 122 rushing yards and three touchdowns. … Cam Newton continues to amaze. He became the first quarterback in NFL history to have at least five touchdown passes and five touchdown runs in his first five games. Little things prevented the Panthers from upsetting the Saints, though. Newton was 16-of-31 for 224 yards. He's 1-4, but his four losses are by a combined total of 22 points. After the game, Saints coach Sean Payton praised Newton's poise.
John Clayton's game balls
• Offense: Fred Jackson accounted for 196 of the Bills' 331 yards of offense during Sunday's 31-24 victory over the Philadelphia Eagles. He rushed for 111 yards on 26 carries and caught six passes for 85 yards. According to ESPN Stats & Information, Jackson got 59 of his 111 rushing yards after first contact.
• Defense: George Wilson is a safety by trade, but the Bills used him in many different ways in their victory over the Eagles. He blitzed. He also was used in some packages as a linebacker. As a result, he was everywhere. He finished with 11 tackles, three passes defensed, an interception and a hit on quarterback Michael Vick.
• Special teams: In the Raiders' 25-20 victory over the Houston Texans, Sebastian Janikowski kicked four field goals, including three that were at least 50 yards. He became the fifth kicker in NFL history to have three 50-yard field goals in a game. Janikowski also had three touchbacks among his seven kickoffs.
Week 5 rundown
• Buffalo 31, Philadelphia 24
A nice bounce-back performance by the Bills. Are the Eagles finished? It's not too early to wonder.
• Kansas City 28, Indianapolis 24
Winners of two straight, Matt Cassel (4 TD passes) and the Chiefs have put a disastrous start to the season in the rearview mirror. The 0-5 Colts are still waiting for their disaster to end.
• Minnesota 34, Arizona 10
Count the Cardinals among the season's early disappointments. They certainly weren't thinking of being 1-4 when they signed Kevin Kolb for big money.
• Seattle 36, N.Y. Giants 25
Did we dismiss the Seahawks too quickly? Perhaps. Their offense has suddenly sprung to life. Of course, their defense (3 INTs) had a lot to do with Sunday's win, too.
• Pittsburgh 38, Tennessee 17
If this was a big barometer game, the Titans failed miserably. A wounded foot didn't stop Steelers QB Ben Roethlisberger from putting up impressive numbers (24-of-34, 5 TD passes).
• New Orleans 30, Carolina 27
The Panthers continue to be competitive. They just seem to be missing something -- namely the ability to make big defensive stops -- against good teams.
• Cincinnati 30, Jacksonville 20
The Jaguars are in a full-fledged tailspin. How long can coach Jack Del Rio hold on?
• Oakland 25, Houston 20
An emotional victory for the Raiders a day after Al Davis' passing. If the Texans fail to make the playoffs, Matt Schaub will be kicking himself (he probably is already) for that late end zone INT.
• San Francisco 48, Tampa Bay 3
The stunner of the day. The 49ers look like legit playoff contenders, which means there's virtually no chance of a Jim Harbaugh-Andrew Luck reunion.
• New England 30, N.Y. Jets 21
The Patriots got some revenge from last season's playoffs, and they did it with a power running game. No, that's not a misprint.
• San Diego 29, Denver 24
Looks like the Broncos are ready to give Tim Tebow a real shot. Does that mean the billboards can come down?
• Green Bay 25, Atlanta 14
The Packers' offense was held in check -- for about half the game anyway. Then Aaron Rodgers (396 passing yards) picked apart the Falcons' D for the second time in nine months.
-- ESPN.com
MONDAY NIGHT FOOTBALL
•
Chicago at Detroit (ESPN, 8:30 p.m. ET)
Looking ahead
An early look at next weekend's biggest games:
• San Francisco (4-1) at Detroit (4-0): This one could have playoff-seeding ramifications down the road. Seriously.
• Buffalo (4-1) at N.Y. Giants (3-2): A big test for the Giants, who are coming off a crushing home loss.
• Houston (3-2) at Baltimore (3-1): Ditto for the Texans.