Week 6: Eagles restore hope; Bucs impress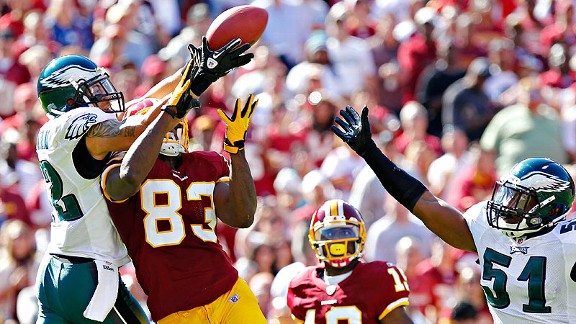 Geoff Burke/US Presswire Little-known safety Kurt Coleman, far left, gave the struggling Eagles' D a big boost in Week 6. Coleman picked off three passes, helping the Eagles beat Washington 20-13.
Week 6 leaders
In a crazy Week 6, scoring was down but emotions were high.
San Francisco 49ers coach
Jim Harbaugh
and Detroit Lions coach Jim Schwartz got into a face-to-face postgame confrontation. New Orleans Saints coach Sean Payton was a victim of a sideline collision that broke his knee cap.
But defense did return to the NFL after five weeks of unbridled scoring.
Coming into the week, NFL scoring was at 46.3 points a game. In the 11 Sunday afternoon games, scoring dropped to 40 points a game.
Here are five things I learned from Week 6:
1. The cure for the Eagles' woes: Had the Philadelphia Eagles lost to the Washington Redskins on Sunday, their season might have been effectively over. They would have been 1-5 and trailing the Redskins by three-and-half games. But FedEx Field has traditionally cured whatever ails the Eagles. A 20-13 victory was the Eagles' 10th in their past 12 games at Washington. It also helped that Redskins QB Rex Grossman, who probably lost his starting job to John Beck, threw four interceptions, three to Eagles safety Kurt Coleman.
But give Andy Reid and his coaching staff credit. With critics ready to bury Reid, defensive coordinator Juan Castillo and the Eagles' offensive coaches came up with some scheme changes that allowed Philadelphia to head into the bye week at 2-4. The biggest change was expanded use of three-step drops for QB Michael Vick. Tight end Brent Celek estimated the Redskins tried 10 to 11 zero blitzes, in which the Redskins blitzed so many players there was no safety help in the middle of the field.
"The three-step drop was very important,'' Celek said. "It took advantage of what was there.''
Vick completed 18 of 31 passes for 237 yards and one touchdown. He liked the three-step drop because it allowed him to get rid of the ball quickly and not get punished as much as normal. With a bye week to reflect, the coaching staff might use more three-step drops in future weeks because it is a big part of the West Coast offense and the Eagles have the receivers to run the slants and digs that beat blitzing plays.
The Eagles' plan on defense was simple -- make tackles and don't get out of position. After allowing 40 rushing yards a game and 5 yards a carry during the 1-4 start, the Eagles limited the Redskins to 42 yards on 14 carries.
Sure, the Eagles didn't do great converting touchdowns in the red zone. Sure, Vick was hit so hard on one running play he had the wind knocked out of him. But the big thing for the Eagles and Reid is that they are still alive and breathing in the wide-open NFC East.
2. Harbaugh too intense? Before the Redskins-Eagles game, I ran into a former high-school teammate of Harbaugh, who called Harbaugh the most intense competitor he's ever been around. Harbaugh is no-nonsense, but his postgame exchange with Schwartz can't be excused without some type of fine by the league or the team.
Harbaugh slapped Schwartz on the back and, according to Schwartz, muttered an expletive. Schwartz chased Harbaugh down the field and had to be separated by officials and teammates.
"I didn't expect it," Schwartz said. "After the game, I went to shake the opponent coach's hand. Obviously, you win a game like that, you're excited and things like that, but I think there's a protocol that goes with this league."
Maybe the postgame handshake is overrated. It seemed silly for Eric Mangini to shake the hand of Bill Belichick after Spygate, but it's part of the postgame protocol. The problem is when such emotions cause a fight that leads to players or individuals getting hurt.
On the positive side, Harbaugh has emerged as the Coach of the Year by taking an underachieving 49ers team from last year to a 5-1 start with essentially the same personnel. The team is taking on the personality of its coach. The 49ers simply compete. According to ESPN Stats & Information, the 49ers rushed four or fewer defenders on 56 of 57 plays and had five sacks. That's just simple execution.
Frank Gore pounded out 141 rushing yards and, according to ESPN Stats & Information, averaged 8.3 yards after first contact.
3. Goal-line power runs win: The Giants were able to beat the Buffalo Bills 27-24 because they showed the NFL the right way to handle goal-line situations. Instead of trying to trick defenses with four-receiver spread sets inside the 5, coach Tom Coughlin loaded up the offensive line with blockers and had Ahmad Bradshaw score three 1-yard touchdowns.
Each touchdown looked the same. Bradshaw had a lead blocker trying to pave the way. Bradshaw followed and got the ball into the end zone. Maybe that's considered old fashioned. Maybe that's considered boring. But it works.
One of the reasons the Carolina Panthers, who lost 31-17 to Atlanta in a game that was much closer than the 14-point outcome, have been competitive is because QB Cam Newton converts goal-line situations into touchdowns. Newton has six rushing touchdowns. A quarterback who can run as well as Newton creates a major problem for defenses. Offensive coaches say having a running quarterback such as Newton gives the offense an extra blocker. When a pocket quarterback hands off, 11 defenders converge on a running back, and there's eight potential blockers. A running quarterback allows that running back to become a blocker.
Newton's passing numbers are coming down. His 400-yard games are becoming 237-yard games like Sunday's, but his ability to convert drives into touchdowns has the Panthers scoring 22.2 points a game, remarkable for a team with a rookie quarterback. If the Panthers cut down the little mistakes, the wins will come.
4. Another close one for Cowboys: Tom Brady had to execute his 33nd game-winning drive in a 20-16 victory over the Dallas Cowboys, but the Cowboys can't look at this as a moral victory. It was a tough loss. The Cowboys played hard. They lost halfback Felix Jones to injury in the first half. Tony Romo threw for 317 yards and had only one interception.
But the worry for the Cowboys is how they are doing in close games. This was the 11th consecutive Cowboys game that was decided by four points or fewer. Their record is 5-6 in those games. The good news for the Cowboys is the Redskins lost to the Eagles, and it's starting to look like the NFC East is going to be won by a team with nine or 10 wins. At 2-3, the Cowboys trail the Giants by one-and-a-half games.
5. It's a three-way race in the NFC South: The Tampa Bay Buccaneers' 26-20 victory over the New Orleans Saints puts them at 4-2, tied with the Saints for first place in the NFC South. What's more important than the record is how the Bucs didn't back down from the Saints, who have a high-powered offense and an aggressive, blitzing defense.
Minus powerful halfback LeGarrette Blount, who was out with a knee injury, the Bucs' offensive line opened up enough holes for backup Earnest Graham to gain 109 rushing yards. The Bucs didn't have their name run-stopper, defensive tackle Gerald McCoy, but they held the Saints to 70 yards rushing. The Bucs were coming off a 48-3 blowout loss to the San Francisco 49ers.
Then there's the 3-3 Falcons, who beat the Carolina Panthers in a bounce-back game. The big bounce back for the Falcons was the return of the running game. Michael Turner rushed for 139 yards on 27 carries, allowing banged-up QB Matt Ryan to have an easy day (14-of-22, 163 yards).
Short Takes
Though it was a great victory for the Oakland Raiders (24-17 over the Browns), the loss of quarterback Jason Campbell with a broken collarbone could slow down their playoff run. Campbell is expected to miss the rest of the season. Kyle Boller assumes the Raiders' starting job, but the team might have to make a move. Hue Jackson's coaching may be good enough to get Oakland to beat the Kansas City Chiefs at home next week, but the drop-off from Campbell to Boller could be dramatic. … Washington Redskins coach Mike Shanahan didn't announce his starting quarterback, but you have to think it's going to be John Beck. Rex Grossman has nine interceptions in his past four games. … Maybe the Browns SHOULD trade Peyton Hillis. In the second half Sunday, the team announced Hillis was on the sideline for coaching reasons. Then the Browns said he had a hamstring injury. After that, he came back on the field. Since missing the Tennessee game (Week 4) on the advice of his agent because of strep throat, Hillis' playing time and success have dropped off. … If Grossman's interceptions weren't bad enough for Shanahan, the Redskins lost the left side of their offensive line and maybe tight end Chris Cooley. Cooley broke his left index finger and will need surgery. Left tackle Trent Williams suffered a high-ankle sprain. Left guard Kory Lichtensteiger blew out his ACL and MCL and is done for the season. … By deactivating healthy wide receiver Mike Sims-Walker, their main wide receiver acquisition of the offseason, the St. Louis Rams might be tipping off they are going to make a trade offer for Denver Broncos wide receiver Brandon Lloyd. They better do something. They are 0-5 and face expected losses coming up against Dallas and New Orleans. Lloyd had his best season for Josh McDaniels, the former Broncos head coach who now coordinates the Rams' offense. Sam Bradford connected with wide receivers on 18 of his 28 completions, but there was no impact and no touchdown drives. The Rams have had the lead for only 6 minutes 28 seconds in five games. If it costs a third- or fourth-round pick, the Rams should make the move. Bradford suffered an ankle injury on the last play of the Rams' 24-3 loss at Green Bay, but the QB says he is fine. … Pittsburgh Steelers safety Troy Polamalu suffered a concussion in a 17-13 victory over the Jacksonville Jaguars and is probably questionable for next Sunday's game against the Arizona Cardinals. Guard Doug Legursky, part of the six different offensive line combinations in six games, suffered a foot injury. The Steelers' inactive list featured seven injured players. Maybe that's why the Steelers faded in the second half against the inferior Jaguars. The Steelers are running out of gas and running out of players. Somehow, coach Mike Tomlin has to keep this injured team together for four more weeks because it doesn't have a bye week until Nov. 20. The good news is that Rashard Mendenhall recovered from a hamstring injury to rush for 146 yards on 23 carries. … Word coming out of Cincinnati is that Bengals halfback Cedric Benson, facing a three-game suspension, may be able to have two or three more weeks on the field while he appeals. … The good news for the 4-2 Bengals is that they have a bye week and then a trip to Seattle, whichgives them a chance at a 5-2 record. The concern about Benson, who rushed for 57 tough yards on 16 carries in Sunday's 27-17 victory over Indianapolis, is he could miss AFC North games against Pittsburgh, Baltimore and Cleveland from Nov. 13 through Nov. 27 if he loses his appeal. Benson's hard running makes life easier for rookie quarterback Andy Dalton, who completed 25 of 32 passes for 264 yards against the Indianapolis Colts. … Justice was too late for the Detroit Lions. In the 2010 opener, officials took away a potential game-winning touchdown when Calvin Johnson let the ball come from his hands as he landed in the end zone on a potential touchdown catch. On Sunday, Nate Burleson lost the ball in the back of the end zone on a 5-yard touchdown catch. It didn't look that much different from the Johnson play. "The way they explained it to me, the difference between mine and Calvin's was Calvin hit the ground with his knees, so his body was on the ground," Burleson said. "I didn't go to the ground. The two feet I got in prior to me catching my fall out of bounds." To be honest, both should have been touchdowns.
John Clayton's game balls
• Offense: 49ers running back Frank Gore rushed for 141 yards on 15 carries. He provided the big plays the passing offense couldn't with wide receivers Josh Morgan and Braylon Edwards out of the 25-19 victory over the Detroit Lions because of injuries. Gore had runs of 55 and 47 yards; he also had a 1-yard TD run.
• Defense: Returning to the starting lineup after being benched for two games for missing a tackle on a Victor Cruz touchdown in Week 3, Eagles safety Kurt Coleman intercepted three Rex Grossman passes in a 20-13 victory over the Washington Redskins. Coleman read Grossman on all three plays. He also led the team with seven tackles and three passes defensed.
• Special teams: On a day with very few good kickoff and punt returns, the Raiders' Jacoby Ford stole the show with a 101-yard kickoff return for a score during Oakland's 24-17 victory over the Cleveland Browns. It was one of two special-teams scores for the Raiders. Ford also had a 37-yard kickoff return.
Week 6 rundown
• Atlanta 31, Carolina 17
Instead of forcing a high-flying passing attack, maybe the Falcons should lean on Michael Turner (139 yards, 2 TDs) more often.
• Cincinnati 27, Indianapolis 17
Who needs Carson Palmer? The Bengals (4-2) already have matched their win total from last season, and QB Andy Dalton is making a quiet case for Rookie of the Year.
• San Francisco 25, Detroit 19
Their obvious shortcomings notwithstanding (such as Alex Smith's accuracy), the 49ers are legit contenders in the NFC. The Lions' Calvin Johnson was held without a TD for the first time this season.
• Green Bay 24, St. Louis 3
How the box score lies. The Rams had the edge in total yards, first downs and time of possession, but it really wasn't a game after the first quarter.
• N.Y. Giants 27, Buffalo 24
In a game of big plays, Corey Webster's late INT was huge for the Giants. So was Ahmad Bradshaw (104 rushing yards, 3 TDs).
• Pittsburgh 17, Jacksonville 13
Looks like Rashard Mendenhall's hamstring is healed after all. He ran for more yards on one carry (68 yards, second quarter) than he did in any previous game this season.
• Philadelphia 20, Washington 13
The Eagles stopped the bleeding, finally. Now the pressure's on the Redskins, who once again appear to have a brewing QB controversy
• Oakland 24, Cleveland 17
The Raiders lost QB Jason Campbell (collarbone), probably for the season. Will they turn to free agent David Garrard?
• Baltimore 29, Houston 14
Minus two of their best players, the Texans proved they're not quite in the Ravens' league. Ray Rice (161 total yards) continues to prove he's one of the league's top dual threats.
• New England 20, Dallas 16
Pretty? No. Clutch? Yes. Tom Brady and the Patriots' offense didn't score 30 points. Thanks to improved play on D, they didn't have to.
• Tampa Bay 26, New Orleans 20
An impressive bounce-back win for the Bucs, who were without LeGarrette Blount and Gerald McCoy. The Saints missed a golden opportunity to take control of the NFC South.
• Chicago 39, Minnesota 10
Shorter dropbacks worked wonders for Bears QB Jay Cutler (267 yards, 2 TDs). Is the Christian Ponder era under way in Minnesota?
-- ESPN.com
MONDAY NIGHT FOOTBALL
•
Miami at N.Y. Jets (ESPN, 8:30 p.m. ET)
Looking ahead
An early look at next weekend's biggest games:
• Atlanta (3-3) at Detroit (5-1): How will the young Lions respond to their first loss of the season?
• San Diego (4-1) at N.Y. Jets (2-3): Will a bye help the Chargers thrive on the East Coast?
• Houston (3-3) at Tennessee (3-2): The Texans are struggling, but a win gives them first place in the AFC South.
• Chicago (3-3) vs. Tampa Bay (4-2) in London: The Bears' O-line was better in Week 6. This will be another big test.