Week 7: Tebow wins one for the replacements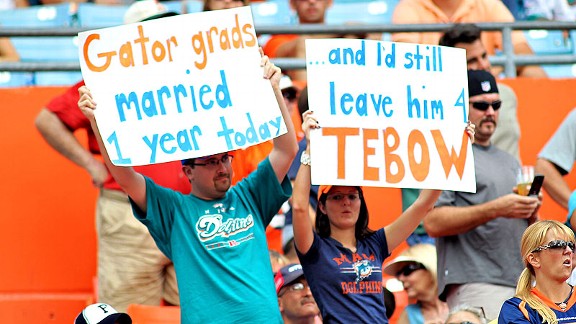 Marc Serota/Getty Images With scores of dedicated fans looking on, Tim Tebow rallied the Broncos to an 18-15, overtime victory in Miami. Denver trailed 15-0 midway through the fourth quarter.
Week 7 leaders
Replacement Sunday was strange, but it was exciting.
Six new QB replacements -- the most in a week since 1990 -- played Sunday and five endured losses. The only winning replacement, Tim Tebow of the Denver Broncos, had the most unusual game.
Tebow played horribly before rallying the Broncos from a 15-point deficit to an 18-15 overtime victory over the Miami Dolphins. He beat a replacement quarterback, Matt Moore, who was getting his second start for the winless Dolphins.
Things didn't go as well for Kyle Boller of the Raiders, A.J. Feeley of the Rams, Christian Ponder of the Vikings, John Beck of the Redskins and Charlie Whitehurst of the Seahawks.
Replacement quarterbacks are 1-18 this season.
Here are the five things we learned in Week 7:
1. What to make of Tebow: Tebow added another chapter to his football legacy by leading the Broncos to an overtime victory over the Dolphins, but was this magic or luck? I'd say the luck of playing the Dolphins. In the first 54 minutes, Tebow completed only four of 11 passes for 40 yards. The Dolphins showed some ways to contain Tebow by playing a Cover 2 zone with the safety, having the corners play man-to-man underneath and employing LB Jason Taylor as a spy.
What the Broncos learned is the only way to let Tebow be Tebow is to put him in the shotgun and cover your eyes. Tebow completed eight of 12 passes for 139 yards from the shotgun and no-huddle during the two fourth-quarter drives that allowed the Broncos to tie the score and take it into overtime. From those drives, though, Tebow tipped off what he needs to be successful -- long completions. He struggles generating drives unless he gets completions such as the 42-yarder to Matt Willis on the first TD drive and the 28-yarder to tight end Daniel Fells on the game-tying drive.
Unfortunately for the Broncos and Tebow, they aren't going to play many teams that are as poorly put together as Miami. The Dolphins have a former offensive line coach, Tony Sparano, as their leader, and they can't put away games by running the football. In the fourth quarter, they had 12 rushing yards on seven carries. Like the Cowboys a week ago, they deserve to be criticized for calling three running plays that netted only 3 yards and ate up only 16 seconds of the clock with less than six minutes remaining in regulation. Meanwhile, word is Sparano gets to keep his job for another week.
[+] Enlarge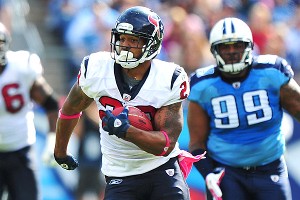 Don McPeak/US PresswireArian Foster appears to be hitting his stride, and the Texans appear to be in control of the AFC South.
2. Running in opposite directions: No veteran wants to admit the value of training camp because of the fatigue and drudgery, but its value was apparent as Houston Texans halfback Arian Foster dominated the Titans' defense and Titans running back Chris Johnson, who held out of training camp, was invisible during a 41-7 thrashing by the Texans.
A hamstring injury kept Foster on the sidelines throughout August and he lost two regular-season games after tweaking the hamstring. Houston coach Gary Kubiak considered Foster's 300-yard, four-game start to be the running back's training camp. Foster's belated regular season started on Sunday with 115 yards rushing and 119 receiving, only the 32nd time in NFL history that someone posted a 100-100 game.
"It's tough when you don't go through training camp," Foster admitted. "You don't get those reps. You don't get those days where you're out there sweating and woozy from fatigue. I think that's what you need as a football player and I'm just starting to get back to my football shape."
Clearly, Johnson isn't there yet. Texans outside linebackers Brooks Reed and Connor Barwin had no problem sealing the running edge and helping the Texans' defense contain Johnson to 18 yards on 10 carries. For the season, Johnson has 268 yards in six games and is averaging only 2.9 yards a carry, not reaching the value of his $13 million-a-year contract.
Titans coach Mike Munchak said he's going to re-evaluate everything, including the running back, but don't expect Johnson to be benched. Johnson said he doesn't think his absence from camp is the problem with the running game. Some say the Titans' offensive line is better pass blocking than run blocking even though it's the same line that set up Johnson for his $13 million-a-year payday.
"I don't know if they are trying to be more pass-oriented or what," Texans linebacker Brian Cushing said. "When you watch on film, it seems they want to pass a little bit more."
Whatever. The Texans (4-3) have taken control of the AFC South thanks to their running attack.
3. Bad times for running backs: Even though seven running backs ran for at least 100 yards in the 11 Sunday afternoon games, it was a horrible day for injuries. It's been a tough year. Entering Week 7, running backs were getting the ball only 41.5 percent of the time, the lowest percentage ever. The next closest running lull in a season was in 1995, when backs had only 42.6 percent of the plays on the ground.
Sunday was like a demolition derby to backs, and it was fascinating to see how it affected teams. The Bucs were already in trouble in the backfield because of the knee injury that has sidelined LeGarrette Blount for two weeks. In the first quarter of a 24-18 loss to the Bears in London, Earnest Graham may have torn an Achilles or suffered what might be a serious leg injury on a running play. Down to their only remaining running back, Kregg Lumpkin, the Bucs generated only 30 rushing yards on 11 carries.
The Seahawks' run game fell apart in pregame warm-ups when Marshawn Lynch's back tightened up and he couldn't play against Cleveland. Broncos running back Willis McGahee fractured a bone in his hand. Redskins running back Tim Hightower suffered a knee injury that appears to be serious in a 33-20 loss to the Carolina Panthers. Darren McFadden suffered a foot injury in a 28-0 loss to the Chiefs. Cardinals running back Beanie Wells hurt a knee.
Coming into the week, 18 teams suffered injuries that took away one of their top two running backs for at least a game. Stay tuned to this week's injury list.
4. Chargers falter late: Normally, the Chargers and quarterback Philip Rivers are good closers -- both in games and in the later parts of seasons. Sunday's 27-21 loss went against their post-September résumé. Normally, Norv Turner's teams start slowly and pick up momentum by this point in the season.
The return of tight end Antonio Gates helped improve a red zone offense that scored touchdowns on only 41 percent of its drives in the first five weeks. Gates caught a 2-yard touchdown and Mike Tolbert had a 1-yard run in the second quarter to give the Chargers a 21-10 lead. But back-to-back interceptions cost the Chargers the game. The first wasn't Rivers' fault. The ball bounced off the hands of wide receiver Vincent Jackson, giving Darrelle Revis a 64-yard interception return to set up a go-ahead score for the Jets.
On the next possession, Rivers was intercepted on a deep throw to Jackson, not the usual fourth-quarter standard for Rivers. Injuries have prevented a lot of the pass-catchers from practicing, but Rivers didn't want to use that as an excuse.
"We can sit here and think of a bunch of reasons why," he said. "The bottom line is that we came out playing really well. We just didn't finish off the game."
On the flip side, Jets offensive coordinator Brian Schottenheimer made life easier for QB Mark Sanchez by letting him throw shorter passes. According to ESPN Stats & Information, the Jets registered 39.1 percent of their first downs on passes thrown 10 yards or shorter in the air. Sanchez completed 69.6 percent of those short throws and had three touchdown passes to Plaxico Burress -- all in the red zone. When he threw longer than 10 yards, Sanchez completed only 20 percent of his throws and had an interception.
The running game did help. Despite a hand injury, Shonn Greene had 112 yards on 20 carries even though he didn't start. LaDainian Tomlinson started but had only 14 rushing yards and 37 yards receiving, but he had the satisfaction of beating his former team.
"I can really close that chapter. I can really move on," Tomlinson said.
5. Bad move, Oakland: Carson Palmer may have attended more USC tailgate parties than Raiders practices, but it's pretty clear Raiders coach Hue Jackson made a mistake by not starting Palmer.
Kyle Boller's three interceptions -- including one taken back for a touchdown -- put the Raiders in too big of a hole when Jackson went to Palmer early in the third quarter. Maybe it would have been hard for Palmer to start with only four days of preparation, but could he have started as poorly as Boller? Probably not. Palmer matched Boller with three interceptions in the second half, but he also didn't have McFadden, who left with a foot injury.
The idea in trading for Palmer was to have a proven quarterback guide the Raiders to a playoff berth. A home loss to the Chiefs could derail that. It was all set up for the Raiders to breeze to a 6-2 start with home wins over the Chiefs and Broncos sandwiched around a bye week. Instead, the Raiders allowed the Chiefs to get back into the AFC West race.
Short Takes
Opponents have found the flaws in the Detroit Lions -- the running game both on offense and defense. Michael Turner had 122 rushing yards rushing on 27 carries in the Falcons' 23-16 win over the Lions. The Lions have now allowed 100 rushing yards in each of the past six games. Opponents are getting 142 yards a game and 5.5 yards a carry over that span against the Lions. With Jahvid Best out indefinitely with a concussion, the Lions rushed for only 104 yards and that puts more pressure on quarterback Matthew Stafford, who suffered a foot injury at the end of the game. He doesn't think the injury is bad, but his foot was in a boot after the game. … Seahawks QB Tarvaris Jackson, sidelined with a pectoral injury, doesn't have to worry about losing his starting job to Charlie Whitehurst. The Seahawks lost one of the ugliest games of the year 6-3 to the Browns on Sunday. Whitehurst generated only 137 yards of total offense, including 72 net yards passing. The Seahawks opened the game with a shotgun-no-huddle approach but they couldn't sustain it. To make matters worse long term, the Seahawks lost cornerback Walter Thurmond with a fracture in his leg. They've now lost their best two corners for the season -- Thurmond and Marcus Trufant -- which will force them to play more zone in the future. … The Texans aren't saying how long Danieal Manning will be out after the safety suffered a crack in his lower left leg. Manning is hoping he'll be out only a few weeks, but it could be more. … Teams are cautious about concussions; 11 players sat out Sunday because of concussions. Browns halfback Peyton Hillis became the seventh running back who didn't play after suffering a hamstring injury the previous week. If a back suffers a hamstring injury, expect him to sit at least a week. … Panthers QB Cam Newton completed 18 of 23 passes for 256 yards in a 33-20 victory over the Redskins, but the Panthers also rushed for 175 yards and the team cut down on the mental mistakes that have been plaguing it. Sure, the Panthers had 13 penalties, and that has to be cleaned up, but once the Panthers learn how to win, they are going to be dangerous. … With a home loss to the Eagles and Sunday's loss to the Panthers, the Redskins have once again squandered a promising 3-1 start and are now 3-3. This puts the NFC East in the hands of the Giants and possibly the Cowboys unless the Eagles fully bounce back. … Unlike Donovan McNabb, Christian Ponder did provide a spark for the Vikings' offense in a 33-27 loss to the Packers. Ponder's strength was his ability to move, a skill McNabb is losing. Outside the pocket, Ponder, according to ESPN Stats & Information, completed 54.5 percent of his passes and averaged 11.1 yards an attempt. … The Rams, already missing quarterback Sam Bradford and their three top cornerbacks, may have lost right tackle Jason Smith, who was taken off the field on a stretcher during a 34-7 loss to the Cowboys. … Aaron Rodgers of the Packers is the first quarterback in NFL history to start the season with seven consecutive games in which his quarterback rating exceeded 110. … Falcons players accused Lions defensive linemen Cliff Avril and Ndamukong Suh of taunting quarterback Matt Ryan when Ryan went down with an ankle injury. Ryan came back to burn the Lions and looked sharper than he was before the ankle injury.
John Clayton's game balls
• Offense: Filling in for Felix Jones, who was out with a high ankle sprain, DeMarco Murray rushed for 253 yards, including a 91-yard touchdown, on 25 carries in Dallas' easy 34-7 victory over the St. Louis Rams. Murray, a rookie, had only 71 yards entering the game.
• Defense: Chiefs CB Brandon Flowers led a six-interception day against the Oakland Raiders with two interceptions, including a 58-yarder for a touchdown. Flowers also had three passes defensed and three tackles.
• Special teams: Olindo Mare was a perfect 4-for-4 on field goals, including two from 45 yards, in Carolina's 33-20 victory over the Washington Redskins, but he really earned his money in the second quarter. He had to go 3-for-3 for that 45-yard field goal because two Panthers penalties nullified the first two attempts. He's 13-for-15 for the season.
Week 7 rundown
• Denver 18, Miami 15 (OT)
Tim Tebow's 2011 starting debut wasn't pretty -- until the last few minutes. Did this seal Tony Sparano's fate?
• Cleveland 6, Seattle 3
The dud of the day, maybe the season. QB Charlie Whitehurst (12-of-30, 97 yards) did little to help his long-term prospects in Seattle.
• Atlanta 23, Detroit 16
After looking off for much of the game, Lions QB Matthew Stafford limped off the field late. Is this where the Lions' once-magical season begins to unravel?
• Houston 41, Tennessee 7
By making Arian Foster (234 total yards) a bigger part of the passing game, the Texans found a spark on offense and regained control of the AFC South.
• N.Y. Jets 27, San Diego 21
Plaxico Burress (three TDs) finally became the red zone weapon the Jets thought they'd acquired. Shonn Greene's tough running (112 yards) also keyed New York's comeback.
• Chicago 24, Tampa Bay 18
The Bucs are running out of running backs. An early injury to Earnest Graham forced third-stringer Kregg Lumpkin (8 carries, 15 yards) into extended action.
• Carolina 33, Washington 20
Cam Newton's highlight-reel running -- and effective passing (18-of-23, 256 yards, no INTs) -- helped the Panthers snap a three-game losing streak.
• Kansas City 28, Oakland 0
Just an all-around forgettable day for the Raiders. Kyle Boller was dreadful (7-for-14, 61 yards, 3 INTs) and amazingly Carson Palmer was even worse in relief (if you compare passer ratings).
• Pittsburgh 32, Arizona 20
Is there a more dangerous game-breaker than Mike Wallace? His 95-yard TD catch in the second quarter was the longest in Steelers history.
• Dallas 34, St. Louis 7
Talk about bursting onto the scene. DeMarco Murray's early 91-yard TD run pretty much gave the Cowboys all the momentum they needed against the lowly Rams.
• Green Bay 33, Minnesota 27
Aaron Rodgers (335 passing yards, 3 TDs) was his usual outstanding self, but the Packers' run game provided a nice assist by delivering key yardage to ice the game late.
• New Orleans 62, Indianapolis 7
It doesn't get much uglier than this. Have the Colts officially hit rock bottom? If not, they're awfully close.
-- ESPN.com
MONDAY NIGHT FOOTBALL
•
Baltimore at Jacksonville (ESPN, 8:30 p.m. ET)
Looking ahead
An early look at next weekend's biggest games:
• Detroit (5-2) at Denver (2-4): Tebow-mania will be in full force. Can the Lions snap a two-game skid?
• New England (5-1) at Pittsburgh (5-2): AFC title game preview?
• Dallas (3-3) at Philadelphia (2-4): The Eagles will be well-rested. Can they gain ground in the NFC East?