Week 8: Steelers man up; Boldin bails out Ravens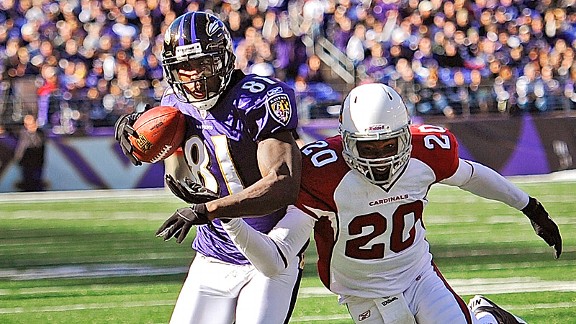 AP Photo/Nick WassThe Ravens needed a big rally to beat Arizona, and Anquan Boldin was right in the thick of things. Boldin caught seven passes for 145 yards in Baltimore's 30-27 victory.
Week 8 leaders
Week 8 was considered one of the weaker slates of the season, particularly with six teams with winning records on byes.
As it turned out, there were plenty of surprises. The St. Louis Rams got out of the Andrew Luck conversations by getting their first victory, upsetting the New Orleans Saints 31-21. The Arizona Cardinals and Miami Dolphins -- with a combined record of 1-11 entering the day -- forced the Baltimore Ravens and New York Giants, respectively, to overcome double-digit deficits.
Perhaps the biggest story was how the surprise teams -- Buffalo, Cincinnati, Detroit and San Francisco -- each had one-sided victories and are showing they will be factors down the stretch. The Lions now are 4-0 in road games after blowing out the Denver Broncos. The Bengals are 3-1 on the road after blowing out the Seahawks.
Here are the five things we learned in Week 8:
1. Tomlin finds right formula: Patriots QB Tom Brady entered Sunday with a 6-1 record and 14 touchdown passes against Pittsburgh. Steelers coach Mike Tomlin made a radical change to the team's defensive style that enabled the Steelers to top Brady and the Pats 25-17.
The Steelers went to man-to-man coverages, and Brady couldn't consistently find open targets. Because the Steelers are a zone team, they tend to give up yardage to top quarterbacks such as Brady. Man defenses give the Patriots problems because New England doesn't have great speed. Brady's game is creating matchup problems with a two-tight end formation, which the Patriots use 43 times a game on average. Brady passed for only 198 yards and was sacked three times Sunday. He had only one completion longer than 20 yards.
While the Steelers won the game with their defense, Patriots coach Bill Belichick might have lost it with the roster moves he made this week. The Pats knew they were going against a fast group of wide receivers -- Mike Wallace, Antonio Brown and Emmanuel Sanders. What was surprising was the release of cornerback Leigh Bodden to make room for running back Kevin Faulk.
The Pats have plenty of running backs. What they don't have is cornerback depth. With Ras-I Dowling going on the injured reserve list, the Pats entered the game with four corners -- struggling Devin McCourty, Kyle Arrington, Antwaun Molden and Phillip Adams. Molden, the team's third corner, was picked up Aug. 31. He was replaced during the game by Adams, who has been on and off the roster in the past couple of weeks.
2. Boldin to the rescue: Since the opening victory over the Steelers, Ravens quarterback Joe Flacco has endured mounting criticism. He entered Sunday's game against the Arizona Cardinals having completed only 44 percent of his passes since the opener, and he didn't warm up Ravens fans by completing 12 of 23 passes for 98 yards in the first half.
The Ravens trailed 24-6, and they looked helpless on offense. Then the Ravens did the smart thing -- they fed the ball to Anquan Boldin. Flacco rode Boldin to 21 unanswered points to take control of the game and improve the Ravens' record to 5-2 with a 30-27 victory. Boldin was targeted seven times in the third quarter and caught five passes for 117 yards. He moved the chains.
"We were able to back-shoulder him," Flacco said. "He was able to be big and go up and make some good catches."
Ray Rice converted the drives into touchdowns, getting three short runs for scores.
Flacco completed 19 of 28 passes for 238 yards in the second half. In Arizona and in Baltimore, Boldin, a former college quarterback, has been considered a great leader for years. On Sunday, he was a savior. It also was fitting he would have a seven-catch, 145-yard day against the Cardinals, the team that traded him to Baltimore.
3. Texans in control: Hand the AFC South crown to the Houston Texans. Even though Sunday's 24-14 victory over the Jacksonville Jaguars wasn't pretty, the Texans have firm control of the division.
"We're in the driver's seat in our division," halfback Arian Foster said. "We're not looking to fill up stat sheets for your fantasy team. We're looking to get wins."
With wide receiver Andre Johnson out for his fourth consecutive game with a hamstring injury, QB Matt Schaub led a workman-like offense out of two- and three-tight end sets. The good stats involved the running game. Foster had 112 of 156 yards rushing while Schaub completed only 16 of 30 passes.
Normally, the Texans drop from a 250-yard passing team into the 220s without Johnson. They had 225 Sunday. The big improvement is a defense that is giving up 18.1 points a game, 8.6 points fewer than last season.
The Texans have only a half-game lead over the Tennessee Titans, but they are 3-0 in AFC South games and their .407 closing schedule (combined winning percentage of their opponents) is the third easiest in the NFL.
4. The Saints' glaring weakness: Saints coach Sean Payton's roster is loaded with top players at plenty of positions. The Saints have a great quarterback (Drew Brees), a Pro Bowl-caliber tight end (Jimmy Graham), two great guards (Carl Nicks and Jahri Evans) and lots of wide receivers (Marques Colston, Devery Henderson, Lance Moore and Robert Meachem).
The one area of concern is offensive tackle. Left tackle Jermon Bushrod is a former fourth-rounder, and Charles Brown, a raw second-rounder, is filling in for injured seventh-rounder Zach Strief at right tackle. On Sunday, the Saints paid the price for their lack of quality at the position in a 31-21 loss to the Rams.
[+] Enlarge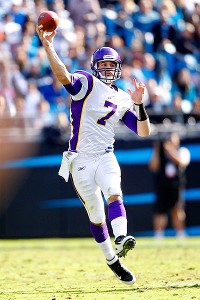 Bob Donnan/US PresswireVikings rookie QB Christian Ponder was poised and productive during Sunday's victory over Carolina.
The Rams destroyed the Saints' offense with a basic four-man rush that prevented Brees from getting into any kind of rhythm. Brees was sacked six times, the first six-sack game against the Saints in the Payton era.
"They were getting good pressure with their four-man front," Brees said. "There are obviously things we have to fix. We will fix them."
5. No need to baby young quarterbacks: The Vikings' highly entertaining 24-21 victory over the Carolina Panthers is further proof that conventional wisdom doesn't seem to work anymore. Christian Ponder and Cam Newton are rookie quarterbacks, but they're clearly ready to play.
In the Cincinnati Bengals' 34-12 victory over the Seattle Seahawks, rookie quarterback Andy Dalton looked more composed than Seahawks veterans Charlie Whitehurst and Tarvaris Jackson.
Ponder had a 102.7 passer rating in his second start. Newton's rating was a staggering 117.6. Ponder worked a magnificent 13-play field goal drive in the fourth quarter to give the Vikings the 24-21 lead with 2:43 left in regulation, and he ate up more than seven minutes on the clock. Newton drove the Panthers to the Vikings' 13-yard line with a chance to tie, but Olindo Mare missed an easy field goal. Ponder wasn't surprised how calm both rookies were in the fourth quarter.
"I had the fortune of being in a pro-style offense in college, and Cam did well against talented SEC defenses," Ponder said.
Dalton made some rookie mistakes. He threw two second-half interceptions, but he's 5-2 and in the playoff hunt.
Short Takes
Titans running back Chris Johnson hasn't been benched, but he has been demoted. During Sunday's 27-10 victory over the Colts, Johnson lost playing time to backup Javon Ringer, particularly in fourth quarter. After the game, Titans coach Mike Munchak said Johnson, who had 34 yards on 14 carries, would share snaps with Ringer. Johnson makes $13.5 million a year. Ringer makes $525,000. In the fourth quarter, Ringer gained 60 yards and Johnson came on the field only to give Ringer a rest. After seven games, Johnson is averaging 2.8 yards a carry. … The Tim Tebow bandwagon suffered a major setback in a 45-10 loss to the Detroit Lions. Tebow's inaccuracy was apparent in an 18-for-39 game in which he made two mistakes that were converted into Lions touchdowns -- a Cliff Avril fumble return and a 100-yard interception return by cornerback Chris Houston. Tebow was sacked seven times and fumbled three times. Games such as this will lead to John Elway drafting a quarterback to replace Tebow next season. … The wheels have come off the Redskins' offense, and coach Mike Shanahan will have a hard time fixing it in the next couple of weeks. The Redskins were shut out by the Bills 23-0, but this is a Redskins offense that has lost five starters in three weeks. It was the first time Shanahan has been shut out during his 267-game NFL coaching career. … Bill Cowher's statement Sunday that he's not coaching next season was done to be fair to Dolphins coach Tony Sparano and others who are hearing Cowher is interested in the Miami job. Cowher always has taken the position that he doesn't want to negatively affect the lives of coaches who currently have head-coaching jobs. … Sparano suffered his seventh consecutive loss of the season, but the Dolphins played hard for him in a 20-17 loss to the New York Giants. That should prevent him from being fired for another week. The Dolphins led 14-3 in the first half, but one thing became clear as Giants QB Eli Manning executed drive after drive in the comeback -- the Dolphins lack playmakers on defense. The Dolphins have a noticeable lack of speed on defense, and they clearly don't have a pass rush. Manning dropped back 46 times and was sacked only once. Linebacker Cameron Wake is the only Dolphin who can put any pressure on the quarterback. … The Texans now have lost two linebackers for the season -- Darryl Sharpton (torn quad) and Mario Williams (torn pectoral). … Dolphins halfback Reggie Bush had only his second 100-yard rushing day of his career. … 49ers coach Jim Harbaugh might not be pleasing fantasy fans with his team's stats, but his creativity is winning games during a 6-1 start. During Sunday's 20-10 victory over the Cleveland Browns, the 49ers completed passes to eligible tackle Joe Staley and nose tackle Isaac Sopoaga. The 49ers had only 177 gross passing yards. It might not be pretty, but it worked. … Browns quarterback Colt McCoy continues to struggle getting points. The Browns are 3-4 and averaging only 15.3 points a game. … The one downer for the Giants is the hamstring injury to wide receiver Hakeem Nicks. The Giants already were thin at wide receiver. … Cardinals QB Kevin Kolb continues to regress as a passer, and now his status is slightly uncertain because of a turf toe injury. He completed only 10 of 21 passes in the 30-27 loss to the Ravens and had a season-low 98 net passing yards. "It wasn't a lack of focus," Kolb said. "It was a lack of execution." … Lions defensive tackle Ndamukong Suh is showing he's pretty sharp. He's meeting Tuesday in New York with commissioner Roger Goodell and many of the top officials in the league to discuss his bad reputation for late hits. According to the league, Suh reached out and asked for some guidance.
John Clayton's game balls
• Offense: Steelers QB Ben Roethlisberger scored one of his most impressive regular-season wins and outdueled Tom Brady by completing 36 of 50 passes for 365 yards and two touchdowns in a 25-17 victory over the New England Patriots.
• Defense: Ravens LB Terrell Suggs was relentless in pursuit of Cardinals quarterback Kevin Kolb and was everywhere in a 30-27 victory. He had 13 tackles, a sack, four tackles for loss and two additional hits on the quarterback. What's amazing about those numbers is the Cardinals had only 57 offensive plays.
• Special teams: Brandon Tate, picked up by the Bengals on a waiver claim from the New England Patriots, had 186 return yards in a 34-12 victory over the Seattle Seahawks. He had a 56-yard punt return for a touchdown. He gave the team field position with four kickoff returns for 113 yards. He had three punt returns for 73 yards.
Week 8 rundown
• Tennessee 27, Indianapolis 10
While Titans fans booed Chris Johnson, they watched backup Javon Ringer mount a credible running game (60 yards, 14 carries). He might not be the backup for long.
• St. Louis 31, New Orleans 21
The shocker of the day. Maybe the Rams got good vibes from the World Series champion Cardinals. Or maybe the Saints aren't as good as we think.
• N.Y. Giants 20, Miami 17
Even a big game by Reggie Bush (103 rushing yards) couldn't get the Dolphins into the win column. The Giants got another big game from Eli Manning, who might be emerging as an MVP candidate.
• Minnesota 24, Carolina 21
Should the Vikings have started QB Christian Ponder from the season's outset? The early returns suggest the rookie warranted a longer look in the preseason.
• Baltimore 30, Arizona 27
Give the Ravens credit for coming back. Still, you can't blame people for questioning whether Baltimore is worthy of being mentioned among the elite.
• Houston 24, Jacksonville 14
The Texans used a suffocating defensive effort (174 yards allowed) to strengthen their stranglehold on the AFC South.
• Buffalo 23, Washington 0
The Bills (nine sacks) turned in their best defensive effort of the season. Of course, it came against a Redskins offense that's been depleted by injuries.
• Pittsburgh 25, New England 17
Are the Steelers, now winners of four straight, the team to beat in the AFC? It's hard to make a case against them.
• San Francisco 20, Cleveland 10
Stout D. Efficient passing game. Frank Gore (134 rushing yards). It's a formula that's working nicely for the 49ers.
• Cincinnati 34, Seattle 12
Poor O-line play. Special-teams breakdowns. Questionable QB juggling. Critics of the Seahawks have plenty of ammunition right now.
• Detroit 45, Denver 10
Tim Tebow's first home start of 2011 couldn't have gone much worse. Is it time to bring out the Kyle Orton billboards?
• Philadelphia 34, Dallas 7
Was this a big barometer game in the NFC East? If so, the Cowboys should be worried.
-- ESPN.com
'MONDAY NIGHT FOOTBALL'
•
San Diego at Kansas City (ESPN, 8:30 p.m. ET)
Looking ahead
An early look at next weekend's biggest games:
• N.Y. Jets (4-3) at Buffalo (5-2): One of these teams probably will make the playoffs. Who will grab the upper hand?
• N.Y. Giants (5-2) at New England (5-2): The beginning of a brutal stretch for the Giants.
• Baltimore (5-2) at Pittsburgh (6-2): The Ravens aim for a season sweep of their AFC North rivals.